Garlic Broccoli Pasta features pasta tossed with roasted broccoli and garlic sautéed in high quality Italian olive, finished with cheese. Serve as a delicious side or light main course. Disclosure: the wine and olive oil featured here were provided as complimentary samples from the winery.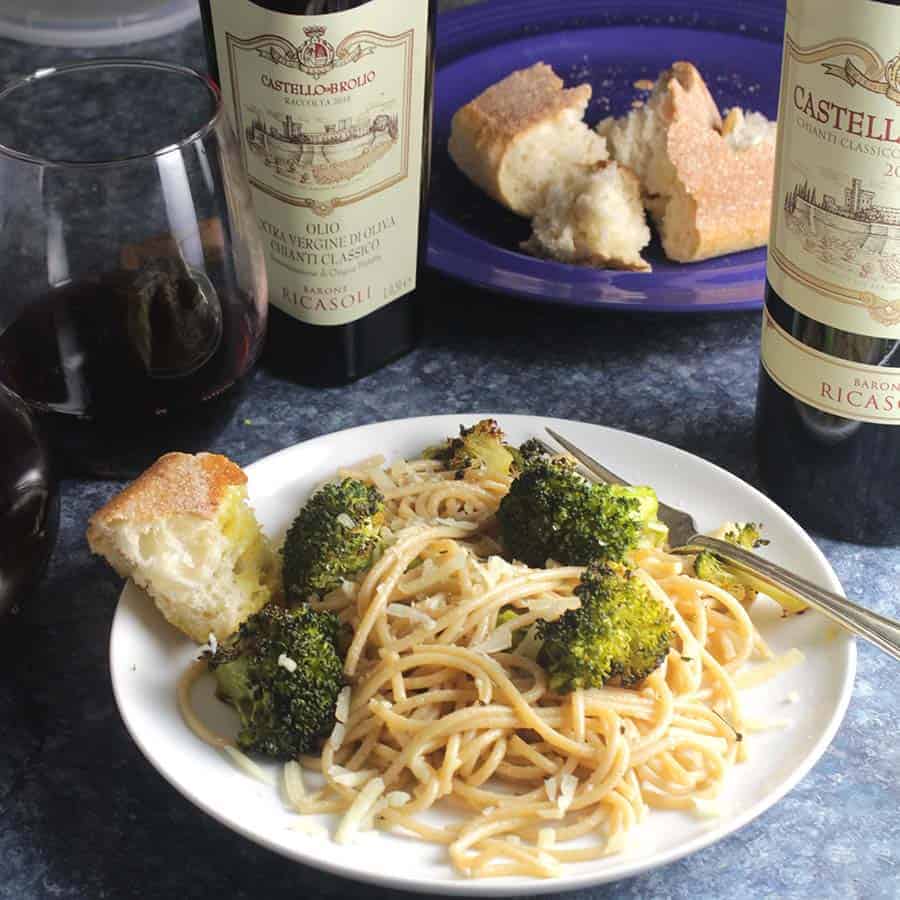 A special bottle of olive oil inspired this Garlic Broccoli Pasta recipe.
When the Italian Food, Wine & Travel crew was asked who wanted to sample a Chianti Classico from Barone Ricasoli, along with some of their extra virgin olive oil, I eagerly raised my hand.
When I was visiting wineries in Abruzzo on a press trip last year, at nearly every winery set out some of their own olive and some bread to nibble on while sampling their wine. From this experience, I knew not to turn down olive oil from an Italian winemaker! Typically the care the put into tending the grapevines is extended to their olive trees.
Planning a meal with Chianti wine and olive oil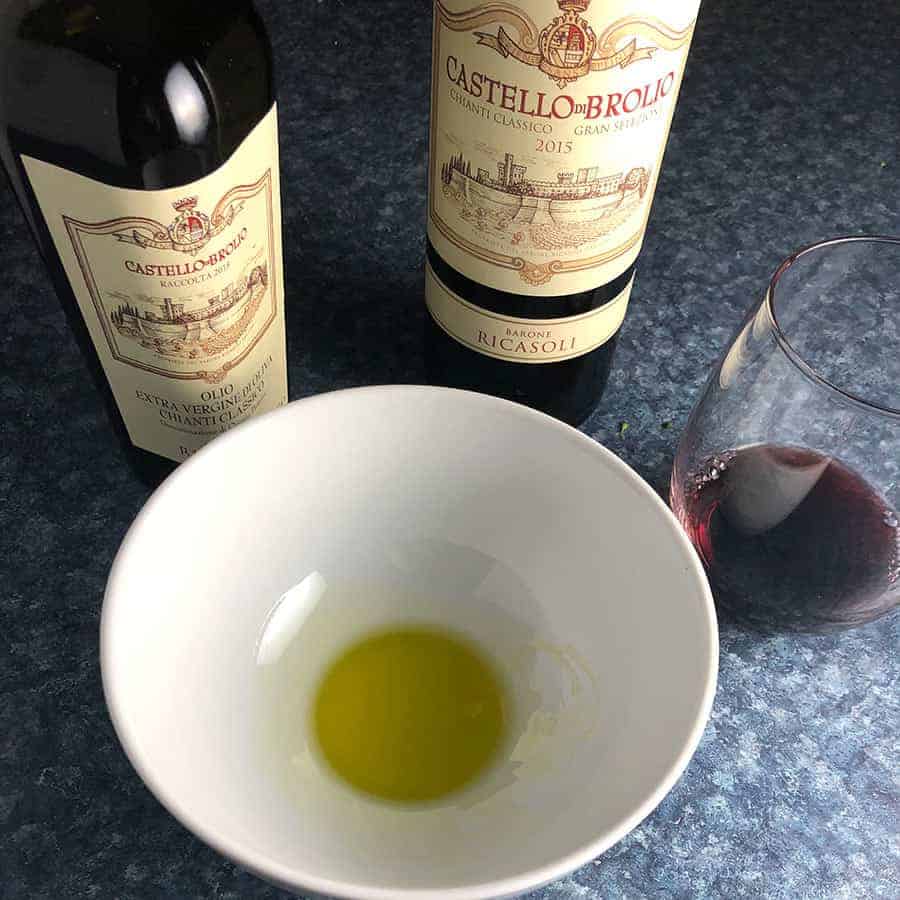 Initially, I tried to think of a recipe that would showcase the Ricasoli extra virgin olive oil that would also pair well with the Chianti Classico wine they shared with us. But the lighter style recipe ideas I had for the olive oil didn't seem like a good potential match for a bold red wine from Chianti.
I decided to make this Garlic Broccoli Pasta recipe to showcase the olive oil, and serve it as a side dish alongside some roasted pork chops with Italian herbs. I did hope that perhaps roasting the broccoli and serving it with plenty of cheese might make the pasta dish alone a good partner for the Chianti–thus my photos here all focus on that pairing. But in the end, we definitely needed the pork on the plate too for a good paring.
I plan to circle back and share that recipe soon, but for now, this roasted rosemary pork chops recipe would be the closest approximation to the flavors in the pork I paired with the Chianti.
I'll get into more wine details in a moment; for now, I will say that the plan of serving pork chops with Garlic Broccoli Pasta was a good way to appreciate the Chianti olive oil and the wine.
Tips for Garlic Broccoli Pasta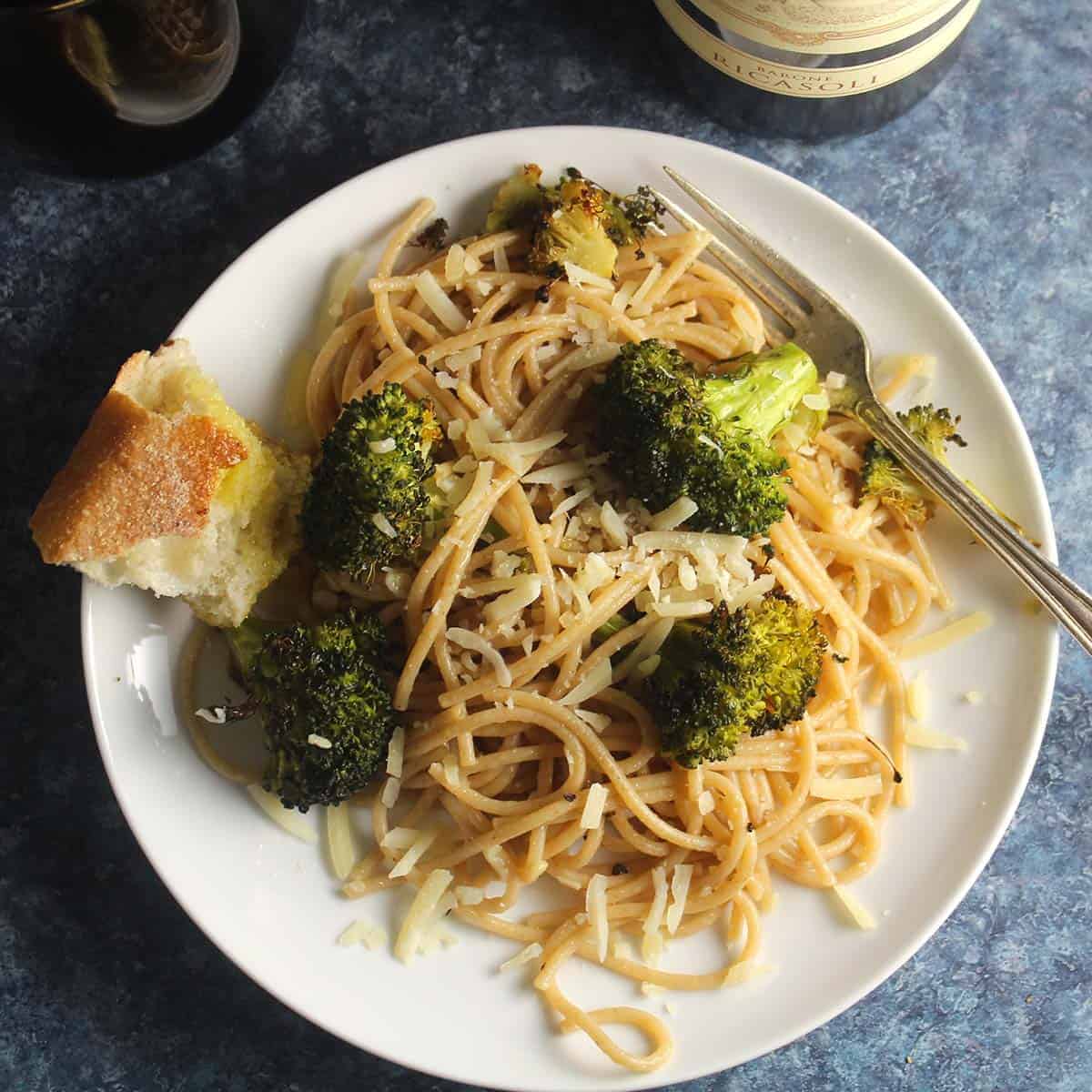 Here are a few tips for making our garlic broccoli pasta; jump ahead to the recipe card for the complete step by step instructions.
High quality, extra virgin olive oil is crucial to the success of this dish. Unfortunately, the Riscasoli olive oil isn't available in the US. But a good grocery store or specialty shop will have plenty of good options.
Roasting the broccoli gives it a deeper flavor, and also makes it work better with red wine. Chop the broccoli into bite sized pieces and spread in a single layer in baking dish before tossing with olive oil.
The broccoli takes 25 to 30 minutes to roast. You can get the garlic prepped and start the pasta as it roasts.
Sauté the garlic in olive oil very briefly to release the aromatic flavor and turn it a golden color. This will take about 60 seconds, remove from heat as soon as it starts to get fragrant. Overcooked garlic can be bitter.
Serving some crusty bread to dip in the extra virgin olive oil rounds out the meal is a great way to really taste the flavor profile of the evoo.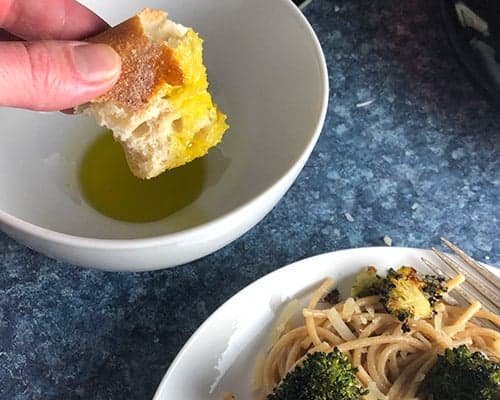 If you like broccoli and pasta together, be sure to also check out our Lightened Chicken and Broccoli Pasta recipe.
Castello di Brolio Chianti Classico Gran Selezione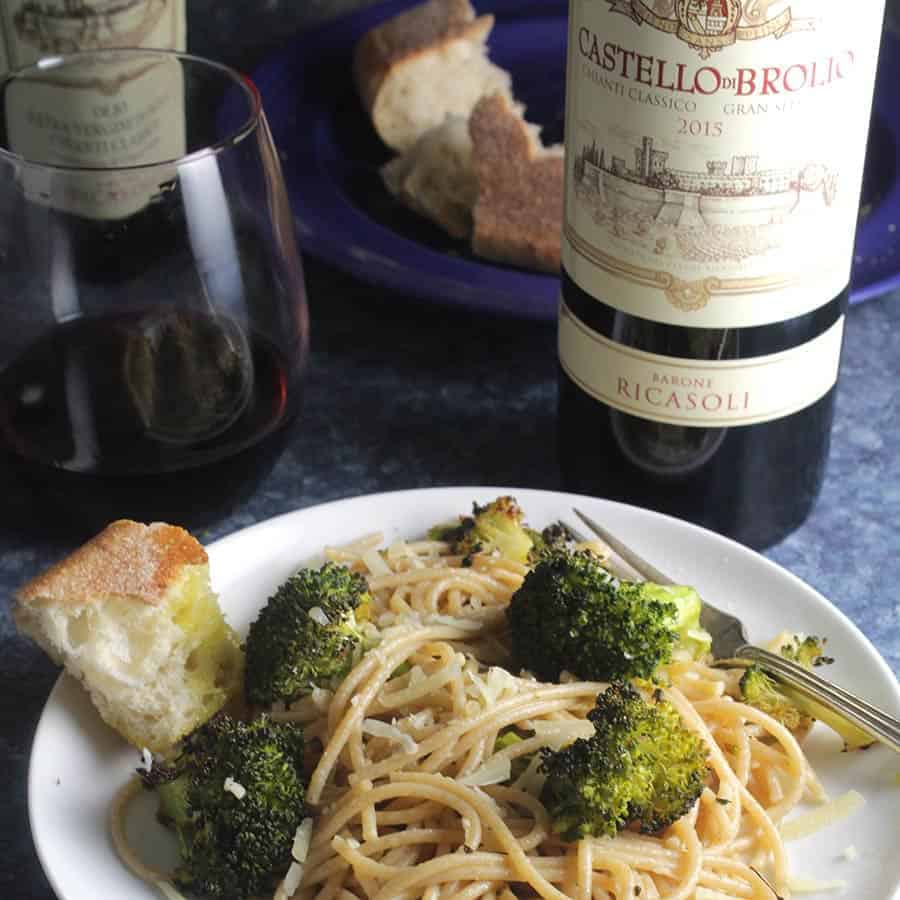 Although we were excited to get some high quality olive oil from Barone Ricasoli, the focus of the #ItalianFWT events tends to be on the wine. So let's get into the special bottle we received — 2015 Castello di Brolio Chianti Classico Gran Selezione (14% ABV) from Barone Ricasoli. The typical U.S. retail price seems to be around $65 to $75.
Here are our notes from this Chianti Classico:
Eye: Deep brick red in the glass.
Nose: Hot summer breeze on nose.
Body: Medium body, firm tannins. Decanted about 20 minutes and the tannins softened a bit.
Palate: Blackberry fruit, notes of lead pencil. Notable acidity, long finish.
Pairing: Pairs well the the combination of herb roasted pork chops and the garlic broccoli pasta. Too big a wine to be a good partner for the pasta alone.
Print
Recipe card
Garlic Broccoli Pasta
Pasta tossed with roasted broccoli and garlic sautéed in high quality Italian olive, finished with cheese. Serve as a simple side or light main course.
Author: Cooking Chat
Prep Time:

10 mins

Cook Time:

35 mins

Total Time:

45 mins

Yield:

6

servings

1

x
Category:

side dish

Method:

roasting + stove top

Cuisine:

Italian
4 cups

chopped broccoli florets — 1 large or

2

medium stalks

2 tbsp

extra virgin olive oil (for the broccoli)

4

cloves garlic, minced

¼ cup

extra virgin olive oil

10

ozs spaghetti or other pasta

¼ cup

grated Parmigiano cheese plus additional for passing at table
additional extra virgin oil if desired
salt and pepper to taste

1 tbsp

minced parsley (optional)
Instructions
Roast the broccoli: Preheat oven to 400 degrees. Toss the broccoli with the 2 tablespoons olive oil plus salt and pepper to taste. Place the broccoli in the oven, and roast 25 to 30 minutes. The broccoli should be starting to brown and be easily pierced with a fork when it is ready. When done, set aside to cool a bit.
Start the pasta: Start the water boiling for the pasta shortly after the broccoli goes in the oven. Plan to add the pasta to the water after the broccoli has been roasting for 15 to 20 minutes.
Sauté the garlic: Heat the ¼ cup extra virgin olive oil in a small sauté pan on medium low heat. When it starts to get warm after a few minutes, add the garlic. Cook for one to two minutes, letting the garlic briefly sizzle a bit and release that garlicky aroma. You want the garlic to just start to turn golden, but remove before it gets brown. When the garlic is done, remove the pan from the heat.
Finish the dish: Drain the pasta when cooked to your liking, following package instructions. Toss immediately with the garlic olive oil mixture, followed by the broccoli. Stir in the cheese, with a bit more olive oil if you like. Add salt and pepper to taste, and parsley if you are using it. Serve and enjoy!
Notes
High quality extra virgin olive oil is important to the success of this dish! We were provided a complimentary sample of Chianti Classico Extra Virgin Olive oil from Barone Ricasoli.
The garlic cooks quickly! Keep a close eye on it as you don't want it to brown and develop bitter flavors.
Keywords: broccoli pasta, pasta with extra virgin olive oil, garlic and broccoli
Recipe Card powered by
Tuscany Wine and Food Articles from #ItalianFWT
Take a look below at all the great ideas for exploring Tuscany from the comfort of your own home. If you see this soon enough, please join our chat on Twitter at #ItalianFWT on Saturday, Nov. 2 at 11 am EDT.