Lightened Chicken Broccoli Ziti has plenty of flavor from garlic, roasted broccoli and cheese. We have tested it favorably with two Northern Italian white wines. Originally published in December 2015, updated in January 2020.
Wine inspiration for the dish
Chicken and broccoli pasta is one of my favorite Italian dishes. Somewhere along the way, I learned that lots of butter and oil, and sometimes cream, is they key to this tasty dish as it might be served at a traditional Italian American restaurant. I originally served up this Lightened Chicken and Broccoli Ziti along with a white wine from Friuli for the #ItalianFWT stop to the region.
When Ray from Pairings Wine and Food told me they carried several rich white wines from Friuli, I thought it would be a good time to cook up a lightened chicken and broccoli pasta recipe.
What makes this recipe work
I love the classic chicken broccoli ziti that you can get at most Italian restaurants. But I learned the typical version of this dish relies on a LOT of butter and/or oil to get the flavor. Not that I dislike butter but I thought I could come up with a lighter approach.
Keys to my approach: I use plenty of garlic and the chicken simmers in white wine rather than butter or oil. I also roast broccoli for the dish, finding that the nuttiness of roasted broccoli adds a good flavor that enables you to use a bit less cheese, too. Getting ready for the post I realized I used roasted broccoli in my last #ItalianFWT recipe, too.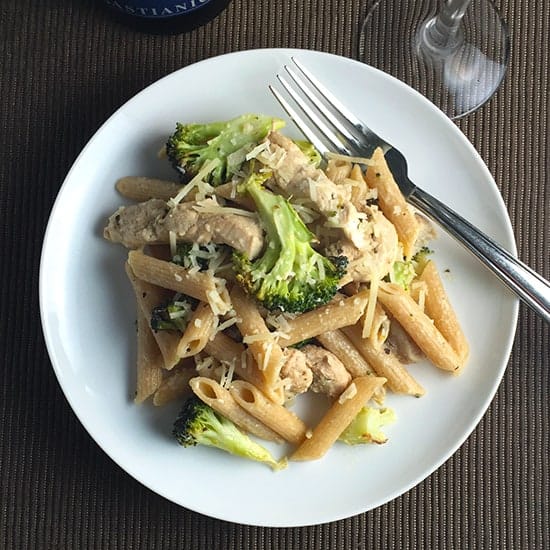 If you want that pasta and broccoli combination without the chicken, be sure to try our Garlic Broccoli Pasta recipe!
Tips for making this recipe
Here are some tips for making this chicken broccoli pasta; click here to jump down to the recipe for the full details.
You can make this recipe efficiently by working on cooking the chicken and pasta as the broccoli roasts.
The broccoli should cover a single layer of your baking dish. If you have broccoli remaining after creating a lay in the dish, use another dish or save the broccoli for another use.
The broccoli takes 25 to 30 minutes to roast at 400 degrees. It should be getting soft and browning when ready.
Cut the chicken breast thinly, about ½ inch thick, so that it cooks pretty quickly.
Briefly sauté the garlic, then add the chicken to the skillet. Cook uncovered for about 5 minutes so that the chicken starts turning white on the outside.
Add the wine and herbs, then simmer the chicken covered.
When the chicken is about ready, stir in the roasted broccoli at the end and simmer for a couple more minutes, covered.
Toss the chicken broccoli mix with the cooked pasta when it is ready, along with the cheese. Enjoy!
Wine pairing for Lightened Chicken Broccoli Ziti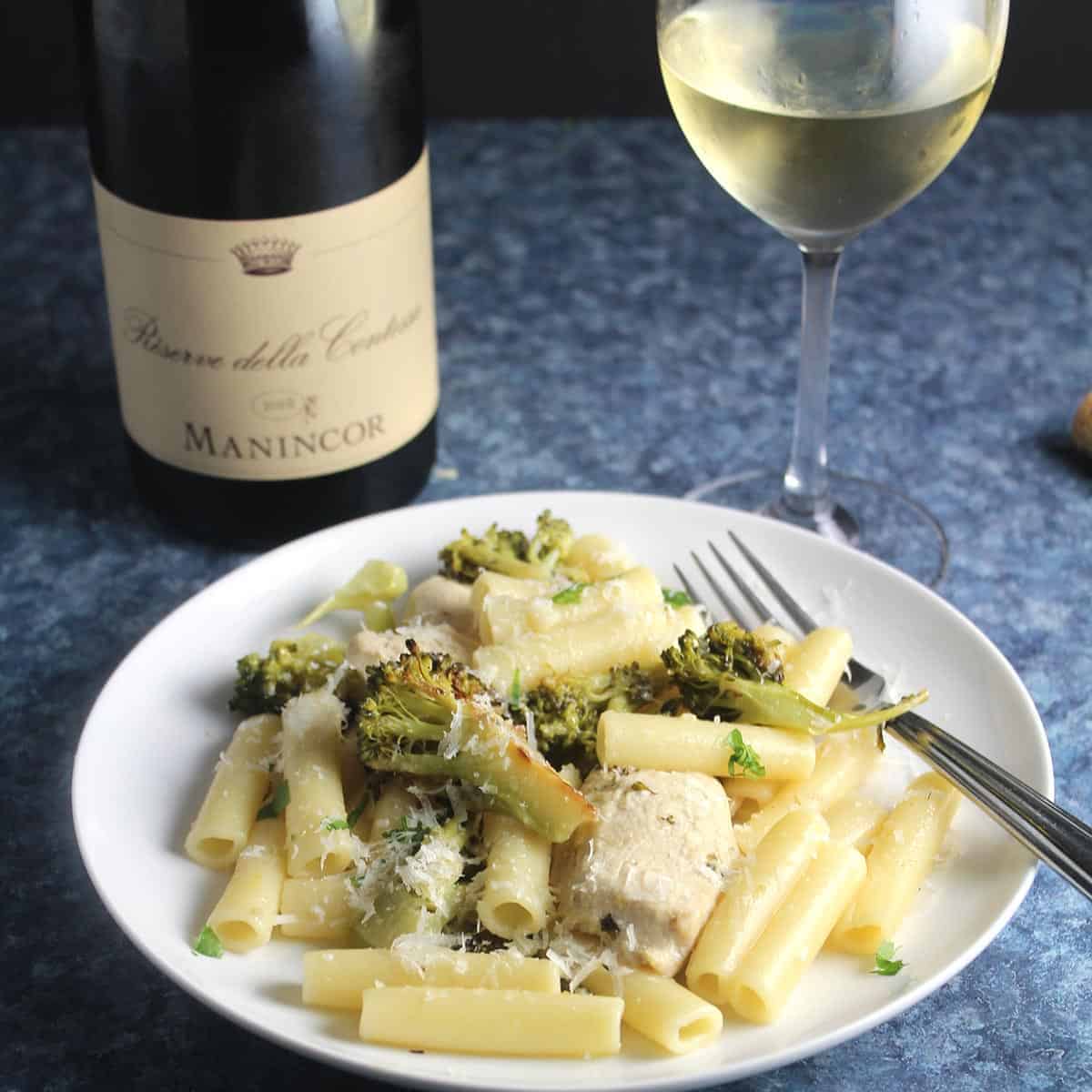 A crisp Italian white wine is my top recommendation for this lightened chicken broccoli recipe. I have had Chianti with the heavier version of chicken broccoli pasta at restaurants but white works better with our lighter style.
For our recent remake of this dish, I opened the 2018 Manincor Réserve della Contessa ($29, 13.5%) from the Alto Adige region in Northern Italy. This wine is a blend of 55% Pinot Bianco, 30% Chardonnay and 15% Sauvignon Blanc. Almond blossoms on the nose, lemon fruit and wet stone undertones on the palate. A good pairing for the dish; has enough body to match the chicken and pasta, crispness to work with the garlic flavors.
I originally went with the 2013 Bastianich Malvasia Istriana ($23, 13%) to pair with our Lightened Chicken and Broccoli Pasta recipe. I've enjoyed wines from the producer before. You might recognize the Bastianich name–yes, it is owned by the successful restaurateur Joe Bastianich. He is a big fan of the Friuli region and opened a winery there that is producing some wines of good quality.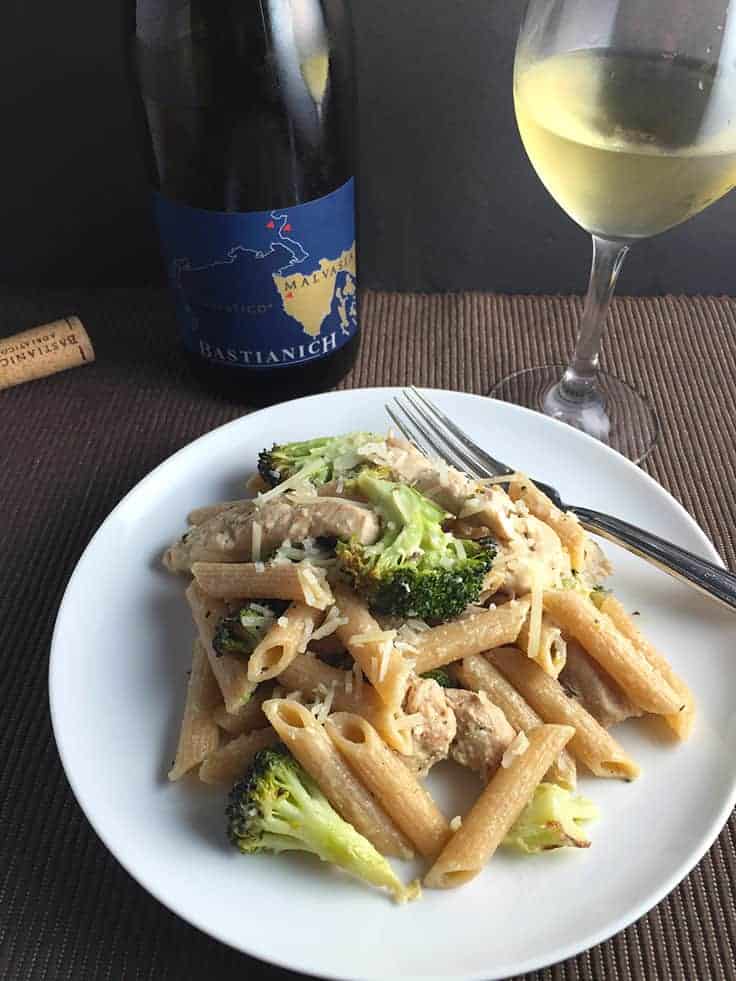 Now, digging into the background about the bottle I chose, I realized it wasn't the best selection for #ItalianFWT's visit to Friuli. The winery is in the region, but the Malvasia grape fruit for the wine comes from Croatia. That's not too for off from Friuli; a short trip along the Adriatic Sea from the Northeastern Italian region would get you into Croatia. But I would like to have the grapes from the region we are focused on for this event!
Geography challenges aside, the Bastianich Malvasia is a good pairing for the dish. Fairly full-bodied, though lighter than a Chardonnay. Good fruit and a bit of a minerality, a food friendly wine. I was pretty pleased with how the wine paired with the dish.

Print
Lightened Chicken and Broccoli Ziti
Lightened chicken and broccoli ziti has plenty of flavor from garlic, cheese and roasted broccoli.
Author: Cooking Chat
Prep Time:

10 mins

Cook Time:

40 mins

Total Time:

50 mins

Yield:

6

servings

1

x
Category:

Main

Method:

roasting & stove top

Cuisine:

Italian
1

bunch broccoli, chopped

½ tsp

garlic powder

5

garlic cloves, minced

3 tbsp

olive oil, divided

3

chicken breast fillets, sliced thin crosswise

¼ cup

white wine

¼ cup

Parmesan cheese, plus extra for serving

1 tbsp

parsley or other fresh herb

12

ozs ziti or other short pasta such as penne
salt & pepper to taste
Instructions
Prepare the broccoli: Preheat oven to 400. Toss the broccoli with 2 tablespoons olive oil, garlic powder and a bit of salt to taste.
Roast broccoli: Spread the broccoli out in a single layer in a medium roasting pan. Place in the oven to roast for about 25 to 30 minutes until the broccoli turns tender and begins to brown. Remove roasted broccoli from oven and set aside.
Start boiling water for the ziti about halfway through the broccoli roasting time.
Sauté garlic: As the broccoli roasts, heat 1 tablespoon olive oil on medium heat in skillet. Add the minced garlic and cook for 1 minute.
Add the chicken to the skillet. Cook for about 5 minutes, stirring occasionally, until the chicken begins to turn white on the outside.
Simmer with wine and herbs: Stir the cooking wine and herbs into the chicken. Reduce heat to medium low, cover, and simmer for 5 minutes.
Add roasted broccoli: After the chicken simmered with the cover on for 5 minutes, add the roasted broccoli to the skillet. Stir to combine. Cover and simmer for 3 to 5 additional minutes, until the chicken is cooked through. Remove from heat, keeping covered to keep warm until ready to toss with pasta.
Cook the pasta. Add the pasta to boil shortly after adding the chicken to the skillet. Cook pasta according to package instructions, then drain.
Toss the ziti together with the chicken and roasted broccoli. Stir the parmesan cheese, then add salt and pepper to taste. Enjoy with an Italian white wine!
Notes
Ziti or penne works best for this dish, but you could try other kinds of short pasta.
You can make this recipe efficiently by cooking the chicken on the stove top while the broccoli roasts.
Chicken sliced thinly cooks quickly. Watch the cooking times and avoid overcooking the chicken — of course, make sure it is cooked through. Cut a couple thick pieces open to check that it is white all the way through.
You can keep leftovers of course, but this dish is definitely more flavorful right when you first make it. Add a bit of extra olive oil when you re-heat it, and top with some grated cheese.
Keywords: chicken broccoli ziti, chicken and broccoli, chicken broccoli pasta, pasta and white wine
Recipe Card powered by
Want another substantial yet healthy pasta dish? Try our Creamy Roasted Acorn Squash Pasta!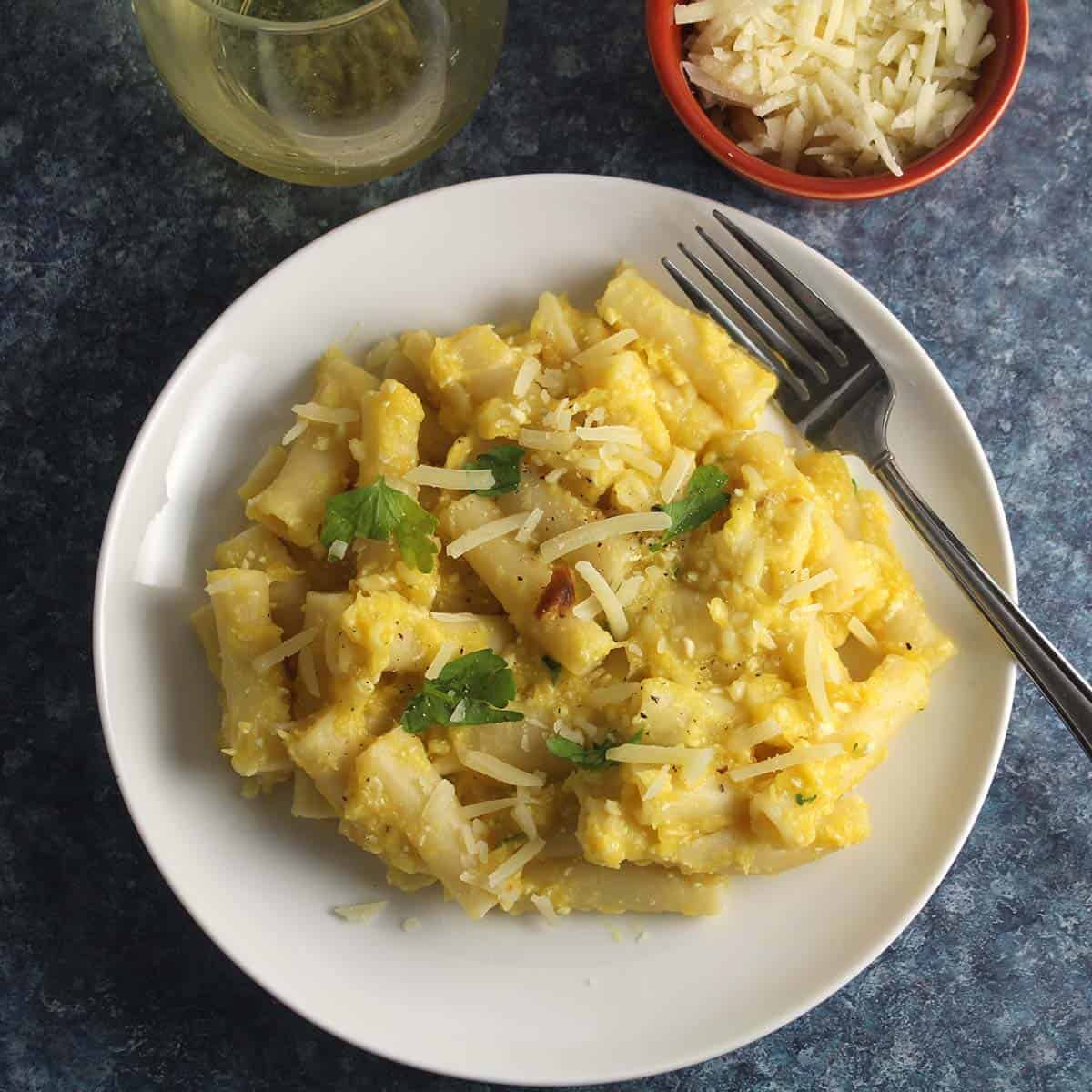 If you like this recipe, you might also enjoy our Baked Chicken with Pesto and Penne.
Join Our #ItalianFWT Conversation
Be sure to check out all the tasty Italian food and wine from Friuli!
Cooking Chat – Lightened Chicken and Broccoli Pasta with Wine from Friuli
If you see this in time, come join our conversation on Saturday December 5th at 11 am EST on Twitter at#ItalianFWT. We look forward to hearing from you then!