Grilled Arctic Char with Pineapple Salsa recipe, served with a rosé wine from Southwestern France as part of a Wine Pairing Weekend exploration of rosé pairings.
Today the Wine Pairing Weekend group, hosted by Nancy at Pull That Cork, is sharing pairings for rosé wine. Certainly a great topic as we get ready for summer!
Rosé wine is pretty versatile. Given the tendency to serve it as the weather gets warm, I often like to pair rosé wine with grilled food, with seafood being a natural partner for rosé. Today I am pairing rosé wine and Grilled Arctic Char with Pineapple Salsa. Pineapple salsa has been featured here before, such as this tasty combination with grilled swordfish. But arctic char is new to me, so let's talk about this fish a bit.
What is arctic char?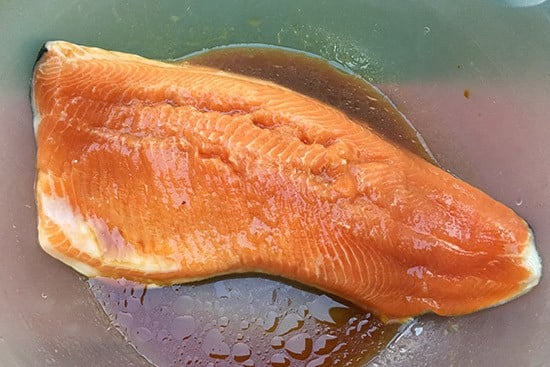 I've seen arctic char in the store and been curious, but this dish marks the first time I tried it. Arctic char is a cold water fish species found in alpine lakes and coastal waters in the arctic region. Reading up on arctic char to decide how to prepare it, I found the fish described as tasting like a combination of trout and salmon. You can kind of see the fillet marinating above looks a bit like a lighter colored salmon. I would have to agree with the description, and say that the arctic char definitely has a more delicate consistency and flavor profile, a bit more like trout. That makes it a great fish to serve with our flavorful pineapple salsa!
The arctic char I got from Whole Foods was sourced from a fish farm. Most of the arctic char available in the US comes from farms, according to this seafood industry site.
Wine Pairing for Grilled Arctic Char
Well, based on our theme we knew we were going to pick a rosé wine for our grilled arctic char. We went with the Domaine Roumagnac Authentique ($15), a blend of Negrette, Syrah, Cabernet Franc and Cabernet Sauvignon. Domaine Roumagnac is located in the village of Villematier, on the western border of the Fronton appellation in Southwestern France. Negrette is the major grape from Fronton, and is not found too often outside of the area.
Perhaps the rosé wine theme had me biased, but I got roses on the nose of this wine. Taste of melon and kiwi. This tropical element was a nice match for the pineapple salsa. This rosé is a medium bodied wine, which was just right for the char. I like some big, robust, rosé wines, but such a wine would have overwhelmed this fish. I definitely give the pairing a thumbs up!
Grilled Arctic Char Cooking Notes
Arctic char is more delicate than some other fish I like to grill, such as salmon and swordfish. Turn it over carefully, but you still may have some or all the skin stick to the grill. That's OK, just put the flesh side down on a clean part of the grill and remove the skin when you are done cooking (and eating perhaps!).
In the pineapple salsa for swordfish that I mentioned before, I grilled the pineapple and the onion together for the salsa. For this grilled arctic char recipe, I used fresh raw pineapple for the salsa, but added the smoky element by just grilling the onions. This work out nicely. A grill pan makes grilling the onions much easier, but if you don't have one, you can place sliced onions directly on the grill. (I've provided my Amazon affiliate link to a good grill pan option; I would earn a commission if you use a purchase using the link).
We served our grilled chard with some kale pesto orzo. Lots of flavor on that plate!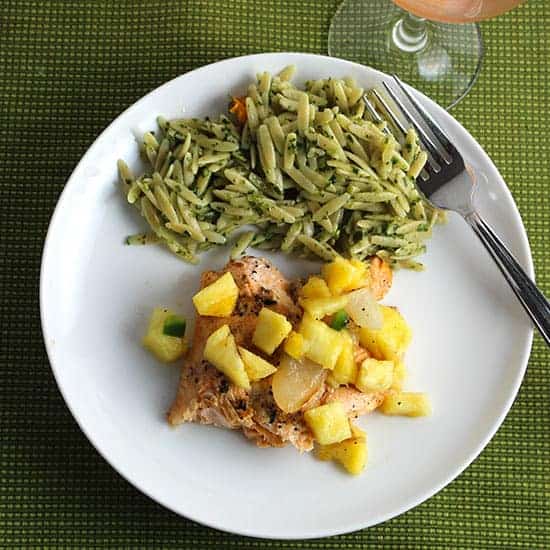 Time to get down to the recipe details!
Print
Recipe card
Grilled Arctic Char with Pineapple Salsa
Arctic Char grills quickly and topped with a flavorful pineapple salsa for an easy and healthy main course.
Author: Cooking Chat
Prep Time:

20 mins

Cook Time:

6 mins

Total Time:

26 mins

Yield:

3

servings

1

x
Category:

Main

Method:

grilling

Cuisine:

Carribean
FOR THE SALSA
1

onion, sliced and chopped

2 cups

pineapple, diced into

½

inch pieces

1 ½ tsp

jalapeño pepper, minced

2 tbsp

olive oil, divided

1 tbsp

lime juice
salt and pepper to taste
ARCTIC CHAR

2 tbsp

orange juice

1 tbsp

soy sauce

12

ozs arctic char fillet
Instructions
Preheat a grill to 400.
Toss the onion with the olive oil, and spread on a grill pan.
Place the onion on the grill. Grill for 10 to 15 minutes, stirring occasionally. Remove from grill when the onion has started to brown. NOTE: If you don't have a grill pan for the onions, you could grill larger onion slices and chop them after grilling. You could also simply use ¼ cup raw diced onions.
In a bowl, combine the pineapple, onion, jalapeño pepper, 1 tablespoon olive oil and lime juice. Salt and pepper to taste, stir and set aside while you grill the fish.
Combine the orange juice and soy sauce in a large bowl.
Rinse and pat dry the arctic char, and place it in the bowl with the OJ and soy sauce mixture. Turn to coat both sides of the fillet.
Bring the grill heat back to 400 degrees. Gently shake excess marinade from the char, then place it on the grill skin side down.
Grill the char, covered, for 3 minutes. Carefully turn the char over, and grill skin side up for three more minutes. Remove the cooked char to a platter.
Portion the arctic char, and serve topped with a generous serving of the pineapple salsa. Enjoy!
Keywords: arctic char, healthy fish, grilled fish, pineapple salsa
Recipe Card powered by
Rosé Wine Pairings from the #winePW Bloggers
Be sure to check out all the wonderful rosé wine pairings from the Wine Pairing Weekend bloggers!
Camilla from Culinary Adventures with Camilla pairs Rose Petal-Strawberry Granita with Luc Belaire Rare Rosé
Nancy from Pull That Cork paired A Corsican Rosé and Summer Veggie Pizza
Cindy from Grape Experiences will share Wine and Dine: Galil Mountain Rose and Mixed Olive Tapenade
Jill from L'occasion is contemplating Provençal Rosé and a Summer Supper
Martin from Enofylz Wine Blog pairs Chicken and Sausage Paella Paired with a Unicorn Rosé
Wendy from A Day in the Life on the Farm prepares a Seafood Boil featuring Domaine Houchart Cotes de Provence Rose 2015 #WinePW
Jade from Tasting Pour shares Labneh (Kefir) Cheescake with Strawberries & Del Rio Rose Jolee
Michelle from Rockin Red Blog will be Kicking Off Summer with National Rosé Day
David from Cooking Chat pairs Grilled Arctic Char with Pineapple Salsa You are here!
Lori from Dracaena Wines discusses Are You Impatient? You Could Have Created Rosé
Lauren from The Swirling Dervish considers Where Sicily and Mendoza Meet: Stuffed Roasted Calamari and 2015 Perlita Rosado. June's #winePW Adventure
Meaghan from Un Assaggio shares Cheeky Pairings: Cod Burger + Rosé #WinePW
Gwendolyn from Wine Predator travels Around the World With Rose
Our posts will publish early on Saturday, June 11, then we will gather at 11 am Eastern Time (8 am Pacific) on Twitter to chat about the food and wine pairings we prepared. Please consider joining the conversation by following #winePW on Twitter.
Our July event will be hosted by Jeff at foodwineclick, who has chosen Pairings with Sherry as the theme.