Grilled Swordfish with Pineapple Salsa is a great way to enjoy seafood from the grill. The pineapple and onions get grilled along with the fish to enhance the flavor of the salsa. If you like this one, check out our Grilled Swordfish Recipes collection, which also has side dishes to serve with swordfish.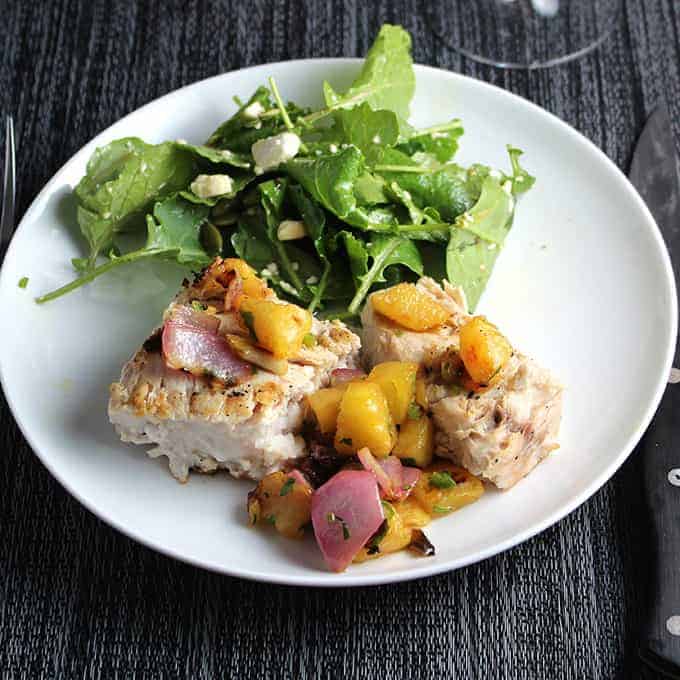 Maybe cooking up a meal from the tropics will make it start feeling warmer here in New England. I sure hope so. Last weekend I finally uncovered the grill, but I needed to layer up to be out tending to the meal. OK, the snow has melted, so I can't complain too much.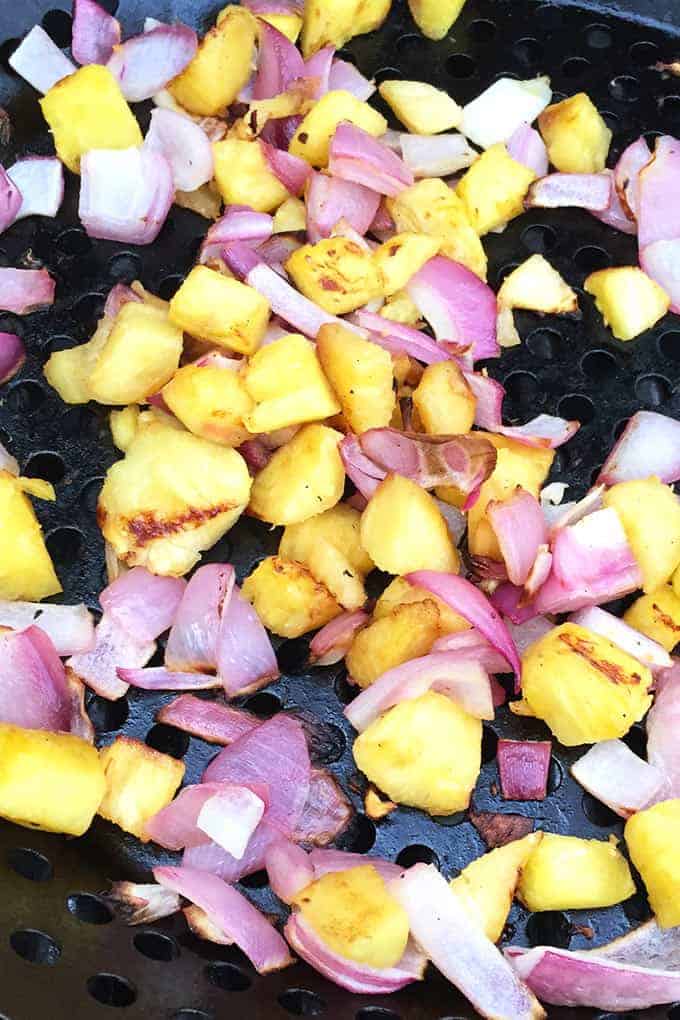 Tropical food is the theme for this week's #SundaySupper, hosted by Cindy at Cindy's Recipes and Writings and Marlene at Nosh My Way.
I had to join in, hoping to usher in some warmth, plus it gave me a chance to update my Grilled Swordfish with Pineapple Salsa recipe.
I'm a big fan of fruit salsas on fish–for instance, I served up Salmon with Mango Salsa for a #SundaySupper past. But you can really kick up the tropical flavors by grilling the pineapple for the salsa alongside a nice piece of swordfish. Now, if it were only balmy out there as I grilled it up…wait, wasn't going to grumble about the weather more!
Swordfish is one of my favorite things to grill. It's nice and meaty, so it holds up well to grilling. Done right (i.e. not overcooked) the fish and nice and tender, yet substantial. Topped off with this grilled pineapple salsa, and you have yourself an awesome meal!
At first, I wasn't sure if swordfish fit the tropical theme perfectly. I know boats from local waters go off in search of swordfish–sometimes it doesn't work too well, as you know if you've read or seen The Perfect Storm.
But then I recalled another book, The Old Man and the Sea, and thought the protagonist might have been going after swordfish. A quick search confirmed that swordfish are found in tropical waters, confirming that my grilled swordfish with pineapple salsa is a solid offering for the tropical #SundaySupper!
The idea that this recipe qualifies as tropical was further supported when I notice people also find this recipe when searching for "Hawaiian swordfish recipe"!
Another favorite recipe with swordfish is our Grilled Swordfish with Garlic Soy Marinade. Easy and delicious!
Preparing pineapple for salsa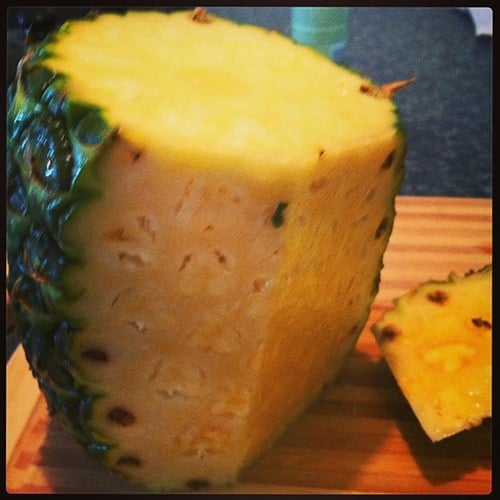 You can buy pineapple already chopped, but I like to core my own. As you can see in the photo, coring pineapple: you basically twist the top off, chop off both ends, then start cutting off the sides to reveal the fruit.
Cut the fruit off around the core, and chop into the one inch pieces called for by the recipe. A whole pineapple will give you the two cups called for here plus extra pineapple for healthy snacking!
My other method note for this recipe is that a grill pan makes a big difference preparing the salsa. You can cut the onion into the size pieces needed for the salsa, and grill them without worrying about them slipping into the grill. If you get into grilling onions for this recipe, see our collection of ways to use grilled onions and peppers!
Related recipes
If you like this recipe for grilled swordfish with pineapple salsa, you might also like one of these!
Wine pairing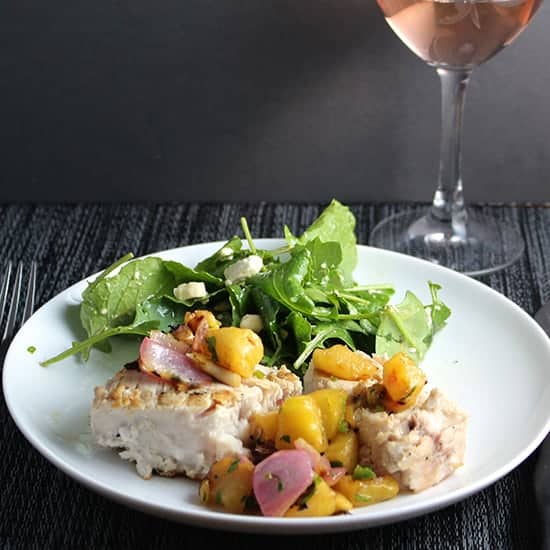 What wine to serve with this swordfish and tropical salsa? A rosé certainly is a good way to go, in keeping with the season and to match both the fish and the salsa. Medium-bodied with some subtlety is ideal, and we had a rosé from Provence that fit the bill nicely, a blend of Grenache, Cinsault, Mourvèdre and Syrah.
Print
Recipe card
Grilled Swordfish with Pineapple Salsa
Grilled swordfish with pineapple salsa is a great way to enjoy seafood from the grill. The pineapple and onions get grilled along with the fish to enhance the flavor of the salsa.
Author: Cooking Chat
Prep Time:

20 mins

Cook Time:

20 mins

Total Time:

40 mins

Yield:

4

serving

1

x
Category:

Main

Method:

grilling

Cuisine:

Caribbean
1 cup

fresh orange juice

2 tablespoons

soy sauce

2 cups

fresh pineapple, chopped into

1

inch pieces

1

medium red onion, peeled and cut into

½

-inch-thick slices
Cooking spray

1

lb swordfish steak

2 tbsp

olive oil

2 tablespoons

chopped fresh parsley

1 tablespoon

fresh lime juice

1

jalapeno or serrano pepper, seeded and minced
salt and pepper to taste
Instructions
Combine the orange juice and soy sauce in a small pan. Bring to a boil, then lower heat to gently simmer for about 10 minutes, until the liquid is roughly reduce by one half. Set aside when finished simmering.
Preheat your grill to medium high.
Combine the pineapple and onion in a mixing bowl. Toss with 1 tablespoon of the olive oil, add a bit of salt and pepper to taste.
Spread the onion and pineapple mixture out in a grill pan (you need something to keep the pieces from slipping through into the grill). Place on the grill.
Grill the onions and pineapple for 10 to 15 minutes, stirring occasionally. When the pineapple is starting to brown and the onion is getting soft, remove from heat.
Scoop the grilled pineapple and onion back into the mixing bowl. Stir in the remaining tablespoon of olive oil, the jalapeno pepper, parsley and lime juice. Add salt and pepper to taste and set aside.
You can start grilling the swordfish after getting the pineapple grilling. Coat the swordfish with a bit of cooking spray, then place on the grill. Brush the side facing up with the orange juice mixture.
Grill the swordfish with the grill covered on for 6 minutes. Flip the fish to the other side, and brush the side now facing up with the orange juice. Grill another 6 minutes, and check for doneness. You want the fish to be just cooked through (all white) but still moist. This typically takes 12 to 15 minutes of total grilling time depending on the thickness of the fish.
When the swordfish is cooked through, move to a platter. Portion up the fish, and serve topped with the pineapple salsa. Enjoy!
Keywords: swordfish, grilled swordfish, pineapple salsa, fish with salsa, Hawaiian swordfish recipe
Recipe Card powered by