Grilled Chicken Broccoli and Garlic Penne: an Italian classic with a tasty twist, perfect for summer cooking! We recently updated this post with some recipe tweaks plus new wine pairing and photos.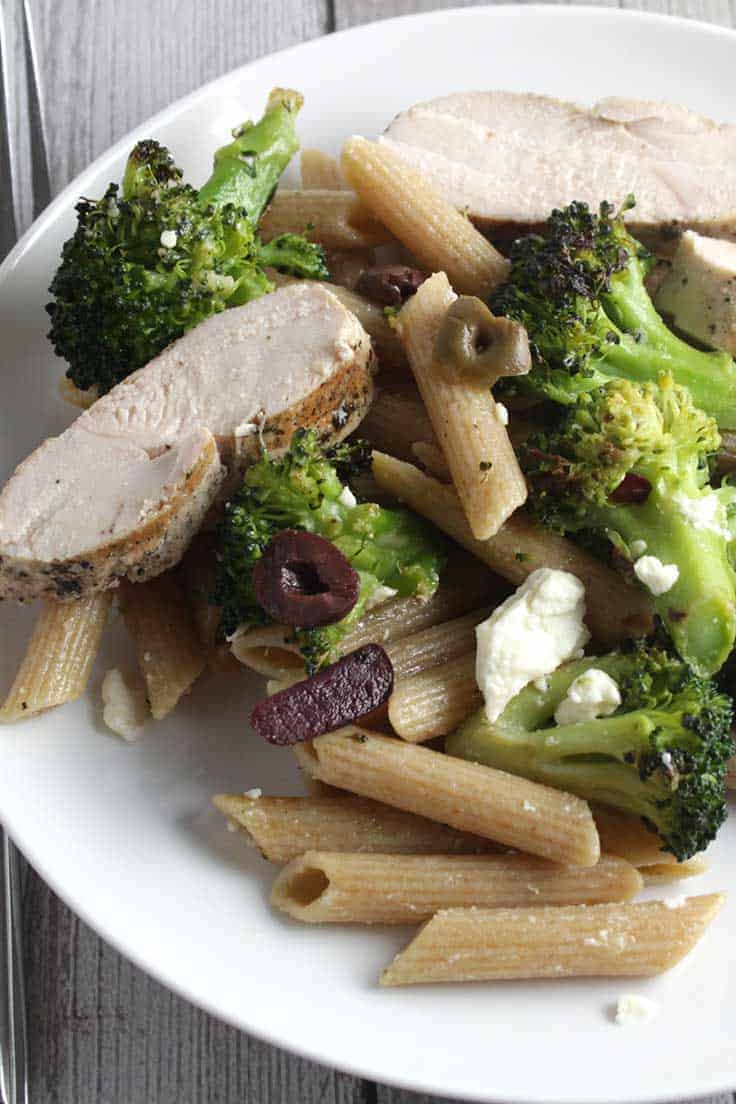 One of my favorite cooking challenges is to take a traditional dish and prepare it in a new, interesting way. Pasta with chicken and broccoli has always been one of my favorites, and it seemed ripe for a new interpretation. I'd never grilled broccoli, and thought that would be good to try. Caramelized on the grill, it goes great with the grilled chicken. Garlic comes in two ways in this version–I used powder in the marinade, and roasted garlic cloves were mixed into the cooked pasta. I used feta as well as parmesan to amp up the flavors. This is definitely one of my favorite creations!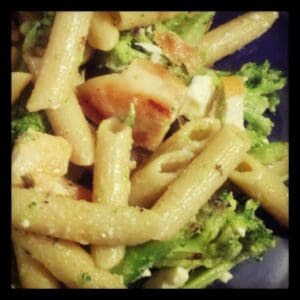 I recently came back do do a remake of this recipe originally created back in 2012 (original photo above). I made a few updates to the process for making this Grilled Chicken Broccoli and Penne. For instance, I steamed the broccoli prior to grilling it. Originally I blanched the broccoli, following this Grilling Companion recipe for the method.
With a few tweaks to streamline the process, this is still the same flavorful recipe I remembered making originally. Keep this Grilled Chicken Broccoli and Penne recipe in mind next time you want to try a twist on an Italian classic dish!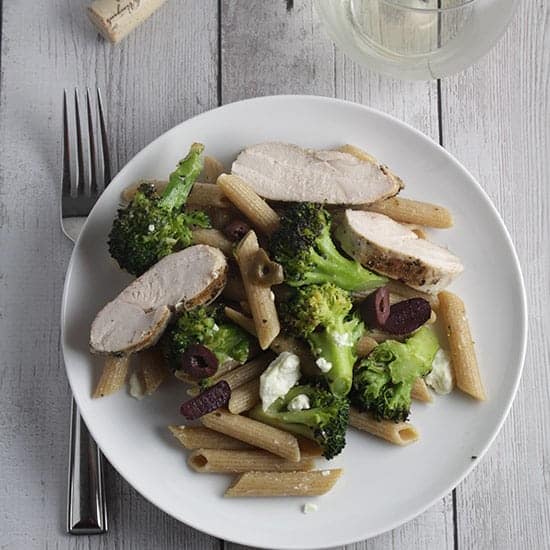 Wine Pairing for Grilled Chicken Broccoli and Garlic Penne
Keeping with the idea of riffing on traditional themes, we originally served the Grilled Chicken Broccoli and Garlic Penne with the 2011 Alexander Valley Vineyards Dry Rosé of Sangiovese ($16). Typically associated with Chianti, the classic Italian red wine, this rosé from California worked very well with the grilled food and garlicky flavors. The wine is refreshing and fruity as one likes in a summer wine, but also has the body to stand up to this substantial dish. Of course, you would need to look for a more current vintage, but a rosé made from Sangiovese is still a good pairing idea.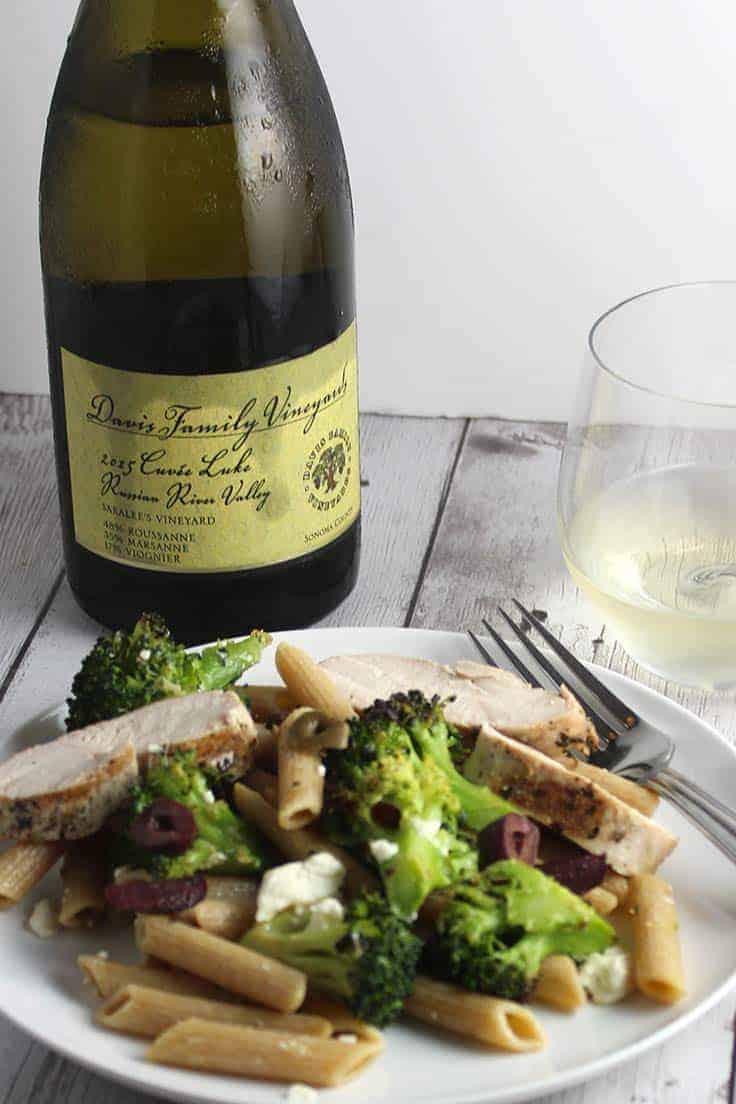 For our 2017 remake of the recipe, we opened the 2015 Davis Family Vineyards Cuvée Luke ( $25, 13.4%), a white Rhone style blend from the Russian River Valley in Sonoma County. The blend is 48% Roussanee, 35% Marsanne, and 17% Viognier. I thought the soft, fruit forward wine was another good pairing for our grilled chicken broccoli and garlic penne. Grab this bottle if you can, or try a similar white Rhone style blend, either from the Rhone or California.
Print
Grilled Chicken Broccoli and Garlic Penne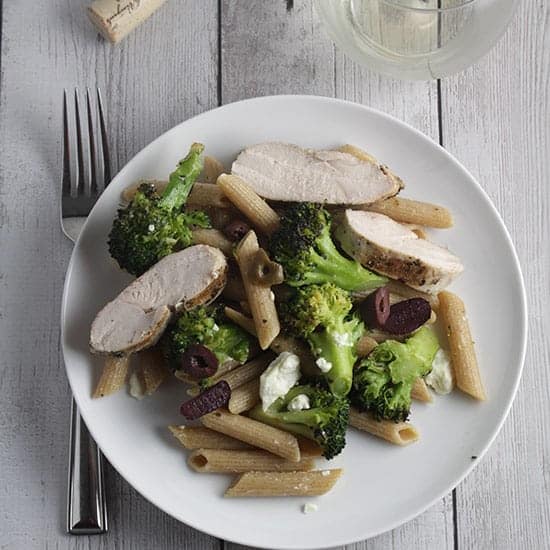 Penne with Grilled Chicken Broccoli and Garlic is a tasty tweak of the classic Italian recipe.
Author: Cooking Chat
Prep Time:

10 mins

Cook Time:

40 mins

Total Time:

50 mins

Yield:

5

servings

1

x
Category:

Main

Method:

grilling

Cuisine:

Italian
Scale
Ingredients
1

head of garlic

1 tbsp

olive oil
FOR THE BROCCOLI

1

bunch of broccoli, chopped

1/2 tsp

garlic powder

2 tbsp

olive oil

1 tbsp

parmesan cheese
salt to taste
pinch red pepper flakes
FOR THE CHICKEN

3

medium boneless chicken breast fillets

1 tbsp

olive oil

1/2 tsp

garlic powder

1/2 tsp

dried basil
salt
FOR THE PASTA & FINAL DISH

12

ozs penne pasta

3 tbsp

or so olive oil

1

or

2 tbsp

white wine

1/3 cup

feta cheese
parmesan cheese to serve at the table

8

olives, sliced
Instructions
Preheat a grill to 400 degrees.
Cut the root end off the head of garlic, exposing the bottom of the garlic cloves. Drizzle exposed cloves with 1 tablespoon of the olive oil. Season with salt and pepper to taste. Wrap the garlic in aluminum foil, then put on the grill, on indirect heat. Roast until garlic is brown and getting very soft, 30-45 minutes. Set aside to cool when done roasting. When the garlic is cool enough, squeeze out the roasted garlic into a small bowl. Add 1 teaspoon olive oil to the garlic, and stir to combine a paste. Set aside.
Meanwhile, as the garlic roasts, combine the chicken in a bowl with the olive oil, garlic powder, basil and salt. Let it marinate for a bit, as the chicken will only take about 10 minutes to cook. This is a good time to start the water boiling for the penne.
Steam the broccoli: put an inch or two of water in a large pan. Insert a vegetable steamer into the pan and add the broccoli. Steam for 4 to 5 minutes.
Move the steamed broccoli into a bowl, and combine with the 1/2 teaspoon garlic powder, 2 tablespoons olive oil, parmesan cheese, salt to taste, and red pepper flakes. Stir the broccoli is well-coated.
Transfer the broccoli to a grill pan, and place on the grill.
Start grilling the chicken and cooking the penne around the same time you put the broccoli on the grill. Coat the grill with oil spray, and place the chicken on the grill. Grill the chicken for about 6 minutes on one side, then turn over to finish grilling for another 6 minutes or so. Check the chicken for doneness after 12 minutes of total grilling. Remove chicken if done, or grill for a few more minutes to finish cooking if needed. When the chicken has cool, slice the chicken into bite sized pieces.
Stir the broccoli after it has been grilling for 5 or 6 minutes. Grill for another 6 minutes. The broccoli should be starting to brown and caramelize. Remove from heat.
Cook the penne according to package instructions as you grill the chicken and broccoli. When the pasta is cooked, drain and toss with 3 tablespoons of olive oil, 1 tablespoon of white wine, the feta cheese and sliced olives. Stir in the roasted garlic paste.
Add the chicken pieces and broccoli to the pasta. Stir to combine well. Plate and serve with additional parmesan cheese at the table. Enjoy!
Keywords: pasta recipes, chicken and broccoli, grilled chicken, broccoli
Recipe Card powered by