Grilled salmon with portobello mushrooms is a simple, healthy meal that cooks quickly on the grill. We enjoy the recipe served with a Pinot Noir wine.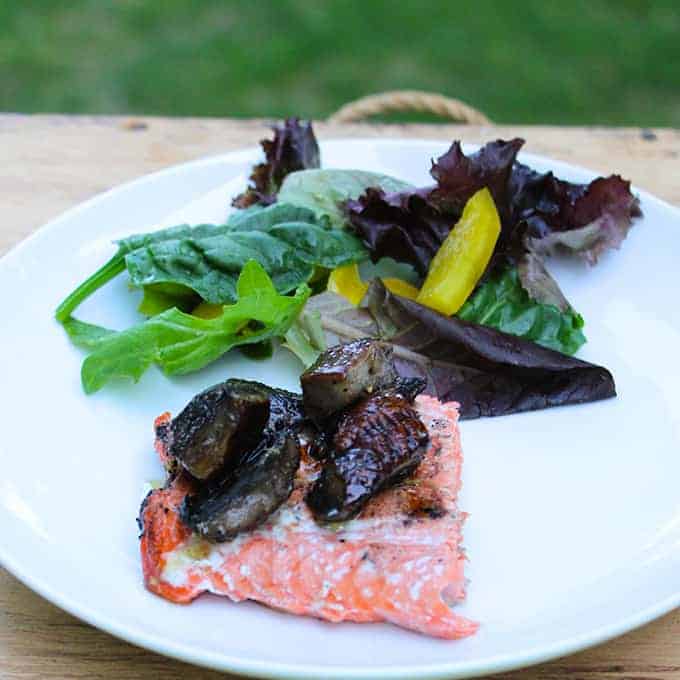 I'm a big fan of salmon with mushrooms. Earlier this year, I shared this indoor version of the combination, but now it's grilling season. So I'm going to get this Memorial Day Weekend started by sharing this Grilled Salmon with Portobello Mushrooms recipe. Check out this What to Serve with Salmon roundup for some side dish ideas.
Portobello mushrooms are so easy to work with on the grill, and tasty great prepared on the grill. Unlike some other veggies, you don't have to worry about these guys slipping through the grates. In under 10 minutes, they can be ready to add some nice rich flavor to other items you are preparing. They can be tossed with a grain dish, top other meats like steak. But today they top salmon for a tasty and easy meal.
After the mushrooms get grilled, I toss them with a simple preparation of olive oil and dried herbs. I also add a bit of pomegranate molasses, which I have on hand from making this Muhammara Spicy Red Pepper Dip. If you can't get your hands on the pom molasses, balsamic vinegar would be a fine substitute.
This grilled salmon recipe can be on your plate in 15 minutes. Simple and tasty, so get this going on your grill soon!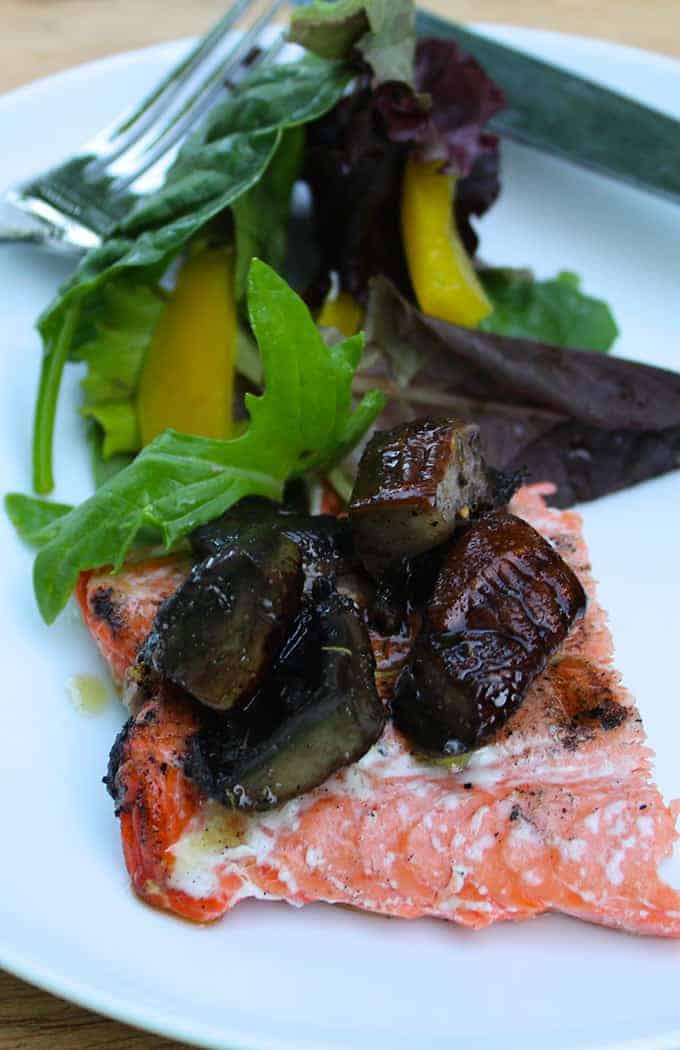 Wine Pairing: This recipe just begs to be served with a Pinot Noir. I favor pinot with salmon anyway, but when salmon is topped with earthy mushrooms, you just gotta go with a pinot. The pomegranate molasses also matches well with pinot, making this pinot noir a spot on pairing for the grilled salmon with portobello mushrooms. I wasn't wild about the pinot we actually had with this, so I'll recommend the Hahn Pinot Noir as one solid, moderately priced pinot that would be good with the dish. Enjoy!
Print
Recipe card
Grilled Salmon with Portobello Mushrooms
Recipe Card powered by