Wondering what to serve with salmon? We've collected over 50 of the best sides dishes to serve with salmon, giving you so much tastiness to choose from! We also includes some of our favorite salmon recipes here. This collection of salmon side dishes is divided into sections for easy navigation:
Jump to: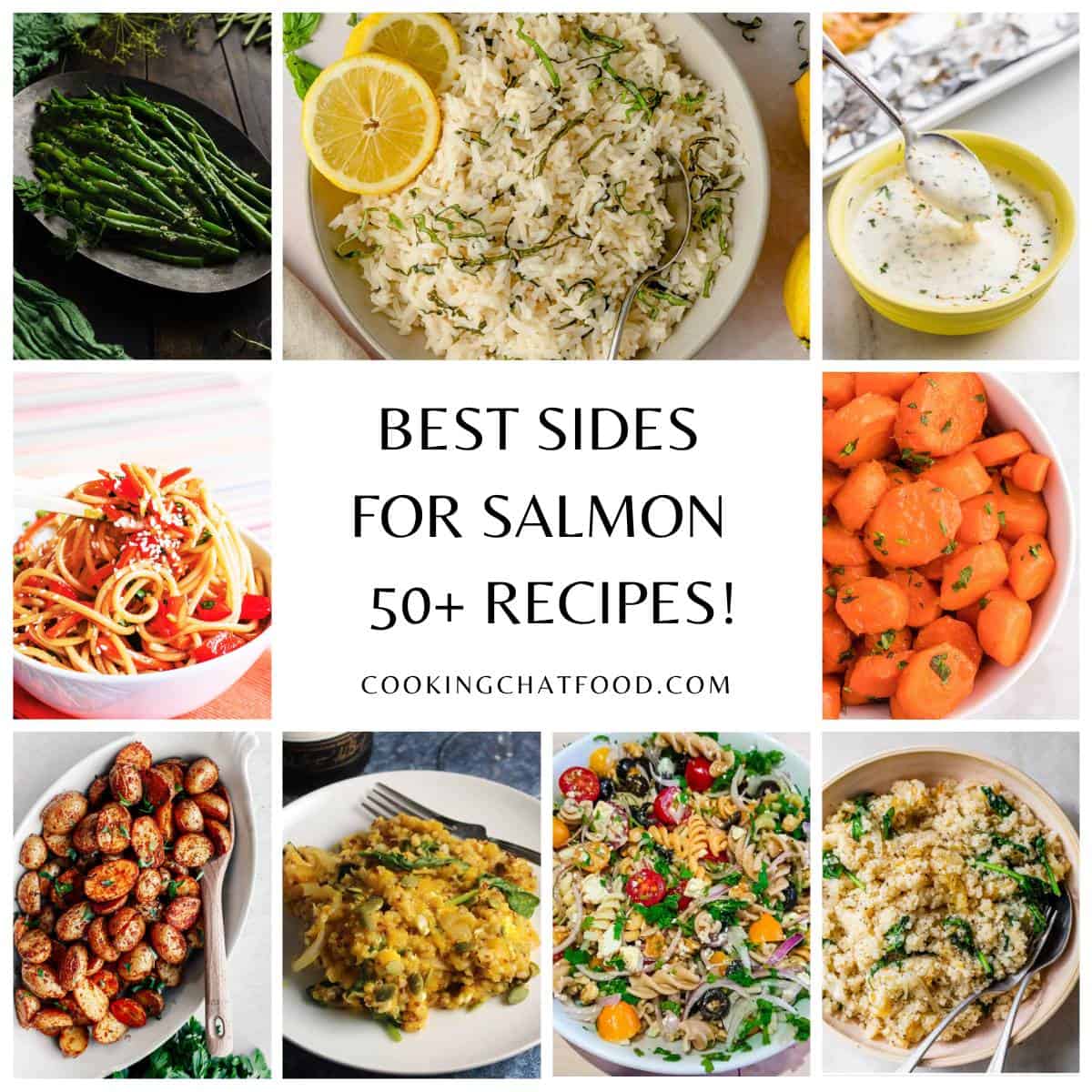 Looking to eat healthy in the new year? Salmon is a great choice to be part of your healthy meal rotation. This lean source of protein also has the healthy fats known as omega-3 fatty acids, which has a number of benefits for heart and brain health – see this Web MD article for more information.
Salmon is a healthy choice, but we like it for its taste! I'd have to say salmon is my favorite fish.
The first section of this collection includes a couple of my favorite salmon recipes. For more ways to prepare salmon, check out our collection of the best healthy salmon recipes.
Toppings and sauce recipes for salmon
Most of this collection focuses on side dishes for salmon. But we start off with some ideas for toppings and sauces, in case you are trying decide how you want to serve your salmon. A couple of these link to favorite Cooking Chat salmon preparation recipes.
Pasta
More often than not, we find ourselves serving salmon along with some pasta. So let's take a look at some delicious pasta recipes that go well with salmon.
Vegetable sides
You've got to have some veggies to go with your salmon for a healthy meal! These delicious vegetable side dish recipes for salmon make it easy to eat your veggies. Get inspired by these creative ways to use fresh vegetables.
Salads and slaw for salmon
There's nothing like featuring fresh vegetables in a good salad! A great way to round out a meal with salmon on the plate. This section also includes some creative slaws that enhance a salmon meal.
Rice and potatoes
I often like to have rice with fish. And being Irish, there's always a chance we might have potatoes on our plate! Here are some great recipes for serving rice and potatoes with salmon.