This Guacamole Cheeseburger is packed with flavor! A good burger topped with nicely melted cheese, caramelized onions and guacamole. Pairs very well with a good bottle of Cabernet Franc. Originally posted for the first #CabFrancDay in 2015, updated for the 2017 observance of the grape. Read on for details, or click here to jump down to the recipe.

You are going to want to make this Guacamole Cheeseburger before you go making any ambitious New Year's resolutions. Sure, avocado is healthy, and a moderate amount of beef in the diet is a good thing. But take a look at this burger! You've got juicy beef topped, nicely melted cheese, tasty guacamole and topped off with some savory caramelized onions.  Enjoy this decadent burger for a quick treat during the busy holiday season, talk about resolutions later!
This Guacamole Cheeseburger was created to enjoy on the first-ever #CabFrancDay. My fellow Wine Pairing Weekend Blogger Lori from Draecana Wines started this event to call attention to the often unheralded Cabernet Franc grape. You are more likely to have come across Cab Franc in a Bordeaux or other blend, but a good Cab Franc ought to have a chance to shine on its own!
#CabFrancDay is now going strong as I update this post in 2017. I look forward to opening a bottle of 2015 Dracaena Wines Cabernet Franc from Paso Robles tonight to observe the occasion!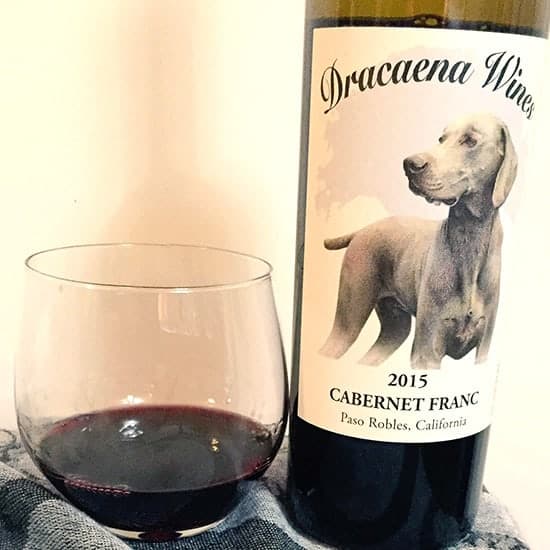 I have to confess, Cab Franc has not always been my favorite wine. It's known for having green pepper characteristics, and early on I had some Cab Franc that had too much of that vegetal thing going on. But I'm an open minded wine drinker, and I have since come back to find plenty of Cab Francs that I really enjoy.
Cab Franc is food friendly, with good acidity and slightly lower tannins than Cab Sauvignon. This Wine Folly post about Cab Franc noted that the wine goes especially well with herbs. I try to be frugal on Fridays, using up things on hand before the big weekly grocery shopping on Saturday. I had burger in the freezer, and a good amount of cilantro on hand I wanted to use. Avocados were on sale, and I quickly cooked up a plan for this Guacamole Cheeseburger. I was glad I did! Oh yeah, don't forget the caramelized onions I had left from this ribeye roast. 
Wow, this burger is so good! So much flavor from the guacamole and caramelized onions, and the cheese is melted on just right. I used 85% lean beef, more fat content than we typically have in our burgers, and I realize this added to the juicy quality of it. I was tempted to call this one "the best burger ever" following the way many blog recipes get tagged. Or maybe "cheeseburger in paradise"? But I tend to simply be descriptive, and called it a Guacamole Cheeseburger. I'll let you try it, and if you want to call it the Best Burger Ever, I won't argue!
If you're looking for another good Cab Franc pairing, we really enjoyed the Roasted Sirloin Steak with Avocado Sauce we made back in 2016 for #CabFrancDay.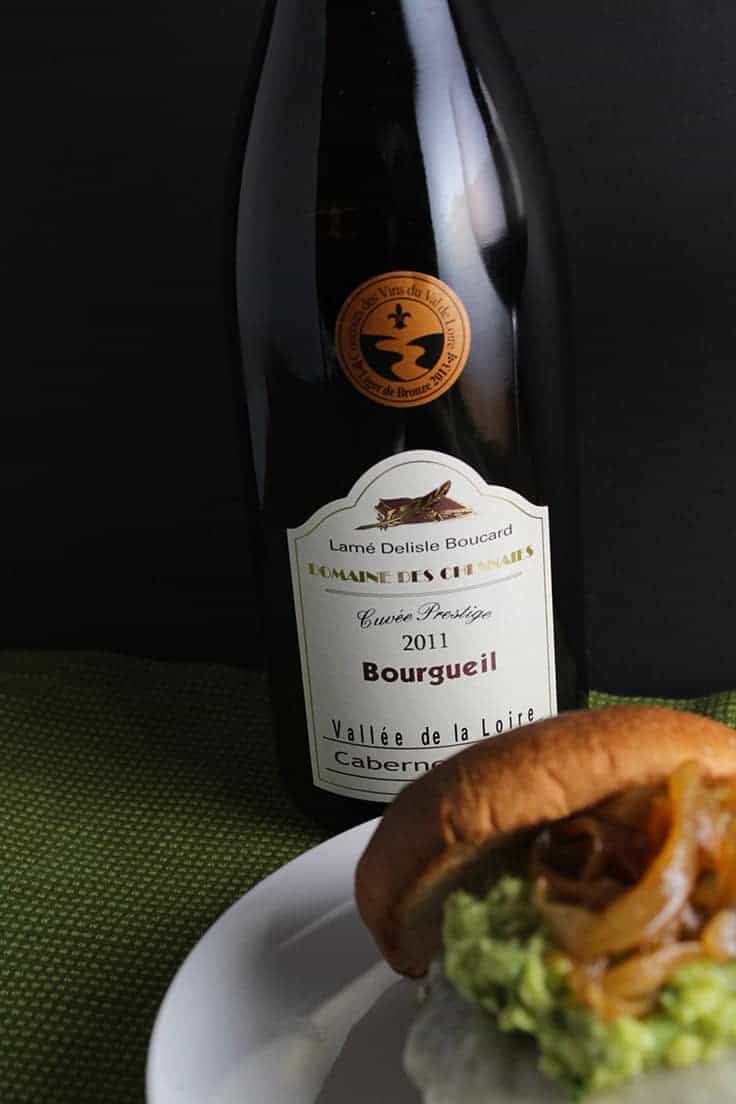 Wine Pairing: So as I said at the beginning, this burger was cooked up to enjoy on #CabFrancDay. Cab Franc is produced in many places but I figured a French Cab Franc would be a good option. So we opened the 2011 Domaine Des Chesnaies Lame Delisle Boucard Bourgeil Cabernet Franc ($14, 13% ABV). Bourgueil is an appellation in the Loire region dedicated strictly to reds and rosés and Cab Franc is the dominant grape there.
I got pepper and eucalyptus on the nose of the Cab Franc. My first taste, I definitely was first struck by the classic green pepper element, and also noted the chalky mouthfeel. OK, but I suspected it would get better with our Guacamole Cheeseburger. I was right. The wine opened up pretty quickly in the glass, and was a great complement to the fat content in the burger and the guac. And the green pepper was more subdued after being in the glass a bit, just enough of that to play nicely with the cilantro I used in our guacamole recipe. The Guacamole Cheeseburger is definitely a good food to enjoy with Cab Franc…but don't wait until next #CabFrancDay to try it!

Print
Recipe card
Guacamole Cheeseburger
A juicy burger with perfectly melted cheese, tasty guacamole and savory caramelized onions makes this Guacamole Cheeseburger one of the best burgers ever! Pair with a Cabernet Franc wine.
Author: Cooking Chat
Prep Time:

10 mins

Cook Time:

20 mins

Total Time:

30 mins

Yield:

2

servings

1

x
Category:

Main

Cuisine:

Tex-Mex
1

onion, thinly sliced

1 tbsp

olive oil

1 tbsp

butter

2

cloves garlic, minced

1

avocado

1 tsp

lime juice
handful of cilantro, minced
salt and pepper to taste

½

lb ground beef, shaped into

2

patties

2

slices cheese that melts well, like provolone or cheddar

2

burger buns, lightly toasted
Instructions
Heat the olive oil in a skillet on medium high. Stir in the onions with a pinch of salt. Cook on medium high for 5 to 10 minutes, stirring infrequently so that the onions will brown.
When the onions have begun to brown nicely, add the butter to the skillet and lower heat to medium low. Cook for another 10 minutes until the onions are very soft and brown. Keep on low heat until the the burger is ready.
Make the guacamole as the onion caramelizes. Slice the avocados in half. Remove the pit, then scoop the flesh into a bowl.
Mash the avocado with a fork, then stir it a bit. Stir in the garlic.
Add the add the cilantro, salt and pepper. Stir again.
Add the lime juice. Stir vigorously to get everything well combined and to achieve a nice fairly smooth consistency. Set aside.
As the onion continues to caramelize, cook the burger. Heat a skillet on medium high with oil spray. When the skillet is good and hot, add the burger to the skillet. Sprinkle with a pinch of salt. Lower heat to medium.
Cook burger 5 to 6 minutes on one side, then flip to cook another 5 to 6 minutes. Add the cheese, cook another minute or two until the cheese has melted. It is recommended to serve ground beef medium to medium well done.
Place the cooked burger onto a bun. Top with some guac, and spread to cover the burger. Top with the caramelized onions, and enjoy with a glass of Cab Franc!
Recipe Card powered by