This Healthier Hoppin' John recipe is a traditional Southern dish made with black eyed peas. Our Hoppin' John gets healthier with turkey bacon used in place of pork. Often eaten New Year's Day for good luck. This was originally published in 2015, and updated December 2019. This Cooking Chat recipe was also featured in the New Year's Eve edition of Woman's World magazine.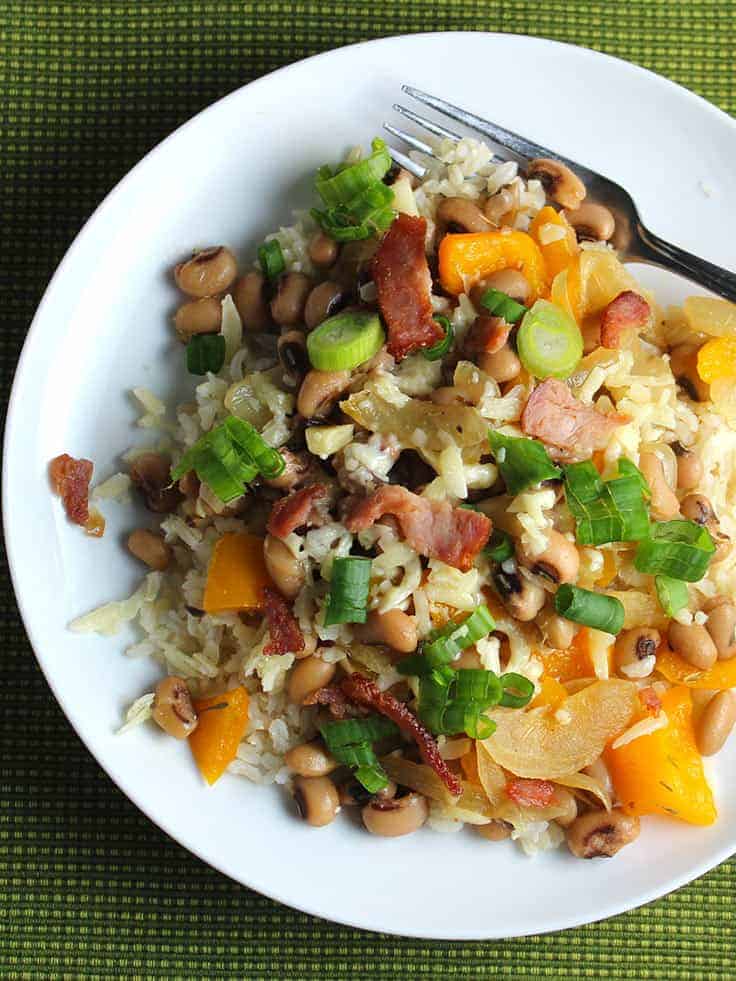 I guess it's no surprise I acquired a taste for Hoppin' John during the five years I lived in Kentucky. Hoppin' John a popular dish in the South, plus I tend to be a fan of flavorful beans and rice dishes, so was predisposed to liking it. Eating Hoppin' John on New Year's Day is a tradition in the South, so I thought I'd bring you Healthier Hoppin' John for this Last Minute Holiday Dishes #SundaySupper.
Check our our collection of Black-eyed Peas Recipes for more ideas of what to serve with this lucky legume!
What is Hoppin' John?
Hoppin' John is traditionally made by cooking black-eyed peas with pork fat of some sort–bacon, sausage, or ham hocks. Though it is eaten throughout the South, it is most common in the Carolinas, according to this article.
This same post elaborates on the tradition of enjoying Hoppin' John on New Year's. Sometimes the Hoppin' John accompanies the Champagne when the clock strikes midnight on New Year's Eve. Serving it with collard greens could enhance your chance of wealth in the New Year, and if you find the coin buried in your serving of Hoppin' John, you are really lucky. Assuming you didn't find the coin by crunching down on it! Wondering how many of my Southern readers observe any of these New Year's traditions involving Hoppin' John?
Making this recipe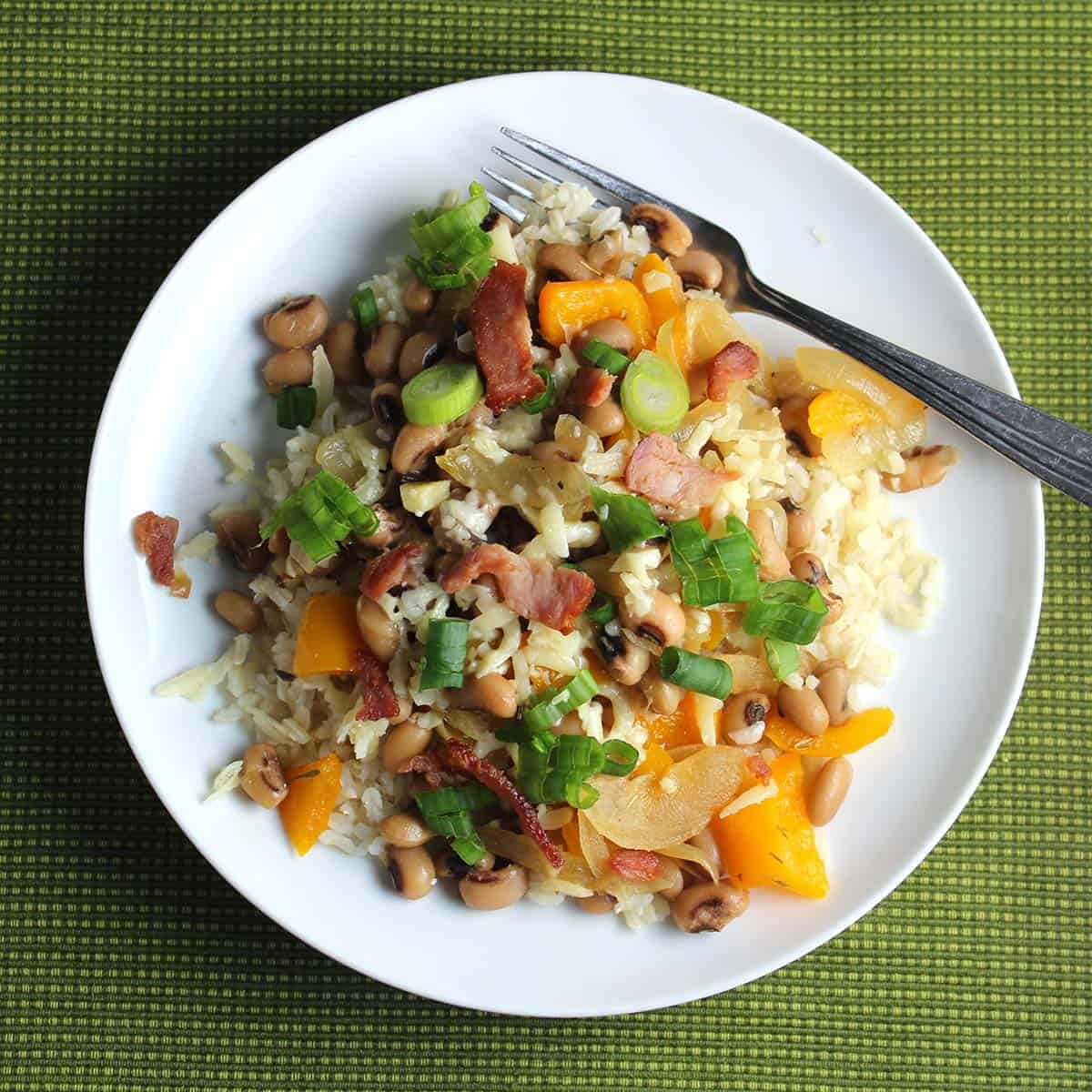 Making Healthier Hoppin' John comes pretty naturally to me. Jodi was eating mostly vegetarian during the time we were living in Kentucky, and I first had Hoppin' John at a vegetarian-friendly restaurant in Lexington called Alfalfa. If memory serves correctly, I believe the offered Hoppin' John as a vegetarian dish. Speaking of vegetarian Hoppin' John, here's a recipe from Grandbaby Cakes if you would prefer a meatless version.
Here's how we made a healthier version of the classic Hoppin' John dish:
Substituted turkey bacon for regular bacon. Turkey bacon has much lower fat content, but still lends the smoky flavor characteristic of the dish.
I doubled up on the smoky flavor by adding a bit of smoked maple syrup. I list that as an optional ingredient, as I realize not everyone has smoked maple syrup on hand. But I do encourage you to grab some, as it adds great flavor to many dishes.
I used a Cajun spice blend in an earlier version of this recipe. But I like the blend of paprika, oregano and thyme I used in this version of Healthier Hoppin' John better.
Using a low fat cheese or skipping it altogether would make this even healthier. If you're so inclined, go for it. But taking out bacon AND cheese seemed a little extreme to me!
How to serve this dish
I was debating about whether to list the Healthier Hoppin' John as a side dish or a main. I served the most recent version of Healthier Hoppin' John as a side for our Cumin Sage Rubbed Pork Chops.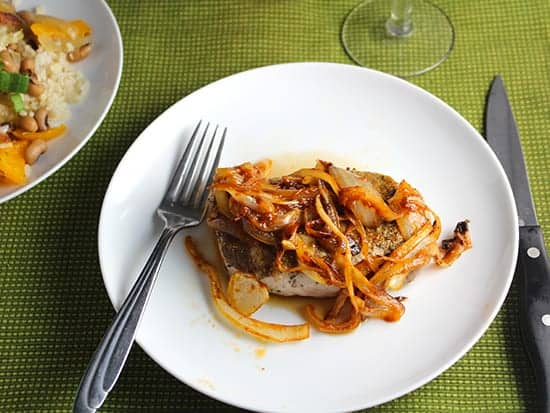 The Hoppin' John and pork chops certainly worked out nicely. But Jodi was so enthused to see Hoppin' John that night she filled her plate with the Healthier Hoppin' John and skipped the pork.
So make this healthy Hoppin' John as a side for pork or chicken, or serve it as a healthy main dish to start your New Year off right! If serving it as a main, this Smoky Maple Greens and Cabbage Salad would be nice to serve on the side. It uses the same smoked maple syrup mentioned as an optional ingredient here.
As I review this article, I see we didn't originally have a wine pairing here. We paired the pork chops recipe mentioned earlier with a Cab Franc / Merlot blend, and it worked fairly well. But if I were focusing on the Hoppin' John for a New Year's wine pairing, I would certainly think about opening a bottle of sparkling wine!
However you make this healthy Hoppin' John, I hope you enjoy it and have much good fortune in the New Year!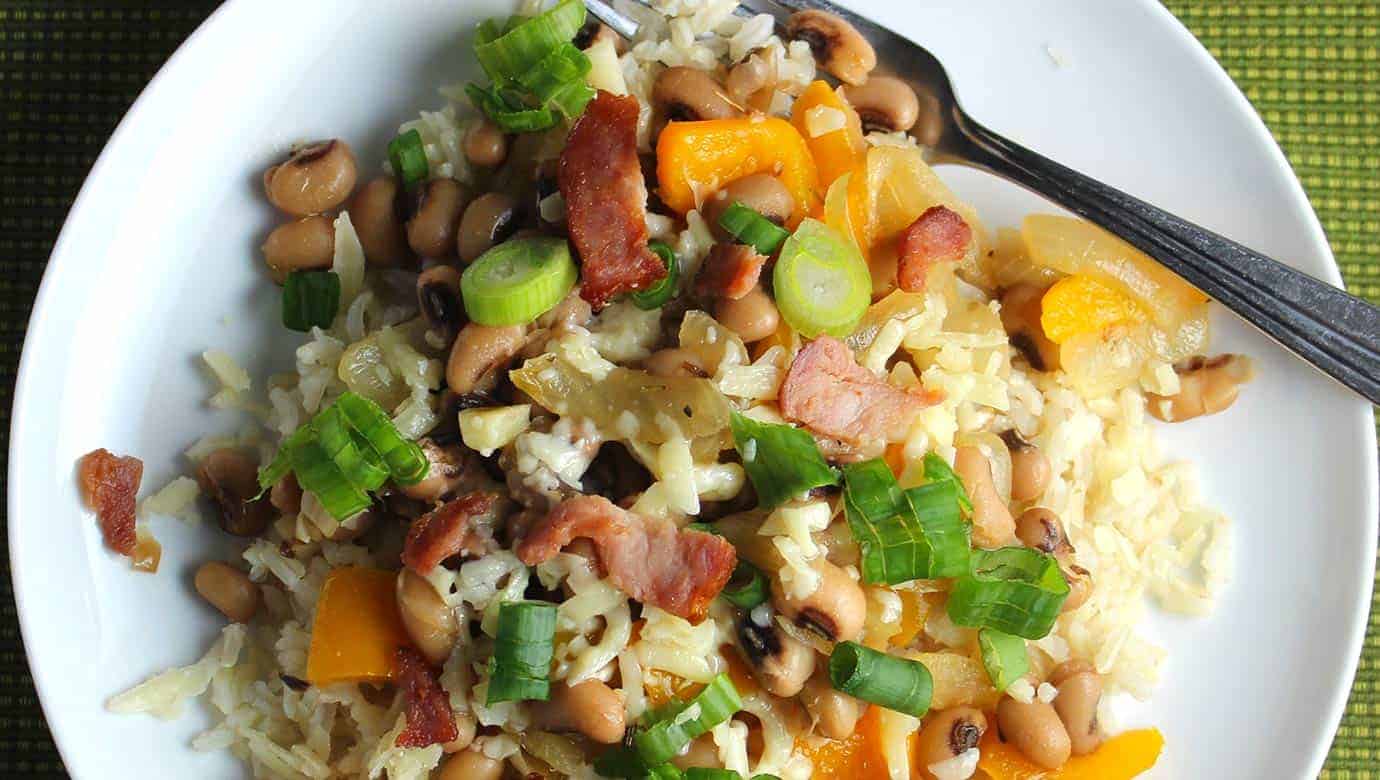 If you want a more indulgent version of the dish, check out our Hoppin' John Risotto. Or try our Black-Eyed Peas with Collard Greens recipe.
Print
Recipe card
Healthier Hoppin' John
Hoppin' John is a traditional Southern dish made with black eyed peas. This healthy version uses turkey bacon used in place of pork. Often eaten New Year's Day for good luck.
Author: Cooking Chat
Prep Time:

10 mins

Cook Time:

20 mins

Total Time:

30 mins

Yield:

4

servings

1

x
Category:

Side

Method:

stove top

Cuisine:

Southern
1

or

2

slices turkey bacon

2 tbsp

olive oil, divided

1

onion, chopped

1

yellow or red pepper, chopped

3

garlic cloves, minced

½ cup

low sodium chicken broth

½ tsp

paprika

1 tsp

dried thyme

½ tsp

oregano

1

14 oz can black-eyed peas, drained and rinsed

1 tsp

honey

1 tsp

smoked maple syrup (optional)

1

scallion, sliced

¼ cup

grated cheddar cheese

2 cups

or more cooked brown rice for serving
Instructions
Cook the turkey bacon: Heat 1 tablespoon of olive oil in a pan or large skillet. Add the turkey bacon, cook about 10 minutes until crisp, turning occasionally. Remove the bacon from the skillet and set aside to cool on a paper towel. Break the bacon into small bits when it is cool, and reserve for topping the Hoppin' John.
Sauté onion: Wipe most of the excess grease from the pan–though there isn't much with turkey bacon–and add the remaining olive oil. Heat the pan on medium, then add the onions. Cook the onions for about 5 minutes, they should be starting to soften at this point.
Add pepper and garlic: Add the pepper, sauté for another 5 minutes. Add the garlic, cook for a minute more.
Add black-eyed peas: Stir the black-eyed peas into the onion mixture. Add the chicken broth, paprika, thyme and oregano. Stir to combine.
Add the honey and optional smoked maple syrup, if using. Stir to combine. Simmer the mixture for 10 minutes, stirring occasionally.
Serve with rice: Plate a portion of rice, the scoop a serving of the Hoppin' John over the rice. Top the Hoppin' John with a sprinkling of the scallions, reserved bacon bits, bacon and cheese. Enjoy!
Notes
Turkey bacon has a much lower fat content than regular pork bacon, so less grease is left behind after cooking. I wouldn't try to tell you I like turkey bacon as much as traditional bacon, but certainly adds some nice flavor to the rest of this dish.
Smoked Maple Syrup is a great ingredient for adding smoky sweet flavor! Updating this recipe, it occurred to me I hadn't had it in awhile, so I was glad to see the Sugar Bob's brand I've used available here on Amazon (affiliate link provided).
Keywords: Hoppin' John, lightened up recipes, healthy recipes, black eyed peas, healthy hoppin' john
Recipe Card powered by