We start the New Year with a Healthy Bolognese Sauce recipe paired with an excellent Tuscan Sangiovese. A great way to warm up on a cold winter's night!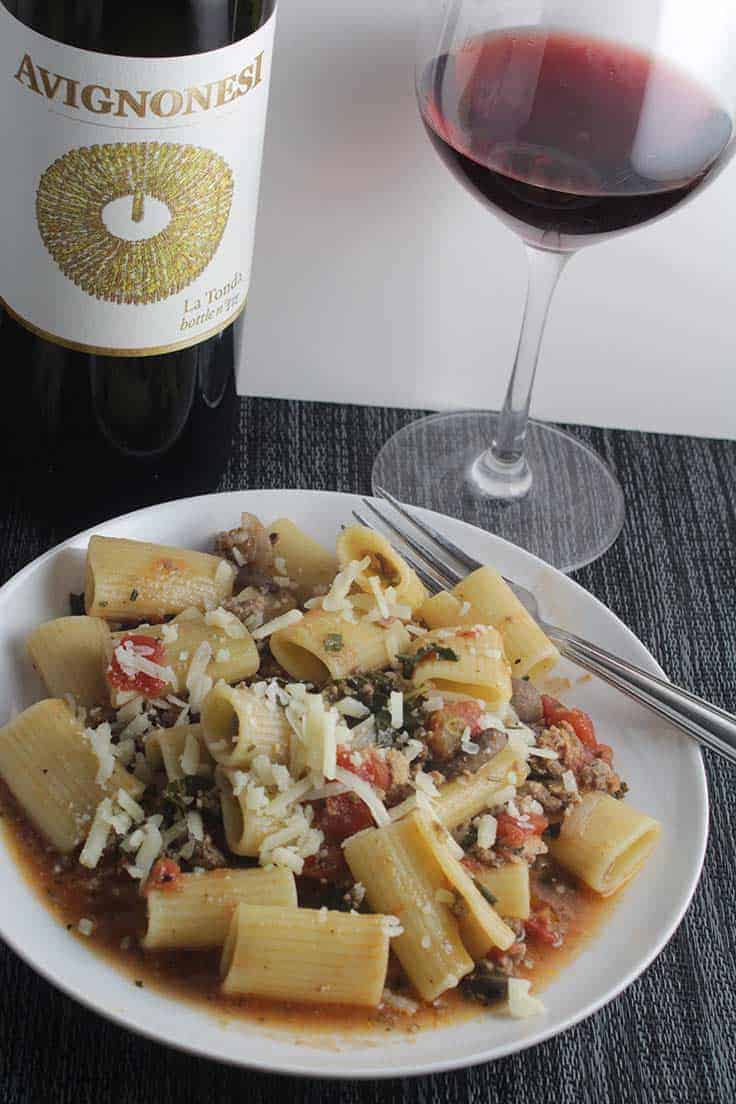 When I heard the January theme for the Italian Food, Wine and Travel Group was "Italian Wines for Cold Winter Nights" my thoughts immediately went to what hearty Italian food I wanted to cook to go with a bold Italian red wine.
Bolognese is a traditional Italian meat sauce that is definitely one of my favorite comfort foods to cook in the winter. The classic version of Bolognese sauce typically uses a combination of meats such as beef, veal and pork. Sometimes it's ground pork, but you can also find pancetta or prosciutto in the mix.
Ok, the classic Italian Bolognese sauce is very tasty, but maybe we could make a healthy Bolognese sauce to go wit a good Italian red wine? I'm going to tell you how we cooked up a healthier sauce, but be sure to stay tuned for the wine! We opened a special bottle given by a friend who had been in Tuscany earlier in the year.
How to make a Healthy Bolognese Sauce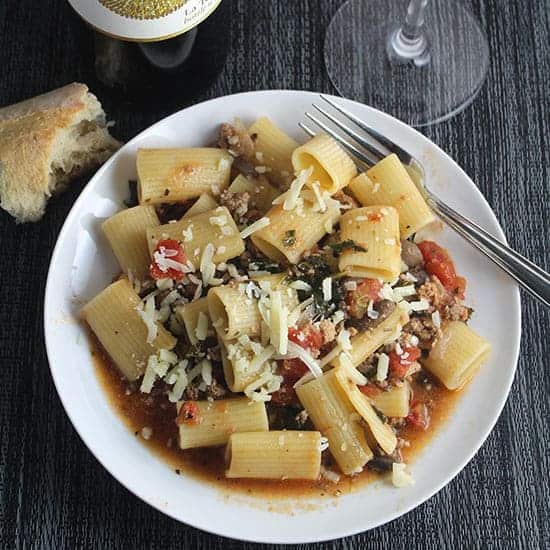 So the first key to making a healthy Bolognese sauce is to get the depth of flavor without using as much meat and the associated saturated fat.
I have found in other recipes that using ground turkey along with mushrooms is a great way to get a rich flavor while improving the nutritional profile of the dish. In addition to reducing fat content, mushrooms pack in some good nutrition. So ground turkey plus mushrooms is the way we started here.
We go for grass-fed beef in this recipe. Though there are some different views on the topic, the balance of evidence I've seen suggest that grass-fed beef improves the nutritional value. In particular, the grass-fed option provides significantly more healthy omega-3 fatty acids and less overall fat content.
For me, eating healthy is largely about putting as many healthy nutrients on the plate, so that the calories we eat are providing benefits. With that in mind, we added some finely chopped kale to the healthy Bolognese sauce to get some more nutrition in there.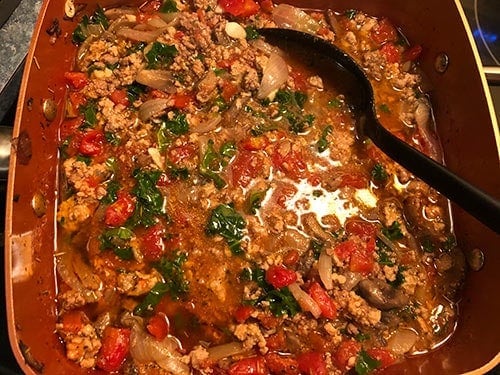 You really can't taste the greens with all the other flavors, but they do also add a bit more color to the plate.
You could also use a whole wheat pasta to make the dish even healthier. I try to use whole wheat about half the time I make pasta. For this meal, we went with a traditional style rigatoni. Whether you go whole wheat or not, a short, substantial shape is the way to go with Bolognese sauce.
Jill asks in the comments below if this sauce could be made without meat, using just mushrooms. I think it could work, and made me think of this Linguine with Meatless Meat Sauce recipe I mad awhile back. It gets substance from a combo of mushrooms and tempeh.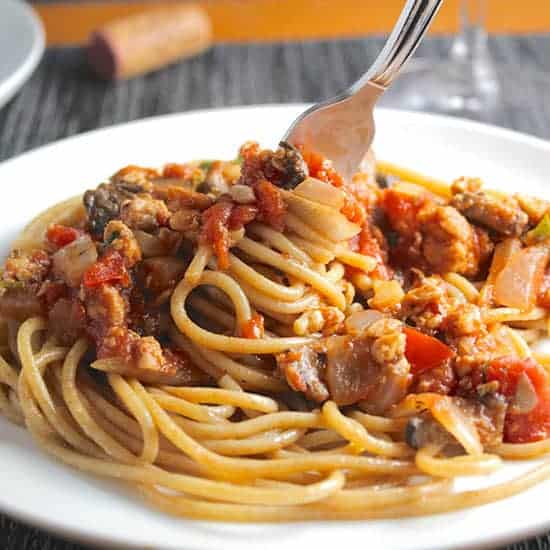 Our healthy Bolognese sauce tossed with rigatoni is a great start for a cold winter night, but you need a good glass of Italian wine to go with it! And we had the chance to have a special one.
Tuscan Sangiovese from Avignonesi
My friends John and Liz had a chance to visit Tuscany during the spring of 2018. I clearly did not hide my enthusiasm for the wine from Avignonesi that John opened one evening when I was visiting. Hearing about their visit to the vineyard and seeing the pictures only deepened my interest in the wine.
When my birthday rolled around recently, John and Liz gave me a bottle of the 2015 La Tonda Toscana I.G.T. (13.5% ABV) from Avignonesi, packaged in a nice wooden gift box. When I saw the bottle number 172 carefully handwritten on the label, I knew I'd need to take the time to make a good meal to go with this wine!
This wine is 100% Sangiovese, so I thought it would definitely go well with a tomato based meat sauce. Opening La Tonda to go with our Healthy Bolognese recipe seemed like the perfect thing!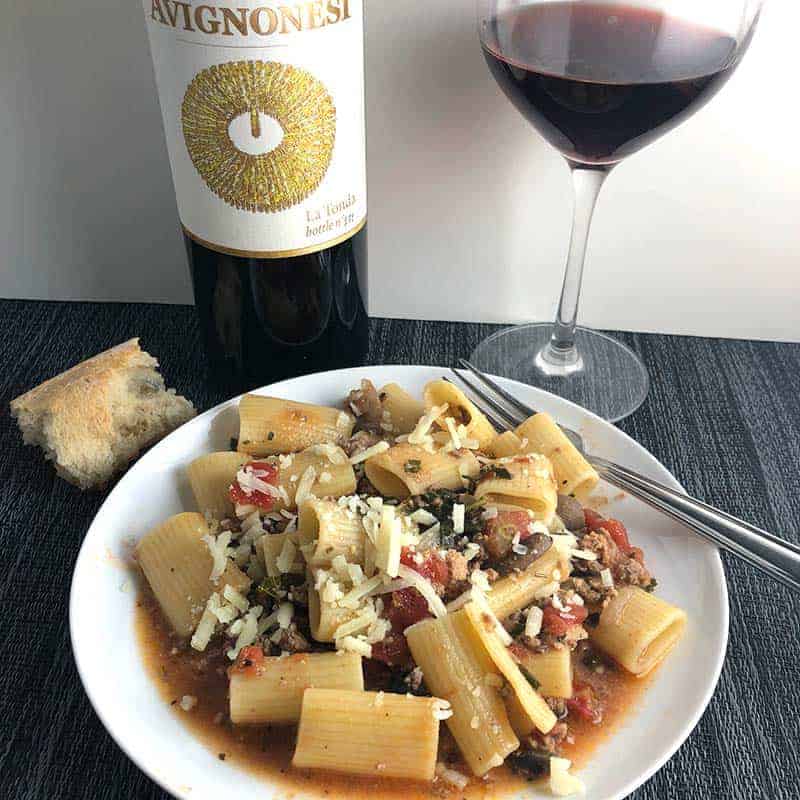 I get strawberries and brambles on the nose of La Tonda. The wine has a complex flavor profile, with cherry and prune fruit along with a bit of allspice and a light tough of leather. La Tonda is a substantial red wine, yet has a lightness to it the nonetheless. Excellent velvety finsh. As you might imagine, this Sangiovese was an excellent pairing for our healthy Bolognese.
Avignonesi is based in Montepulciano, and have established themselves as a top Tuscany producer. Avignonesi is the family name of the original winery owners. In 2009 the winery was acquired by retired Belgian attorney Virginie Saverys, who has moved in the direction of organic and biodynamic production.
La Tonda, meaning "round one" in Italian, is produced from a single vineyard on Le Capezzine farm. There Avignonesi was experimenting to determine how vine density and training effected the wine. They concluded that densely planted vines improved grape quality, forcing the roots to go deeper in search of nutrients.
Avignonesi has all kinds of fun options for visiting listed on their website, including a hot air balloon tour and "reach Avignonesi by helicopter". But they are closed January and February, so don't jump in your helicopter just yet!
Print
Recipe card
Healthy Bolognese Sauce
In this Healthy Bolognese sauce recipe, a combo of ground turkey, mushrooms and grass fed beef replace the meats used in a traditional Bolognese sauce. This healthier version of the sauce still packs plenty of flavor, and is excellent with a good Tuscan Sangiovese.
Author: Cooking Chat
Prep Time:

5 mins

Cook Time:

1 hour

Total Time:

1 hour 5 mins

Yield:

8

servings

1

x
Category:

Main

Method:

stove top

Cuisine:

Italian
2 tbsp

olive oil, divided

1

onion, chopped

8

ozs mushrooms, coarsely chopped

4

garlic cloves, minced

⅓ cup

red wine

1

lb ground beef, grass-fed

1

lb ground turkey

1 tsp

dried sage

½ tsp

ground fennel

1 tsp

dried basil

28

ozs diced tomatoes

1 ½ cups

low-sodium beef broth
salt and pepper to taste

1 cup

finely minced kale or other green
cooked pasta for serving — shapes like rigatoni and ziti work well for Bolognese
grated Parmigiano cheese for topping
Instructions
Heat 1 tablespoon of the olive oil in a large pot. Add the onion, and cook until it begins to soften, about 5 minutes.
Stir in the mushrooms, and cook until they begin to soften and sweat, about 5 minutes.
Add the red wine and minced garlic, stirring to combine with the mushrooms and onions.
Once the wine has been mostly absorbed, add the ground beef to the pot. Stir occasionally. When the beef begins to brown, after about 5 minutes, add the turkey and cook for a few more minutes.
Stir in the tomatoes and beef broth, along with the kale plus the herbs and spices (basil, sage, ground fennel). Raise the heat to bring to a simmer, then lower to medium low to maintain a simmer. Simmer uncovered for at least 45 minutes, stirring occasionally.
Cook your pasta according to package instructions after the sauce has been simmering for about 30 minutes. Drain and toss immediately with sauce. If you are using about 20 ounces or more of sauce, you can toss all the sauce and pasta at once. If using a smaller portion of pasta, toss initially with several scoops of sauce, then add the additional amount of sauce needed to have the pasta sauced the way you like it.
Plate the pasta and served topped with freshly grated Parmigiano cheese, along with a good glass of Italian Sangiovese.
Notes
This Healthy Bolognese Sauce makes enough for at least 20 ounces of pasta. If you only have 2 to 3 people eating it, you may want to cook enough pasta for the first night, then save the sauce to serve with a fresh batch of pasta the next time you have it. Alternatively you can cook the 20 ounces of pasta and toss it all with the sauce, and save the leftovers to be quickly reheated. That makes the leftover night easier, but the fresh pasta improves the taste.
If you have basil or other fresh herbs on hand, definitely substitute the fresh for the dried. 1 tablespoon fresh basil is roughly equal to 1 teaspoon dried basil.
We used basic button mushrooms but feel to free to use other types of mushrooms if you prefer.
Keywords: Bolognese sauce, lightened recipes, healthy recipes, Italian food, pasta sauces
Recipe Card powered by
More Italian wine for a cold winter night
All of these posts will be live between Friday and Saturday, January 4th and 5th. If you catch this in time, feel free to join us on a live Twitter chat at 11 am Eastern / 8am, Pacific time. Follow hashtag #ItalianFWT.