Roasted Chimichurri Steak is a classic Argentinian dish, featuring the zesty sauce made with garlic and parsley. Perfect for our exploration of wines from Argentina! Disclosure: Wines discussed in this article were provided as complimentary samples.
For this month's Wine Pairing Weekend event, host by Jeff at foodwineclick, we are exploring wines from Argentina. We are teaming up with Winesellers, LTD, once again for this theme. With their help, I had a variety of Argentinian wines to sample from Bodega Santa Julia and Familia Zuccardi.
Familia Zuccardi was founded in 1963 in the Maipu region of Mendoza by Alberto Zuccardi. In 2005, guided by Sebastian Zuccardi, the winery began to expand into the Uco Valley region. In 2007, Decanter named José Alberto and Sebastian Zuccardi as being among the five most influential personalities in Argentine wine. The Santa Julia brand was launched to honor José Alberto's daughter, Julia, and to focus on sustainable production of quality wine.
When thinking of food to pair with wines from Argentina, my thought immediately ran to steak topped with chimichurri sauce. Meat plays a central role in Argentinian cuisine, typically topped with flavorful sauces. Chimichurri tops the list!
Making Roasted Chimichurri Steak
First, what is chimichurri sauce? Chimichurri is a zesty sauce with parsley and garlic as its principal ingredients. After that, you will see some variation of ingredients, but typically a combination of olive oil and vinegar will be in the mix.
Sometimes I add some chopped avocado to a basic chimichurri sauce for my "Awesome Avocado Sauce", so named for the rave reviews it gets. But today we have prepared a more traditional chimichurri sauce for our steak.
Typically chimichurri sauce is not cooked, and served over the meat after it has been cooked. That's the method here in today's recipe. You could also use the chimichurri sauce as a marinade.
Meat is often grilled in Argentina, notably for Asado, a grilled feast with a variety of meats and sauces. But our grill is waiting patiently for spring, so we made roasted chimichurri steak this month.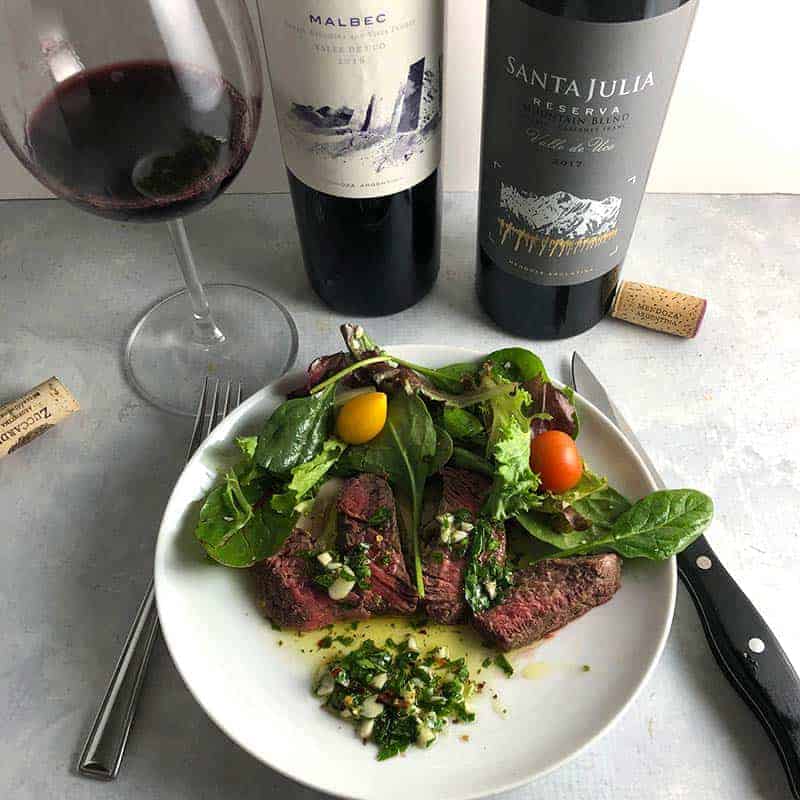 We used sirloin steak for today's roasted chimichurri steak, simply because it was available for a good price. Flank steak is often served with chimichurri, and you could certain substitute that in this recipe.
You can make the chimichurri sauce while the steak is roasting, but you might want to at least get the ingredients together before you start the steak to ensure the sauce is ready before the steak.
We served the roasted chimichurri steak with a spinach salad and baked potatoes. I like to top the potato with the chimichurri, too. The sauce is also a nice addition to tacos!
For a different version of the sauce, try our carrot top chimichurri recipe!
For another great beef recipe from the oven, check out Oven Roasted Sirloin Steak with Onion Sauce and our BBQ Baked Steak Tips.
Wine Pairing for Chimichurri Steak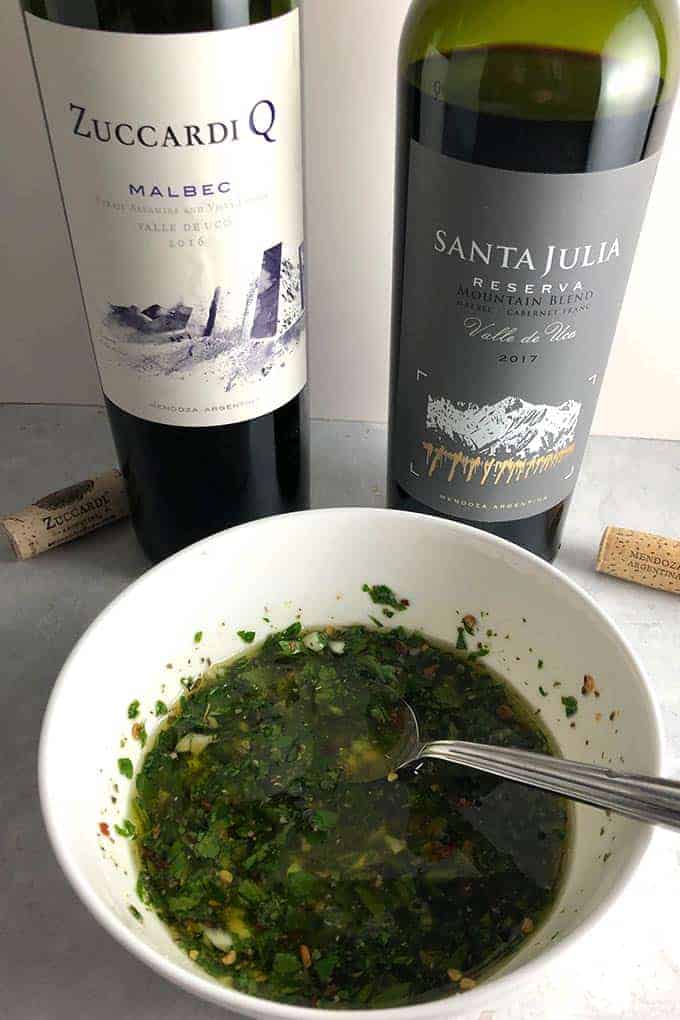 We decided to try two of the wine samples with the chimichurri steak. We opened the 2016 Zuccardi Q Malbec ($20, 14 % ABV) and the 2017 Santa Julia Reserva Mountain Blend ($13, 14% ABV) to compare with the steak.
The Zuccardi Q Malbec is made from 100% Malbec grapes, sourced from select vineyard lots in two Uco Valley Appellations, Paraje Altamira (3,608 feet) and Vista Flores (3,215 feet). The wine is fermented with native yeast and aged in a combination of oak and concrete.
The Santa Julia Reserva is a blend comprised of 70% Malbec and 30% Cabernet Franc, all sourced from the Uco Valley. Aged in French oak for 10 months.
How did the pairings work? I suspected I might prefer the Santa Julia blend paired with the chimichurri steak, because Cab Franc has a tendency to pair well with herby dishes. However, we definitely picked the Zuccardi Q Malbec as our favorite with the chimichurri steak.
I got brambles on the woodsy nose of the Zuccardi Q Malbec. Fruit forward taste of cherry, mineral undertones and a nice long finish. Pleasant to sip on its own, and the fruit forward taste and good structure make it a good match for the steak.
The Santa Julia Reserva blend has light violets on the nose. Cherry fruit and notes of charcoal on the palate. I didn't really pick up the Cab Franc coming through, perhaps because I'm not used to it being blended with Malbec. I preferred the other Santa Julia wines I sampled.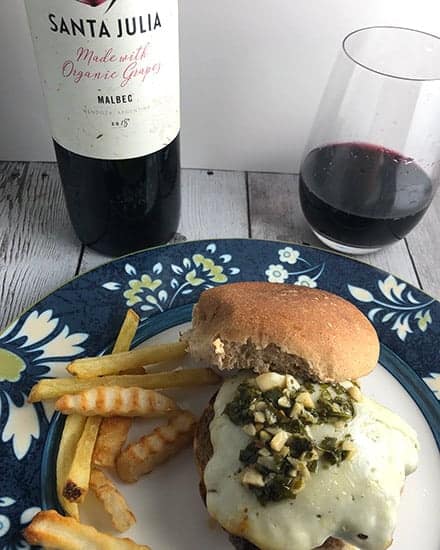 Speaking of which, we had some leftover sauce which I repurposed for some chimichurri cheeseburgers. That was a fun twist on a basic meal! We opened the 2018 Santa Julia Malbec ($11, 13.5% ABV), to go with the chimichurri cheeseburgers. This Malbec is inky dark purple in the glass. Menthol and berries on the nose, with plum fruit and tobacco on the palate. Dense when first poured, the wine opened up the glass and worked well paired with the burgers.
I was throwing out the Uco Valley above as if I were quite familiar with the term. But my knowledge of Argentine wines is fairly limited, so I needed to research to learn more about the Uco Valley. The Uco Valley is a distinct subregion of Mendoza, about an hour's drive south of the city of Mendoza. High altitudes with a big daytime / night night temperature fluctuations, along with soil that drains well, make for good growing conditions.
More Wines from Argentina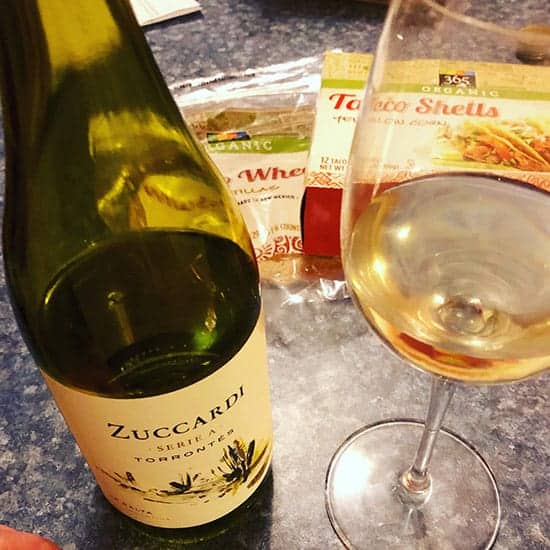 I'm typically opening a Malbec if I'm going for an Argentine wine, so it was fun to try some white wines as part of this event. I especially liked the 2017 Zuccardi Series A Torrontés ($15, 13.4% ABV). Honeysuckle on the nose, stone fruit with a touch of honey on the palate. Tasty with our bean tacos!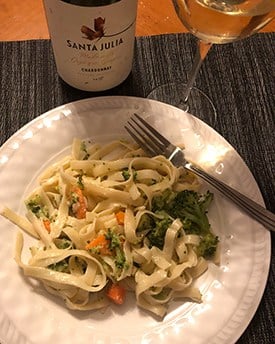 I also liked the 2018 Santa Julia Chardonnay ($11, 13% ABV). This wine is made from 100% organically grown Chardonnay grapes, from the Santa Rosa Vineyards in Mendoza. Light straw color in the glass, lemon on the nose. Delicate touches of butter and pear fruit on the palate. A good food-friendly Chardonnay for the price! We served with with our Fettuccine Primavera.
Finally, I will mention the first wine we opened for this tasting! I remembered a few years ago that I paired turkey and Tempranillo with good results, so I brought the 2013 Zuccardi Q Tempranillo ($20, 13.5% ABV) along to our big family Christmas dinner. Definitely a nice Tempranillo, and it paired pretty well with the turkey, ham and sides.
Print
Recipe card
Roasted Chimichurri Steak and Wines from Argentina
Roasted steak topped with zesty chimichurri, the classic sauce from Argentina. Delicious paired with a good Malbec wine!
Author: Cooking Chat
Prep Time:

15 mins

Cook Time:

15 mins

Total Time:

30 mins

Yield:

3

servings

1

x
Category:

main

Method:

roasting

Cuisine:

Argentina
For the sauce:
½ cup

extra virgin olive oil

¼ cup

tarragon vinegar (see notes for alternatives)

½ cup

chopped parsley

1 tsp

crushed red pepper flakes

1 tsp

dried thyme

1 tsp

dried oregano

1 tbsp

chopped cilantro (optional)

4

cloves garlic, minced
salt & pepper to taste
For the steak:
1

large steak, we used sirloin, about

1

lb or a bit over

1 tsp

salt

1 tsp

garlic

1 tsp

cumin
Instructions
Make the steak rub: Combine the salt, garlic and cumin in a small bowl. Pat the steak dry with paper towel. Sprinkle half the rub on one site of the steak, and rub into the meat. Turn over and repeat on other side of the steak. Let the steak sit at room temperature for 10 to 15 minutes as the oven preheats.
Cooking the steak: Preheat the oven to 400 degrees. Coat an oven proof skill with oil spray. Place the skillet on the stove top, and heat the skillet on medium high heat. When the skillet is hot, put the steak in the skillet to sear. Brown for 1 minute on one side, then flip the steak to sear for another minute on the other side.
After the steak has browned on both sides, move the skillet to the oven. Roast for 13 to 15 minutes for medium rare, check at 13 minutes to avoid overcooking. When done to your liking, move the steak to a platter.
Make the chimichurri as the steak roasts. Combine all the sauce ingredients, from the olive oil through the minced garlic plus salt and pepper, in a medium bowl. Let the sauce sit until you are ready to serve the steak.
Thinly slice the steak, and plate several pieces, topped with a bit of the chimichurri sauce. Pass extra sauce at the table. Enjoy with a good Malbec from Argentina!
Notes
Our total cooking time is based on making the chimichurri as the steak rests. But if you have time you can certainly get the sauce together first and set it aside, at room temperature, as you cook the steak.
You can use basic vinegar plus 1 teaspoon dry tarragon instead of the tarragon vinegar.
Keywords: chimichurri, steak sauce, roasted steak, Argentinian food
Recipe Card powered by
Be sure to check out all the great Wine Pairing Weekend Articles! And join us for a live Twitter chat on today's topic, using hashtag #winePW, at 11 a.m. ET and 8 am PT on Saturday, January 12, 2019.