This article provides background information about Montepulciano d'Abruzzo and discusses good food pairings for this wine. A wonderful food friendly wine to enjoy this year!
Going on a press trip Abruzzo, Italy, was definitely one of my 2018 highlights! With vineyards located between the mountains and the Adriatic Sea, it is a beautiful place to enjoy some excellent wine. The photo above, taken as we were welcomed to the renowned Emidio Pepe winery, gives you a little taste of the scenery.
While I really enjoyed trying some new Abruzzo wines, such as the Cerasualo rosé, the press trip also provided a chance to deepen my appreciation for Montepulciano d'Abruzzo.
I have to confess, before visiting Abruzzo I tended to think of Montepulciano as a serviceable red wine option to pair with pizza and other simple Italian dishes. Visiting Abruzzo, we sampled a wide range of Montepulciano d'Abruzzo. I came to learn that are many very high quality Montepulciano wines, and that this Abruzzo red wine is a great pairing for many hearty pasta and meat dishes.
So why not make a resolution to learn more about Montepulciano d'Abruzzo in 2019? You can start by reading this article, then pick up a few bottles to enjoy as we move into the new year. This is a resolution that you can enjoy keeping!
About Montepulciano
The Montepulciano grape is originally from the Tuscan town that gives the grape its name, however, Montepulciano is no longer planted in Tuscany. Although Montepulciano can be found in a number of Italian regions, Abruzzo is certainly the premier region for Montepulciano production, with 17,000 hectares devoted to its production.
In 2018, Montepulciano d'Abruzzo celebrated its 50th anniversary as a DOC (controlled designation of origin). I had a chance to attend an event in Boston hosted by the Consorzio Tutela Vini d' Abruzzo to mark the occasion. That event, along with my trip to Abruzzo and follow-up sampling, provided information for this article.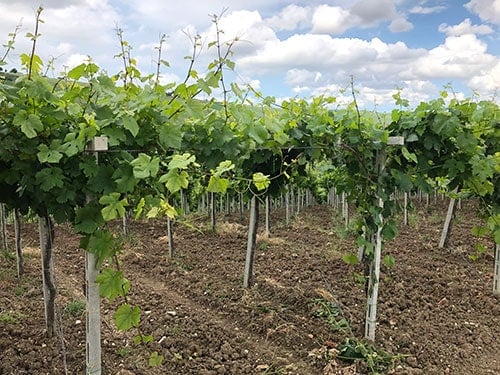 Abruzzo has long, hot summer days that make for good grape growing conditions. Montepulciano vines are traditionally grown with the pergola trellis system on overhead frames. When managed carefully, this can provide some beneficial shade from the hot sun and yield some high quality wine grapes.
A number of the wineries we visited are moving to grow the grapes in rows as you are more likely to find in wine regions around the United States and elsewhere.
Different production methods lead to a variety of Montepulciano flavor profiles. This medium bodied red wine grape from Abruzzo vineyards typically has good fruit and acidity. Thus this grape aged in stainless steel can produce a very flavorful red wine based on the quality of the fruit; but at the same time Montepulciano has potential to age for many years in oak barrels.
What foods pair best with Montepulciano?
Montepulciano tends to be a medium bodied red wine with good acidity and tannins. The tannins help it stand up to meat dishes, and the acidity helps it pair well with tomatoes and other foods that can pose pairing challenges. Though there are some exceptions, alcohol levels tend to be moderate for a bold red wine grape, further enhancing the food friendliness of Montepulciano.
Given those attributes of this grape, it's no surprise that we were typically served hearty meat based dishes when visiting Abruzzo wineries.
For instance, we finished our first full day in Abruzzo visiting Emidio Pepe with an amazing dinner. This winemaker's rigorous commitment to labor-intensive, traditional production methods have helped to demonstrate world-class wines are being made in Abruzzo.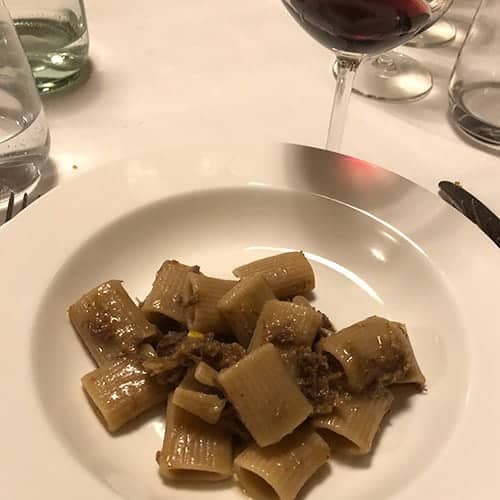 After sampling some aged Trebbianos that showed the aging potential these whites can have, it was time for some pasta with meat sauce to go with some of the Emidio Pepe Montepulciano d'Abruzzo.
And when they broke out the 2001 Emidio Pepe, it was time to pass some meat and potatoes! (I believe this was lamb but not 100% sure of that one).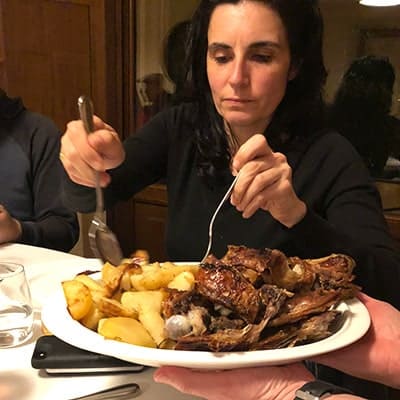 Emidio Pepe does have agriturismo accommodations, so if you are in Abruzzo you can stay there and enjoy some of this food and wine too!
The approach for Montepulciano pairings was similar at a fantastic lunch at Da Masciarelli Al Castello Di Semicoli. Or to put it in plain English, lunch in a castle where we enjoy some of the top wines from Masciarelli along with great views of the countryside.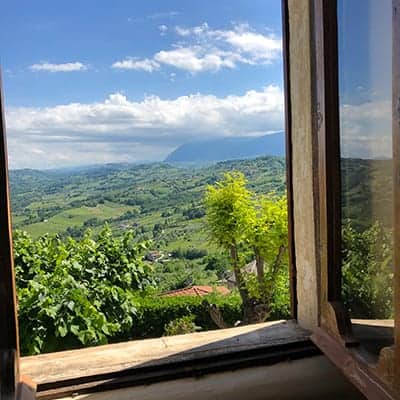 The Marina Cvetic Montepulciano d'Abruzzo was paired with a delicious spaghetti and meat sauce.
So pasta with meat sauce as well as hearty meat and potato dishes seem to be good Montepulciano pairings. Now let me share some that I've put together!
Our Montepulciano Pairings
Upon returning from Abruzzo, I was excited to track down some of the wines I had enjoyed there. While it was a bit tricky to find some of the white wines and Cerasualo rosé that I enjoyed there, a range Montepulciano d'Abruzzo wines are available in the Boston area.
I kept in mind the grapes affinity for meat sauces with tomatoes and other hearty meat dishes when putting together the following Montepulciano pairings. Stay tuned for more!
Spicy Chicken Sausage Pasta with Spelt

This Spicy Chicken Sausage Pasta with 2014 Spelt Montepulciano d'Abruzzo Riserva ($21, 13.5% ABV) was one of my favorite pairings this year. The tomato based sauce gets lots of flavor from the spicy chicken sausage, and extra heft from some beans. The big flavors of Spelt Montepulciano stand up well to the spice in this hearty pasta dish.
The Spelt Montepulciano d'Abruzzo is from La Valentina, which we visited on the Abruzzo press trip. It was one of my favorite stops on the trip– a great host and views like the one I'm checking out in the photo below give you an ideas as to why!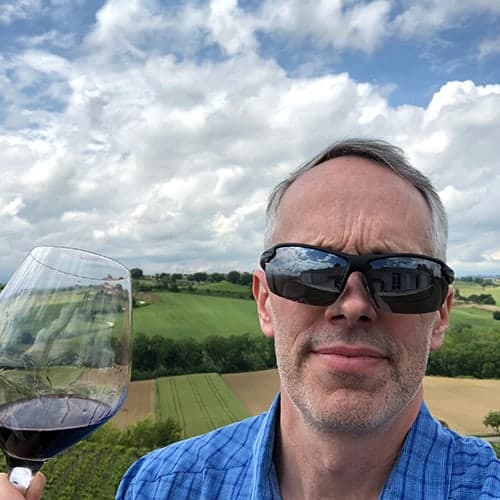 In addition to the Spelt, the entry level option from La Valentina is readily available in the Boston area. At $10 to $12 per bottle it is a great value. Keep your eyes open for their Belvedere, too, one of their single vineyard bottlings.
Beef Shepherd's Pie Casserole with Riparosso
Thinking about how well the meat and potato dishes paired with Montepulciano over in Abruzzo, I figured a re-make of our Beef Shepherd's Pie Casserole would be a great time to to open a Montepulciano d'Abruzzo.
As suspected, the Riparasso ($13) from Illuminati was very good paired with our shepherd's pie.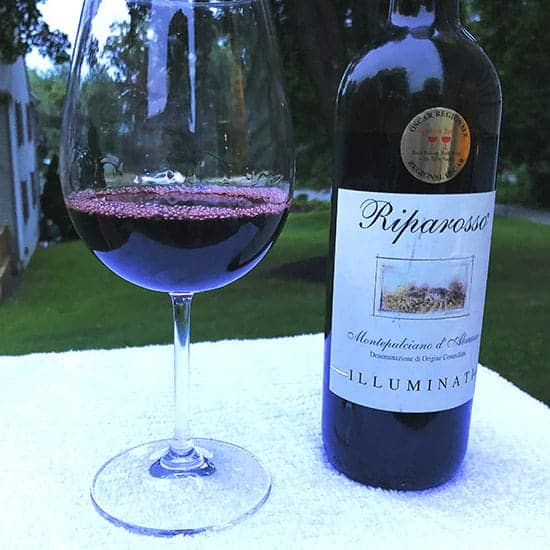 This wine is available at Total Wine and other shops in the area, and is definitely a good one to track down.
Illuminati was another fun stop during our Abruzzo visit. We sampled a wide range of their Montepulciano d'Abruzzo, including one from 1987. The older bottle was still showing its fruit nicely, an impressive example of how this wine can age.
You are more likely to find the Riparosso from Illuminati in stores in the US, but keep your eyes open for some of their higher end bottles too. They are carried at a number of restaurants in New York and elsewhere.
Mushroom Risotto with Montepulciano d'Abruzzo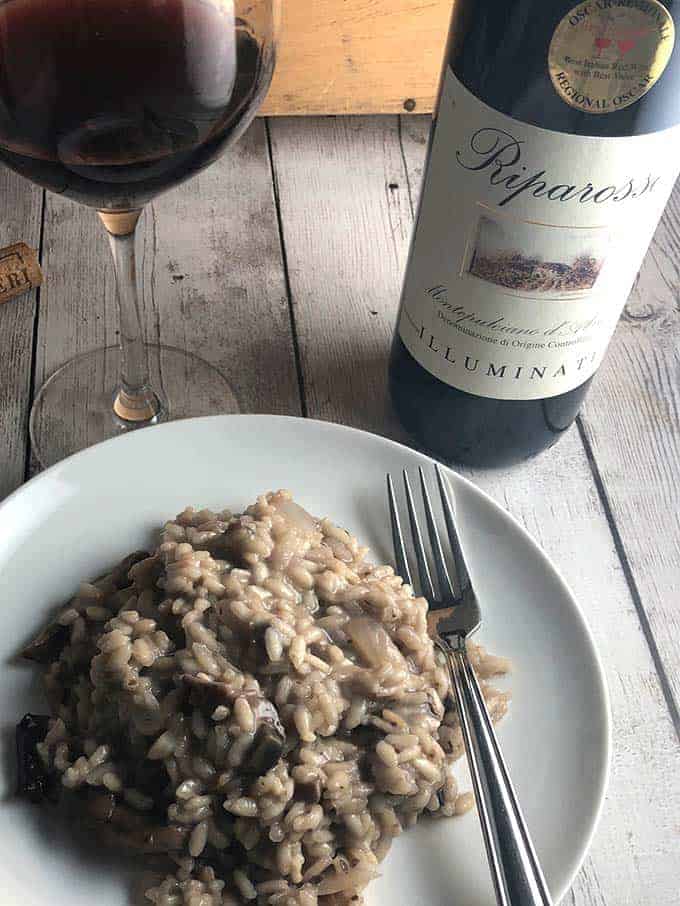 As I mentioned, the Riparosso Montepulciano d'Abruzzo is widely available, so that gives me a chance to test it out with some more pairings in addition to that Shepherd's pie. As suspected, the Riparosso paired quite nicely with our Mushroom Risotto recipe. Head on over to that post for some the recipe and some additional pairing ideas.
Additional Pairing Notes
The Barone Cornacchia Casanova ($14)is another good option I've found in the Boston area — I picked it up at Pairings in Winchester, MA. This wasn't one of the wineries I visited so I have less info on this bottle.
Our pairing for the Casonava reinforces that this Abruzzo wine is a great everyday red wine for the kind of meals I am likely to whip up in the middle of the week.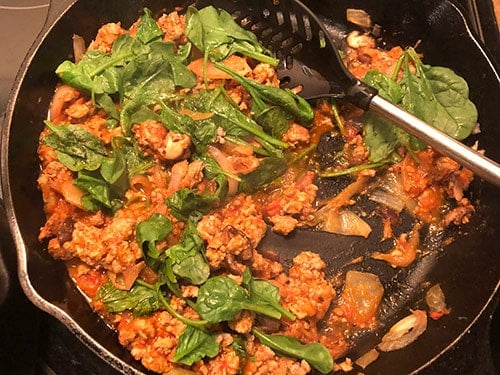 I cooked up some ground turkey along with some tomato sauce I had on hand, and added some extra spinach on hand to add some extra nutrients and avoid waste. Tossed with pasta, paired with the Abruzzo red wine for an easy win!
And yes, although there are many other great ways to enjoy Montepulciano, this red wine from Abruzzo is a great match for pizza!
Check out my Exploring Abruzzo Wine article for more information on the region. And please let me know of any favorite Montepulciano pairings you have tried!