Kale and Apple Salad with Cranberries features thinly sliced kale soaking up a tasty dressing, tossed with crisp apples for a delicious, healthy salad. We start with some information on why kale is a good vegetable to buy now, including some more recipe ideas. Click here to jump right to the recipe card
As we get to the end of our third week lying low at home, I'm sure we are all looking to be strategic about our food choices. We want to make those trips to the grocery store– or the coveted home delivery slots– really count!
This kale and apple salad is a delicious and healthy way to use two ingredients that are great to have around. The dressing softens the kale a bit and add great flavor. Crisp, sweet apple slices provide a nice contrast to the bitter aspect of the greens.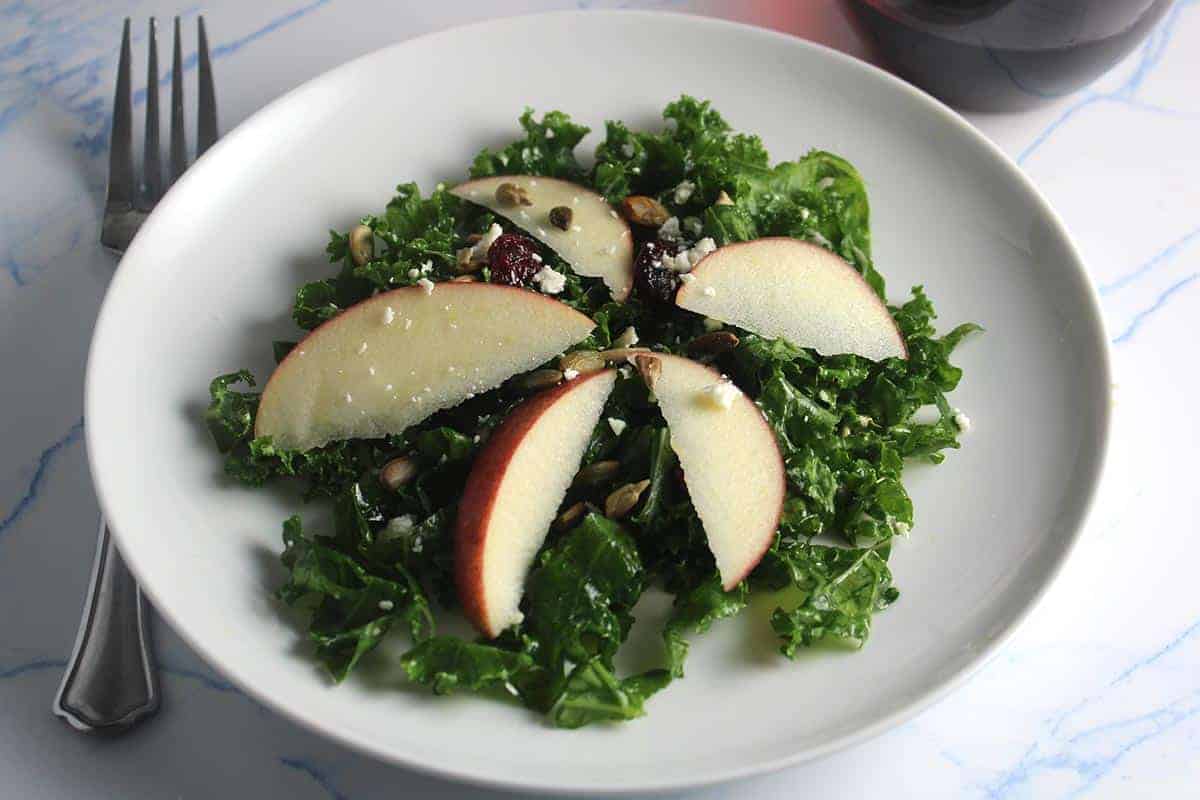 Let's talk more about kale in particular before we get to our recipe details.
Why kale is a great choice
Some leafy greens don't last long in the refrigerator, but kale has staying power!
I find a good bunch of fresh kale will last in the vegetable drawer for 7 to 10 days easily. Store it leaves down in a plastic vegetable bag, left open. Don't wash the kale until you are ready to use it.
You can make this salad twice with one good sized bunch of kale, and probably have a bit of kale left for another use. Just take out and wash the kale you need for this recipe, leaving the rest in the bag for another use.
We came up with this kale salad recipe when we had run out of packaged salad greens and weren't quite ready to venture back into a grocery store.
Nutritional benefits of kale
Kale keeping well is one of its virtues. But perhaps even more important, kale is a nutritional powerhouse!
Kale is one of the most nutrient dense foods, combining a wide range of vitamins and minerals, while adding very little in terms of calories.
Check out this Healthline article on the the 10 Health Benefits of Kale for more details on the nutritional value of kale.
Tasty recipes with kale
OK, good chance you already know that super healthy. But I know many folks out there are not on Team Kale yet because they aren't fans of the taste. Let me try to suggest some ways to enjoy it that might sway even the strongest kale skeptics!
If you've spent any time here on Cooking Chat, you know that I'm a big fan of kale pesto. That is certainly one way to warm up to kale! I've got my basic kale pesto recipe here along with 15 ways to use kale pesto.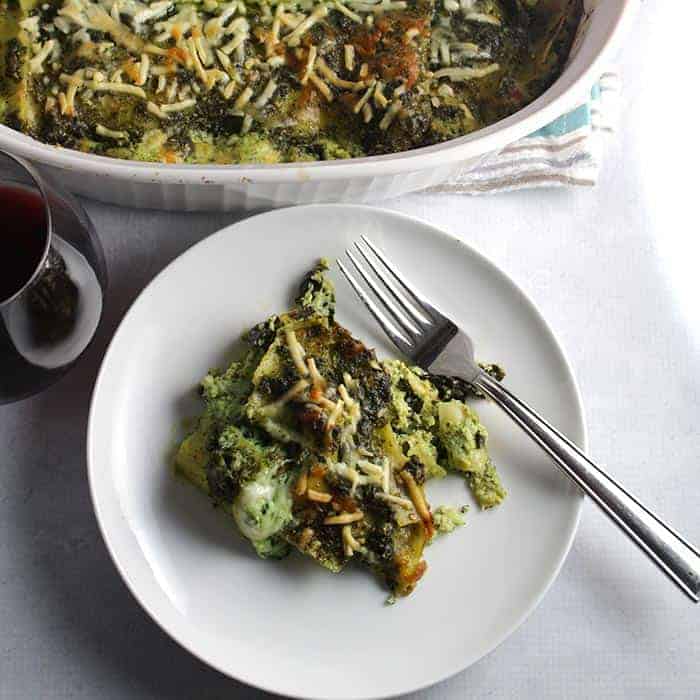 For those really disinclined to try kale, our kale pesto lasagna is a great place to start! Melted cheese and plenty of garlic flavor will make it hard to remember that you are eating a healthy vegetable!
But not all my favorite kale recipes involve pesto. Here are some more ideas:
Tips for making this salad
The full recipe card follows below, but here are a few tips for making this kale and apple salad:
Start by getting the salad dressing ready.
Cut the kale into thin pieces.
Toss the kale and the the cranberries with a bit of the dressing. Let the kale sit with the dressing for 10 to 15 minutes. This softens the kale and adds flavor.
You can skip the feta cheese to make this a vegan salad recipe.
The the apple slices nice and thin. Just a bit of crisp apple adds a lot of nice flavor.
You can use toasted sunflower seeds or pumpkins seeds for this recipe; or use a combination, which I did one night.
Wine Pairing
We served this kale and apple salad as a side dish to go with a pasta dish. So I opened a red wine to match the pasta.
If you want to focus a wine pairing on the salad, I would be inclined to try a sparkling wine to go with the sweetness of the apple and the dressing. Or perhaps you might try a Riesling with a touch of sweetness.
I mentioned that I served this salad as a side. Adding a bit of chicken or some other protein would turn this into a healthy, light main course.

Print
Recipe card
Kale and Apple Salad with Cranberries
Thinly sliced kale soaks up a tasty dressing, tossed with crisp apples for a delicious, healthy salad.
Author: Cooking Chat
Prep Time:

20 mins

Total Time:

20 minutes

Yield:

2

servings

1

x
Category:

Salad

Method:

No cook

Cuisine:

American

Diet:

Vegetarian
For the dressing
2 tablespoons

extra virgin olive oil

1 tbsp

maple syrup

1 tbsp

cider vinegar
dash of mustard
Other salad ingredients
2 cups

kale leaves, rinsed and well dried
pinch of salt

1 tbsp

dried cranberries

½

an apple, thinly sliced

1 tbsp

feta cheese (optional)

1 tbsp

pumpkin or sunflower seeds, toasted
Instructions
Make the dressing: Combine the olive oil, maple syrup and cider vinegar in a small bowl. Whisk in the mustard, and set aside.
Prep the kale: Rinse and thoroughly dry the kale. Thinly slice the kale, discarding the stems.
Toss kale with dressing: Place the sliced kale in a salad bowl along with the cranberries. Sprinkle with a pinch of salt, and toss with 2 tablespoons of the dressing. Let the kale sit for 10 to 15 minutes to absorb the dressing and soften.
Finish the salad: Add the feta cheese to the salad, if using, and toss with 1 more tablespoon of the dressing. Place the apple slices on top of the salad, and sprinkle with the seeds. Enjoy!
Notes
You can use pumpkin seeds or sunflower seeds; or use a combination as we did.
Double the recipe if you want to use a whole apple.
Apple slices go nicely with cheddar cheese if you want to serve that as an appetizer to use the other half of the apple.
Keywords: kale salad, kale and apple salad, kale recipes, kale and cranberries
Recipe Card powered by