Today we explore Wines of the Ancient World with our Wine Pairing Weekend friends. Rather than cook up something new for the day, we have rounded up some of our favorite tastings and pairings with Ancient World Wines.
My original plan for today's Wine Pairing Weekend event focused on Wines of the Ancient World was to pick one representative wine and make a dish to pair with it.
Needless to say, we are in a period in which a lot of plans are getting upended!
I was going to feature a Saperavi from Georgia (the country, not the state!), which lays a strong claim to be one of the oldest, if not the oldest, winemaking traditions in the world.
But alas, the local wine shop I frequent no longer carries wines from Georgia. This clearly wasn't a time to make rounds of other wine shops to hunt down a Saperavi, and I was too close to the deadline to think about an online order.
So I'm changing things up, and bringing you on a tour of some ancient world wines I've had a chance to sample, and food pairings where applicable.
Greece
In her invite post, Nicole cites Greek winemaking having begun around 4500 BC. Just a little familiarity with Greek mythology and philosophy tells us that wine was integral to Ancient Greek culture, so Greece seemed like a good place to start.
I have generally liked the Greek wines I've had, typically made with indigenous varietals that you don't see coming from other countries. However, I don't find wines from Greece around the Boston area very much. Would like to see that change!
Here are a few of the Greek wines and related pairings that I have enjoyed:
Grilled Tilaipia with Moschofilero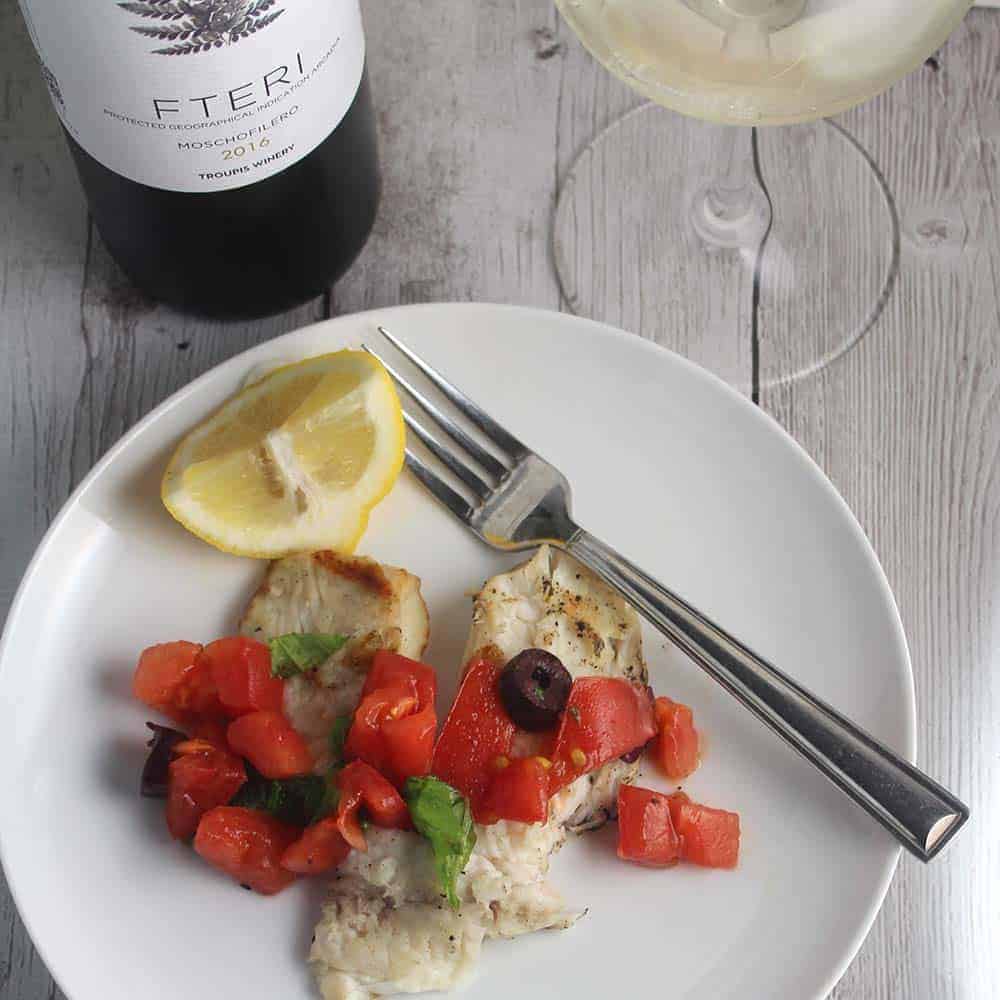 We paired our Grilled Tilapia with Tomatoes and Olives with a bottle of Troupis Fteri Moschofilero. In case you aren't familiar with Greek wines, Moschofilero is a white wine grape common in the Mantinea region in Southern Greece.
Greek Lamb Stew with Agiorgitiko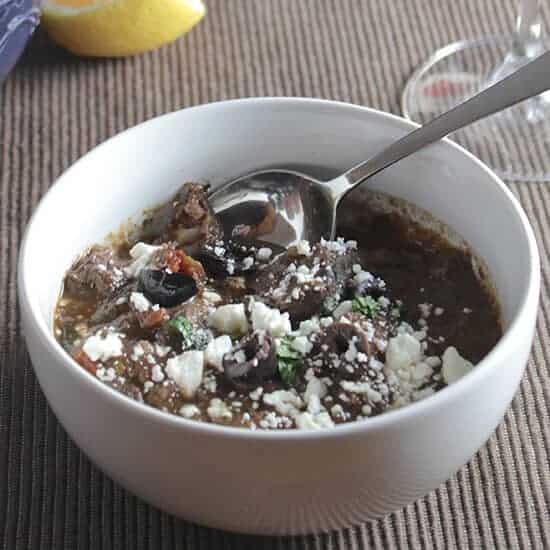 Looking over my Greek lamb stew, I'm reminded that I need to make it again soon! What's not to love about a hearty stew topped with feta and olives? We loved the stew with the Notios Agiorgitiko, a medium bodied red wine with notes of blackberry and white pepper. Agiorgitiko is one of the most common Greek red wine grapes. I've found it to be food friendly, would like to see more around our area!
Asiago Lemon Spaghetti with Malagousia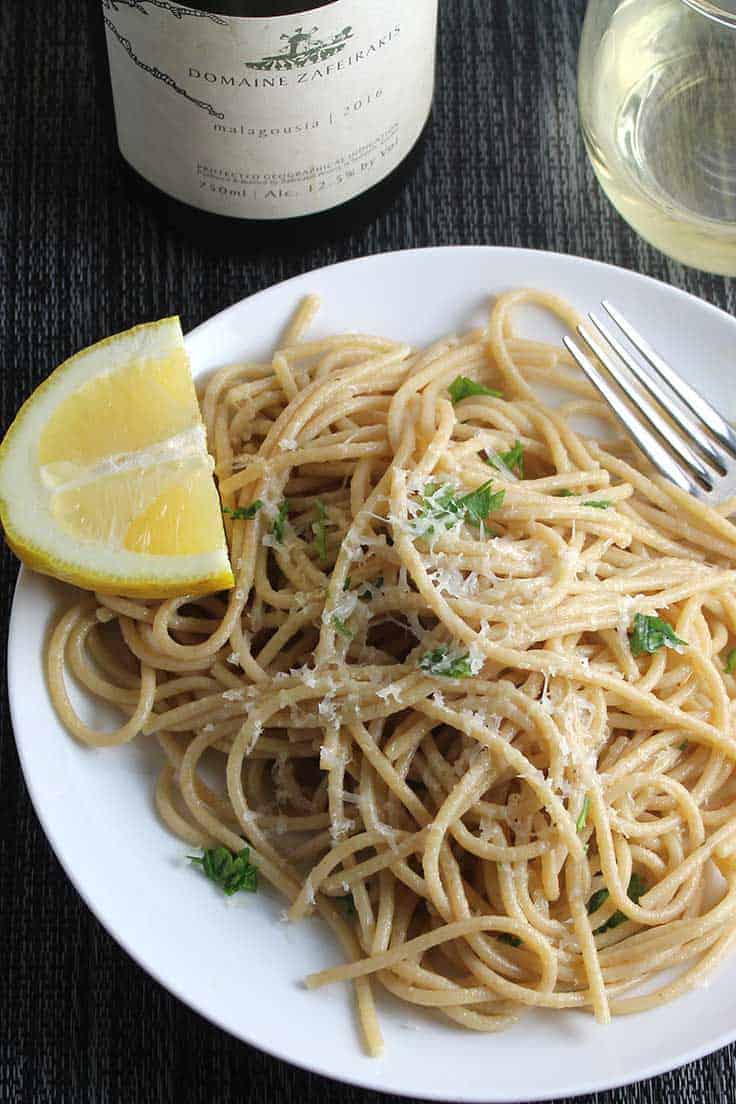 Malagousia is a Greek white wine grape rescued from virtual extinction in the 1970s by a professor from Thessaloniki University, as explained by this Decanter post. Once only found in a few mountain villages, Malagousia can now be found throughout Greece. Asiago Lemon Spaghetti might not be a Greek recipe, but it does feature extra virgin olive oil and bright citrus flavor that is a hallmark of Mediterranean cooking.
Georgia
I was disappointed to not be able to make a pairing with a wine from Georgia for this event today, but I can still talk about wines from Georgia that I've come to enjoy.
My guide for wines of Georgia is Kosta Chernikov, a Georgian wine importer and co-founder of Georgian Toast. I've had a chance to attend several tastings where Kosta poured Georgian wines, which I've found to be of excellent quality and value.
This past fall, Kosta invited us to the Georgian Saperavi and Qvevri Wine Festival in Boston. We had a great time tasting our way through typical Georgian wines, mostly Rkatsiteli for whites, and Saperavi, the big bold red wine that is the signature Georgian wine. There were also all kinds of interesting varieties of winemaking showcased at the event, including a number of "orange" style wines.
A qvevri is a large earthenware vessel used to ferment wine. The qvevri wines are made underground, using skin contact fermentation. Evidence of qvevri winemaking in Georgia goes back approximately 8,000 years! While there is certainly innovation happening in Georgia, the majority of the Saperavi I have sampled still uses the qvevri method.
Kosta suggested khachapuri as a traditional Georgian recipe to try when we get hold of a Saperavi. This Georgian cheese and egg bread does look tasty — here's a recipe for khachapuri on the Simply Home Cooked site.
Lebanon
Beef and Lamb Tagine with Chateau Musar Red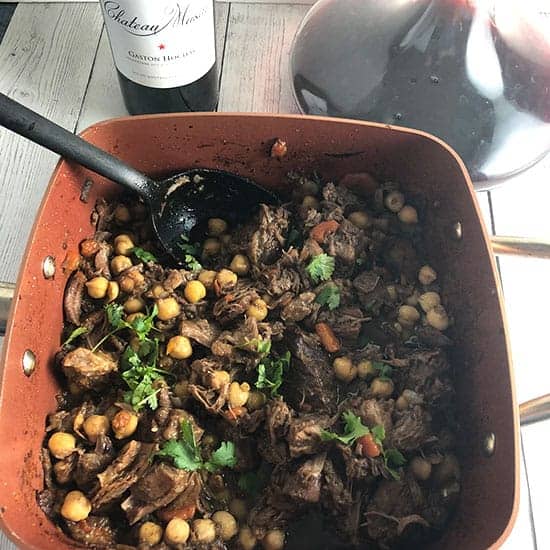 I'm pretty sure the Chateau Musar Red is the only wine I've tried from Lebanon. From what I understand, it really sets the standard for wines from Lebanon. I have read some articles suggesting there are some very good emerging producers as well, so hopefully I will have a chance to try more soon. Our Beef and Lamb Tagine was certainly a good dish to eat with the Cabernet based Chateau Musar Red.
Wine Pairing Weekend Explores Wines of the Ancient World
Be sure to check out all of these great articles from the #winePW crew exploring Ancient World Wines! And if you come to this post in time, join our live Twitter chat on Saturday, April 11, at 11 a.m. ET / 8 a.m. PT.