Lodi, California is well-known for its old vine Zinfandel. A recent Snooth tasting with Lodi wines show that the region has a diverse array of high quality wines in addition to Zin. Disclosure: The wines described here were provided as complimentary tasting samples.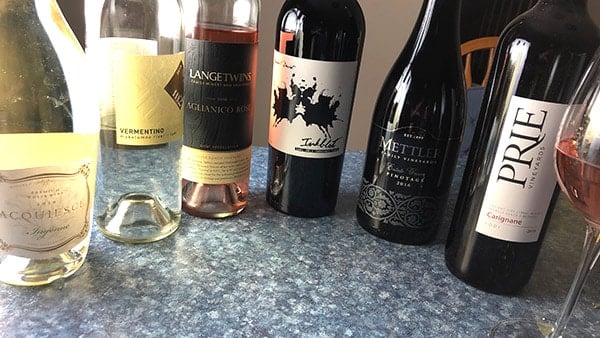 Yes, I definitely associated Lodi, California with Zinfandel and not much else in terms of wine. Don't get me wrong, I'm a fan of Lodi Zin, I just hadn't tasted much from the area beyond that.
Then a virtual Lodi tasting from Snooth came along. The event came during a busy stretch, with a big work event and baseball season around the corner. I'm glad I squeezed this live tasting into my schedule, as this was a lineup of six excellent Lodi wines. I have come to appreciate the diversity of high quality wines being produced in Lodi.
About the Lodi Wine Region
Lodi wine country is located between the San Francisco Bay and Sierra Nevada Mountains. The region has a Mediterranean climate with warm days and cool nights. With most of its rain coming in the winter, the region tends to have a dry growing season.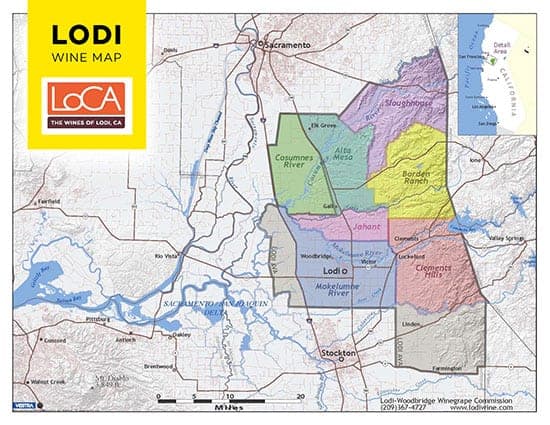 The Lodi AVA (American Viticultural Area) is divided into seven sub AVAs shown above in this Wines of Lodi map found in a Wine Folly article about the region. Approximately 20% of premium California wine production comes from Lodi.
Although the Snooth tasting focused on the diversity of Lodi wines beyond Zinfandel, we should touch upon Lodi Zin. Lodi is the self-proclaimed Zinfandel capital of the world, with some old Zinfandel vines dating back over 100 years. While Lodi has a wide range of wine varieties to try, the region continues to produce great Zinfandel that makes Lodi a go to choice for Zin fans.
The Snooth event, "A Virtual Sip of Lodi" was a live video tasting and chat with:
Stuart Spencer, Executive Director, Lodi Winegrape Commission & owner/winemaker, St. Amant Winery.
Adam Mettler, Director of Wine Operations/Lead Winemaker, Michael David Winery & Winemaker, Mettler Family Vineyards. Adam was named Winemaker of the Year, 2016, by Wine Enthusiast Magazine!
Leslie Sbrocco was our host, an award-­winning author, speaker, consultant, and television host.
The video from event is still available for your viewing. My notes from the wines we tried along with some background information follows.
Lodi Wines Tasted with Snooth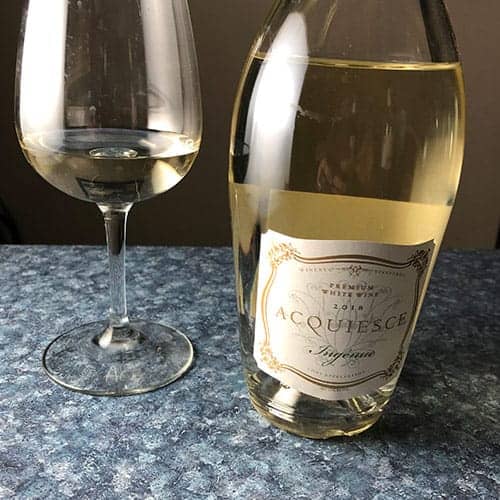 2018 Acquiesce Ingénue ($32, 13% ABV) is an elegant white wine. Hibiscus on nose, fresh, pleasant sipping wine. Now we just need pool weather! The Ingénue is a blend of Clairette Blanche (35%), Grenache Blanc (35%), Bourbolenc (20 %) and Picpoul Blanc (10%). The wine is from the Lodi Mokelumne River AVA. Acquiesce is the only dedicated white wine making winery in Lodi. The growing conditions are similar to that of the Southern Rhone, and those French grape varietals clearly thrive at Acquiesce. Wine to be released July 2019. Visit the Acquiesce Winery website for more information.
2018 m2 Wines Vermentino ($20, 12.3% ABV) is an interesting bottle to compare with Vermentino I've had from Italy. Light straw color in the glass. Floral notes and a hint of tea on the nose.Lemon fruit, a bit softer and less acidic than I tend to associate with its Italian counterparts. This Vermentino is also from the Lodi Mokelumne River AVA. The grapes are hand harvested and sorted. The wine is fermented in stainless steel for a clean, fruit driven taste. Just 250 cases produced. For more information, visit the m2 Wines website.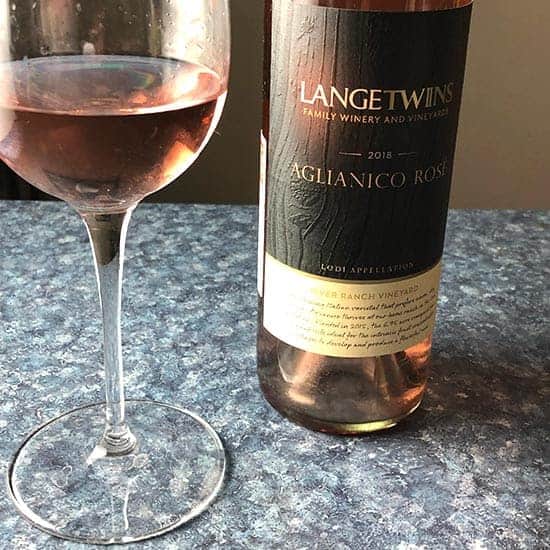 2018 Langhe Twins Aglianico Rosé ($20, 13% ABV)This was a fun wine to try! First time I've tried a rosé of Aglianico, a red grape I mostly associate with Italy. Salmon pink in the glass, tulips on the nose. Melon fruit, nice minerality, a flavorful wine. I really enjoyed this bottle, and will be looking for more of this one, as well as other rosés made from Aglianico. On a busy weeknight, this rosé paired very nicely with a frozen pizza.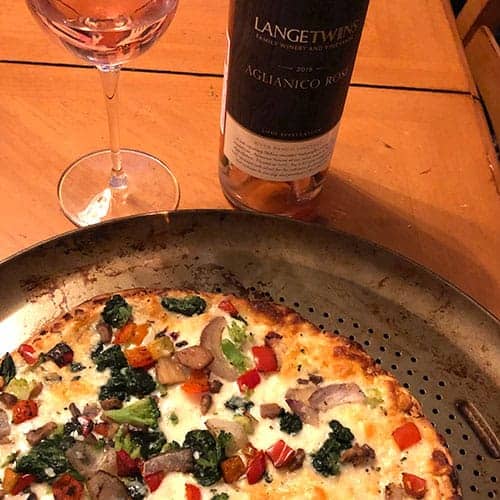 The winemaker notes that the 2018 growing season was long and moderate, with relatively mild summer temperatures. This allowed for gradual maturing of the grapes. A certified sustainable wine. The Langhe family has been growing sustainable wine grapes in Lodi for give generations; and opened their winery in 2006. See their website for more details.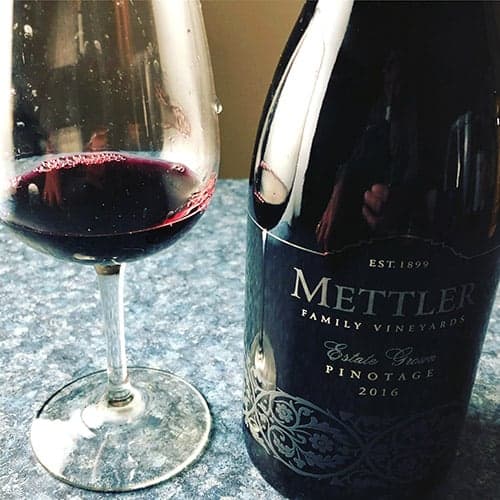 2016 Mettler Family Vineyards Pinotage ($25, 14.9% ABV) Further showcasing the diversity of Lodi wines, we then moved onto this Pinotage. I don't think I've ever had Pinotage outside of South Africa, and I'm typically not a fan. But this wine is delicious! Reminded me of milk chocolate with a hint of cinnamon spice. The winery tasting sheet mentions boysenberry and licorice on the palate, and I can see that. The Mettler Pinotage is one of only a handful of this varietal produced in the US. Just 350 cases of this oak aged wine produced; I plan to move quickly to grab another bottle or two while I can! More on the winery can be found at the Mettler Family Vineyards website.
2016 PRIE Winery Ancient Vine Block 4 Spenker Ranch Carignan ($29, 14.4% ABV) Made from old vine Carignan, this wine has plum fruit and lead pencil on the palate. Aged for 18 months in French oak. This is another wine from the Lodi Mokelumne River AVA. Just 70 cases of this wine produced! To be released in May. For more information on the PRIE Winery, visit their website.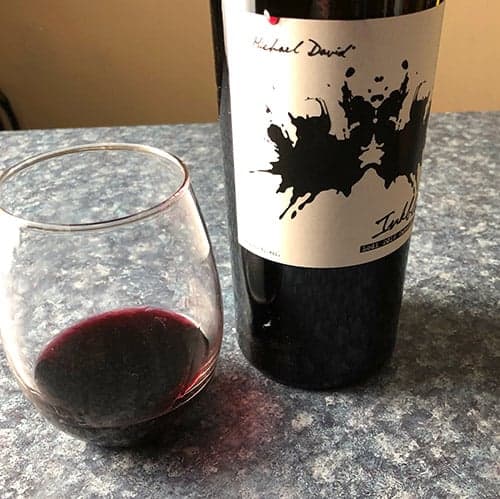 2016 Michael David Winery Ink Blot Cabernet Franc ($35, 15% ABV)An excellent Cab Franc! This was the last one in the lineup at the end of a busy day, so I didn't get much more down than the fact that this was one of my favorites. So I will share a bit of the winery tasting notes: "oozes aromas of blueberry, sun-dried cherries, pie crust and peppercorn. Heavy in the mouth with big polished tannins, flavors of dark fruit, tobacco, mocha and subtle oak notes are expressed through a lengthy, silken finish."
This big red wine from Michael David Winery is a blend of 85% Cab Franc, 8% Cabernet Sauvignon and 7% Petite Sirah. It is barrel aged for 16 months, 65% in neutral oak and 35% in new French oak. I can see where both the blend of grapes and the judicious use of new oak leads to a well-balanced, robust wine.