Today we explore Chablis pairings, including the possibility of featuring this white wine with your Easter dinner. First, we provide some background about Chablis, which is the focus of today's French Winophiles event. If you want to get right into the topic of Chablis pairings for Easter and other meals, click here.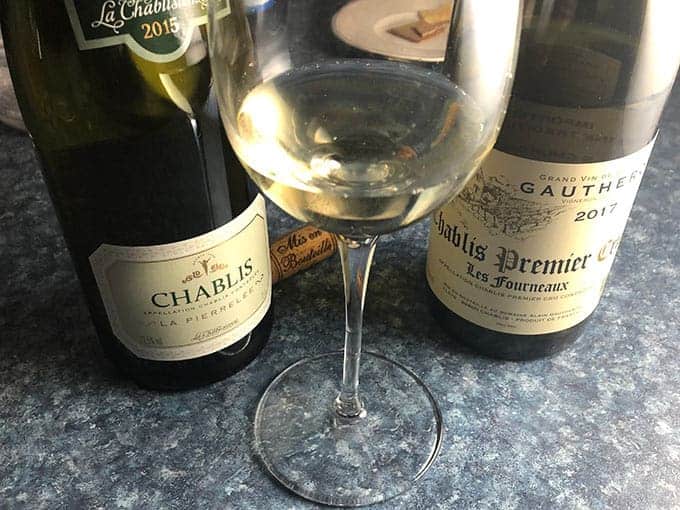 Chablis is definitely a wine that I would place high on my list of white wines that I enjoy. But as I was thinking about this month's French Winophiles focus on Chablis, I realized I only came into this event with a cursory knowledge of the wine. I look forward to deepening my Chablis knowledge along with my fellow Winophiles!
I will start with some basic information about Chablis and then talk about how you might feature Chablis with your Easter dinner or your next seafood meal.
What is Chablis wine?
I think of Chablis as a clean version of the Chardonnay grape, typically with balanced fruit and some mineral undertones. I use the term "clean" to contrast Chablis with some new world Chardonnays with more oak and butter notes.
In addition to the basic taste profile I associate with Chablis, coming into today's event I could tell you that Chablis is an appellation within France's Burgundy region. But I would be hard pressed to place it on a map of Burgundy. Let's remedy that!
Geography of Chablis
Chablis is located in the northern most part of the Bourgogne (Burgundy) wine region. It is close to Champagne. The climate of Chablis is more similar to Champagne than the rest of Bourgogne, with  harsh winters and fragile spring / unpredictable fall weather making for a somewhat short growing season.
There are four Chablis appellations (AOP):
Petit Chablis AOP: The outer areas of the Chablis region, these wines have higher acidity and can be found for under $20.
Chablis AOP:  The main Chablis appellation is closer to the village of Chablis, and produces wines with that notable mineral quality due to the soil composition. One of the wines I sampled for this event falls into this basic Chablis AOP —2015 La Chabliesienne "La Pierrelée" Chablis ($25, 12.5%). Prior to reading about these various Chablis appellations, I quickly dubbed La Chabliesienne a "classic" Chablis when tasting it. This makes sense given that it is from the primary Chablis AOP.
Premier Cru Chablis AOP: Better positioning toward the sun and more limestone give the Premier Cru vineyards their higher prestige. 15% of Chablis vineyards have this status. Wine Folly notes the Premier Cru vineyards can produce wines with slightly more pronounced fruit, and I can see that play out in the 2017 Gautheron Les Fourneaux Chablis Premier Cru ($32, 13% ABV) that we tried.
Grand Cru Chablis AOP: Just one slope gets this designation, with prime south facing vineyards. Production methods differ quite a bit in terms of use of oak aging, so expect significant variation based on the producer.
Chablis Soil
The Chablis region is basically an old sea floor. "The soil is very chalky and minerally, studded with fossilized seashells and fragments of marine skeletons," notes this VinePair article on Chablis. In particular, Kimmeridgian soil found in Chablis has a significant amount of limestone and marine fossils, something you can definitely taste in the glass.

Chablis Pairings
Wine Folly's discussion of food pairings for Chablis note the high acidity and the unoaked style make it a good partner for seafood as well as dishes with a delicate cream sauce. They suggest pairing Chablis with this tarragon chicken recipe, sounds like something to try! Wine Folly also notes that fresh herbs with low overall spiciness is a good way to go when pairing with Chablis.
Shellfish is a natural pairing for Chablis with all those fossilized seashells in the soil that we mentioned earlier. If you explore the articles listed at the end of the post, you will see a number of my French Winophiles paired their Chablis with shellfish, with great results.
Chablis can also work nicely with a variety of cheeses. When the French Winophiles sampled a variety of French wine and cheeses awhile back, we found the Chablis worked pretty well with the Camembert and the Tomme cheese.
But our title promised we would talk about the potential of Chablis to pair with your Easter dinner, which is just a day away! So let's get into that pairing possibility.
Chablis with Easter Dinner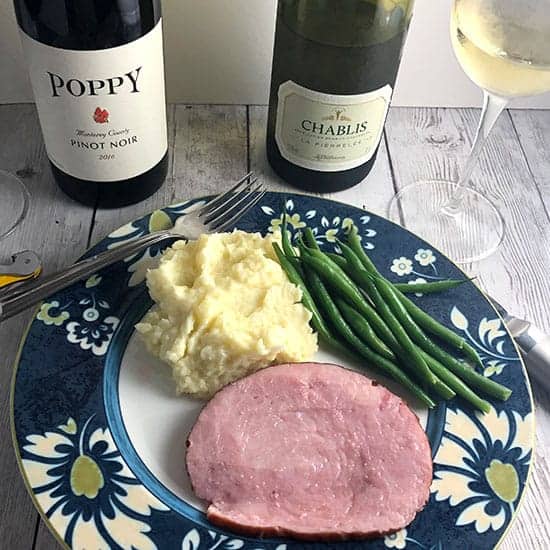 Hosting the Easter Sunday dinner with the extended family has passed on from my grandmother to my parents. Ham is the featured meat on the table, but there are a lot of other things on the spread. Typically that includes some Delmonico potatoes, broccoli and cheese casserole, perhaps some roast turkey, and a salad that I bring along with some wine options.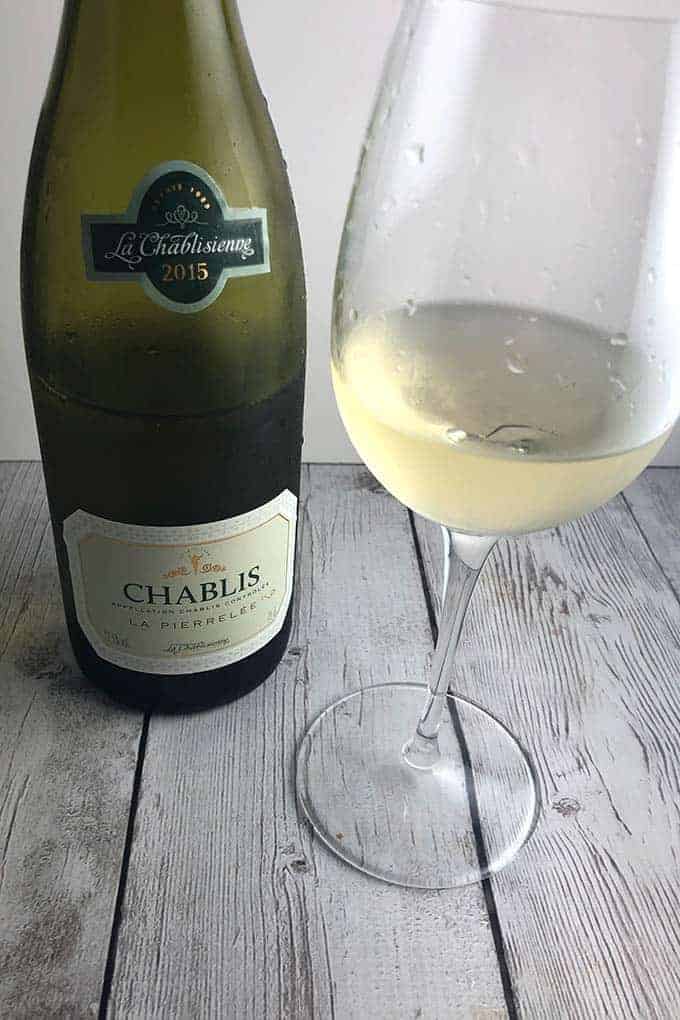 Last weekend I did a streamlined version of an Easter style dinner for the three of us at home. On our plate we had baked ham, mashed potatoes and haricots vert. I wanted to check out how a Chablis would work with this Easter dinner, and also sample a Pinot for comparison.
I opened La Chabliesienne Chablis to pair with our Easter plate. On the nose, this Chablis conjured up the fresh smell of spring morning. On the palate, subtle lemon fruit and distinctive notes of stone. A crisp, clean finish. A classic representation of Chablis.
The Chablis worked quite nicely with the ham, which I had topped with a bit of Dijon mustard. The Chablis cleansed the palate after bites of the salty ham and mustard, and it also worked pretty well with the haricots verts.
The mashed potatoes were a bit heavy for the Chablis. The California Pinot Noir (Poppy) we had for comparison matched up better with the potatoes, but I gave a slight nod to the Chablis for the ham.
If I were preparing an Easter meal again with a Chablis in mind, I might try something like herb roasted fingerling potatoes as a side instead of mashed. If you serve lamb for your Easter meal, enjoy some Chablis as an aperitif, then move on to red wines for your dinner!
Chablis with Baked Cod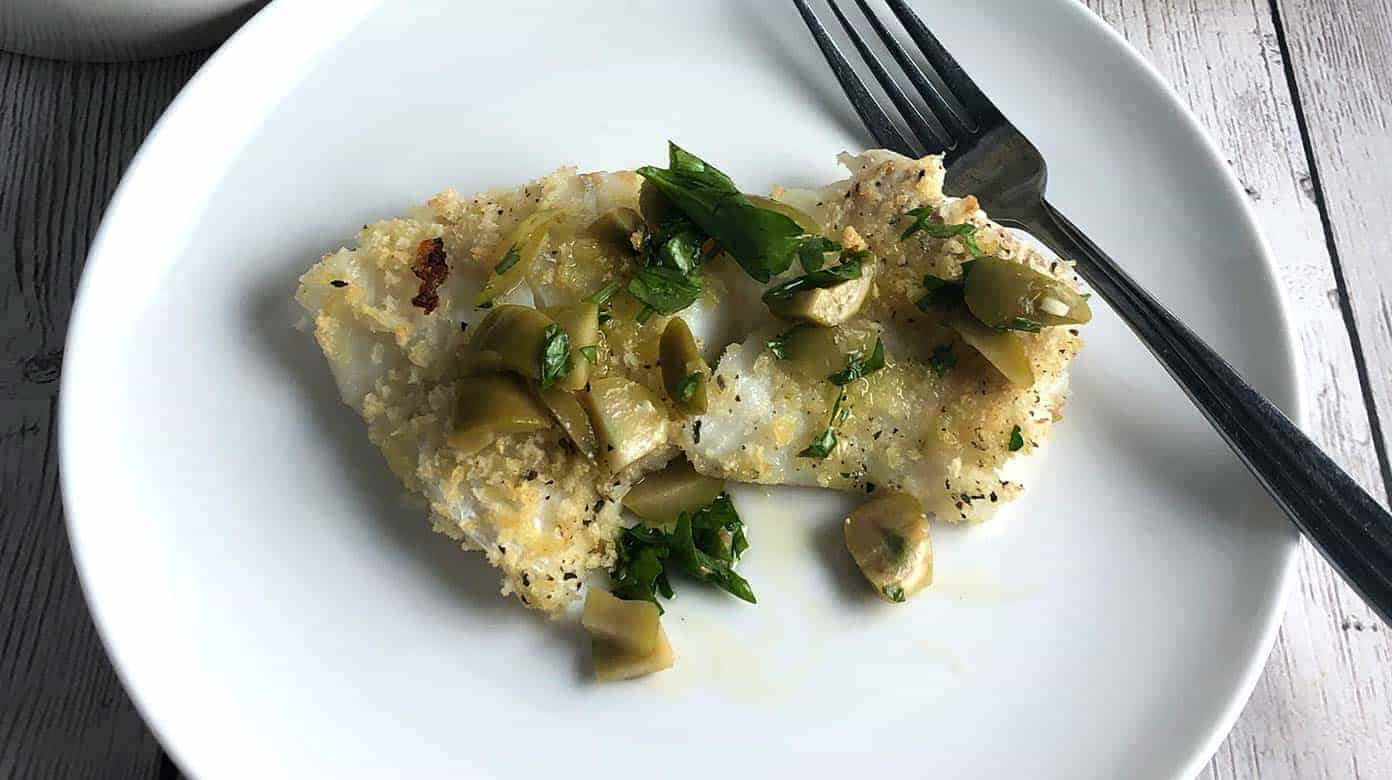 As I mentioned, Chablis is a natural partner for shellfish. But you should also keep Chablis in mind for other seafood dishes. The clean, crisp taste profile of a Chablis can work nicely with white fish like cod.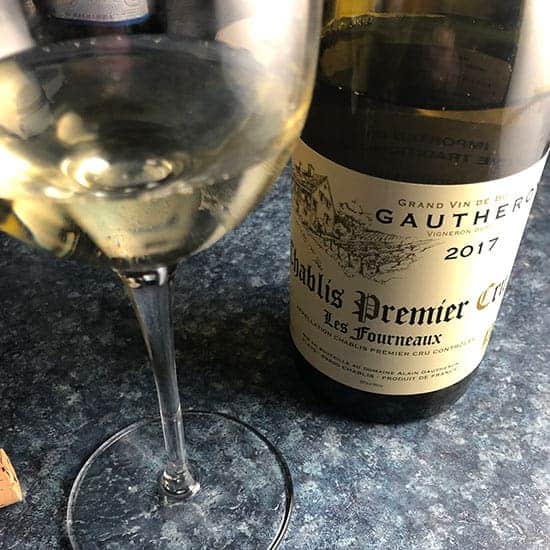 We paired Les Fourneaux Chablis Premier Cru with our Easy Baked Cod with Olive Relish. I paired this cod recipe with an Albariño the first time I made it, so I was curious to see how the Chablis would work out.
This Chablis has a light floral nose, and lemon fruit with slate undertones on the palate. I would say the idea that a 1er Cru Chablis can show more fruit than a basic Chablis AOP proves true in the comparison we did.
The Chablis paired quite nicely with the fish. In addition to the generally good match between Chablis and lighter fish, the olive relish has some lemon juice in it, so the Chablis paired very well with the relish as well as the fish.
More About Chablis from the French Winophiles
Take a look below at all the great ideas for Chablis. If you've given up on Chardonnay but haven't tried a Chablis, maybe one of our posts will inspire you to give one a try! If you see this post in time, please join our chat on Saturday April 20 at 11 am EDT. Just go to the #Winophiles hashtag on Twitter and join in!
Cam at Culinary Adventures with Camilla Brings Us "Cracked Crab, Cheesy Ravioli, and Chablis"
Robin at Crushed Grape Chronicles writes about "Mont de Milieu Premier Cru Chablis from Simonnet-Febvre and Pochouse"
Gwendolyn at Wine Predator Shares "Chablis is … Chardonnay? Comparing 2 from France, 1 from SoCal Paired with Seafood Lasagna"
Liz at What's in That Bottle Shares Chablis: the Secret Chardonnay
Deanna at Asian Test Kitchen Writes about "Top Chablis Pairings with Japanese Food"
Jennifer at Beyond the Cork Screw Has "French Companions: Chablis and Fromage Pavé"
Payal at Keep the Peas writes about "Chablis: A Tale of Two Soils"
Jane at Always Ravenous has "Pairing Chablis with Marinated Shrimp Salad"
Jeff at Food Wine Click! shares "All the Best Food Pairings with Clos Beru Chablis"
Jill at L'Occasion writes about "Metal Giants: Windfarms and the Chablis Landscape"
Susannah at Avvinare writes "Celebrating France with Chablis and Toasting Notre Dame"
David at Cooking Chat writes about "Sipping Chablis with Easter Dinner or Your Next Seafood Meal"
Pinny at Chinese Food & Wine Pairings writes about "A Delicate Pair: Jean Claude Courtault Chablis and Sichuan Peppercorn-Cured Salmon"
Nicole at Somm's Table writes about Domaine Savary Chablis Vieilles Vignes with Scallops and Brussels Sprouts Two Ways"
Kat at Bacchus Travel & Tours shares "The Delicate Face of Chardonnay: Chablis"
Wendy at A Day in the Life on the Farm Brings Us "Chardonnay? White Burgundy? Chablis!"