Roasted Asparagus Pasta tossed with pecorino cheese and prosciutto, delicious paired with Pecorino white wine from Abruzzo! Disclosure: The wine was provided as a complimentary sample by Bacchus Wine Importing.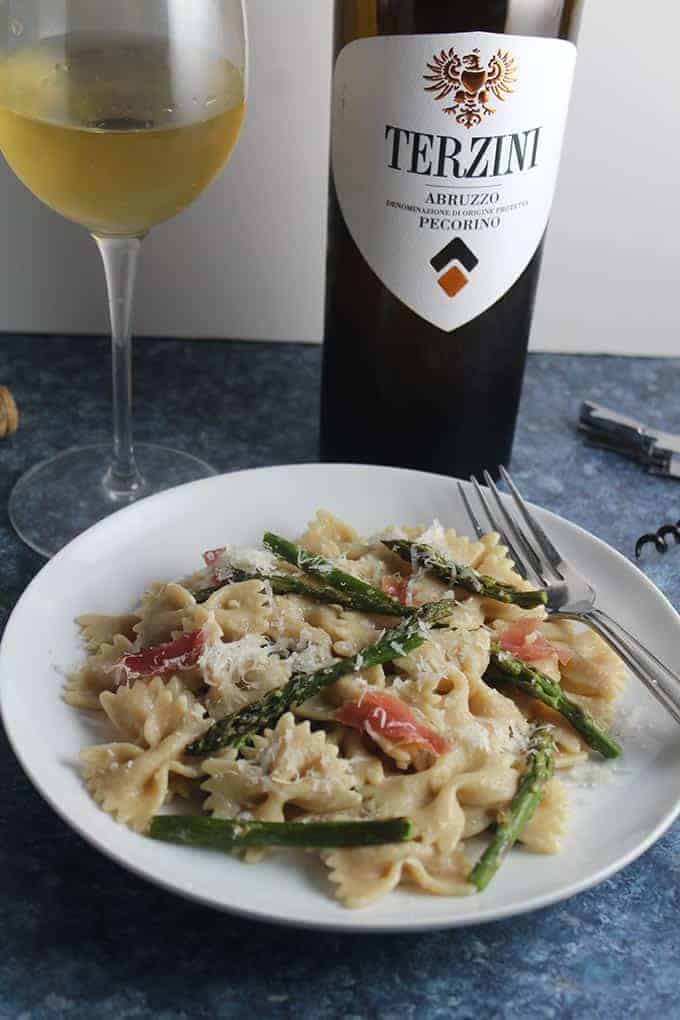 You might be more familiar with Pecorino as a cheese, but today we are joining our Italian Food, Wine and Travel friends to explore the Italian white wine called Pecorino. But fear not! If you came here thinking our recipe involved some Pecorino cheese, we've got that here, too.
What is Pecorino Wine?
If you are like me, you are likely to have been enjoying Pecorino cheese before you heard there was a wine called Pecorino. No, Pecorino wine isn't name for the cheese, as I initially thought may be the case.
Pecora means sheep in Italian. Pecorino cheese is made from sheep's milk, so it's easy to see how the cheese was dubbed Pecorino. Legend has it that sheep have been found nibbling Pecorino grapes in the vineyard, and that is how we have a wine and a cheese with the same name.
Pecorino was reportedly found growing wild in the Marche region of Italy, then cultivated and brought back from the bring of extinction. Now Pecorino wine grapes are cultivated in a number of Italian regions, most notably the Marche and Abruzzo.
Pecorino Wine in Abruzzo
Last spring I had a chance to go on a press trip visiting wineries in Abruzzo. While the region is most noted for their red wine, Montepulciano d'Abruzzo, our hosts were also sure that we had a chance to try the excellent array of white wines available from the region. While Trebbiano is the most common white wine in Abruzzo, Pecorino is also getting a good amount of attention.
Most of our tastings in Abruzzo started with some white wines, often including a Pecorino. We'd inevitably be nibbling on some excellent prosciutto, and perhaps some cheese, as we sampled the Pecorino wine. The Pecorino from La Valentina stands out as one I particularly enjoyed while visiting, with a good clean mouthfeel and a creaminess that owner Sabatino Di Properzio attributes to the vintage conditions.
Coming back from Abruzzo, I was disappointed to realize it can be difficult to find the Abruzzo whites and rosés in the Boston area that I enjoyed there. So when I saw that the #ItalianFWT group would be focused on Pecorino this month, I got in touch with my friend John Maisano.
John founded a company called Bacchus Wine Imports, which focuses on small, high quality family wineries from throughout Italy. I thought I may have seen a Pecorino when visiting John's warehouse awhile back, so I got in touch. John provided me with a bottle of Pecorino from the Abruzzo producer Cantina Terzini. I didn't visit this winery when I was in Abruzzo, but will put it on my list to check out next time I am there!
Pecorino Wine with Roasted Asparagus Pasta
The first time I tried a Pecorino wine, my first instinct was to pair it with the cheese by the same name. There was something in the taste profile and mouthfeel of the wine that made me think Pecorino cheese would be a good pairing, and I wasn't disappointed.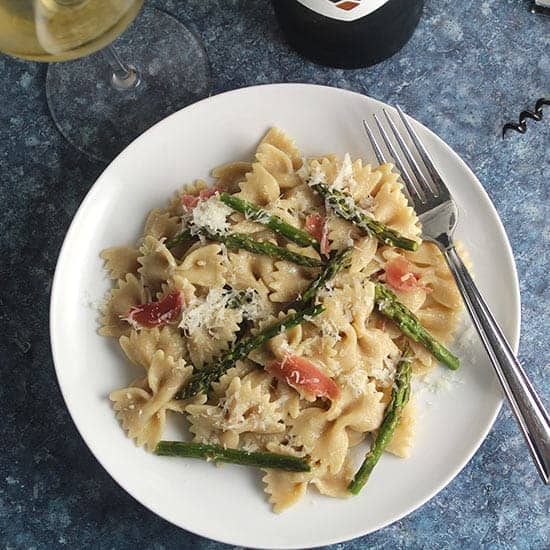 So for today's pairing, I definitely wanted some Pecorino cheese to be involved. Thinking further about a spring pasta dish featuring Pecorino cheese, asparagus seemed like a natural ingredient to feature. Yes, asparagus can be tricky for wine pairings, but as I note in this post, there are ways to make asparagus more wine friendly. Preparing it with some cheese is one strategy; roasting or grilling the asparagus is another. Both were put into action in this roasted asparagus pasta dish!
OK, so the basic plan was to roast some asparagus, toss with some pasta and Pecorino cheese, and pairing with our Terzini Pecorino wine. But wait, we had to add some prosciutto to the mix! I think our Roasted Asparagus Pasta would be OK as a vegetarian dish, but the addition of bits of prosciutto really made the dish and the pairing delicious.
For a vegetarian pasta dish with asparagus, try our Roasted Asparagus and Mushroom Pasta recipe. I'm guessing the Pecorino might work with that one, too!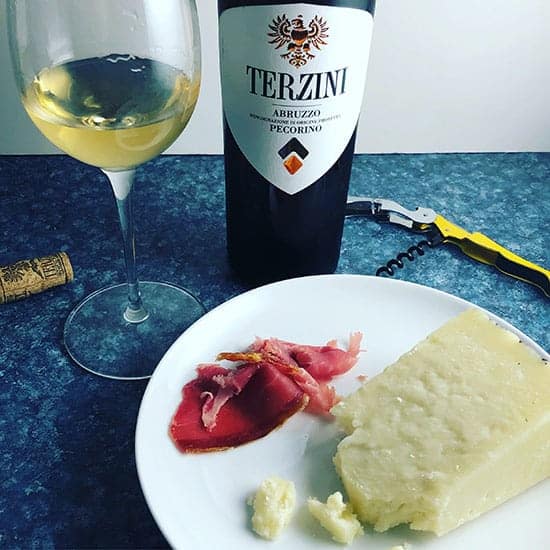 Before getting into cooking mode, I figured we should first try the Terzini Pecorino along with a little plate of Prosciutto and Pecorino cheese. As suspected, that appetizer was a nice treat that conjured up good memories of visiting Abruzzo wineries!
Terzini Abruzzo Pecorino with Roasted Asparagus Pasta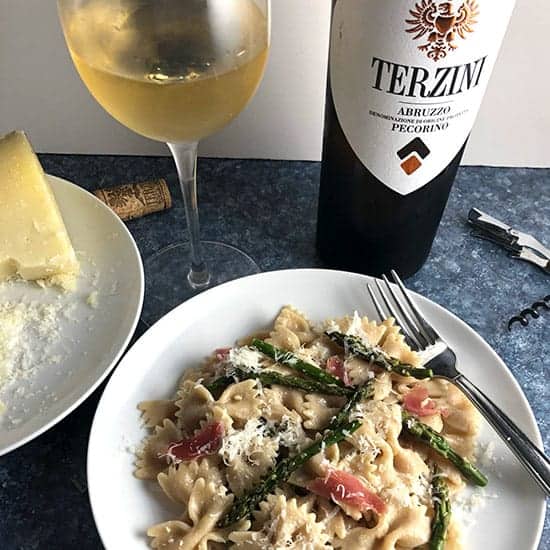 So as I mentioned, our wine for this event and pairing was the 2017 Terzini Abruzzo Pecorino (ABV 13.5%).
Color: golden hue in the glass.
Nose: Light citrus bouquet.
Body: Medium+ with enough heft to the mouthfeel to match our food.
Palate: Lemon fruit with almond notes.
Pairing: Went along very well with the Pecorino cheese in our roasted asparagus pasta; the prosciutto in the dish further enhanced the pairing. I definitely give the pairing an "A"!
Interestingly, in tasting the wine I thought it might see a bit of oak in the winemaking process, but turns out that is only stainless steel. So I was just getting the characteristics of the Pecorino fruit itself, which I would say provides a fairly complex taste profile in this case.
The grapes for this Terzini Pecorino were hand harvested in late August 2017. The grapes are grown using Pergola Abruzzese vine training, something I learned about during my visit to Abruzzo. Vertical poles train the vines to join and create a "roof" which can be an efficient way to capture enough sunlight without overheating the vines in the strong sun of regions like Abruzzo.
About Cantina Terzini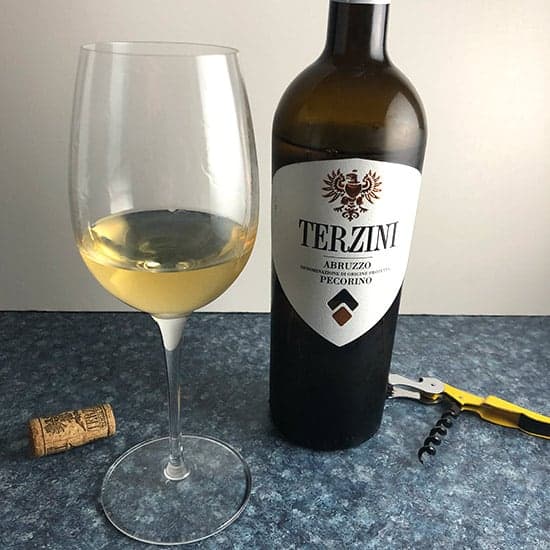 The Cantina Terzini website explains that in 2009 Domenico Terzino founded Cantina Terzini winery, building on a longstanding family vocation of making wine. Terzini has grown from 6 hectares to over 22 during this period of time. The Terzini family continues to actively manage the winery, both the winemaking and the business operations.
Traveling between wineries in Abruzzo, I would see many residents out in their yard tending to grapes. They were often older men and women, keeping the family traditions going. Growing wine grapes and making wine clearly runs deep in the culture, providing a great foundation of tradition and experience from which to build a winery.
Cantina Terzini is located by the commune of Castiglione a Casauria, which is in the the province of Pescara, in the Abruzzo region. The area is close to the Gran Sasso mountain, and not far from the Adriatic sea. This is typical of Abruzzo wineries, to be located between the mountains and the sea, with good elevation and terroir.
Print
Recipe card
Roasted Asparagus Pasta with Pecorino
Roasted asparagus tossed with bow tie pasta, Pecorino cheese and Prosciutto. Delicious served with a good Pecorino white wine!
Author: Cooking Chat
Prep Time:

5 mins

Cook Time:

25 mins

Total Time:

30 mins

Yield:

5

servings

1

x
Category:

Main

Method:

roasting + stove top

Cuisine:

Italian
bunch of asparagus, 1 bunch of asparagus, woody ends trimmed off, remaining asparagus cut in half

1 tbsp

extra virgin olive oil

1 tbsp

Pecorino cheese
salt and pepper to taste

12

ozs bow tie pasta (farfalle) or other short pasta shape

¼ cup

reserved cooking water

3 tbsp

extra virgin olive oil

¼ cup

Pecorino cheese, plus extra to pass at table

2

thin slices prosciutto, broken into bite sized pieces

1 tbsp

lemon juice
Instructions
Preheat an over to 400 degrees. In a baking dish, toss the asparagus with the 1 tablespoon of olive oil, salt and pepper, and 1 tablespoon of the Pecorino cheese. Place in oven.
Roast the asparagus for 10 minutes, then remove from oven the gently stir up the asparagus so it all roasts fairly evenly. Place in oven for another 10 minutes to roast for a total of 20 minutes of roasting time. After the 20 minutes total, the asparagus should be tender and lightly browned on the outside. Thicker asparagus may need a few additional minutes of roasting.
After the asparagus has roasted for 10 minutes, you can start cooking the pasta according to package instructions. When the pasta is close to being done cooking, scoop out ¼ cup of cooking water and reserve.
Drain the pasta when cooked to your liking. Toss immediately with the roasted asparagus, 3 tablespoons olive oil, ¼ cup Pecorino cheese, prosciutto and lemon juice.
Plate the pasta, and pass additional cheese at the table for topping. This roasted asparagus pasta is great with Pecorino wine! Other medium to full bodied Italian whites could work if you can't find Pecorino.
Notes
To determine how much of the asparagus to use, break a couple of stalks of the asparagus. Discard the thicker woody portion opposite the tip end. Cut the rest of the asparagus stalks in similar proportion to the initial stalks that you do by hand.
We used whole wheat bow tie pasta. This is more nutritious but regular bow ties can definitely be used.
Keywords: roasted asparagus, pecorino, asparagus pasta, spring pasta recipes
Recipe Card powered by
Other Pecorino Posts from Fellow Italian Food, Wine and Travel Bloggers