Our theme for the January Wine Pairing Weekend is "Celebrate the New Year with Something New", hosted by Culinary Adventures with Camilla. I had the wine picked out for this early, when I sampled some Croatian wine I really liked, back in December. I decided to go with something new in the food department, too, bringing you this Middle Eastern Chicken Orzo recipe.
Seeing as I started my plans for this meal with the wine, I'll talk more about that first, then move to the Middle Eastern Chicken Orzo. When I first sampled the 2013 Vina Skaramuga Plavac Mali  ($16, 13% ABV), I was very pleasantly surprised to find out it was well under $20, given the quality of the wine. The wine is medium bodied, violets on the nose, and nice cherry fruit. It also has a little spice in there, which Jodi identified as clove. That clove note stuck in my mind, eventually leading to the pairing with the Middle Eastern Chicken Orzo. I also get a little touch of chocolate on the finish, which no one is going to complain about!
A few weeks ago Dee, co-owner the fine wine wholesale company Cafe Europa, was pouring the wine I picked along with others from her native Croatia. So it was a great chance to learn some new things about a country with some great wine that most of us in the US know little about. Plavac Mali is a wine grape varietal native to the coastal regions of Croatia. It has some similarities to Zinfandel. Dee mentioned the Plavac Mali is often enjoyed in Croatia with grilled fish, so I suspected it would also work well with a chicken dish.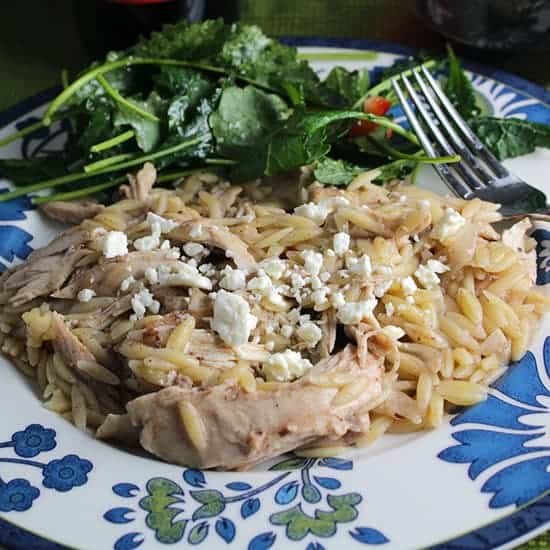 Now let's talk more about the Middle Eastern Chicken Orzo dish. The majority of recipes here on Cooking Chat are original creations, with perhaps some inspiration or methods from other sources. But this Middle Eastern Chicken Orzo recipe is based largely on the recipe for Jaj bel Lissan al Assfour found in The New Book of Middle Eastern Food by Claudia Roden. Though I enjoy the flavors of Middle Eastern food, I don't cook it too often. So I was excited to borrow this cookbook from a friend. This Middle Eastern Chicken Orzo dish is the first one I've tried, and I look forward to making more from the book before I return it!
I mentioned this Middle Eastern Chicken Orzo recipe is based largely on the one found in the cookbook. I've increased and tweaked the quantities a bit, added the feta cheese and made a few other edits based on the version I cooked.
Croatian Wine Pairing for Middle Eastern Chicken Orzo
I've given you my brief tasting notes, but how did the Plavac Mali pair with the Middle Eastern Chicken Orzo? As suspected, it was a very good pairing! The clove we picked up in the wine married well with the cinnamon in the dish. This is a lot of cinnamon, by the way. This made the dish a hit with our ten year old!
The medium bodied wine has fairly low alcohol for a red, so it is definitely good for drinking along with a lighter dish like this chicken and orzo. I will definitely have to try a seafood pairing with it soon–if the wine is still available. This Plavac Mali and the other Croatian gems Dee pour at Pairings Wine and Food in December were flying off the shelves! I got half a case, but was down to the last one for this recipe after bringing other bottles along to various holiday gatherings.
Altogether, this food and wine pairing is a great reminder of the benefits of trying something new! We enjoyed a new recipe from a cuisine I don't cook very often along with a wine that is an excellent value because it comes from an area and grape American consumers haven't discovered…yet!
Print
Recipe card
Middle Eastern Chicken Orzo
Chicken slowly simmers in a Middle Eastern spice blend of cinnamon and cardamom and then gets served with a flavorful orzo.
Author: Cooking Chat
Prep Time:

5 mins

Cook Time:

105 mins

Total Time:

1 hour 50 mins

Yield:

7

servings

1

x
Category:

Main

Cuisine:

Middle Eastern
1

whole chicken, about 4 ¼ lbs

2 tbsp

olive oil

1

large onion, chopped

5

cloves garlic, minced

5 ½ cups

water

2 ½ tsp

cinnamon

1 tsp

cardamom seeds, crushed

½ tsp

dried ginger

1

lb orzo

2 tbsp

butter
salt and pepper to taste

2 tbsp

fresh lemon juice

⅓ cup

feta cheese, plus additional for serving
Instructions
In a pot large enough for the chicken, heat the olive oil on medium heat. Add the onion, and sauté for 5 minutes until it begins to soften.
Add the chicken to the pot, the pour in the water. The water won't cover the chicken.
Add the garlic, cinnamon, cardamom and ginger. Add salt and pepper to taste.
Simmer the chicken, covered, for 1 ½ hours, turning the chicken over after 45 minutes. Keep an eye on the pot to adjust the heat as needed to keep the simmer going without bringing it to a boil.
After the 90 minutes cooking time, remove the chicken to a large platter, keeping the cooking liquid in the pot. The chicken should be very tender. After it has cooled, remove and discard the skin. Pull the chicken off the bones, and break into pieces, serving size and smaller.
Meanwhile, bring the cooking liquid to a boil, and add the lemon juice. Stir in the orzo, and cook for 10 minutes, stirring occasionally. Add up to a cup of additional water if the cooking liquid gets absorbed prior to the 10 minutes.
Add the chicken pieces into the pot with the orzo. Simmer the chicken with the orzo for 3 to 5 minutes until most of the liquid has been absorbed and the orzo is tender. Stir in the ⅓ cup feta cheese.
Plate the chicken orzo mixture, and pass additional feta cheese for topping at the table. Enjoy!
Recipe Card powered by
Be sure to check out all the new pairings from my fellow #winePW bloggers! These are listed alphabetically by post title and I'm excited to see new vintners, new countries, and wines from Turkey, Croatia, and even Lebanon.
These are listed alphabetically by post title and I'm excited to see new vintners, new countries, and wines from Turkey, Croatia, and even Lebanon.
Join our live Twitter chat on Saturday, January 9, from 11 a.m. to noon, Eastern Time. Just tune into the hashtag #winePW. If you've come to us after January 9, consider joining us for #winePW on February 13, focused on a Valentine's Day theme, hosted by Christy at Confessions of a Culinary Diva. You can get a full listing of past and upcoming Wine Pairing Weekend events here.