A simple soup recipe gets kicked up several notches with the addition of kale pesto! Give this Potato Soup with Kale Pesto a try for an easy, healthy meal.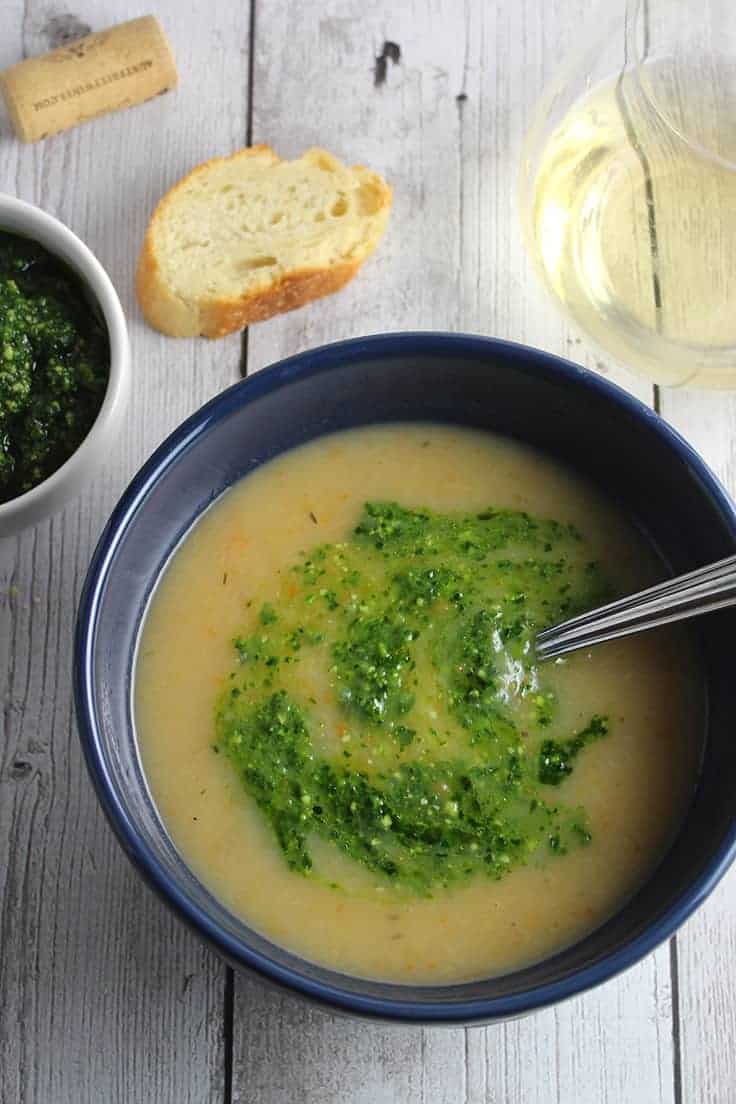 Ready for a little variety in your soup routine? You've got to try this Potato Soup with Kale Pesto recipe! A simple, hearty potato soup gets a boost of flavor and nutrition from some zesty kale pesto. Not to mention the addition of kale pesto adds some nice color to what can be a bland looking soup.
A basic potato leek soup is so easy and inexpensive to make. You basically simmer carrots, leeks and potatoes until they are soft, then puree them with an immersion blender. You can transfer the soup to a food processor and puree in batches if you don't have an immersion blender. But if you like thick, creamy soups (without necessarily adding cream), I highly recommend getting an an immersion blender.
I like to find ways to vary the basic potato soup recipe. Last winter, I came up with this tasty Potato Leek with Roasted Broccoli recipe. Sticking with the add something green idea, today we serve up Potato Soup with Kale Pesto. We make a lot of kale pesto here! Basil pesto for us is a seasonal thing, something to enjoy in the summer when basil is fresh. We find good kale at the store all year long, so kale pesto is always an option for adding an infusion of fresh flavor to a dish.
I made my own veggie stock for Potato Soup with Kale Pesto, using leftover kale stems, cabbage and other bits that would have been tossed otherwise. That makes this recipe extra frugal and healthy (I don't add salt to my stock). I suggest buying low sodium broth if you use store bought.
And save the top of the leeks! They can be used for recipes like this Sautéed Leek Greens with Bacon.
As you can see from the photo, we start by topping the the potato soup with a good dollop of kale pesto that gets swirled around the soup. Offer some more pesto at the table so people can add more of that zesty flavor as they like. Some crusty bread is also nice to have along with the Potato Soup with Kale Pesto.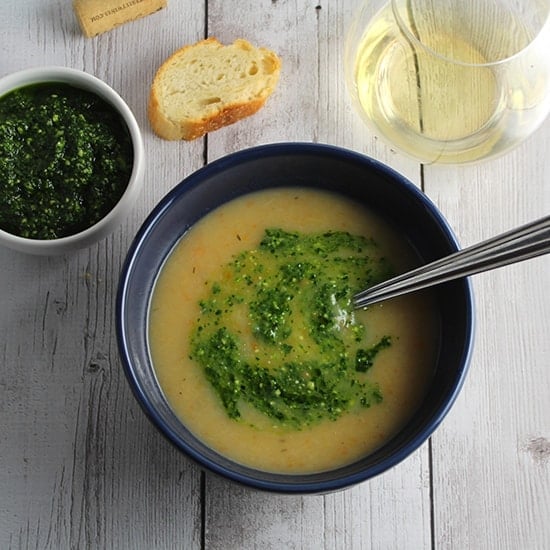 In the recipe instructions, I have halved my typical kale pesto recipe for to give you the amount you need for the soup, perhaps a bit extra. But when I made the kale pesto for the potato soup, I made the amount I typically do, with plans to use some with some pasta later in the week. I'd encourage you to do the same to set yourself up for another easy and tasty meal!
By the way, you might notice that this kale pesto has no nuts in it. For some time, I've been using pumpkin seeds instead of nuts in pesto due to a nut allergy in our house. It comes out great! Of course, feel free to swap in pine nuts or walnuts if you like.
Wine Pairing for Potato Soup with Kale Pesto
We enjoyed some 2014 Austerity Chardonnay ($19, 14.5% ABV) with our Potato Soup with Kale Pesto. Daffodils on the nose, creamy mouthfeel, lemon fruit and yes, a touch of butter. Very enjoyable to sip on its own as the soup simmers, and it pairs quite well with the soup. The body of the wine matches the soup well, and the flavors in the wine complement the soup. This is a great value California Chardonnay for under $20. The wine comes from Arroyo Seco, an AVA in Monterey County.
Print
Recipe card
Potato Soup with Kale Pesto
Potato Soup with Kale Pesto is a simple and healthy recipe to warm your family on a cold evening.
Author: Cooking Chat
Prep Time:

10 mins

Cook Time:

30 mins

Total Time:

40 mins

Yield:

5

servings

1

x
Category:

Soup

Method:

stove top

Cuisine:

American

Diet:

Vegetarian
2

medium leeks, sliced (white and light green portions)

2 tbsp

extra virgin olive oil

2

medium carrots, peeled and chopped

4 cups

potatoes, peeed and chopped

4 cups

vegetable broth

2 cups

water
salt and pepper to taste

½ tsp

herbes de Provence
bay leaf

2 cups

tightly packed kale leaves, stems removed

2

garlic cloves

1 tbsp

toasted pumpkin seeds
pinch red pepper flakes
salt and pepper to taste

¼ cup

grated parmesan cheese

⅓ cup

extra virgin olive oil
Instructions
Heat the 2 tablespoon olive oil in a large pot. Add the chopped leeks, and sauté for about 5 minutes.
Add the carrots, followed by the potatoes. Stir to combine with the leeks, and add a bit of salt to taste.
Stir in the vegetable broth and water. Add the sage and bay leaf. Bring the soup to a boil, then reduce to simmer on medium heat
Cook the soup, uncovered, until the vegetables are tender, at least 20 minutes. If you can let them cook for 30 minutes or so that's ideal to get the flavors combining and the veggies will be very soft.
As soup cooks, make the kale pesto. Add the garlic to a food processor, and pulse the processor a few times to mince the garlic.
Add the kale to the food processor, coarsely chopping to create enough room for the other ingredients.
Add the the pumpkin seeds, red pepper flakes, salt and pepper to taste, parmesan cheese, and ⅓ cup olive oil, and puree until it comes to a nice smooth consistency.
When the veggies in the soup pot are nice and soft, puree the soup with an immersion blender or by transferring the soup to a food processor.
Serve the soup in a bowl, topped with a dollop of the kale pesto. Pass additional kale pesto to serve at the table. Mix the kale pesto in with the soup and enjoy.
Keywords: potato soup with pesto, ways to use kale pesto, soup with pesto
Recipe Card powered by
Tool and Resources: This post contains Amazon affiliate links for products I recommend related to the article, which means I earn a commission if you choose to purchase using these links.