Picpoul is one of our favorite white wines, and we especially like it with pesto! Picpoul is also a great partner for seafood. Learn more about Picpoul wine and foods to pair with it as part of the French Winophiles exploration of this grape.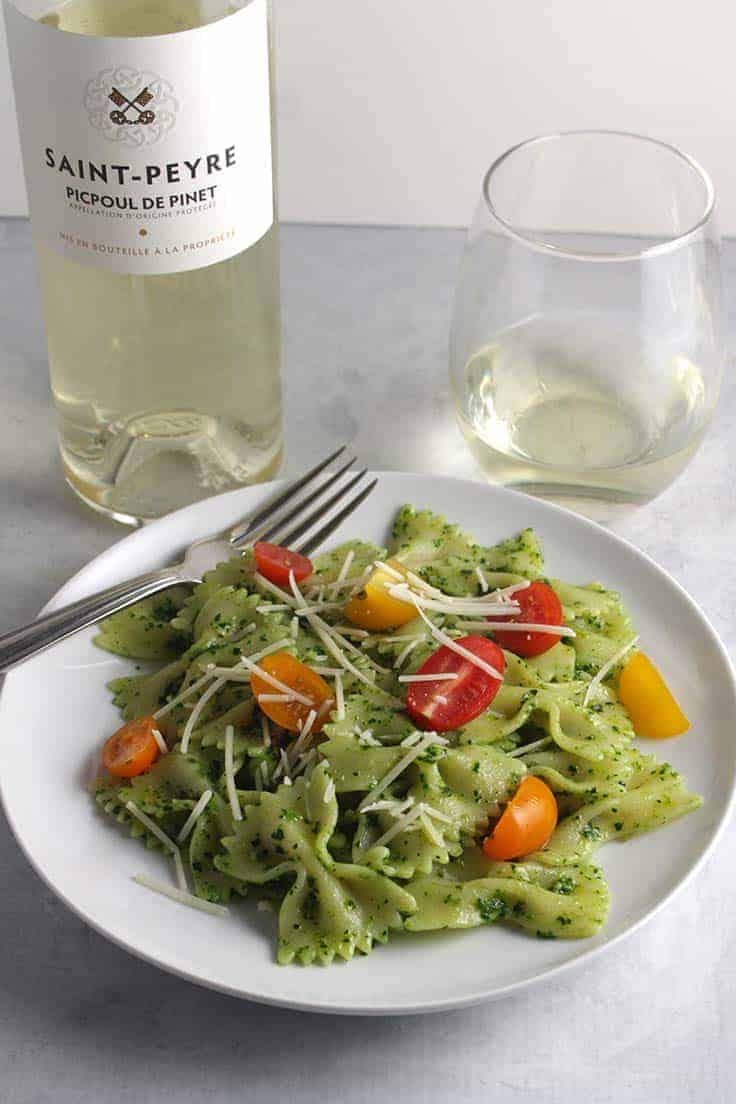 This month the French Winophiles group is delving into Picpoul wine. I was eager to jump into this topic, as Picpoul has often been one of my go-to white wines. Picpoul wine is especially good with pesto, but certainly goes with other foods, too. But Picpoul is not a well-known wine here in the U.S., so let's cover some basics first.
What is Picpoul Wine?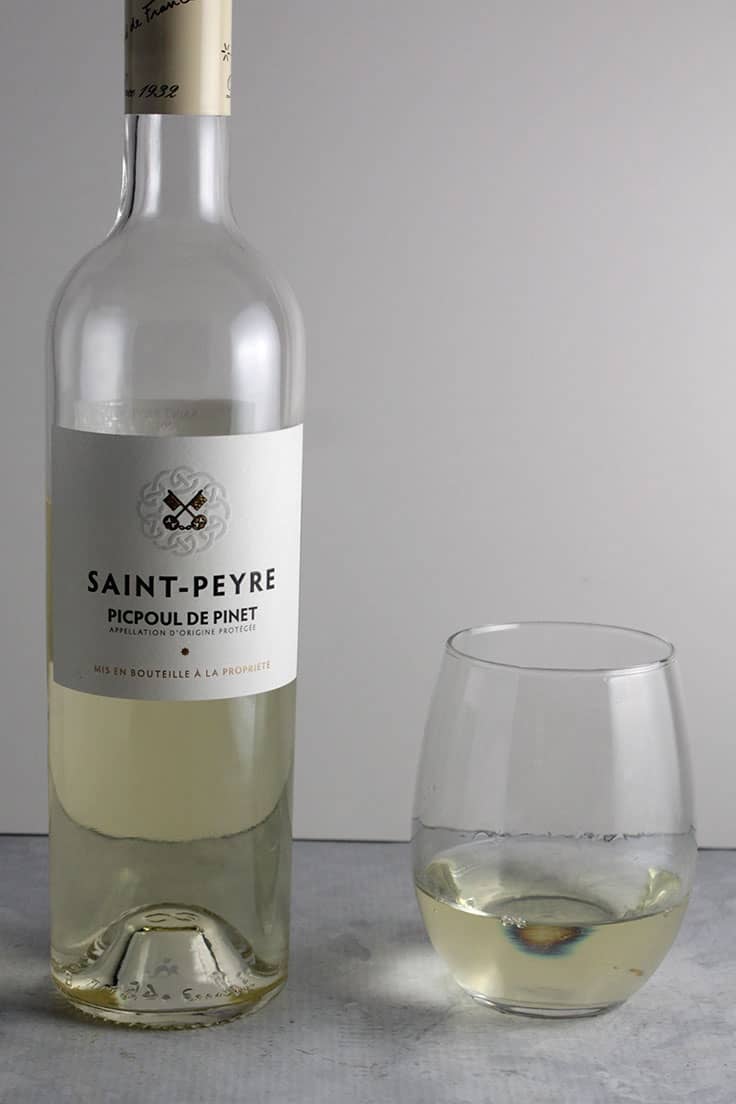 Picpoul is a wine grape that comes in both dark skinned and light skinned varieties, Picpoul Noir and Picpoul Blanc, respectively. Picpoul Blanc is more prevalent as a varietal wine, while Picpoul Noir is more likely to be used as a blending grape. Picpoul Blanc is what I have had frequently, and will be my focus in this Picpoul wine article.
I tend to associated Picpoul with the Languedoc region in Southern France, but can also be found in other parts of France, Spain, California and other wine regions.
Picpoul de Pinet is the largest white wine producing appellation in the Languedoc. Located close to the Mediterranean sea, breezes moderate the daytime temperatures of Picpoul de Pinet vineyards. The soils are limestone, with sandy soil deposits.
Picpoul can also be spelled Piquepoul. Seeing as I'm usually grabbing a Picpoul de Pinet, I go for the Picpoul spelling.
Picpoul and Pesto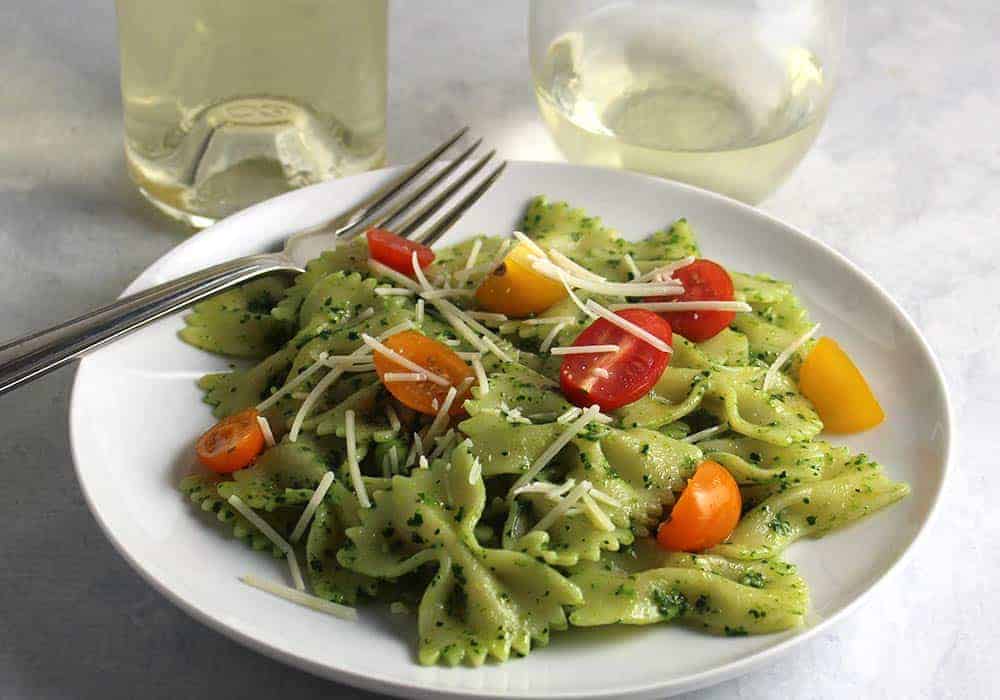 Picpoul is sometimes known as "lip stinger" based on the acidity of Picpoul wine. I guess that is why I naturally gravitated toward Picpoul as a pairing for pesto. Sauvignon Blanc is a classic pairing for pesto, but Picpoul is definitely a great alternative!
I'm a big pesto fan, and thankfully most of my family is, too. In recent years, I've been making more kale pesto than traditional basil pesto. I can vouch for Picpoul as a great pairing for both kinds of pesto. Get my kale pesto recipe along with 10+ ways to use it, and my basil pesto recipe here.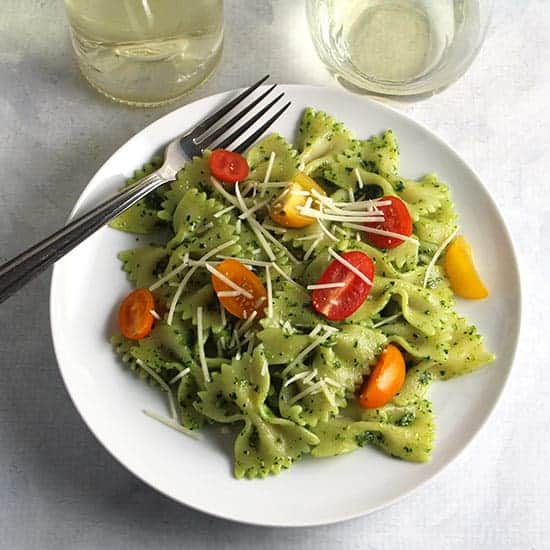 I've sampled some other Picpouls, but my favorite is the Saint-Peyre Picpoul de Pinet (appx. $10, 13% ABV). We had the 2017 Saint-Peyre Picpoul de Pinet for our recent meal.
I get citrus on the nose of this Picpoul. Taste of lemon fruit and sea shells. Minerality. Nice mouthfeel, some softness along with the acidity.
I served this Picpoul slightly warmer than I often do white wines. At a few recent tastings we've been talking about how whites show more flavor when taken out of the fridge for a bit (15 minutes or so) before serving. This approach worked nicely with the Picpoul.
As usually, the acidity in the Picpoul cut the bit from the garlic in the pesto. That bright lemon fruit refreshes the palate nicely. Pesto and Picpoul is a nice pairing!
For this recent Picpoul wine sampling, I tossed bow tie pasta with kale pesto, and topped with some grape tomatoes. The wine's acidity also works nicely with the tomatoes.
Other Food Pairings for Picpoul Wine
With the proximity to the sea, Picpoul de Pinet and seafood are a natural combination. I had a few pieces of easy sautéed shrimp on my plate. As anticipated, the shrimp paired very nicely with the Picpoul de Pinet. I've also enjoyed Picpoul paired with simple pan seared scallops.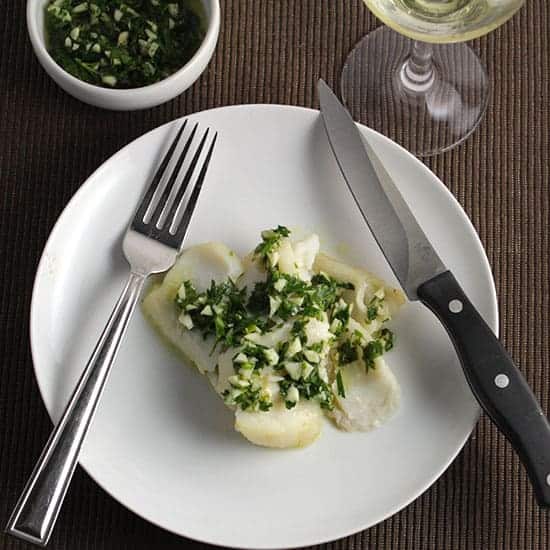 I have also enjoyed Picpoul with our Roast Cod with Herb Pesto, another example of Picpoul working well with seafood…oh yes, pesto too! With the cod, we served the 2014 Domaine Feline Jourdan Picpoul de Pinet ($11, 13% ABV). That's another good Picpoul producer if you can't find the Saint-Peyre.
For even more Picpoul pairing ideas, be sure to checkout all of the articles from my fellow Winophiles bloggers!