Our Easy Sautéed Shrimp recipe, with just four ingredients, combines quickly cooked shrimp with honey and sauce for a kid friendly seafood dish. Grownups will enjoy it, too, especially with one of our recommend wine pairings for shrimp.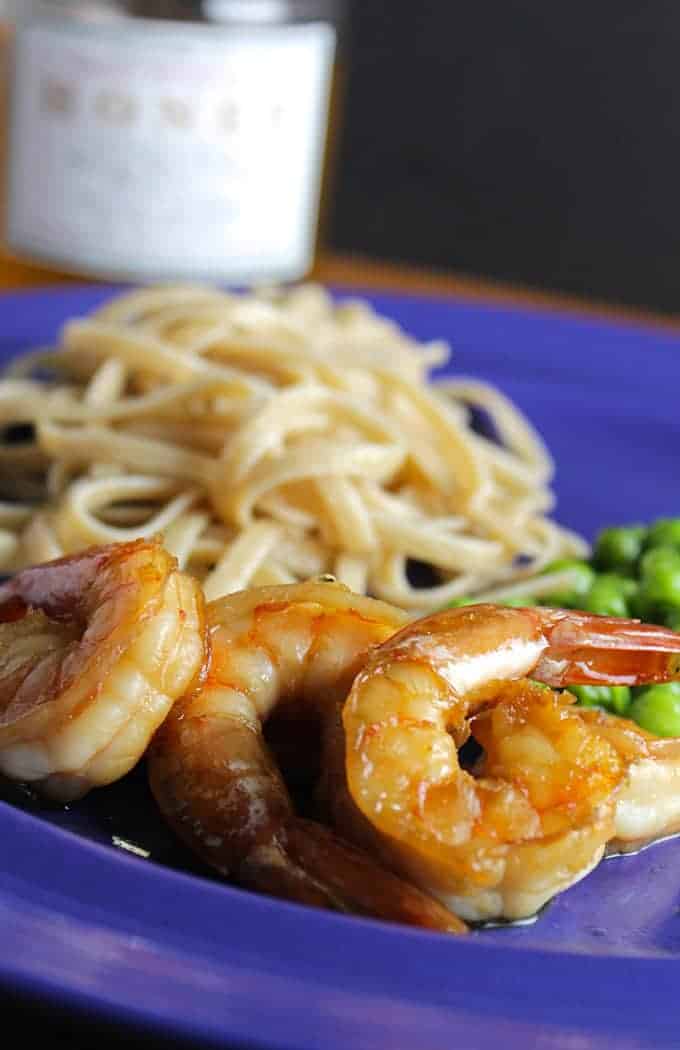 Kid Friendly Sautéed Shrimp
I originally posted this Easy Sautéed Shrimp recipe in 2015, motivated to share a recipe that our then nine year old loved. Below I share what I said back when I first posted the recipe, followed by some updated cooking notes and wine pairings.
This shrimp recipe is so basic I didn't think to share it until our nine year old was raving about it again the last time we had it. Then I realized that though I tend to share recipes a bit more involved, anything that gets such a positive response from a discriminating child's palate shouldn't be kept to myself. So here's our Easy Sautéed Shrimp recipe.
What makes our Easy Sautéed Shrimp appealing to kids? Soy sauce and honey combine to please young palate–the combo has nudged our son to try a variety of new fish and meats, usually with good results.
Keeping with the kid friendly theme, I served the simple sautéed shrimp alongside peas, our lad's favorite veggie, and some linguine (before it got tossed with that dreaded tomato sauce!). I like this shrimp dish too, though sometimes it's a nice option to get a portion of shrimp just for B. when we adults have something else.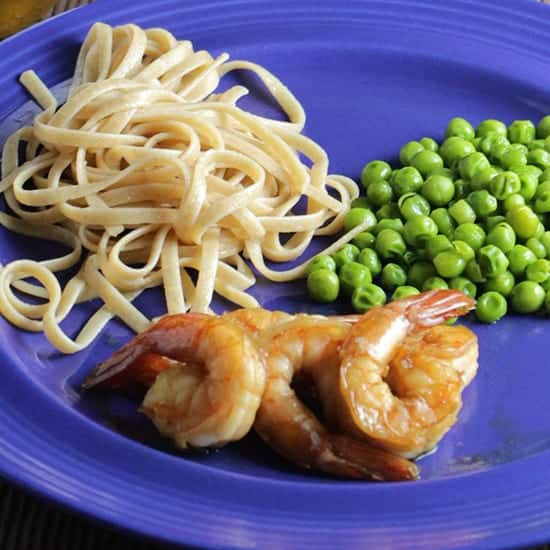 Stay tuned for my kid friendly favorites here on Cooking Chat! One recent kid friendly recipe we shared you might like is Bee Bim Bop.
How to make sautéed shrimp
Our Easy Sautéed Shrimp is so simple it barely requires notes but I will make a few just to break things down.
I typically buy a large bag of frozen shrimp, the peeled and deveined kind. I portion out what I need for dinner into a sealable plastic bag. If I'm planning ahead I do it in the morning, leaving the bag to defrost in the fridge for the evening. But if some Easy Sautéed Shrimp is a last minute dinner solution, I put the serving of shrimp in a plastic bag in some warm water for about 30 minutes to thaw.
Just 5 minutes or so is all the shrimp needs in the marinade to get some good flavor. The shrimp then cooks in this marinade, making a nice little sauce for flavorful yet easy shrimp.
How do you know when sautéed shrimp is done? The sautéed shrimp take just about 5 minutes total cooking time. Turn them after two to three minutes, stirring occasionally. When they are done the flesh turns white throughout, and the tails get a bright red color.
Wine with Easy Sautéed Shrimp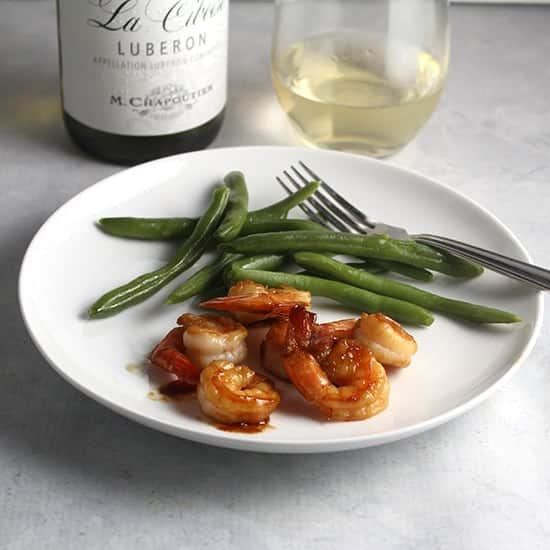 White wine is generally the way I go with shrimp. Most recently, I opened a bottle of 2016 Luberon "La Ciboise" Blanc ($16, 13% ABV), to go with our Easy Sautéed Shrimp. This wine was sent to me as a complimentary media sample.
La Ciboise Blanc is a white Rhone blend from M. Chapoutier, comprised of Grenache Blanc, Vermentino, Ugni Blanc and Roussanne. Luberon is a appellation in the Southeastern area of the Rhone Valley.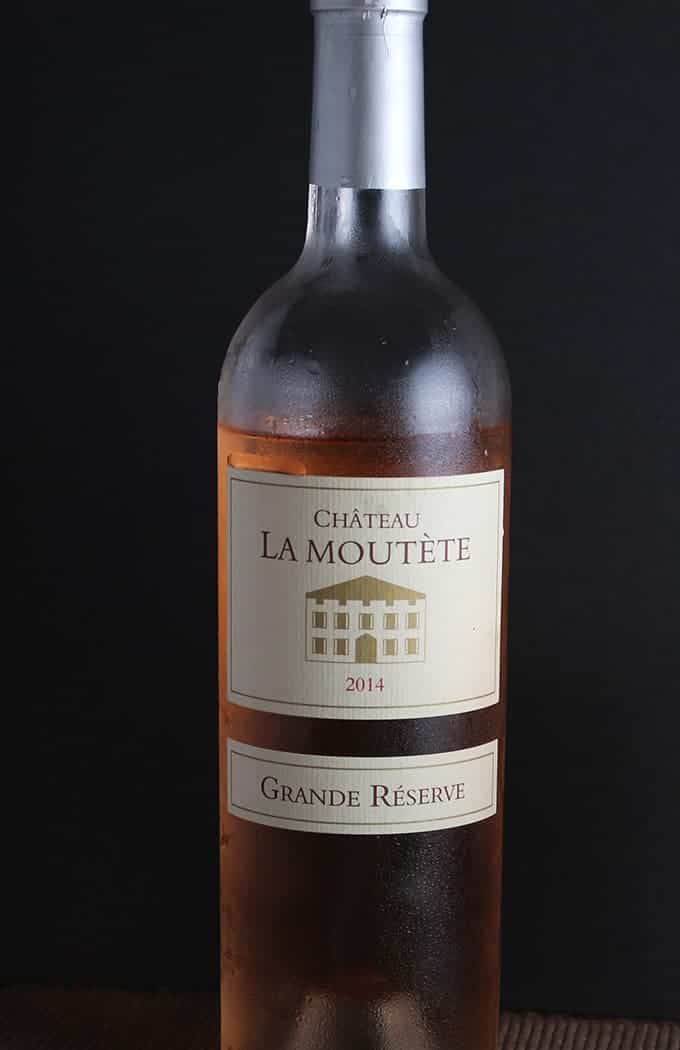 This easy sautéed shrimp recipe is also good food pairing for Pouilly-Fuissé, a distinctive white Burgundy made from Chardonnay grapes. The 2014 Vincent Pouilly-Fuissé Marie Antoinette has nice mineral undertones that pair perfectly with this shellfish recipe. For more about Pouilly-Fuissé, visit our article on Food Pairings for Pouilly-Fuissé and Pouilly-Fumé.
We have also found a rosé pairing that works really well with our Easy Sautéed Shrimp. I had opened a bottle of 2014 Chateau La Moutete Grande Réserve Rosé ($16, 13.5% alcohol) to go with an orzo dish I made. I had made some of this shrimp again, mostly to get devoured by our almost-ten year old, but managed to grab a few shrimp for myself. No surprise that this rosé from Provence, with its proximity to the Mediterranean, went very nicely with our easy sautéed shrimp.
Print
Recipe card
Easy Sautéed Shrimp
Just four ingredients, but Easy Sautéed Shrimp has plenty of flavor. The simple soy and honey sauce is very kid friendly and pleases grownups too!
Author: Cooking Chat
Prep Time:

10 mins

Cook Time:

5 mins

Total Time:

15 mins

Yield:

2

servings

1

x
Category:

Main

Method:

Sauté

Cuisine:

American
14

shrimp, raw (I buy them peeled and deveined)

2 tbsp

low sodium soy sauce

2 tsp

honey

1

tbs olive oil
Instructions
Combine the soy sauce, honey and olive oil in a bowl. Whisk to combine thoroughly.
Rinse and pat dry the shrimp. Add to the soy marinade, toss to combine. Marinade the shrimp at room temperature for 5 to 10 minutes.
Heat a non-stick skillet on medium heat with some oil spray. When the skillet is good and hot, and the shrimp along with the marinade.
Sauté the shrimp by stirring occasionally. Cook for about 2 to 3 minutes on one side, then turn the shrimp over. Sauté another two minutes or so until the shrimp are cooked through. The tails turn reddish and sauce gets caramelized and coats the shrimp when they are done.
Serve the shrimp alongside some favorite sides!
Notes
I typically buy a large bag of frozen shrimp. You can move the portion you want to cook into a plastic bag in the morning, and let it defrost in the fridge. Or you can put that same bag in a bowl of warm water for about 30 minutes prior to cooking to quickly thaw.
You can also use pre-cooked shrimp in this recipe. Just take about 2 minutes off the cooking time, as all you want to do is heat the shrimp and brown the outside a bit.
Keywords: easy shrimp, shrimp recipes, sautéed shrimp, kid friendly shrimp
Recipe Card powered by
Like our new recipe card style? Check out WP Tasty for your WordPress blog! [Our affiliate link is included here]