Roasted pork chops topped with a pomegranate sauce is an easy and elegant meal that can be on the table in 30 minutes. Excellent paired with a Pinot Noir from the Sonoma Coast. Click here to jump down to the recipe or get to the wine details.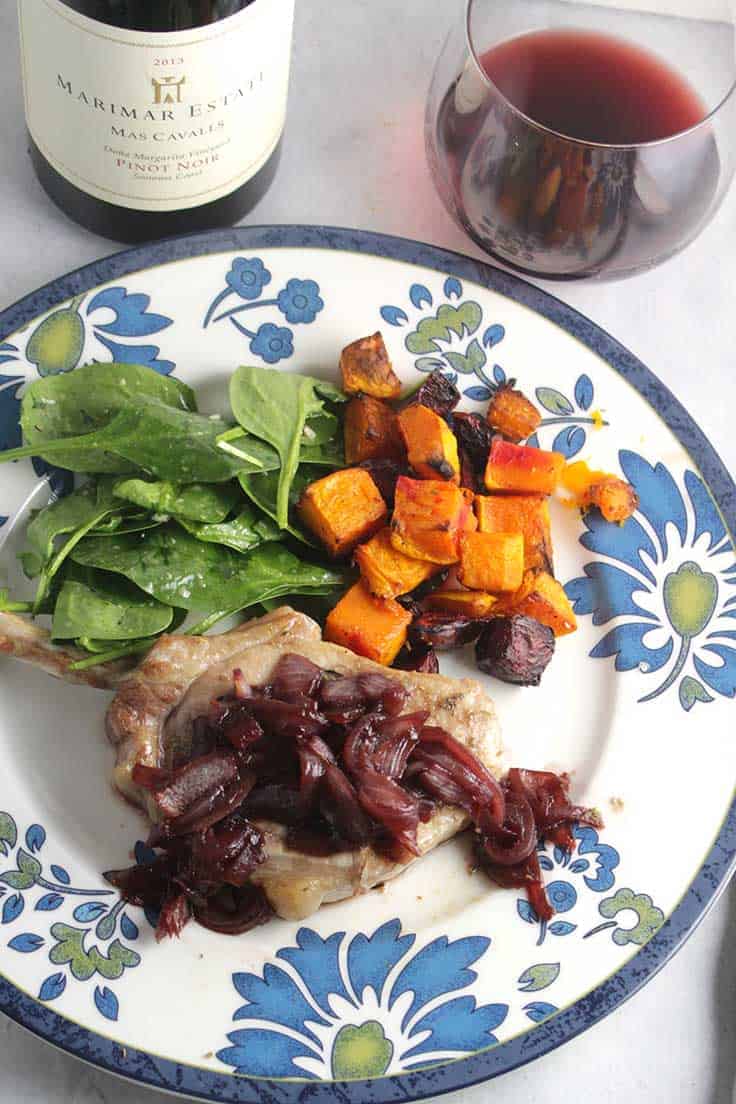 This Pork Chops with Pomegranate Sauce recipe has been in the pipeline for awhile.
The idea of making some pomegranate sauce for pork chops started percolating when I was planning for our January #SonomaStrong Wine Pairing Weekend post. I had a good bottle of Sonoma Pinot on hand, and I got to thinking about good pairings for Pinot Noir.
I recalled Lori from Pairings Wine and Food mentioned that Pinot goes with pomegranate molasses. She mentioned that pairing explaining why Pinot goes well with Muhammara Spicy Red Pepper Dip. I had a good amount of the molasses on hand from making that tasty dip, so I decided to feature it in some pomegranate sauce for pork chops.
Making Pomegranate Sauce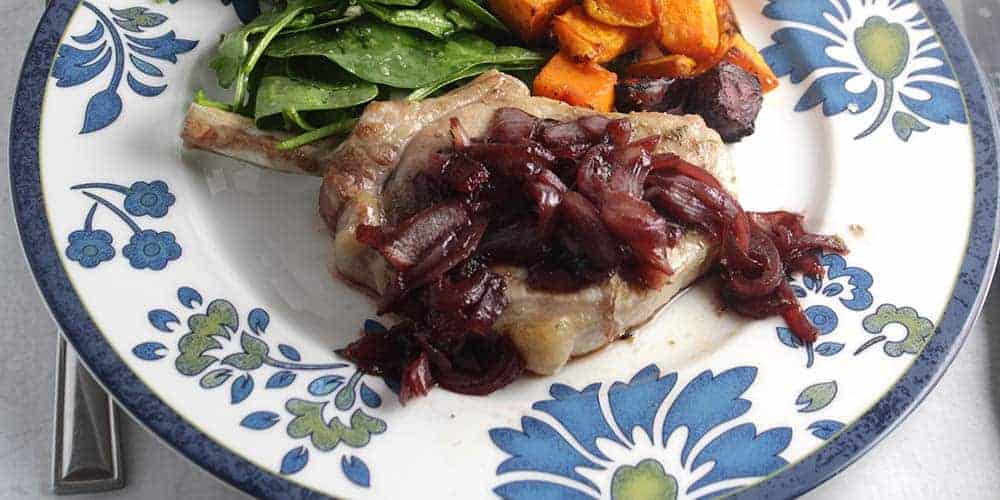 This pomegranate sauce is easy to prepare alongside the pork chop prep process. Start making the pomegranate sauce as the pork chops absorbs the rub.
You start by sautéing an onion in the sauce pan. Then pomegranate molasses gets added along with some red wine, and these ingredients simmer to reduce the sauce. Finish with a little butter, salt and pepper, and you've got some tasty pomegranate sauce for pork chops. I bet this would also be good with chicken.
Keep the pomegranate sauce warm as the pork chop finishes roasting. Spoon the pomegranate sauce over the pork chops when finished. You could try sprinkling some bits of pomegranate fruit over the pork, too, for a nice presentation.

Pinot with Pork Chops and Pomegranate Sauce
We opened a bottle of 2013 Marimar Estate Mas Cavalls Sonoma Coast Pinot Noir ($44, 14.2% ABV). I get a whiff of lilacs in the breeze from the bouquet of this Pinot. Taste of blackberry jam, licorice and a bit of vanilla. Mineral notes underlying the wine. A delicious, complex wine with a nice finish.
As suspected, this Pinot pairs well with the pomegranate sauce. The fruit notes of the wine match the subtle pomegranate flavor, and this Pinot is big enough to match the pork chop as well.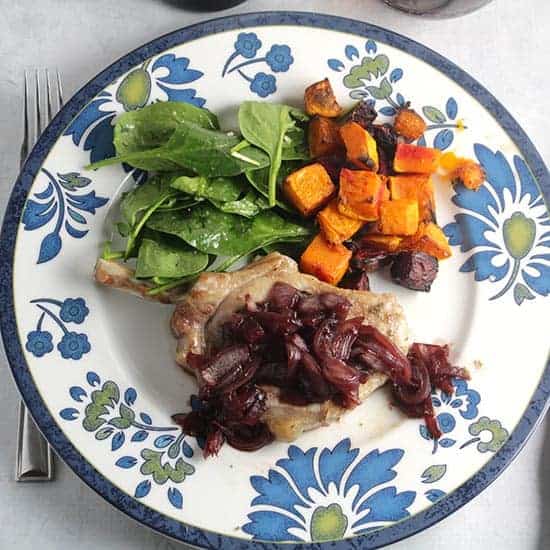 We served the pork chops with some Roasted Beets and Butternut Squash, which also goes very well with the Pinot.
The Mas Cavalls Pinot comes from the Doña Margarita Vineyard on the Sonoma Coast. The vineyard lies in a cool microclimate, with cool nights and fairly warm dies making it good for growing Pinot.
Marimar Estate gets its name from Marimar Torres, the founder / proprietor of the winery. Marimar started her career in the Torres family winery in Spain. After boosting sales of Torres wines in the US, in 1986 she started making plans to create her own winery in Sonoma.

Print
Recipe card
Pork Chops with Pomegranate Sauce
Recipe Card powered by
Looking for another tasty pork chop recipe? Try our Garlic Mushroom Pork Chops!