Garlic Mushroom Pork Chops recipe features grilled pork chops smothered with a garlic mushroom sauce, served with some hearty quinoa for a satisfying meal. We served it with a Cahors Malbec, which made a good pairing. Disclosure: The wines suggested here were provided as a complimentary samples.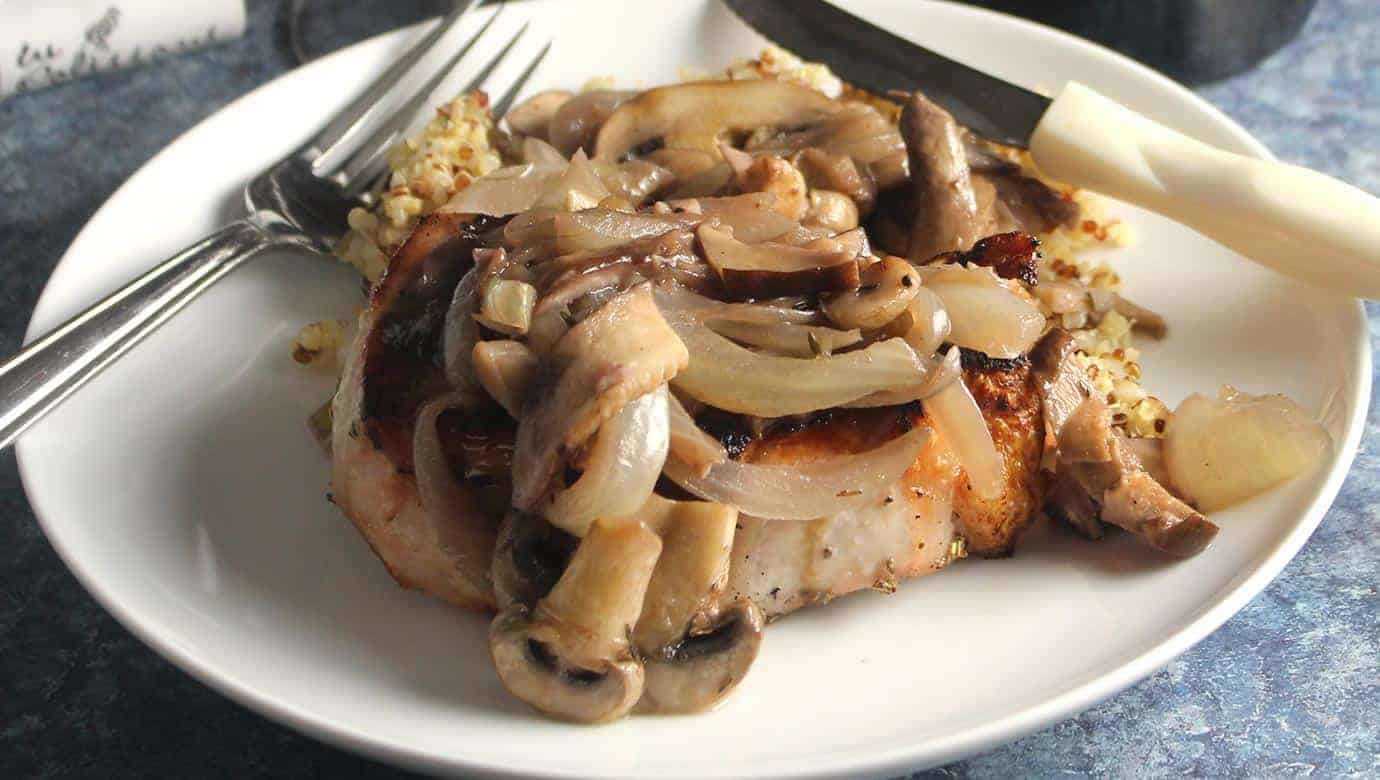 One of the things I really like about pork is the way the relatively mild meat can really show off a sauce or other preparations.
This garlic mushroom sauce for pork chops is definitely one to show off! The savory mushrooms are very satisfying, and delicious with the quinoa as well.
We made the Garlic Mushroom Pork Chops to try along with one of several Cahors Malbecs we have been sampling for the October Winophiles event focused on the region. While this isn't a French recipe per se, my research suggested wild mushrooms are abundant in the region, and also work well with Malbec. So a mushroom sauce for pork seemed like a good option! Creamy mushroom sauces were a suggestion for Malbec on Wine Folly, so that reinforced my direction.
Making Garlic Mushroom Pork Chops
This Garlic Mushroom Pork Chops comes together easily. Here are a few basic tips:
Start by making the rub and applying it to the pork. This way it starts absorbing flavors while you do the other steps.
Rinse the quinoa in a sieve under cold water until it runs clear. Get that cooking while you start working on the mushroom sauce.
For quinoa, I like to use the super grains mix that has different varieties of quinoa along with millet and buckwheat. I get it at Whole Foods, but you can also order it here on Amazon (affiliate link)
I used an onion to start the mushroom sauce, but you could certainly use a shallot if you like.
Once the mushrooms are done, it's time to grill the pork. I start them on direct heat, then finish on indirect. This helps to keep them nice and juicy.
You can cook these pork chops in the oven if you'd prefer. About 12 minutes in a 400 degree oven after pan searing the chops for one minute per side.
Cahors Malbec with Mushroom Pork Chops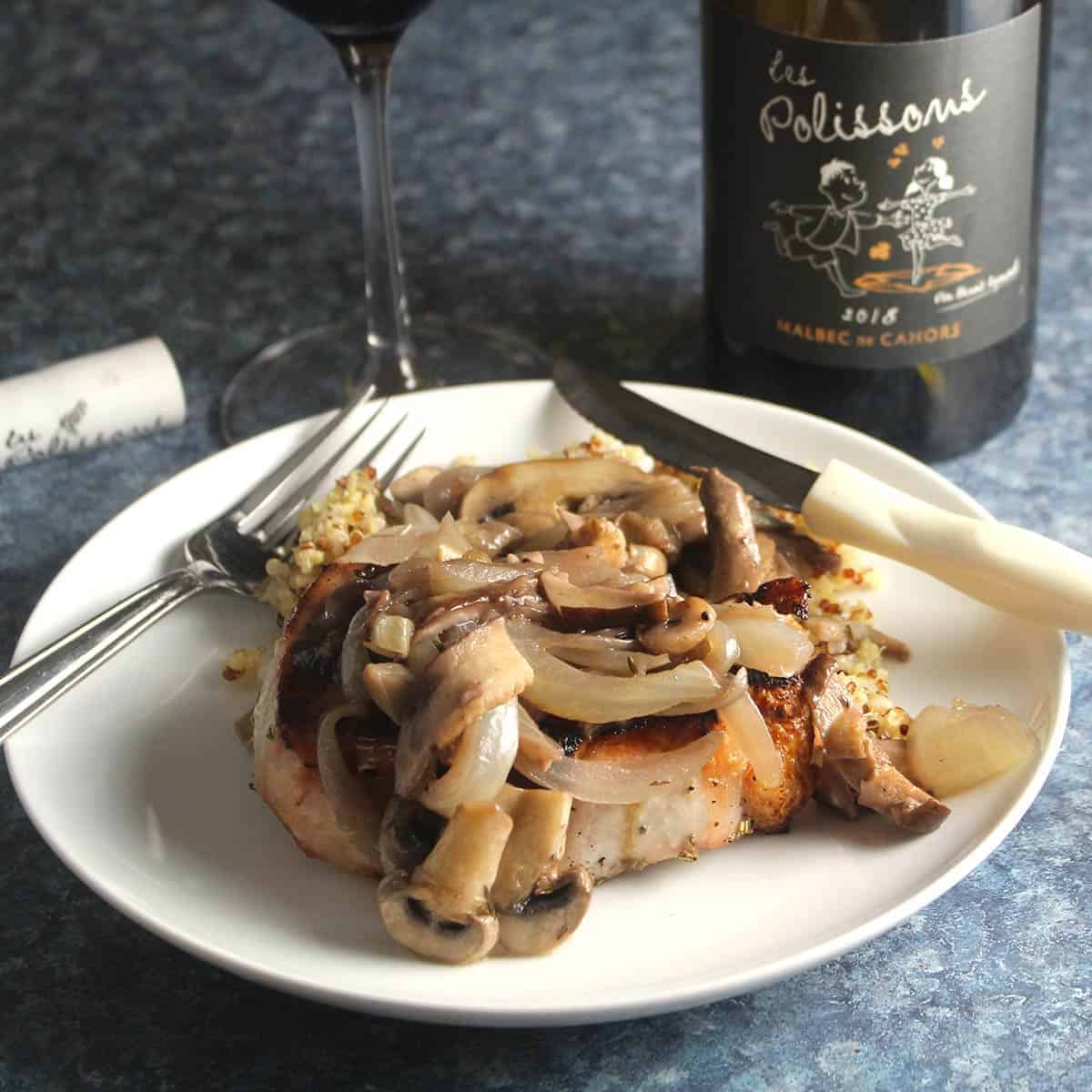 I'll be providing more background about Cahors later this month; for now, I will jump in and talk about our pairing for the Garlic Mushroom Pork Chops. We had the 2018 Clos d'Audhuy Les Polissons (under $20, 13.5% ABV), made from 100% Malbec, organically produced.
Eye: Inky dark purple in the glass, typical for this wine.
Nose: Violet and a bit of pine.
Body: Medium body.
Palate: Blackberry fruit and cinnamon spice on the palate, with a bit of leather on the finish. Medium tannins and acidity. A young wine, may benefit from a bit of aging or decanting.
Winemaker notes: Produced from 35 year old vines. Short maturing in stainless tank followed by early spring bottling to maintain freshness.
Pairing: As expected, this Cahors Malbec is a solid pairing for our Garlic Mushroom Pork Chops.
We are off to a good start with this mushroom pork chops paired with Cahors Malbec! Visit our Mushroom Truffle Risotto with Cahors Malbec article for another delicious pairing along with more details about the Cahors region, including links to some great articles from our French Winophiles friends.
A Merlot Pairing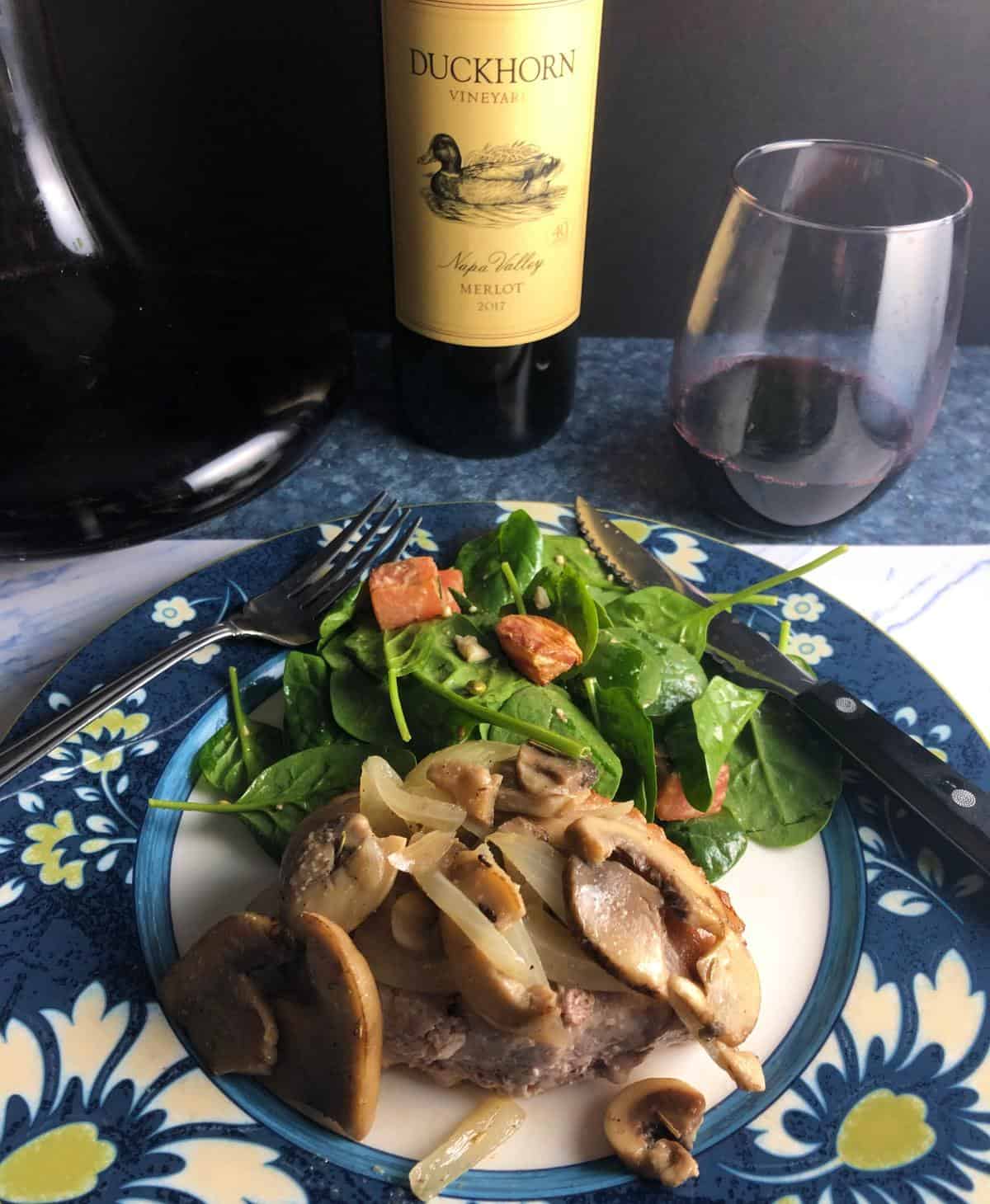 We recently re-made the garlic mushroom pork chops minus the quinoa. We opened a bottle of the 2017 Napa Valley Merlot ($56, 14.5% ABV) from Duckhorn. Always one of our favorite sources for Merlot, this was another good pairing for the hearty mushroom and pork combo.
For more ideas for Merlot combos, see our Merlot Food Pairing article.
Print
Recipe card
Garlic Mushroom Pork Chops with Quinoa
Grilled pork chops smothered with a garlic mushroom sauce, served with some hearty quinoa for a satisfying meal.
Author: Cooking Chat
Prep Time:

5 mins

Cook Time:

35 mins

Total Time:

40 mins

Yield:

4

servings

1

x
Category:

main

Method:

grilling and stovetop

Cuisine:

American
For the pork rub
4

pork chops, about

6 oz

s each

1 tbsp

garlic powder

2 tsp

sage

2 tsp

salt
For the garlic mushroom sauce
4 tbsp

butter, divided

1

onion, chopped (or you could use a shallot instead)

2

garlic cloves, minced

10

ozs button mushrooms, sliced

5

shiitake mushrooms, stems removed and caps sliced

⅓ cup

dry red wine

½ tsp

sage

½ tsp

thyme
For the quinoa
1 cup

quinoa

2 cups

water

1 tbsp

extra virgin olive oil
Instructions
Prepare the pork: Mix the garlic powder, sage and salt in a small bowl. Rinse and pat dry the pork chops, and lay them out on a working surface. Sprinkle half of the spice rub over the chops, and rub it into the meat. Turn the pork over and repeat. Leave the pork with rub out at room temperature (about 20 minutes) as you being making the mushroom sauce.
Cook the quinoa: Heat the water to boiling, stir in the quinoa. Reduce heat to medium low. As you make the mushroom sauce, simmer the quinoa (covered) for 16 to 20 minutes until the water is absorbed.
Make the Mushroom Sauce: Preheat the grill to medium as you start to make the mushroom sauce. To start the mushrooms sauce, melt 2 tablespoons of the butter in a large skillet on medium low heat. Add the onions, and cook until they begin to soften, about 5 minutes. Add the garlic, cook for another minute, then stir in the mushrooms. Cook for about 5 minutes, stirring occasionally, then add the red wine, sage and thyme. Simmer the mushrooms with the wine for about 5 minutes. Stir in the remaining 2 tablespoons of butter. Cover the pan and keep on very low heat while you grill the pork chops.
Grill the pork chops: Coat the grill with cooking spray. Place the pork chops on direct heat, and grill for 6 minutes. Turn the pork chops over, and grill on indirect heat for another 6 minutes. Remove the pork chops from the grill, place on a platter. Check for doneness, cooking a couple more minutes if needed. When the chops are done, let them rest for a few minutes before plating.
Plate the dish: scoop about ½ a cup of the cooked quinoa onto ones side of your plate. Place a pork chop alongside the quinoa, the top both the pork chop and quinoa with a generous scoop of the mushroom sauce. Enjoy!
Notes
Pork chop cooking time will vary based on thickness of the chops. Ours were about 1 inch thick.
Pork chops should be cooked to 145 degrees internal temperature followed by a 3 minute rest, for medium rare — which provides for the most flavorful meat.
To grill on indirect heat with a gas grill, leave one of the burners off, and cook above those burners with the grill covered. For a charcoal grill, leave a portion of the grill without coals for grilling with indirect heat.
You can prepare the pork chops in the oven if you'd prefer. Pan sear for one minute each side, then roast in a 400 degree oven for approximately 12 minutes.
Place the quinoa in a sieve, and rinse with cold water until the water runs clear for best results.
Keywords: pork chops, garlic mushroom sauce, quinoa, pork with mushroom sauce
Recipe Card powered by
More favorite pork chop recipes