Roasted Pork Tenderloin with Blackberry Merlot Sauce for a delicious and elegant meal. Pair it with a good glass of Merlot and a simple side for an easy gourmet dinner. This post is part of the Wine Pairing Weekend #MerlotMe month observance; wines were given to me as a courtesy sample.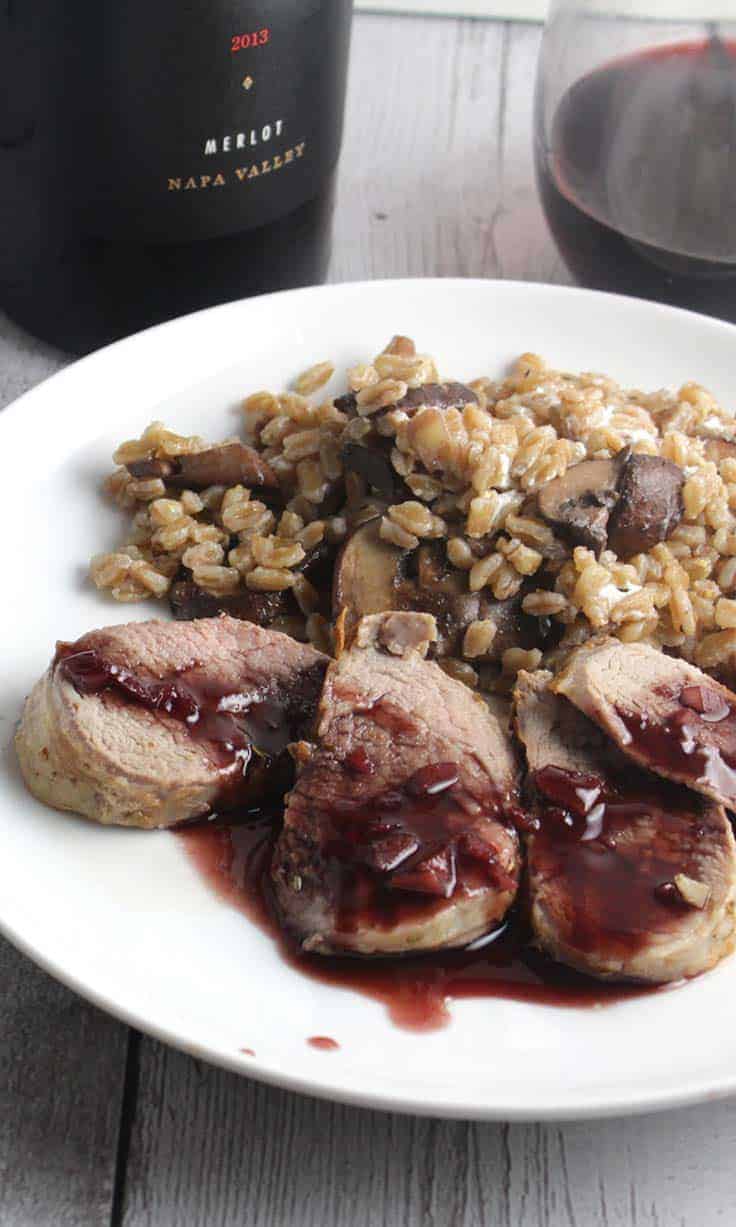 Despite the impression that might be left by the movie Sideways, I appreciate the taste and versatility of a good Merlot. So I was very pleased to be able to have the Wine Pairing Weekend group participate in #MerlotMe month again this October.
Last year we got creative with our #MerlotMe pairing, featuring this tuna steak recipe to pair with our Merlot. This time, we went back pork, which I consider a classic meat to pair with Merlot. But not just any pork, we made Pork Tenderloin with Blackberry Merlot Sauce.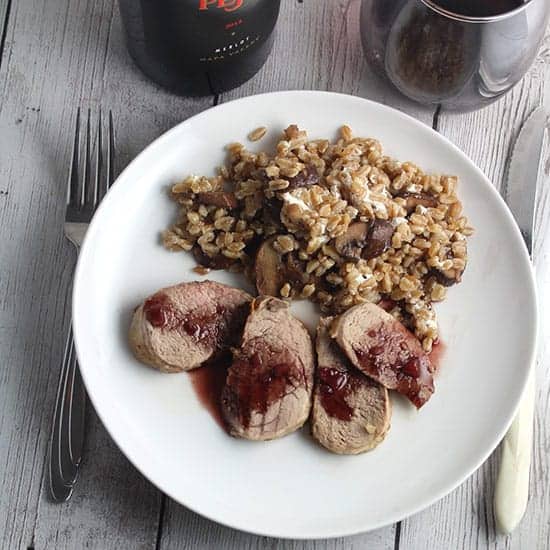 I love pork tenderloin to start with, and it was oh so good topped with the blackberry Merlot sauce. Despite being special meal level fancy, this Pork Tenderloin with Blackberry Merlot Sauce is actually pretty easy to make. Pork tenderloin needs just a quick, simple marinade. Making the sauce is just a matter of cooking up some blackberry jam with some Merlot and a bit of garlic, which you can do as the pork roasts.
Want another flavorful recipe for pork tenderloin? Try our Asian Grilled Pork Tenderloin, and here's an idea for Jalapeño Stuffed Pork Tenderloin from Beer, BBQ, Books and Baking.
Wine pairing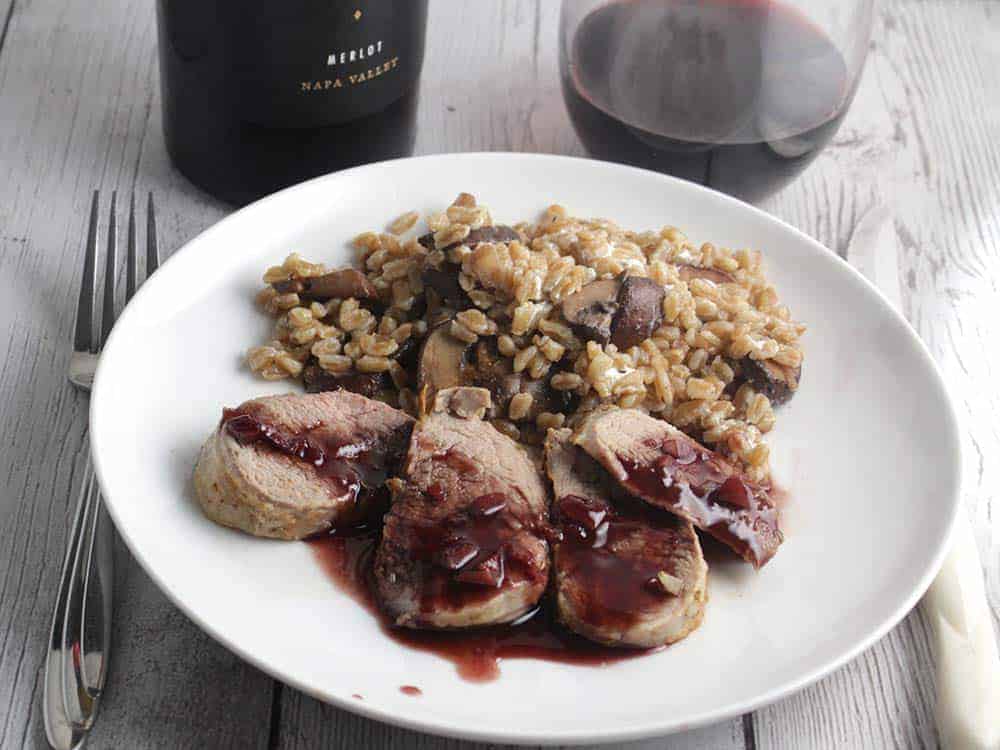 Well, the pork tenderloin with blackberry Merlot sauce started with the wine in mind. I did some reading in The Wine Lover's Cookbook to get some ideas about good ingredients to use for a Merlot pairing. Blackberry was one of the suggested ingredients, so I thought of making a sauce with blackberry jam cooked with Merlot.
For more pairing ideas, visit our Merlot Food Pairing: Tips and Tricks.
Cooking with the wine you plan to serve with the meal is certainly a great way to set up a good wine pairing. Now, if you are opening a nice bottle for dinner, you can cook with a lower cost version of the same varietal. But we have a lot of Merlot on hand for #MerlotMe, so I decided to live large and cook with the wine we were serving. Just a half a cup, I supposed we could do that.
The sauce also includes garlic and rosemary, which are also on the list of ingredients that go well with Merlot. I served the pork tenderloin with a side of farro and mushrooms. Mushrooms are another ingredient that tend to work well with Merlot, so it further enhanced the pairing.
OK, so this dish was made with Merlot in mind, but which Merlot did we serve? I decided to open two of our #MerlotMe month samples to try with the Pork Tenderloin with Blackberry Merlot Sauce. Given that they are at rather different price points, I tasted them blind to make sure I wasn't biased knowing the prices.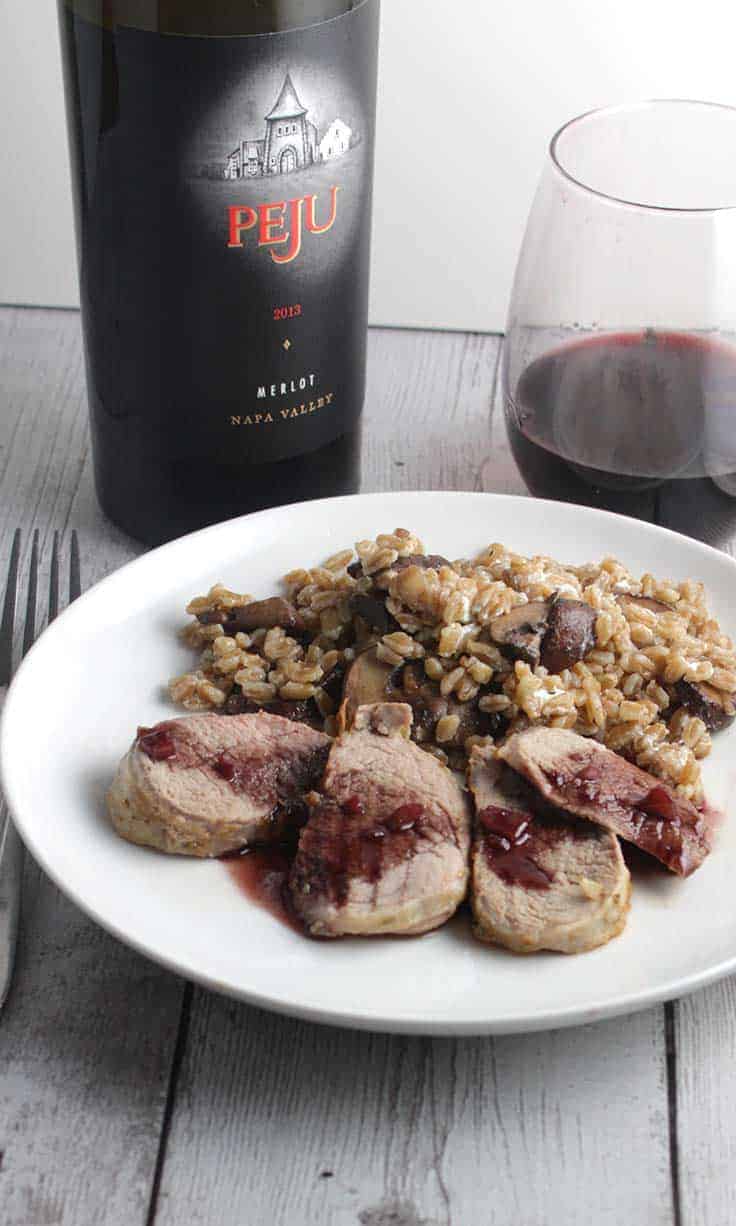 2013 Peju Napa Valley Merlot ($38, 14.5% ABV). Jammy on the nose. Cherry fruit and vanilla on the taste, lighter and more fruit forward than the Cannonball. This was a very good pairing for the Pork Tenderloin with Blackberry Merlot Sauce! Somehow the blackberry in the sauce seemed to go very well with the vanilla notes in the wine. I would recommend the Peju to go with other meat dishes as well.
The Peju Merlot comes from a combination of the two Napa vineyeards–Rutherford Estate, which is certified organic, and the Persephone vineyard which is sustainably farmed. This wine is 99% Merlot and 1% Malbec–I'd be lying to you if I said I could detect the Malbec! For more information on the winery, visit the Peju website.
2014 Cannonball Sonoma County ($16, 13.8% ABV). I got violets on the nose. Cherry fruit, a bit of acidity and leather. I speculated that with the acidity this might actually be a better food wine than the Peju, but at least with our pork dish I preferred the Peju. Merlot is known to be a good pairing for dishes with tomato, I could see the Cannonball shining where tomatoes are a featured ingredient.
The Cannonball is produced with grapes from the Northern Russian River Valley, 6000 cases produced. For more information, visit the Cannonball website.
What does Merlot mean?
I'd never given much thought to what Merlot means, other than being the name of a wine grape varietal. But in reading up for this article, I came across the fact that Merlot means "little blackbird" in French. There you go, a #MerlotMe factoid for you.
Print
Recipe card
Pork Tenderloin with Blackberry Merlot Sauce
Roasted pork tenderloin with blackberry Merlot sauce for an elegant meal. Perfect paired with a good glass of Merlot.
Author: Cooking Chat
Prep Time:

30 mins

Cook Time:

20 mins

Total Time:

50 mins

Yield:

7

servings

1

x
Category:

Main

Method:

roasting & stove top

Cuisine:

American
MARINADE
1

clove garlic, minced

4 tbsp

extra virgin olive oil

1 tbsp

app cider vinegar

½ tsp

salt

½ tsp

rosemary

2

pork tenderloins, about

2

lbs total
BLACKBERRY MERLOT SAUCE

1 tbsp

butter

2

small garlic cloves, minced

½ cup

merlot wine

3 tbsp

blackberry jam or preserve
pinch dried rosemary
Salt and pepper to taste
juice from the resting pork
Instructions
Make the marinade: combine 1 clove minced garlic, olive oil, cider vinegar, half teaspoon of salt and rosemary in a bowl.
Rinse and pat dry the pork tenderloin. Place the pork in a large, sealable plastic bag. Pour in the marinade, and toss gently to combine. Put in the refrigerator to marinate for 30 to 60 minutes, taking out for the final 15 minutes of marinating prior to cooking.
Preheat oven to 400 degrees on the convection setting. If not available, heat to 425 conventional. When the oven is ready, place the pork tenderloin in a roasting pan, and place in the oven.
The pork tenderloin will likely take about 20 minutes to roast, but check it after 15 minutes to avoid over cooking. When ready, pork tenderloin should still have a little pink showing, registering between 140 and 145 degrees when you remove it from the oven.
When the pork has done roasting, remove it from the oven. Place the pork on a platter to rest for a few minutes.
As the pork tenderloin roasts, make the blackberry Merlot sauce. Melt the butter in a small sauce pan on medium heat. Add the garlic and sauté for about 1 minute, until the garlic becomes fragrant.
Add the Merlot and blackberry jam to the saucepan, whisking to combine. Bring the sauce to a boil, then reduce to a simmer. Add the rosemary, salt and pepper. Simmer for about 10 minutes to reduce the sauce. Keep warm as the pork finishes cooking. Stir in a tablespoon or two of the juice from the resting pork.
Slice the pork to serve. Plate 3 to 4 pork slices, topped with the blackberry Merlot sauce. Enjoy with a glass of Merlot!
Keywords: pork tenderloin, pork with blackberry sauce, pork with red wine sauce, pork tenderloin with red wine sauce
Recipe Card powered by
More Merlot Pairings from Wine Pairing Weekend Bloggers
And be sure to visit my Merlot Food Pairings article for more ideas!