Nasoya has recently come out with a line of kimchi products that we have been sampling lately. Today we are pleased to share our tasty results– Kimchi Pork Tenderloin Two Ways along with a bonus idea for using their tasty and healthy kimchi. Disclosure: This post is sponsored by Nasoya, and one of the suggested wines was sent as a complimentary sample.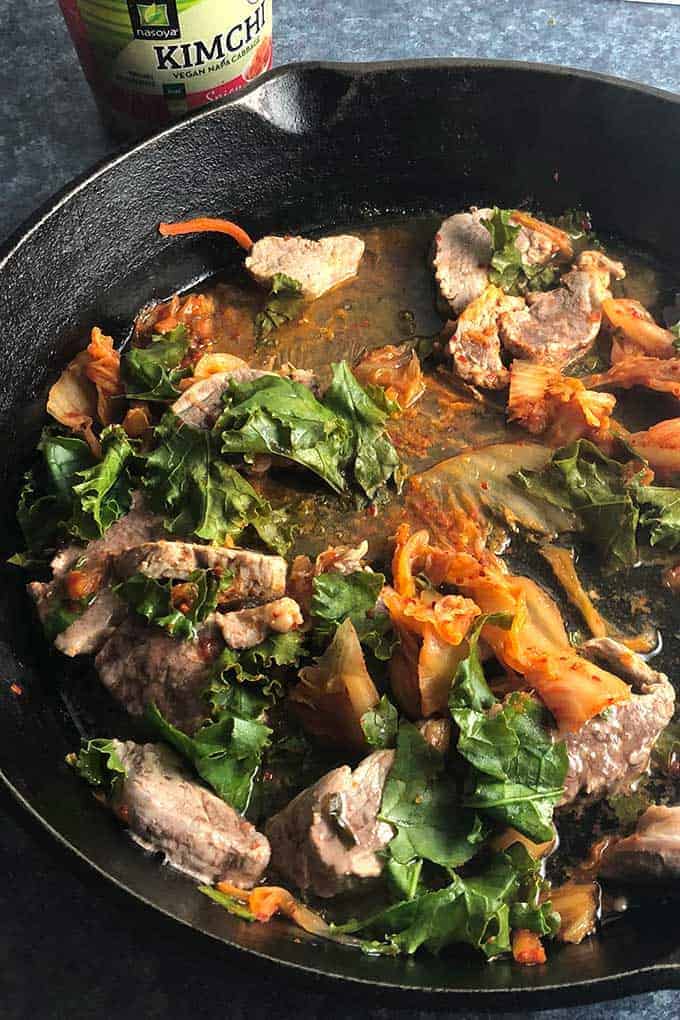 I'm definitely a fan of kimchi, and would like to eat it more often. So when Mary reached out and asked if I'd like to try coming up with a recipe for the new line of Nasoya vegan kimchi products, I eagerly accepted.
I first tried kimchi making Bee Bim Bop, inspired by the children's story of the same name. The proper spelling of the Korean dish is bibimbap, but I spell it like they do in the story book. Spelling aside, my first instinct is to serve kimchi with beef.
Recently the nonprofit where I work, Social Capital Inc., held a series of dinners that provided a chance for diverse community members to connect over cuisines from a variety of cultures represented in the area. At one of these dinners, I was chatting with a Korean American about their food traditions. He mentioned his family has kimchi most often with pork, and that planted a seed in my mind.
What is kimchi?
OK, before I get further into our kimchi pork tenderloin recipes, I should pause for a moment to explain what kimchi is for the unfamiliar. Kimchi is a traditional Korean side dish made from fermented vegetables and spices. Kimchi is most often made with cabbage or radish.
If you are looking to get more probiotics into your diet, kimchi is a great option. Fermented foods like kimchi have healthy bacteria that has been shown to improve digestive system health.
Nasoya Kimchi
I associate the Nasoya brand based on their tofu products, which I have bought with some regularity over the years. It wasn't until exploring the Nasoya website for this article that I realized that the brand has local roots. The company was started in central Massachusetts, where it currently operates as a division of Pulmuone Foods.
Nasoya has recently come out with a line of kimchi products: Spicy Napa Cabbage, Mild Napa Cabbage, Mild White Napa Cabbage and Mild Cubed Radish. I have had a chance to sample them, and found them all to be fresh and flavorful. Pressed to pick favorites, I'd say it's a tossup between the Spicy Napa Cabbage and the Mild Cubed Radish. I'd say the radish packs a bit more punch than the mild in the title would suggest.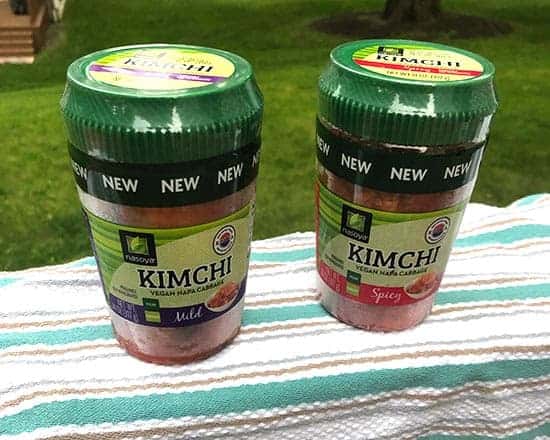 All of the Nasoya kimchi products are vegan. Of course, our kimchi pork tenderloin recipe is for omnivores, but you can make some good vegan meals featuring kimchi too. We served the kimchi pork with quinoa, and mixed some kimchi in with the quinoa. You could easily base a vegan meal on that combo of kimchi and quinoa, perhaps adding another veggie or two.
Skillet Kimchi Pork Tenderloin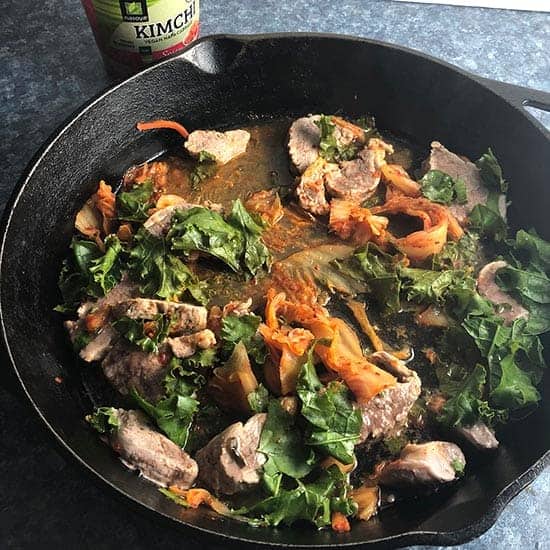 I tried making kimchi pork tenderloin two ways, and both came out very tasty. For the official recipe provided in the card below, thin slices of pork tenderloin are quickly cooked with with Nasoya Kimchi and a bit of kale for a flavorful and healthy dish.
I used the Nasoya Spicy Napa Cabbage Kimchi for the skillet kimchi pork tenderloin recipe. Cooking the kimchi does moderate the spicy flavor a bit, so I would encourage you to give the spicy version a try. But if you really eschew anything with spicy in the title, go ahead and try one of the mild Nasoya kimchi products with this recipe.
A simple side of rice to go with the the skillet kimchi pork tenderloin is enough to round out the meal.
Grilled Pork Tenderloin with Kimchi
The first night I opened up some Nasoya kimchi I used it as a simple topping for grilled pork tenderloin. With this Asian Grilled Pork Tenderloin recipe in mind, I briefly marinated the pork tenderloin in combo of 1 tablespoon low sodium soy sauce and 1 tablespoon olive oil.
The pork grills for about 8 minutes per side on a medium high grill. Actual cooking time will vary based on the size of the pork; ours was right around 1 lb.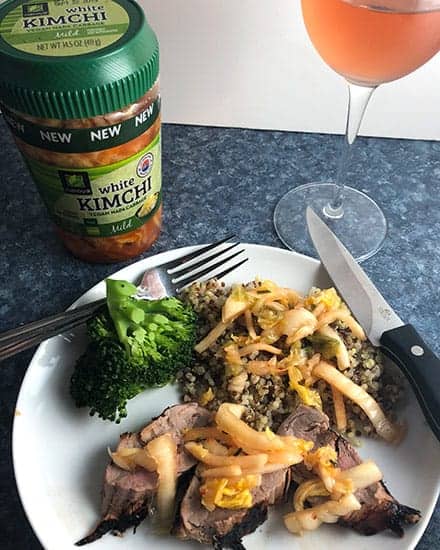 After the pork is cooked, let it rest for a few minutes on a platter. Then slice into medallions about ½ inch thick, and top with a generous portion of Nasoya kimchi. I tested it with Nasoya Spicy Napa Cabbage Kimchi and one of the mild versions. Both were good but the spicy one the day for me — you might see a theme here!
Quinoa with Kimchi
Trying quinoa with kimchi was a bonus find while testing out the Nasoya kimchi! Quinoa is a great healthy side dish that can also be featured in a main course recipe.
But I find on its own quinoa doesn't have a lot of flavor, so it needs something added to make it more appealing. This quinoa with grilled onions and peppers recipe is one way I enjoy quinoa as a summer side dish.
I planned to serve quinoa as a side with making the grilled pork with kimchi. I figured stirring a spoonful of kimchi into the quinoa on my plate was worth a try–winner!
Looking for a quick and healthy side dish, I'd say try cooking up some quinoa and adding a scoop or two of some Nasoya kimchi into the healthy whole grain.
Wine Pairings for Kimchi Pork Tenderloin
Fermented foods like kimchi have a funky aspect that can make wine pairing tricky. I have had success opting for earthy red wines with kimchi. With that in mind, for the skillet version of the Kimchi Pork Tenderloin I opened a bottle of 2015 Les Mornieres Chinon ($17) from Joseph Mellot. This Cab Franc from France's Loire Valley definitely has an earthiness to it, and gets a thumbs up as a pairing for our kimchi pork.
When making grilled pork tenderloin with kimchi the other night, we opted for a rosé of Pinot Noir that we had been sent to sample by Winesellers LTD. The 2017 Schafer Dry Rosé ($13, 12.5% ABV) is made from organic grapes in the Rheinhessen area of Germany. This is a refreshing rosé pleasant to sip on its own, and also works nicely as a pairing for the Kimchi pork tenderloin.
Print
Recipe card
Kimchi Pork Tenderloin
Pork tenderloin cooked with kimchi and kale for a flavorful and healthy meal.
Author: Cooking Chat
Prep Time:

5 mins

Cook Time:

10 mins

Total Time:

15 mins

Yield:

4

servings

1

x
Category:

Main

Method:

stove top

Cuisine:

Korean
1

pork tenderloin, cut into slices about

½

inch thick

1 tbsp

canola oil

4 tbsp

Nasoya Spicy Napa Cabbage Kimchi – or the Nasoya kimchi of your choice

1 cup

kale, thinly sliced

⅓ cup

dry white wine
Instructions
Heat the canola oil in a large skillet on medium heat.
Add the pork slices to the skillet in a single layer. Cook on medium heat for one minute, then turn the slices over to cook for another minute.
Add the kimchi, kale and cooking wine. Stir to combine. Cover and simmer on medium low until the pork is cooked through, about 5 to 7 minutes.
Scoop out servings of the kimchi pork tenderloin. Serve along with quinoa, rice or other grain. Enjoy!
Notes
You can use any Nasoya kimchi you like here, but note that cooking the kimchi moderates the flavor a bit. So the spicy kimchi we used I would describe as "medium" spice by the time it is done cooking.
You could use spinach or other green in place of the kale if you like.
Keywords: kimchi pork tenderloin, cooking pork with kimchi, Nasoya kimchi
Recipe Card powered by