This Ribeye Roast with Caramelized Onions post is sponsored by Certified Angus Beef® Brand in conjunction with a social media campaign through Sunday Supper LLC. All opinions are my own.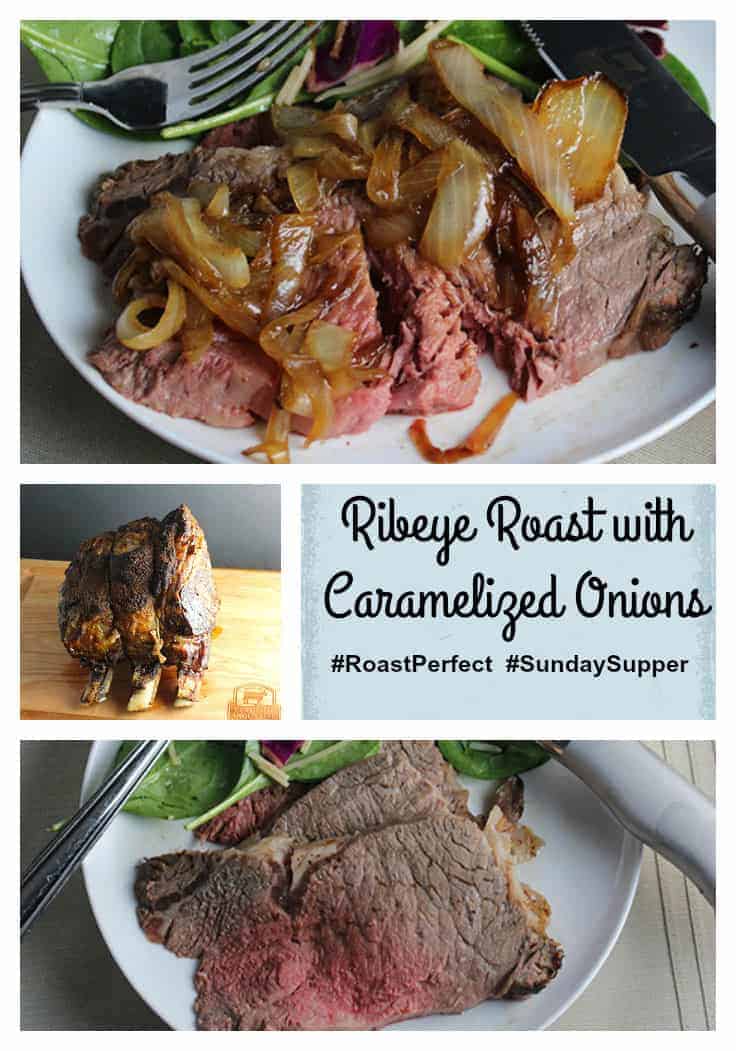 I've seen those bone-in roasts in holiday editions of food magazines, but somehow those magazine photos can sometimes make the recipe look like a daunting task to the home cook. So for roast beef, I'd stuck with recipes with which I'd grown comfortable, like spoon roast.
Enter the Certified Angus Beef® Brand Roast Perfect App.
When I heard of the opportunity to check it out with some of my fellow #SundaySupper bloggers, I was all in! After downloading the app, I started scrolling through different cuts that make for good roasting, and the ribeye roast immediately caught my eye.
We love ribeye steaks here, so a big ribeye roast sounded very promising. The app also helps you find a local grocery store that offers Certified Angus Beef® beef, so I headed to my local Roche Brothers to plan my meal. I saw they had the bone-in ribeye, and the butcher was very helpful getting it prepped to my liking. I was on my way to a festive holiday meal! Note: you can also find stores with Certified Angus Beef with the store locator on their website.
I perused the recipes on the app, and that got my wheels turning. Chefs advise that simple salt and pepper is enough to season the flavorful Certified Angus Beef®, but I like a bit of spice with my beef. So I started with my go-to rub of garlic, cumin and salt, and added a bit of paprika and cinnamon. That cinnamon adds to that holiday flavor (and aroma…I'm drafting this as the beef roasts–yum!). Below you can see how the simple cooking method, using the #RoastPerfect app, led to some perfectly cooked medium rare ribeye roast slices.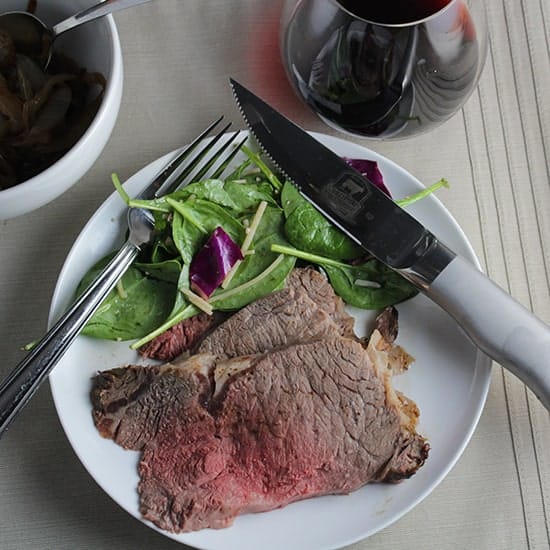 Sure, beef and this nice little spice rub would be a great holiday meal on its own. But why not top it with a little caramelized onions? You gotta do something while beef cooks to distract you, and slowly caramelizing onions is a good use of time in my book! Start the onions about 30 minutes before the beef will be ready.
Speaking of that roasting process, no need to stress about calculating cooking times and having a little math error ruining your special holiday roast. The Certified Angus Beef® Brand Roast Perfect App lets you put in the size of your roast, type of cut and desired doneness, and boom, it gives you the step by step details you need to roast perfect.
Guess that's how the app got its name, eh? For this ribeye roast, you start with a sear for 15 minutes at 450, then drop it to 325 for some good slow cooking. The app recommended 2 hours 15 minutes of slow roasting and that worked nicely in our oven. Go chat with your guests, and get ready to enjoy a great holiday feast!
The app will give you a pretty good idea about cooking times, but you do want to check with a meat thermometer to get to your desired doneness. There's a page on the Certified Angus Beef website that gives you temperatures to look for based on how you want your beef to be cooked.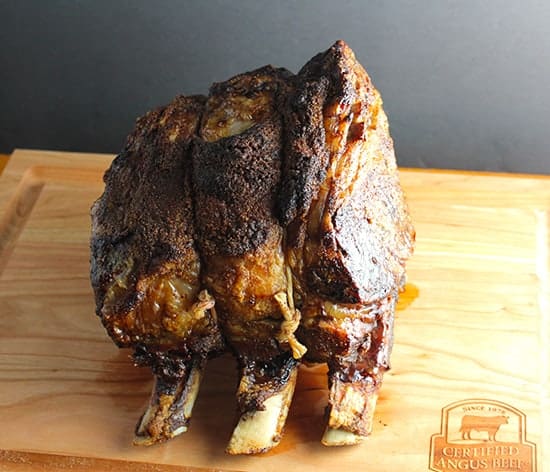 After you take the roast out of the oven and determine it is done to your liking, let it rest for at least 10 minutes. I know this step is hard, you want to dig right in! But the resting period will yield juicier meat.
Carve up your beef, and top with a bit of the caramelized onions along with the pan juice for a delicious holiday feast!

Looking for other roast beef ideas? Be sure to check out our Spoon Roast with Horseradish Cream! And there is also this Strip Roast with Red Wine Sauce to consider.
Need some side dish inspiration? This What to Serve with Roast Beef article has a collection of over 40 great recipes to choose from!
Wine pairing
A festive occasion featuring some wonderful beef certainly calls for a good bottle of red wine. Now, a Cab for the CAB (Certified Angus Beef) would certainly work as a pairing for Ribeye Roast with Caramelized Onions, in addition to being playful. But we opted for a Syrah-based blend from the Northern Rhone, which picked up the spices nicely. Whatever you choose, have a wonderful holiday meal!
Print
Spiced Ribeye Roast with Caramelized Onions
A Certified Angus Beef ® bone-in ribeye roast rubbed with a flavorful spice blend, cooked to perfection and topped with caramelized onions. A delicious meal fit for the holidays!
Author: Cooking Chat
Prep Time:

5 mins

Cook Time:

2 hours 45 mins

Total Time:

2 hours 50 mins

Yield:

5

servings

1

x
Category:

Main

Cuisine:

American
6.5

lbs bone-in ribeye roast

1 tbsp

garlic powder

1 tbsp

salt

1 tbsp

cumin

¼ tsp

cinnamon

¼ tsp

paprika

3 tbsp

olive oil, divided

2

large onions, thinly sliced

1 tbsp

butter
salt and pepper to taste
Instructions
Preheat the oven to 450 degrees. Take the roast out of the fridge 15 to 20 minutes before starting to prep the roast.
Make the spice rub paste combine the garlic powder, salt, cumin, cinnamon and paprika in a bowl. Stir in 2 tablespoons of the olive oil to form a paste.
Place the roast on a work surface, rib bone side down. Spread most of the spice paste over the top of the roast, and work a little into the side and bottom.
Move the the roast to a rack on in a roasting pan. Place the roasting pan in the preheated oven.
Sear on 450 degrees for 15 minutes. Drop the heat to 325 degrees, and roast for approximately 2 hours 15 minutes. That was the time given by the Certified Angus Beef® Brand Roast Perfect App. Times will vary a bit based on the oven and meat quantity. Use a meat thermometer to check for doneness. 135 degrees is medium rate. When done, remove beef from oven and let rest on platter for at least 10 minutes. Reserve the meat juice that has built up in bottom of pan.
With about ½ hour left in the roasting time, heat the remaining tablespoon olive oil in a skillet on medium high. Stir in the onions with a pinch of salt. Cook on medium high for 5 to 10 minutes, stirring infrequently so that the onions will brown.
When the onions have begun to brown nicely, add the butter to the skillet and lower heat to medium low. Cook for another 10 minutes until the onions are very soft and brown. Keep on low heat until the meat is done.
Pour the meat juice from the roasting pan in with the onions increase heat to simmer for a few minutes, stirring occasionally. Move the onions to a serving bowl.
Slice the beef, and plate, topped with a bit of the caramelized onion mixture. Enjoy!
Recipe Card powered by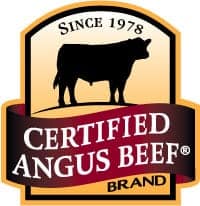 While I definitely can report that our recipe came out delicious, there are so many different ways to enjoy a holiday roast Certified Angus Beef®. My fellow #SundaySupper bloggers have some great ideas, shared in the links below. Another great source for inspiration is the Roast Perfect Pinterest Board, where you can scroll through to find a tasty recipe that catches your eye. You can also learn more on the Certified Angus Beef® Brand website and social media sites:
Website: https://www.certifiedangusbeef.com/
Twitter: https://twitter.com/CertAngusBeef
Facebook: https://www.facebook.com/CertifiedAngusBeef
Pinterest: https://www.pinterest.com/certangusbeef/
Instagram: https://instagram.com/certifiedangusbeef/
YouTube: https://www.youtube.com/user/CertifiedAngusBeefLL
Periscope: https://www.periscope.tv/certangusbeef

Holiday Roasts