Kale Pesto Crostini is an easy recipe that presents very nicely around the holidays! We enjoy it with sparkling wine to add to the festive aspect of this one.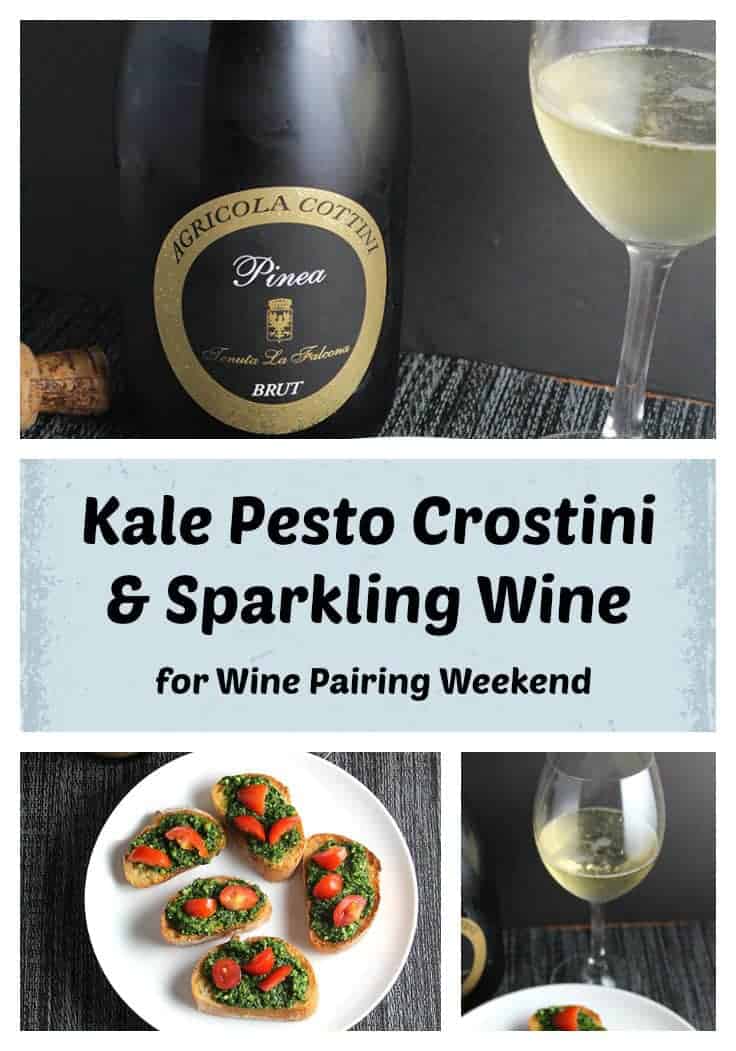 Sparkling wine can go with all kinds of food, but I'm particularly fond of serving it with appetizers to start a festive occasion. So when Cindy at Grape Experiences announced our Wine Pairing Weekend theme, "Sparkling Wine and Festive Holiday Dishes", I thought it would be a good time to share a Kale Pesto Crostini Wine Pairing.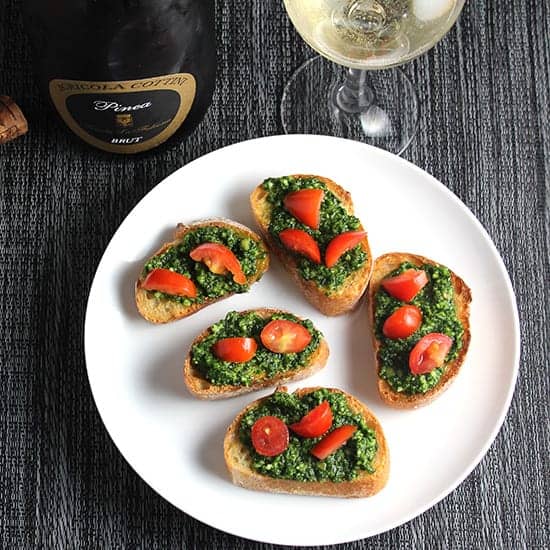 I've always been a big pesto fan. Over the past year or so, I've started making kale pesto more often that traditional basil pesto. Using kale provides a health boost, and good kale is available throughout the year at the grocery store. Basil, on the other hand, is best enjoyed in the summer growing season; what basil I find in the cold weather at the store can look pretty pitiful. My traditional pesto fans like the kale pesto just as much, so we are eating it a lot!
Kale Pesto Crostini are very easy to make for your holiday gatherings, and topping the green pesto off with some chopped red tomatoes makes the recipe look great for a Christmas gathering. Or prepare the Kale Pesto Crostini wine pairing suggested here for New Year's eve. Whip up a batch of kale pesto, toast some baguette rounds and top with the pesto and tomatoes, and you're done! I give the instructions for toasting the baguette rounds in a regular oven, but if you are doing a small batch you can easily use a toaster oven.
Kale Pesto Crostini Wine Pairing
I chose the Agricola Cottini Tenuta La Falcona Pinea Brut Sparkling Wine ($16, 12% ABV) This is a wonderful sparkling wine from Italy's Valpolicella region. Made from 50% Pinot Bianco and 50% Chardonnay. Subtle nose of soapstone. I taste of lemon, and like the soft refined bubbles and a clean finish. Definitely made for a good Kale Pesto Crostini wine pairing, with the bubbles and crisp lemon fruit cleansing out the palate for the pesto. This pesto recipe has some good kick from the garlic and red pepper, by the way, so the way the bubbles refresh the palate is definitely appreciated in this pairing.

If you are looking for another pairing idea, the Kale Pesto Crostini pairs nice with Pouilly-Fumé. More on that pairing idea in this article.
Print
Recipe card
Kale Pesto Crostini with Wine Pairing
Healthy and tasty kale pesto spread over toasted baguette rounds, topped by chopped tomatoes, makes festive appetizer paired with a sparkling wine.
Author: Cooking Chat
Prep Time:

15 mins

Cook Time:

5 mins

Total Time:

20 mins

Yield:

8

1

x
Category:

Appetizer

Cuisine:

Fusion
4 cups

tightly packed kale leaves, stems removed

3

garlic cloves

2 tbsp

toasted pumpkin seeds
generous pinch red pepper flakes
salt and pepper to taste

½ cup

grated parmesan cheese

⅔ cup

extra virgin olive oil

1

baguette, sliced into

½

inch rounds
chopped fresh tomatoes for topping
Cooking oil spray
Instructions
Pre-heat an oven to 400
Add the garlic to a food processor, and pulse the processor a few times to mince the garlic.
Add the kale to the food processor, coarsely chopping to create enough room for the other ingredients.
Add the remaining ingredients, from the pumpkin seeds through the olive oil, and puree until it comes to a nice smooth consistency.
Spread the bread out in a single layer on a baking sheet or large piece of aluminum foil. You will likely need two sheets.
Use the oil spray to coat one side of each slice of bread.
Put the bread into the oven, and toast for about 5 minutes until it start to brown and get slightly crispy.
Remove the toasted crostini from the oven, and spread a dollop of the kale pesto to coat one side of each piece of bread.
Place on a serving platter and top with the tomatoes. Serve with a sparkling wine and enjoy. Cheers!
Recipe Card powered by
You'll love the pairings in the following "Sparkling Wine and Festive Holiday Dishes" posts!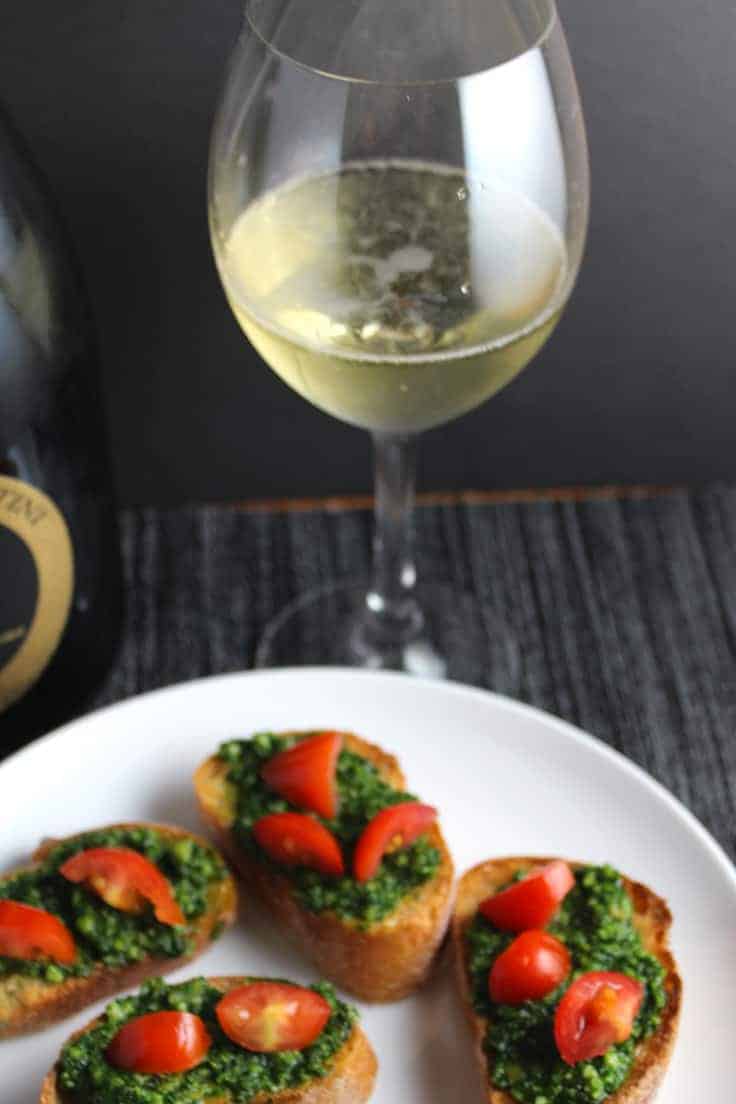 Culinary Adventures with Camilla will be "Celebrating with Lemon-Poached Scallops with Caviar Limes and Champagne"
A Day in the Life on the Farm is excited to share "An Assortment of Appetizers with a California Champagne"
Curious Cuisiniere has paired "Italian Panettone and Sparkling Wine"
Confessions of a Culinary Diva is preparing to have "Champagne & Caviar Dreams"
Pull That Cork is "Celebrating In Style with Giulio Ferrari for #winePW"
ENOFYLZ Wine Blog is planning "A 3-Course Sparkling Wine Dinner with Iron Horse Classic Vintage Brut"
Grape Experiences is excited for the holidays with "Le Medaillon Brut NV and Normandy Fondue"
Dracaena Wines is ready to talk about "Why We Love Sparkling (And You Should, Too!)"
WinePassItaly will be enjoying "Asti Spumante with Hazelnut and Torrone Semifreddo for #WinePW"
FoodWineClick is preparing "Easy Holiday Appetizers & a Sparkler from South Africa"
Cooking Chat is planning "Kale Pesto Crostini Wine Pairing That Sparkles"
Wines of Roero is sharing "Roero Arneis Spumanti DOCG and Lobster Risotto Arancini"
Austrian Wines USA is thrilled to present "Austria's Sekt with Smoked Char Cucumber Canapes"
Rockin' Red Blog will share "A Sparkling Good Wine and Food Pairing"
Join our live Twitter chat on Saturday, December 12, from 11 a.m. to noon, Eastern Time. Just tune into the hashtag #winePW. This will be a great chance to about sparkling wine for festive occasions! If you've come to us after December 12, consider joining us for #winePW on January 9, focused on "New Year — Try Something New", hosted by Martin at ENOFYLZ Wine Blog You can get a full listing of past and upcoming Wine Pairing Weekend events here. Let us know if you try this Kale Pesto Crostini wine pairing for the holidays!