Today we pair our hearty and healthy Salmon, Farro and Mushrooms recipe with a wonderful Pinot Noir from Winderlea Vineyard and Winery. We also tried a delicious Winderlea rosé as part of the Wine Pairing Weekend focus on biodynamic wine from the Willamette Valley. Disclosure: the wines were provided as complimentary samples from the winery.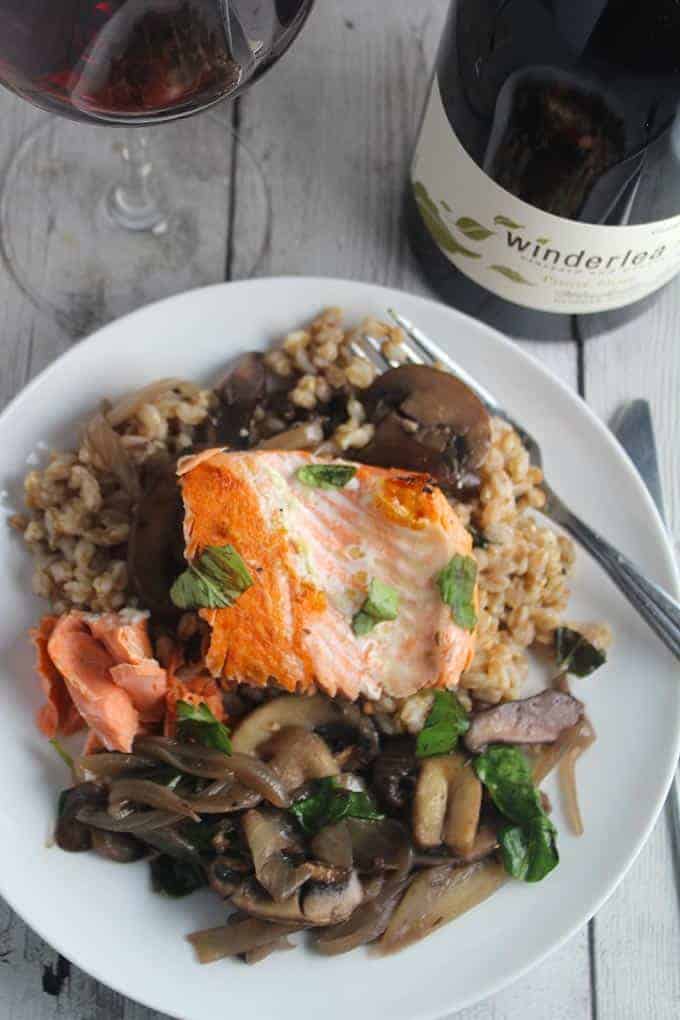 Today the Wine Pairing Weekend blogging group is focusing on one of my favorite wine regions, Oregon's Willamette Valley. We've been invited by our Oregonian host, Jade from Tasting Pour, to focus on biodynamic wines from the Willamette Valley.
For today's event I had a chance to try two wines from Winderlea Vineyard and Winery, a Pinot Noir and a rosé. This was my first chance to try Winderlea wines, so I was eager to cook something up to go with what I anticipated would be a very good wine.
Salmon recipe for Winderlea Pinot Noir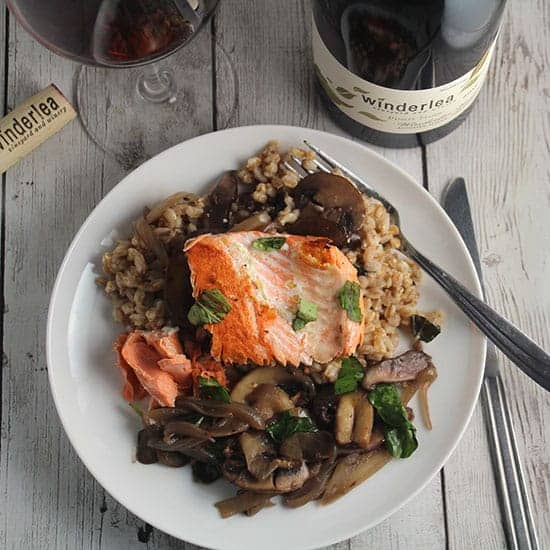 With a good bottle of Willamette Valley Pinot waiting in the wings, my thoughts naturally turned to salmon. Pinot Noir tends to be a good match for salmon; I like to further enhance that pairing by including mushrooms in the salmon recipe. the mushrooms enhance the earthy aspects of a Pinot.
Wild salmon from the Pacific Northwest is what I like to cook generally speaking, and the choice makes all the more sense when opening a wine from that part of the world.
I decided to serve some quickly pan seared wild salmon over some hearty farro grains, topped with mushrooms. I added a bit of basil to the preparation as well, an herb that pairs well with Pinot. The result was our healthy and hearty salmon, farro and mushrooms recipe.
Wine Pairing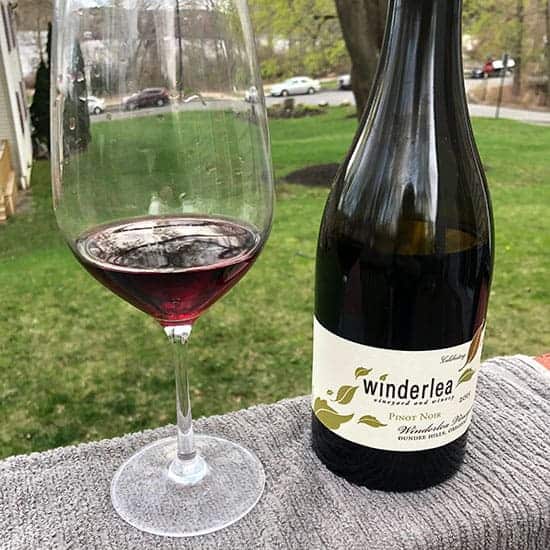 Ok, I guess there's not too much suspense about what wine I picked for the salmon, farro and mushrooms recipe. But let's talk more about the bottle we opened — the 2015 Winderlea Vineyard Pinot Noir ($60, 13.8% ABV), the winery's flagship bottle.
Color: Raspberry red in the glass.
Nose: Floral nose, hint of violets.
Body: Medium body, soft mouthfeel with a long finish.
Palate: Cherry fruit, with notes of vanilla, cinnamon and a touch of charcoal.
Pairing: As expected, the Winderlea Vineyard Pinot Noir is excellent pairing with our Salmon, Farro and Mushrooms recipe. KC from Winderlea suggest that in addition to the natural pairing of northwest salmon, the Winderlea Pinot Noir also pairs well with roasted duck breast with a berry reduction. I think I need to grab another bottle of the Pinot to try with our Roasted Duck Breast recipe!
The Winderlea Vineyard Pinot Noir is made from fruit sourced throughout the estate. Aged for 13 months in French oak, 20% new oak. 480 cases produced. The Pinot is Demeter Biodynamic® certified. An excellent wine worth seeking out!
About Winderlea Vineyard and Winery
Bill Sweat and Donna Morris are the founders of Winderlea. On the winery website, Bill and Donna describe how fell in love with Oregon Pinot Noir after trying wines from around the country throughout the 1990s.
The food friendliness of elegant Pinot appealed to them, something we #winePW folks can appreciate. In 2006, they moved from Boston to Dundee, Oregon, to create Winderlea Vineyard and Winery.
Winderlea is located in the Dundee Hills AVA, one of the first places in the Willamette Valley where Pinot Noir was planted. Winderlea is now comprised of several vineyards. The flagship Winderlea Vineyard, formerly Goldschmidt Vineyard, has some of the oldest vines in the Willamette Valley. The vineyard faces south at elevations between 480 to 570, making it prime for growing Oregon Pinot Noir.
The move to biodynamics
This event and several other recent wine blogging group themes focus on biodynamic wine production methods. So I was curious to know how Winderlea chose to use the biodynamic approach.
For the uninitiated, biodynamic winemaking views the vineyard as one organism, and incorporates a number of holistic, sustainable practices based on that concept. This article from Vinepair gives an overview of the concept, and Craig Camp from Troon Vineyard breaks down some misconceptions about the practice in his blog.
Bill and Donna were committed to sustainable farming practices from the start, fitting into the Oregon winemaking scene where 47% of the vineyards are certified sustainable.
KC Marold, Winderlea's Direct Sales and Marketing Manager, explains how the move to biodynamics came in response to a crisis in the vineyards:
The choice to specifically pursue biodynamics came in 2009 as a result of phylloxera in the vineyard and a desire to improve the quality of the soil- in part to slow the spread of phylloxera in the original, own-rooted vines. We spoke with other winemakers and farmers in the area who had success with biodynamics improving the quality of phylloxerated vines and it seemed like a good fit for us, in addition to being in line with our values and approach to viticulture.
As a result, Winderlea is now Demeter Biodynamic® certified, along with its sustainable and salmon safe certifications.
Winderlea Makes Great Rosé Too!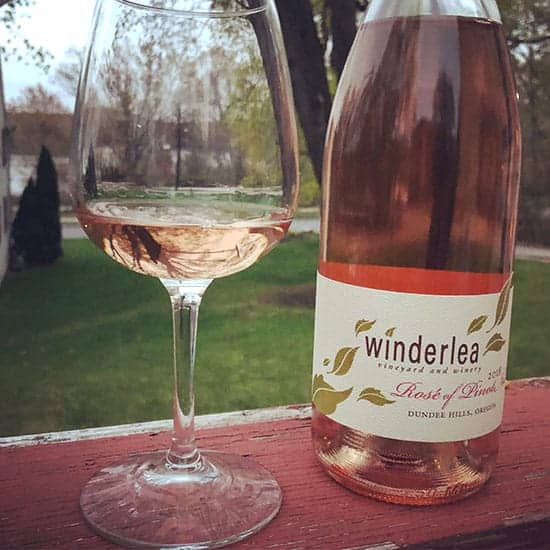 I focused my wine pairing energies on making the salmon and farro recipe to go with the Winderlea Pinot Noir, but I must say the 2018 Winderlea Rosé of Pinot Noir ($35, 13.5% ABV) is excellent, too. What a treat to come home from an evening at the baseball field to open this rosé. Sorry to confess to my wine pairing friends, but I was tired and failed to note what we ate with it that night! Something quick and easy–I think it was a pasta dish or perhaps our turkey chili.
I get rose petals on the nose of the salmon hued Winderlea rosé. Strawberry fruit and cloves on the palate, with some underlying minerality– slate, I would say. More nuanced than your typical rosé. Definitely a wine I recommend trying!
Try Winderlea Wine for Yourself
I would definitely encourage you to try some wine from this boutique Oregon producer for yourself! In addition to the Pinot Noir and rosés that I samples, the produce a number of other Pinot Noirs, some Chardonnay and a bit of Pinot Blanc. A number of these wines can be ordered online from their website, and you can also look into who distributes their wine near you. If you are fortunate enough to find yourself in the Willamete Valley, their Dundee tasting room is open Monday through Friday and by appointment on the weekend.
Print
Recipe card
Salmon, Farro and Mushrooms
Salmon served with hearty farro and a mushroom sauce for a healthy meal that pairs nicely with a good Oregon Pinot Noir.
Author: Cooking Chat
Prep Time:

5 mins

Cook Time:

25 mins

Total Time:

30 mins

Yield:

4

servings

1

x
Category:

main

Method:

stove top

Cuisine:

Pacific Northwest
For the mushrooms and farro
2 tbsp

extra virgin olive oil, divided

1

shallot, minced

10

ozs button mushrooms, sliced

5

shiitake mushrooms, sliced
salt & pepper to taste

2

cloves garlic, minced

½ tsp

dried thyme

⅓ cup

dry red wine
handful of baby spinach (optional)

1 cup

of pearled farro grain

2 cups

of water

1 tbsp

fresh basil
For the salmon
1

lb wild salmon

2 tbsp

extra virgin olive oil

1 tbsp

fresh basil
salt and pepper to taste
canola oil spray or similar
Instructions
Start cooking the farro (see notes for more details on cooking the farro): bring two cups of water to a boil in a sauce pan.
Rinse and drain the farro, then stir it into the boiling water. Bring to a simmer, then reduce heat to medium low. Cover, and simmer for 20 to 25 minutes until the water has been absorbed. When the farro is cooked, stir in 1 tablespoon olive oil with a tablespoon of fresh basil. Remove from heat, and cover to keep warm.
Prepare the mushrooms as the farro cooks. heat 1 tablespoon olive oil in a skillet on medium heat. Add the shallots, and cook for a few minutes until they begin to soften. Add the garlic, and cook for another minute.
Stir the mushrooms into the skillet along with salt and pepper to taste. Cook until they begin to soften, about 5 minutes.
Add the red wine into the skillet along with the dried thyme. Cook until the wine is mostly absorbed about 5 minutes. Add a handful of spinach if using. Keep the mushrooms warm on very low heat while you cook the salmon.
Prepare the salmon: In a large bowl, combine the 2 tablespoons olive oil with the 1 tablespoon fresh basil and salt/pepper to taste.
Rinse and pat dry the salmon, then place the salmon fillet in the bowl, flesh side down first then gently turn the fillet to rest for a few minutes, skin side down.
Coat a large nonstick skillet with the oil spray, and heat on medium high. When the pan is good and hot, add the salmon skin side down in the pan. Cook the fish for 4 minutes without moving it.
Use a spatula  to carefully flip the salmon, to cook it flesh side down for 2 more minutes.  Flip the salmon again to cook another 1 or 2 minutes, skin side down. The salmon should be ready for 8 minutes total cooking time, but cut open to check that it is done to your liking.
Remove the salmon to a platter and let it rest briefly. Cut the salmon into serving portions.
To serve, place a scoop of farro on the plate, followed by a portion of salmon. Top with the mushrooms. Enjoy with a good glass of Willamette Pinot Noir!
Notes
You can get the mushrooms prepared as the farro cooks. Then the salmon cooks quickly once the farro and mushrooms are ready.
There are different types of farro, we used Nature's Earthly Choice Organic Italian Pearled Farro ordered on Amazon (included our affiliate link for your convenience). Other types of farro may have somewhat different cooking times and methods.
The handful of spinach is to primarily add some additional color to the dish.
Keywords: salmon, Pinot Noir, salmon and farro, salmon and mushrooms
Recipe Card powered by
More recipes with farro
Here are some more great recipes to try using farro:
More Pairings with Biodynamic Willamette Valley Wine