Today we share our experience tasting the Gérard Bertrand Cigalus Blanc along with background information on this highly regarded Southern France wine producer. Part of the May French Winophiles event hosted by L.M. Archer . Disclosure: The wine discussed in this article was provided as a complimentary sample.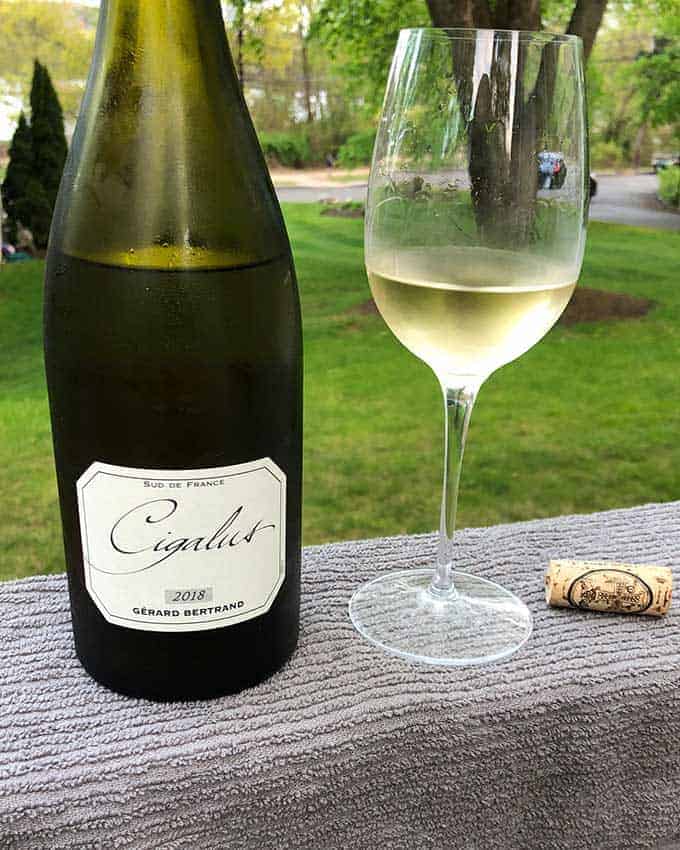 I was already looking forward to sampling wine from Languedoc producer Gérard Bertrand as part of the May French Winophiles event. The anticipation built when perusing the March edition of Food & Wine, as Bertrand was highlighted as as "shining light" in the movement toward organic and biodynamic practices in the the Languedoc region.
So I was very excited when our bottle of Gérard Bertrand Cigalus Blanc arrived. Most of the articles here on Cooking Chat feature a recipe I have cooked up, often to go with a particular bottle of wine. So I had the wine waiting in the cellar for a bit, looking for an evening to cook up a meal planned as a pairing for the Cigalus.
But during this busy spring stretch with lots of work events and baseball, I realized I was running short on time to come up with a new recipe to pair with this white wine. It was time to simply open the wine, and savor the special bottle from Southern France without focusing on a new recipe.
That said, there had to be a bit of food involved! So on recent Friday evening we welcomed the weekend by opening our bottle of Cigalus Blanc. That Friday evening I served some Tomme St. George cheese on a plate with some mixed olives to nibble on with the wine.
Cigalus Blanc Tasting Notes
Color: Rich golden yellow in the glass.
Nose: Walnuts and flower blossoms on the nose.
Body: A full bodied white wine with silky mouthfeel and nice finish.
Palate: Peach fruit, light buttery notes and toasted almond. Minerality. A complex flavor profile.
Pairing: Very good with the Tomme cheese — the full bodied aspect of the wine matched well with the rich, creamy cheese. The brininess of olives brings out a hint of sweetness in the wine.
Somehow I managed to have the discipline to save us both a glass of the Cigalus to try with our dinner the next night. It would have been easy to polish this bottle off the night we opened, sipping and nibbling on this and that. But this definitely is a wine that seemed worthy of also getting tested with a meal!
I was making a modified version of our Asian Grilled Pork Tenderloin the night after I'd opened the Cigalus. The pork tenderloin was roasted instead of grilling, but the marinade and sauce was the same.
I initially paired that recipe with a French red wine (a Gamay) with good results, but had noted a full bodied white could work with the dish. The Cigalus fit the bill nicely! So if you have a bottle of Cigalus and are looking for a meal to match it, our pork tenderloin recipe or something similar can definitely work.
Gérard Bertrand Cigalus Blanc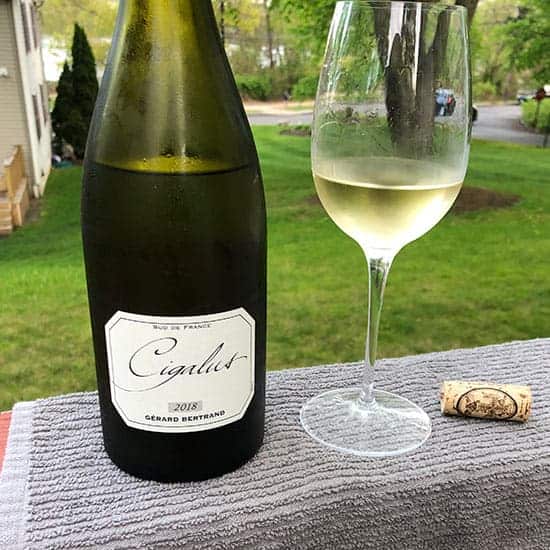 The Gérard Bertrand Cigalus Blanc (14% ABV, $48) is a blend of Chardonnay, Viogner and Sauvignon Blanc. The tech sheet doesn't break down the percentages, but I would figure that it is predominantly Chard, with the Viogner adding some brightness to the wine.
Domaine Cigalus is managed based on biodynamic methods where "the energy of the soil lies at the heart of the process". Cigalus began the transition to biodynamics in 2002, and received Demeter biodynamic certification in 2010. The Gérard Bertrand website notes that he was attracted to biodynamics as a logical extension of the natural health care methods he applies to himself.
The Domaine, located outside of Narbonne on the edge of a wildlife reserve, benefits from a hot, sunny Mediterranean climate. Deep, rich soils store water which helps to offset the semi arid climate.
To make the Cigalus Blanc, hand picked grapes are pressed as soon as they get into the winery. 70% of the juice is fermented in new oak, the balance in stainless steel. Maturing in barrels takes place for 7 to 8 months.
Background on Gérard Bertrand
Gérard Bertrand first established fame as a star rugby player, playing a distinguished career with RC Narbonne and Stade Français.
I played a bit of rugby in college, and the team's beverage of choice was definitely beer. Perhaps it should come as no surprise that would be different in France. During his youth, Gérard Bertrand learned about winemaking alongside his father. When his father did in an accident in 1987, Gérard took over the family estate. In 1992, he created the Gérard Bertrand wine company to develop a range of products celebrating Southern France.
Vision Realized
Gérard Bertrand has grown to include 15 estates that showcase the potential of Languedoc-Roussillon to the world. He is now widely recognized as an ambassador for wines from the region.
Cigalus was the first vineyard that implemented biodynamic practices, and is gradually expanding to other domaines. For instance, he recently acquired Chateau la Soujeole and implemented biodynamics and horse drawn plowing at this venerable property. In addition to producing top quality wine, the various Gérard Bertrand estates offer a range of cultural experiences along with the wine, including a music festival, top quality dining and accommodations.
More from the French Winophiles
Be sure to check out the other article from my fellow French Winophiles. We convene for a live Twitter chat on Saturday May 17 at 11 am EDT. Just enter the hashtag #winophiles on twitter.

Michelle, Rockin Red Blog: Celebrating Biodynamic Viticulture and the Beauty Of the Languedoc With Gérard Bertrand
Lynn, Savor the Harvest: This Biodynamic Wine Is a Summer Pleaser + Saturday Culinary Concoction
Wendy, A Day in the Life on a Farm: New Wine Paired with an Old Favorite
Camilla, Culinary Adventures with Camilla: Lemon-Caper Halibut + Gérard Bertrand 2018 Cigalus Blanc
Linda, My Full Wine Glass: Languedoc Wine Meets Middle Eastern Lunch
David, Cooking Chat: Savoring a Special White Wine from Southern France
Pinny, Chinese Food and Wine Pairings: Exploring Languedoc-Roussillon with Chateau Millegrand Mourral Grand Reserve Minervois + Chinese Charcuterie Board
Robin, Crushed Grape Chronicles: Exploring the Grand Terroir of Gérard Bertrand with Tautavel and La Clape
Jeff, FoodWineClick!: Butter Roasted Fish with Gérard Bertrand's Cigalus Blanc
Jane, Always Ravenous: Chicken Korma with Gérard Bertrand Cigalus Blanc
Cindy, Grape Experiences: The Wines of Gerard Bertrand: Expect Joie de Vivre with Every Sip
Susannah, Avvinare: A Wine from Gerard Bertrand: A Larger than Life Figure
Deanna, Asian Test Kitchen: Gerard Bertrand Rose Paired with Subtly Spiced Shrimp
Cynthia & Pierre, Traveling Wine Profs: Comfort Food and Sunny Red: Gérard Bertrand Côtes des Roses with Senegalese Mafé and Fonio
Jill, L'Occasion: A Name To Know: Gérard Bertrand
Gwendolyn, Wine Predator: Bertrand's Biodynamic Cigalus Paired with French Sausage
Liz, What's in that Bottle: Get to Know the Winning Wines from Languedoc Icon Gérard Bertrand
Nicole, Somm's Table: Cooking to the Wine: Gérard Bertrand Grand Terroir Tautavel Grenache-Syrah-Carignan with Saucy Lamb Loin Chops
Rupal, Syrah Queen: A Commitment To Languedoc – The Biodynamic Wines Of Gerard Bertrand
Payal, Keep the Peas: Aude: Alive in More Ways Than Wine