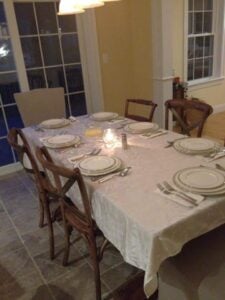 table set for a good meal!
We put this three course menu together back in 2012! For a more updated multi-course meal, check out our Festive Winter Wine Dinner at Home.
Several times a year, I step up my cooking efforts and put together a multi-course meal for a gathering. Most recently, I did so as for friends John & Liz as part of our wedding gift to them (my wife Jodi actually secretly bid on this three course meal that I offered via the Social Capital Inc. auction, with the idea of gifting it). It's fun for me to put together such a meal, especially for a group that appreciates good food and wine. That was certainly the case with the group that shared this meal. John is a serious home cook, as is my brother in-law Doug. John was vague about the final couple that was coming for dinner. The mystery guests turned our to be Lori and Ray Schaefer, who own the Pairings Wine & Food shop. Anyone who has been there can certainly attest that Lori and Ray know their food and wine!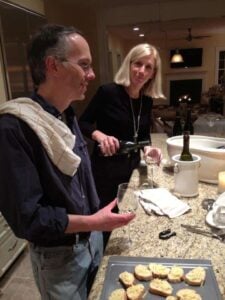 good planning allows time to relax with guests
In planning such a meal, especially one that I'll be serving somewhere other than my home kitchen, I try to have enough things on the menu that can be largely prepared in advance, so I don't have too much prep to do when the guests are there. At the same time, I like to offer some creative dishes that people might not have had before or think to make themselves. The wine pairings are an important consideration, too. I like to serve wines that grow increasing bold and full-bodied for a good tasting experience, and have that in mind as I think about what foods to serve for each course. In this case, the soup I had in mind pairs well with Pinot Noir, but I knew a few people prefer white wines. That led me to set this up with two pairing options for each course. As it turned out, everyone decided to sample a bit of both options at each course to figure out what option they preferred. That was pretty fun, I'd encourage you to try this when you host a group that wants to explore food and wine pairings.
I've already written separate posts on each course, so below I am putting the menu overview. Click through for more details on the wine and food served with each course. The "Preliminary Nibbles" items were contributed by the other members of the dinner party. Note I generally would not consider Chateauneuf-du-Pape to be an aperitif; but it's one of my favorite wines so I wasn't going to dissuade John from opening it!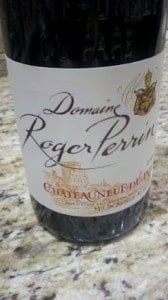 Preliminary Nibbles
Gruyere & Delice de Bourgogne (triple cream cheese)
Whtie Bean Dip
Pate
Crackers & baguette slices
Preliminary Sips
Notios Greek White (grapes: Moschfilera and Roditis)
2010 King Estate Pinos Gris
Domaine Roger Perrin Chateauneuf-du-Pape
(was busy cooking…no detailed notes but all 3 were excellent!)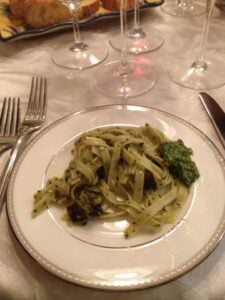 Course #1: Golden Winter Soup
Pairing options: Oregon Pinot Noir and/or
White Cote du Rhone
Course #2: Pasta with Pesto and Potatoes
Pairing options: Italian red blend and/or a Prosecco
Course #3: Spicy Lemon-Rosemary Pork Tenderloin
Pairing: Dueling Syrahs
As I said, you can click through for detailed notes. But I think it's fair to conclude that the dishes and wines worked pretty well together. And as you might imagine, no one complained about a lack of food or drink!
Thanks to John and Liz for letting me prepare this meal in their wonderful kitchen! And John also gets some of the photo credits.