Spinach and Mushroom Pasta, with a bit of prosciutto, makes for a flavorful Italian dish that pairs well with Pietra Pinta Malvasia Puntinata wine. You can skip the prosciutto to make this a vegetarian recipe if you like. Disclosure: I received a complimentary sample of the wine from Bacchus Imports.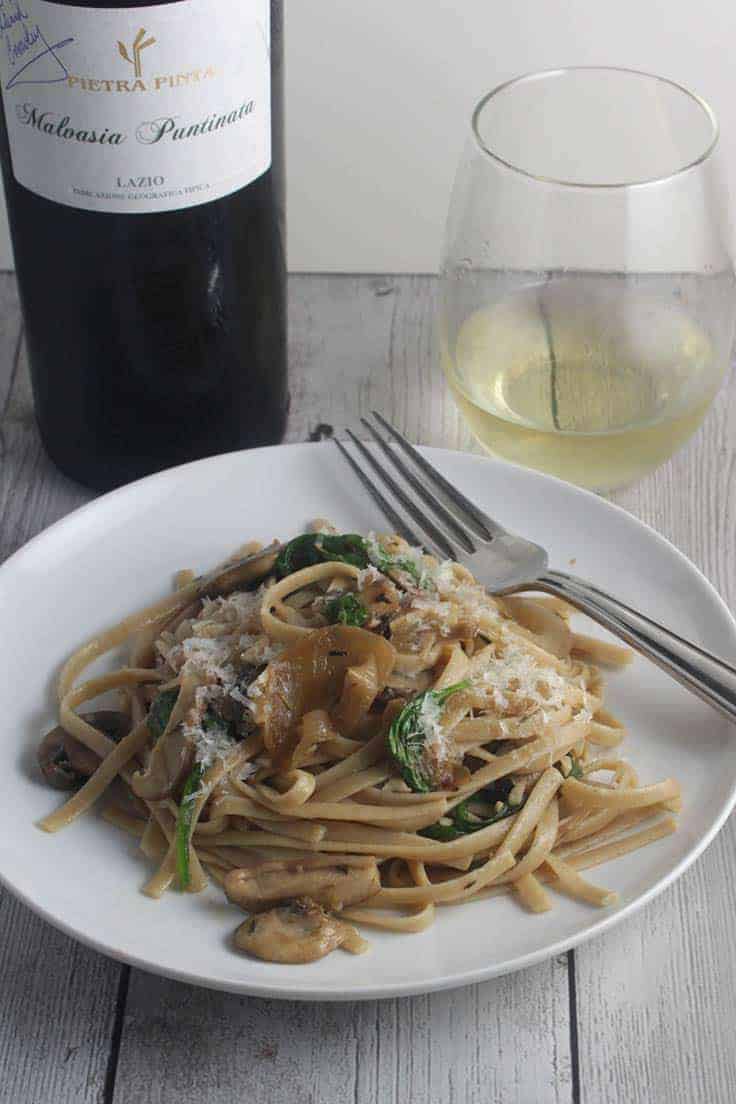 Here's a solid wine pairing tip for you: if you have a chance to meet the winemaker, chat about what foods they would eat with the wine, and go with that!
Local wine importer John Maisano, who runs Bacchus Imports, mentioned the opportunity to meet the winemaker from Pietra Pinta, and I was eager to do so. I'd enjoyed a few of their wines before so welcomed a chance to try some more and learn about the winery and the Lazio region of Italy where it is located.
The Ferretti family has been making wine in Lazio since the early 19th century, and created the Pietra Pinta winery around 1880. The winery is located in Cori, about 35 miles south of Rome, on the Western side of the Lepini Mountains. Winds come from the Mediterranean across a plain to Cori at the edge of the mountains, creating a favorable microclimate for wine grapes.
The town of Cori actually predates the settlement of Rome — talk about history!
Bruno Ferretti is a sixth generation member of his family to make wine at Pietra Pinta. He greeted us with a big smile as he got ready to share a lineup of his wines.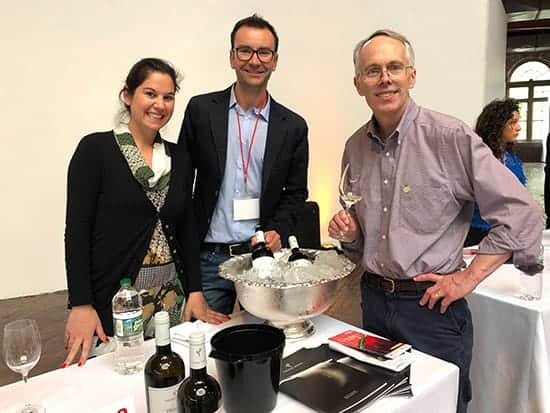 The smile remained for most of the tasting, briefly disappearing when the subject of Italy not being in the 2018 World Cup came up in conversation. The smile quickly came back as the conversation returned to the wine and food that pairs with it.
Pairings for Malvasia Puntinata
I had spoken to John about coming up with pairings for two of the Pietra Pinta wines. Jodi and I both really enjoyed the Pietra Pinta Chardonnay, but it seemed like the Malvasia Puntinata would make for an interesting pairing as it is unique to the Lazio region.
Malvasia Puntinata, also known as Malvasia del Lazio, is part of the Malvasia white wine grape family that can be found throughout Italy. Winemakers are starting to recognize the quality of Malvasia Puntinata and planting it more frequently, even though it can be difficult to grow.
Bruno mentioned some local cheeses as a possible pairing for his Malvasia Puntinata, then he mentioned mushrooms as a good pairing.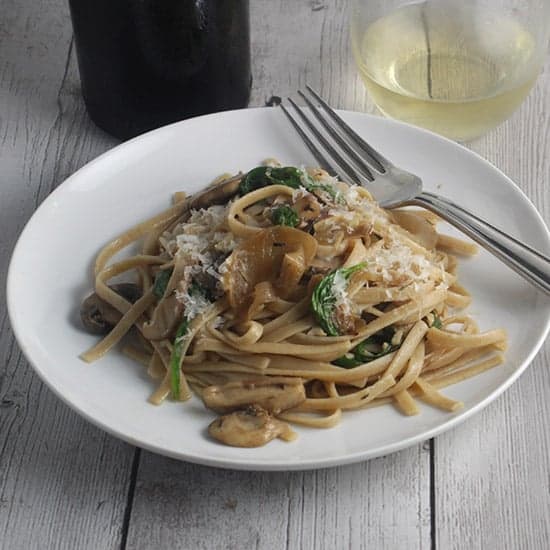 I often think of red wine with mushrooms, but I had the sense that the nuanced qualities of the Malvasia Puntinata could be a good match for mushrooms. That led me to make this Spinach and Mushroom Pasta recipe to pair with the wine.
Making Spinach and Mushroom Pasta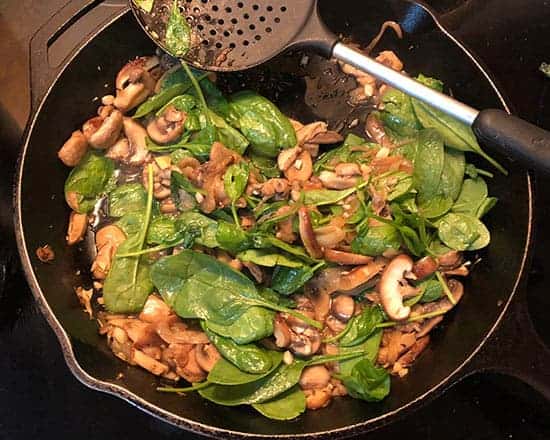 Spinach and mushroom pasta is a pretty simple preparation. The first time I made it as a vegetarian dish, and it was quite tasty. But I thought our spinach and mushroom pasta could use something to add a bit more flavor, and I thought to add a bit of prosciutto.
For the version of spinach and mushroom pasta presented here, I started by crisping a slice of prosciutto in the skillet, then removing it and proceeding to add the onions followed by the garlic, mushrooms and spinach.
The prosciutto flavors the skillet to start, then gets added back at the end of cooking. I tried this technique before with good results when making Bolognese Sauce with Crispy Prosciutto.
You can certainly make this spinach and mushroom pasta as a vegetarian dish as you like. You can simply skip the step of crisping the prosciutto in the skillet. You might want to a few sliced olives at the end for a bit of that salty flavor, which goes nicely with the wine.
Wine for Spinach and Mushroom Pasta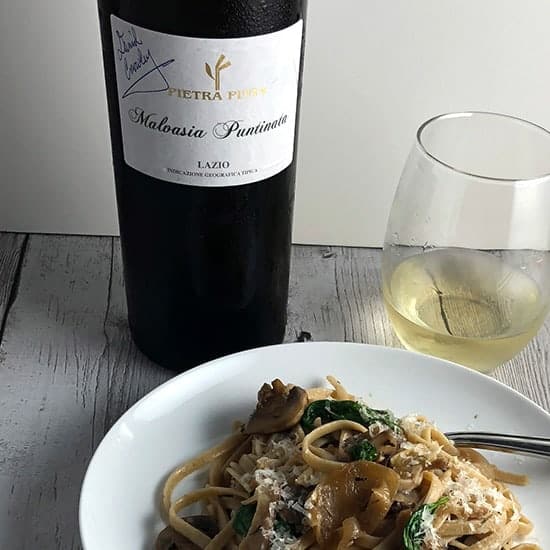 Let's take a closer look at the 2016 Pietra Pina Malvasia Puntinata ($15, 13% ABV) that we opened to pair with the spinach and mushroom pasta. This Malvasia has a citrusy nose with notes of honeysuckle flower. I get lemon fruit with a bit of almond on the palate. The wine makes for easy sipping, especially on a warm summer evening, but also has layers of flavor and complexity that make it an interesting wine.
The volcanic soils of the Lazio region are a factor contributing to the minerality of this Malvasia Puntinata. The wines are produced using sustainable methods.
Those nuanced flavors did match up well with the mushrooms in our pasta dish, as Bruno suggested. I was nibbling on a bit of prosciutto and sipping the wine while cooking up the most recent batch of spinach and mushroom pasta. Noting how well the prosciutto went on its own with the Malvasia Puntinata, I was pleased that I thought to add prosciutto to the recipe. It definitely the dish from a good pairing to a very good one, that I would definitely encourage you to repeat!
If you like this pairing, stay tuned to see what I cook up with the Nero Buono from Pietra Pinta!
Print
Recipe card
Spinach and Mushroom Pasta
Spinach and mushrooms tossed with linguine and some crispy prosciutto for a simple Italian meal. Excellent served with a white wine from Pietra Pinta.
Author: Cooking Chat
Prep Time:

5 mins

Cook Time:

30 mins

Total Time:

35 mins

Yield:

4

servings

1

x
Category:

main

Method:

stove top

Cuisine:

Italian
1

thin slice of prosciutto

1 cup

onion, chopped

1 tbsp

extra virgin olive oil

3

cloves garlic, minced

10

ozs button mushrooms, sliced

6

shiitake mushrooms, sliced

½ cup

dry white wine

⅔ tsp

dried thyme

½ tsp

dried rosemary

2 cups

baby spinach, tightly packed

⅓ cup

Parmigiano cheese, shredded, plus more to pass at table

10

ozs linguine – I like to use whole wheat
salt and pepper to taste
Instructions
Heat a large skillet to medium, and coat with oil spray. Add the slice of prosciutto, and cook for abut 5 minutes, turning once. This will get the prosciutto a bit browned and crispy. Remove and set aside on a plate to cool.
Add the olive oil to the same skillet you used for the prosciutto, keeping heat on medium. Add the onion, and lower heat to medium low when it starts to sizzle. Sauté, stirring occasionally, for 5 to 10 minutes, so the onion begins to caramelize. While the onion is beginning to cook, start boiling water for pasta.
Add the garlic to the skillet, stir, and cook for a minute so the garlic starts to get fragrant. Then stir in the mushrooms, salt and pepper to taste. Add a bit of extra olive oil if the skillet seems very dry at this point.
Cook the mushrooms until they begin to sweat, which takes about 5 minutes. Stir in the cooking wine, followed by the thyme and rosemary. Raise the heat back up to medium to bring to a simmer, then lower a bit to finish cooking the mushrooms.
When the mushrooms have cooked for a total of about 10 minutes, stir in the spinach. Cover the pan, and finish cooking on medium low.
Begin cooking the pasta according to package instructions around the time you add the wine to the pan. When the pasta is cooked to your liking, drain the pasta. Toss immediately with the spinach and mushrooms sauce. Stir in the Parmigiano, and about half of the prosciutto.
Plate the spinach and mushroom pasta, and pass additional cheese and prosciutto for people to add to top their pasta. Enjoy with a good glass of Italian wine!
Notes
You can skip adding the prosciutto to prepare this as a vegetarian dish. I made it the first time without the prosciutto; and thought it could use a little something else. So if skipping the prosciutto you might consider adding a few sliced olives for additional flavor.
I used whole wheat linguine for this dish, but you could use other shapes. Farfalle (bow ties) could work well.
Keywords: pasta, mushroom pasta, Malvasia wine, wine pairing, spinach and mushroom pasta
Recipe Card powered by