An off the beaten path grape from Italy's Emilia-Romagna region proved to be a great wine pairing for Bolognese sauce. More recently we have paired it with a Cab Franc that worked well. The meat sauce recipe here gets extra flavor from crispy prosciutto. Read on for the tasty details and recipe!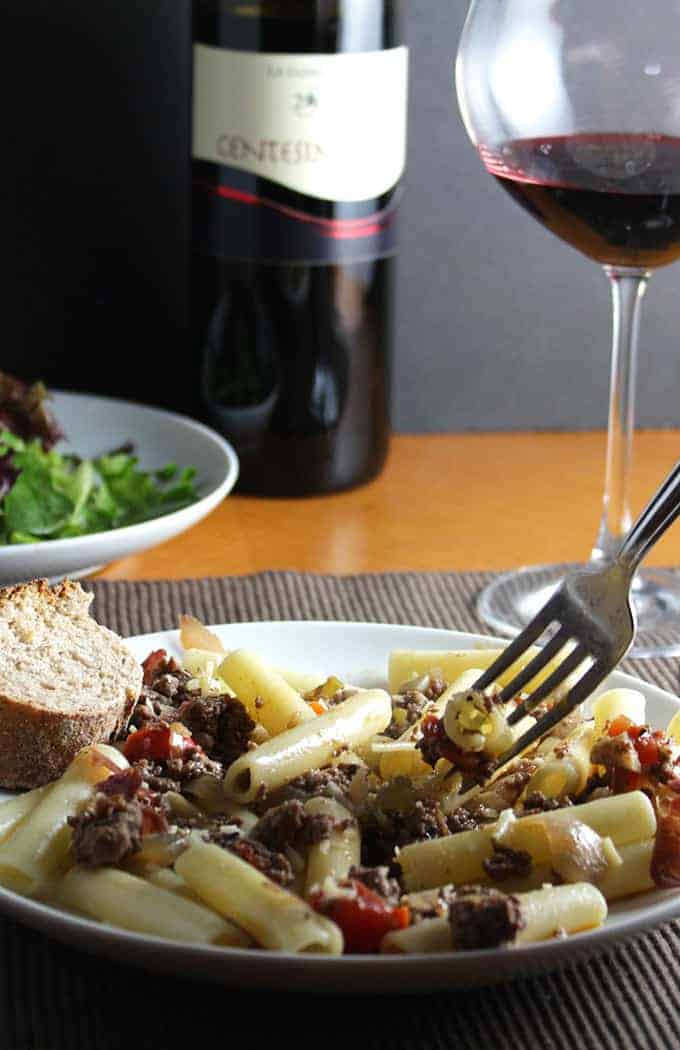 We are traveling around Italy through the Italian Food, Wine and Travel (#ItalianFWT), learning and sharing about the food and wine of the various regions. It's hard to say in a country filled with so much great culinary traditions, but this month's stop in Emilia-Romagna is going to be hard to top! There are so many great ingredients that celebrates the area's food. I decided to focus on a wine pairing for a Bolognese sauce recipe that would incorporate many of the area's ingredients.
Jen from Vino Travels is hosting this event, and gives a nice overview on the Emilia-Romagna region in her preview post, including a map to get you situated. Bologna is probably the best known city, but then there is also Parma (think cheese, Prosciutto di Parma).
I love to make a good, slowly-cooked Bolognese sauce, and figured that would be perfect for this event.
Making this recipe
Using a recipe from Stir: Mixing It Up In The Italian Tradition as my point of departure, I figured I could incorporate many foods I love from the region into this one dish.
Prosciutto di Parma? Crisp some up at the start to flavor the pot, set it aside as a topping for the finished dish.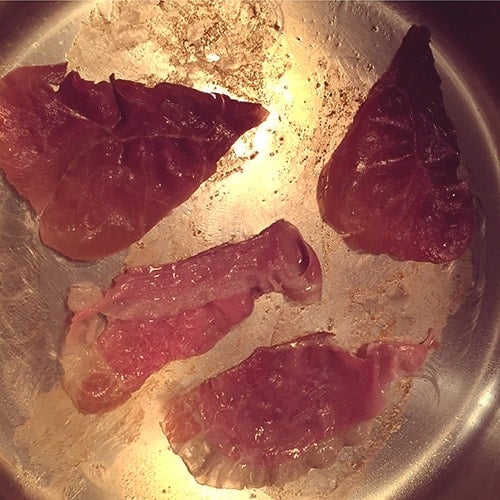 Balsamic vinegar? A dash adds a nice flavor to a sauce. Then, of course, you can't serve an Italian pasta dish without freshly grated cheese. We're focused on Emilia-Romagna, so that's gotta be some Parmigiano Reggiano. (want another great recipe featuring Parmigiano? Check out my "Almost Spring Risotto" and pretend that it's almost spring!).
A few more points on making the Bolognese Sauce with Crispy Prosciutto recipe; full details can be found below in the recipe card.
The sauce benefits from a nice, slow cooking. Allow an hour minimum for simmering, I cooked mine for 90 minutes with good results. I used fresh oregano and rosemary along with dried basil, based on what I had available. Fresh basil would be a nice touch if you had it. Interchange the dried/fresh herbs based on what you have, but definitely good to have at least one fresh herb.
Let the sauce simmer for a good amount of time, then put cook up some pasta. I went with ziti. A long noodle like papperdelle would also be nice. Homemade would be great, of course, but pasta is an area where I almost always take the short cut…I like to focus my energy on the sauce!
Toss the pasta of your choice with the bolognese sauce, top with Parmigiano cheese and crisped Prosciutto di Parma for a nice, hearty winter meal. Mangiare bene!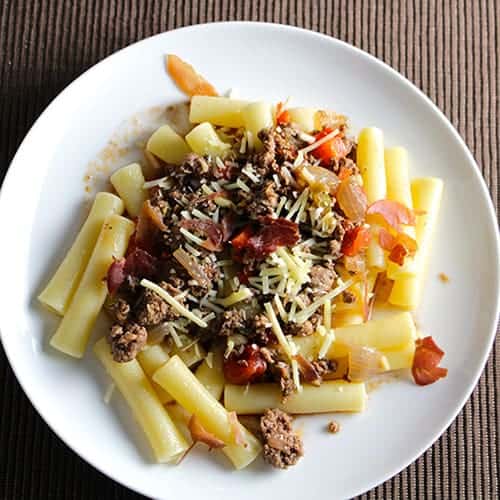 OK, let's talk about wine…
Italian Wine Pairing
Lambrusco may be the most well-known wine from Emilia-Romagna, but I chose a path less traveled in choosing my wine pairing for bolognese sauce. I went with the 2012 La Sabbiona Centesimino. Centesimino is a grape varietal found in the region, with only a few producers making wine with it. This wine comes from Ravenna, a coastal region. The wine was $23 at our local shop.
I got eucalyptus on the nose. Complex taste of charcoal, quince, and blackberry. Medium bodied, 14.5% alcohol. Good structure, well-balanced wine. Stood up well to the hearty sauce. Very good pairing, and great example of why it's worth trying some of the lesser known Italian grape varietals!
Speaking of lesser known grape varietals, I learned recently that the Centesimino grape was nearly extinct. Nick Mucci of Mucci Imports, who brought this wine into Pairings, told us during a recent tasting that some of the last remaining vines of Centesimino were found grounding on an Italian farm. It was then brought back to cultivation with success in the region, albeit on a modest scale. I am glad for it!
Cab Franc Pairing
While I almost always go with an Italian wine when making a classic Italian dish, occasionally I will mix things up.
That's what we did the other night. We were observing Cab Franc Day and talking about pairings for the wine, and I had made the Bolognese sauce the day before. I figured why not try the pasta with a good Cab Franc?
We opened the 2018 Dracaena Wines Cabernet Franc Reserve ($45, 14.4% ABV) to pair with our Bolognese pasta. Sage brush and berries on the nose. Plum fruit, lavender and graphite on the palate (borrowed these terms from the winery website — I was distracted from my note taking, but the jive with my recollection!). A very good pairing for the Bolognese!
Italian wines are still always going to be my first choice for a dish like this, but it is fun to mix things up sometimes!
I would also note that I made a side salad for the pasta, designed to pair with the Cab Franc. I added parsley to the vinaigrette, and included olives and feta cheese in with the greens. Definitely set up a nice pairing!
More Bolognese Recipes
We love making Bolognese sauce! You can find several versions here on Cooking Chat, try them all and let us know which you like best!
Print
Recipe card
Bolognese Sauce with Crispy Prosciutto
Long-simmering meat sauce creates a sauce with deep flavors, enhanced by the addition of crispy prosciutto.
Author: Cooking Chat
Prep Time:

15 mins

Cook Time:

90 mins

Total Time:

1 hour 45 mins

Yield:

7

servings

1

x
Category:

Main

Method:

stove top

Cuisine:

Italian
2 ½

slices prosciutto

2 tbsp

extra virgin olive oil

1

onion, diced

1

celery stalk, diced

1

small carrot, chopped

⅓ cup

red bell chopped

3

cloves garlic

½

lb. ground beef

½

lb. ground pork

½

lb. ground lamb

1

14 ½ oz can chopped tomatoes

1 tbsp

tomato paste

1 ½ cups

broth, poultry or beef

1 cup

red wine

1 tsp

dried basil

½ tsp

fresh rosemary

½ tsp

fresh oregano

1 tbsp

balsamic vinegar
pinch fennel powder or a couple fennel seeds

1

lb pasta
Parmigiano-Reggiano cheese to serve at table
Instructions
Heat 1 tablespoon olive oil in a large pot over medium heat. Add two slices of the prosciutto. Cook for about 10 minutes, turning occasionally, to get the prosciutto crispy and slightly browned. Remove the crisped prosciutto, setting aside on a plate to cool. When the prosciutto has cooled, break it into bite sized pieces to serve over the finished pasta later. Slice up the extra, uncooked half slice of prosciutto.
Add the other tablespoon of olive oil to the pot, still on medium heat. Add the onion, and cook for about 5 minutes until it begins to soften.
Stir in the celery, carrots and red pepper, and cook for another 5 minutes. Add the garlic, and cook for another minutes.
Gradually stir in the 1 ½ pounds of ground meat along with the pieces of the extra ½ slice of uncrisped prosciutto. Add a bit of salt to taste. Raise the heat to medium high, and stir occasionally, browning the meat.
After about 10 minutes of cooking the meat, stir in the wine. Simmer on medium heat, stirring occasionally, until the wine is mostly absorbed.
Stir in the broth, tomatoes and tomato paste. Raise heat to bring to a boil, then lower heat to simmer on medium low. Add the rosemary, basil, oregano, balsamic vinegar and fennel powder.
Simmer the sauce uncovered for at least an hour. I simmered mine for 90 minutes with good results.
Start water to boil for the pasta when the sauce is close to ready. Cook the pasta al dente according to package instructions.
Reserve a quarter cup of the pasta cooking water, then drain the pasta when ready. Add the pasta to the sauce, along with the reserved water. Stir to get the pasta well combined with the sauce.
Serve the pasta topped with a bit of the prosciutto and freshly grated Parmigiano-Reggiano cheese, along with an Italian red wine.
Keywords: bolognese sauce, wine pairing for Bolognese, bolognese sauce with prosciutto
Recipe Card powered by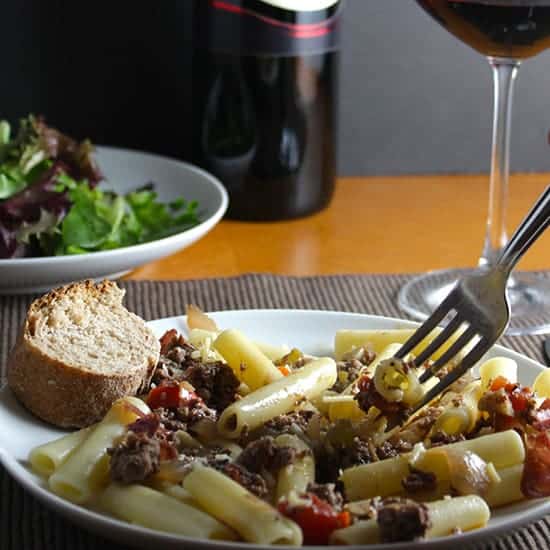 Join our other bloggers and their featured articles this month on Emilia Romagna: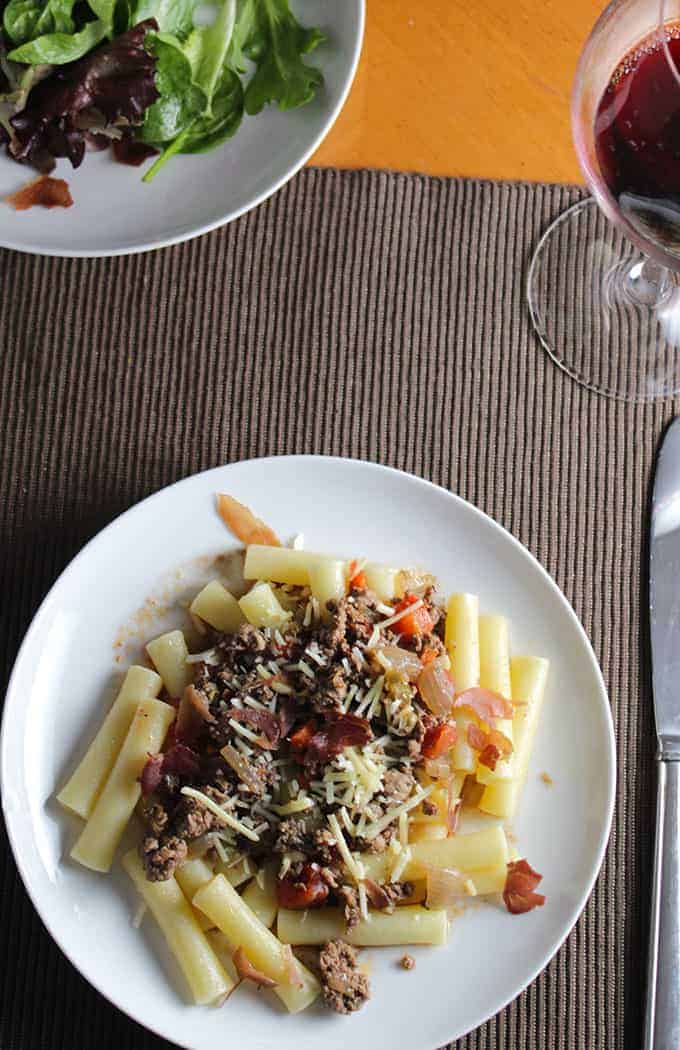 Vino Travels – Pignoletto from Colli Bolognese & Emilia Romagna Delights
Cooking Chat – Wine Pairing for Bolognese Sauce Recipe
Food Wine Click – Prosciutto, Balsamico, Parmigiano; You Already Know Emilia Romagna
Flavourful Tuscany – Emilia Romagna: lifestyle of joyful quality
Enoflyz Wine Blog – A Taste of Emilia Romagna
Curious Appetite – Food and Community in the Emilia Romagna
Join us next month on February 7th as we travel to one of the most famous regions of Italy, Tuscany! For additional Italian related blogs of food, wine and travel throughout the month stay tuned to #ItalianFWT.