Sweet wines might intuitively suggest sweet food pairings. Today we share a variety of Creative Food Pairings for Sweet Bordeaux Wine that shows a wide range of foods can be enjoyed with this special category of French sweet wine. Disclosure: the wines discussed in this article were sent as complimentary samples as part of a tasting event with Snooth. 
My first instinct is definitely to pair dessert foods with Sweet Bordeaux wines.
Yes, a Sweet Bordeaux wine with cheesecake is something I might still have from time to time. But the recent #ExploreYourFrenchSenses tasting with Snooth definitely opened my eyes to the versatility of these wines. We were guided through the tasting by Jean Reilly, Master of Wine, who has a great passion for and knowledge of this style of wine. Be sure to check out the Snooth website for more great programs like this live tasting and lots of other great info to help you "Drink Better Wines".
In a moment, I will break down some of the pairings we tested out and others we have learned about through our research. First, we will provide a little bit of background information.
Sweet Bordeaux Tasting with Snooth
When an email from Snooth landed in my inbox asking if I'd like to sample eleven Sweet Bordeaux wines as part of one of their live tasting events, it didn't take much convincing!
After all, most expensive white wine ever sold is a special bottle of sweet Bordeaux — the 1811 Chateau d'Yquem, which sold for $117,000. You might not need to take out a mortgage to buy other Sauternes, but they are still pricey.
The wines we tasted with Snooth demonstrate that once you get out of the famous Sauternes AOC, you can get some excellent Sweet Bordeaux wines for an affordable price.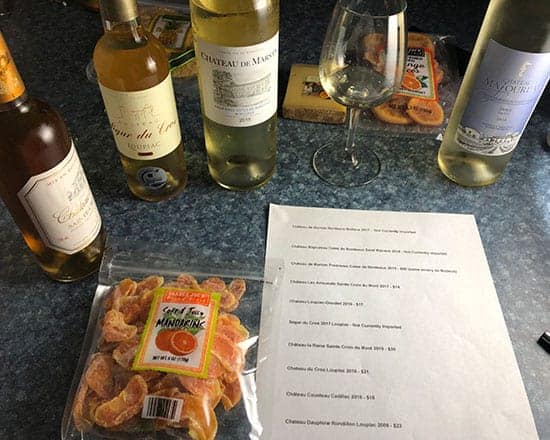 Another part of the fun in this #ExploreYourFrenchSenses tasting was the package of snacks we received to nibble along with the wine. We got dried fruits, savory gorgonzola crackers and even dried lemongrass!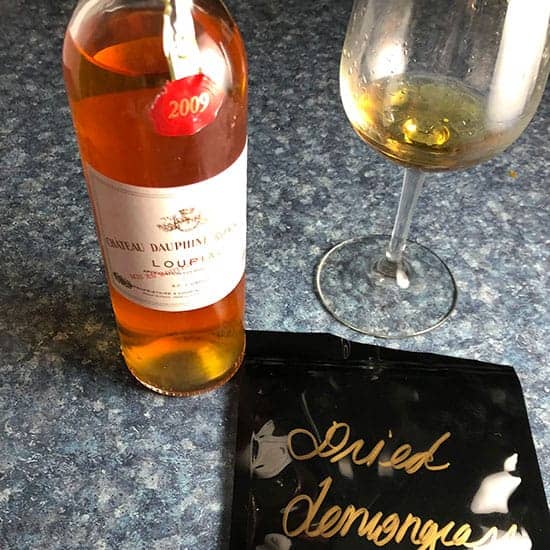 These foods helped bring out various flavor notes in the wine. A fun experiment! And as per usual, we added our own food pairing experiments to the mix.
About Sweet Bordeaux
Before we get into the pairings, let me clarify that "Sweet Bordeaux" is not an appellation (AOC) or other such formal term. Rather, it is a term used along with "Golden Bordeaux" to reference sweet white wines produced in Southern Bordeaux.
There are actually 8 AOCs producing Sweet Bordeaux wine, located on both sides of the Garonne River. The AOCs are: Bordeaux Supérior, Cérons, Loupiac, Premierès Côtes de Bordeaux, Côtes de Bordeaux Saint-Macaire, Cadillac, Sainte-Croix-du-Mont and Bordeaux moelleux.
More information about this category of wine and the AOCs that produce it can be found on the Sweet Bordeaux website.
We will use the Sweet Bordeaux term to refer to this general category. Of course, the wines take on flavor profiles based on the specific region they are from. The common theme is a sweetness in the flavor profile that might have you at first think of sweet foods for the pairing. Our experimenting shows there are many more pairing options that work well with Sweet Bordeaux wines!
For a deeper dive into the details of the wines we tasted, be sure to check out the video recording from the live tasting with Snooth!
Pairings for Sweet Bordeaux Wine
So, these wines are sweet as we know. You can go for a sweet to sweet pairing, but we saw through this tasting that the sweetness of the wine can also set up a nice contrast with  spicy, salty foods, savory and umami. Of course some of the foods we tried cross these categories, but I will group them by their dominant flavor.
Spicy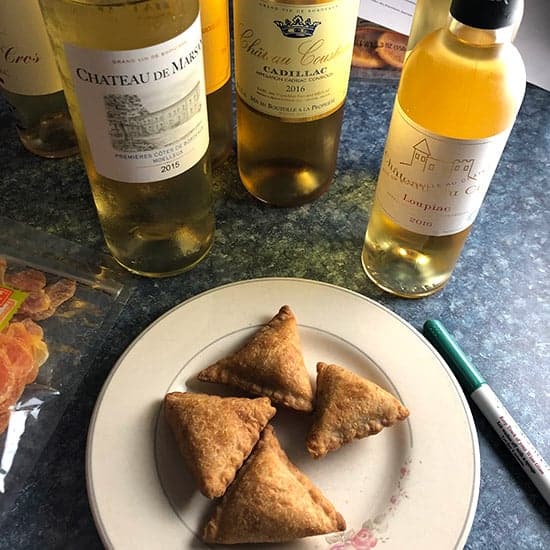 Indian Food: We enjoyed with some vegetable samosas that had a nice kick, and a quick meal made by simmering some leftover chicken and chickpeas in a jarred Madras curry sauce (great way to use leftover chicken BTW!). We had the 2015 Chateau du Marsan Premieres Cotes De Bordeaux and the 2016 Chateau du Cros Loupiac with the Indian option.
Empanadas: We brought several of these bottles to a friends wine dinner party. We started to enjoy them with dessert; then a late arriving friend came bearing empanadas with a spicy sauce. The empanadas were delicious with the Sweet Bordeaux!
Sushi: Well, I guess sushi is more in the spicy category if you like it with wasabi, which is definitely part of sushi eating for me! Jodi isn't into seafood, so we picked up some vegetarian avocado sushi rolls to enjoy with the sweet wines. The 2017 Segur du Cros Loupiac was the pairing that really worked with the sushi.
Salty
Gorgonzola Crackers: Some tasty little gorgonzola crackers were sent along with the wine samples. The salty, rich flavors of the blue cheese flavored crackers were good with most of the Sweet Bordeaux we tried them with. I noted they were particularly good with the 2016 Chateau Loupiac-Gaudiet, which had a bit of funkiness along with the sweet that worked nicely with the crackers.
Cured Meats: Our Snooth host mentioned soppresseta as a particularly good pairing options, and that was spot on! This cured meat has the salty and spicy kick going for it. I'm sure prosciutto would work nicely, too.
Popcorn: I haven't had a chance to test this pairing, but several on the Snooth chat mentioned it, and it certainly is a wine friendly snack!
Savory
Foie Gras: Of course, foie gras and Sauternes is a classic pairing! So foie gras is also a good choice with these other Sweet Bordeaux wines.
Sausage: Savory sausage with a little spice worked nicely with the 2017 Segur Du Cros Loupiac along with some mashed potatoes and salad.
Mashed Potatoes: The sausage mentioned above had both the savory and spice to make it pair well with the Sweet Bordeaux, the mashed potatoes on the side shows that this type of wine goes well with straight savory foods, too.
Poultry: Many of the golden Bordeaux labels suggested poultry as a possible pairing. I've saved a bottle to test with our Thanksgiving meal based on that idea!
Snooth Sweet Bordeaux Wine Tasting Lineup
Here's a summary of the wines we tasted with Snooth. Tasting notes in quotes are from the winery notes as opposed to my own–things moved a little too fast for me to get notes worth sharing on all of them!
Château de Marsan Bordeaux Molleux 2017 – (Not Currently Imported) "Light and delicate…notes of orange peel and white flowers." 80% Semillon, 20% Sauvignon.
Château Majoureau Cotes de Bordeaux Saint Macaire 2018 – Not Currently Imported  White flower and jasmine on the nose, less sweet than much of the lineup.
Château de Marsan Premieres Cotes de Bordeaux 2015 – $40 Excellent paired with Indian samosas, the sweet wine a nice contrast to the spice. "Notes of mandarin and white flowers…refreshing and well-balanced". 80% Semillon, 15% Sauvignon, 5% Muscadelle.
Château Les Arroucats Sainte Croix du Mont 2017 – $14 92% Semillon, 8% Sauvignon.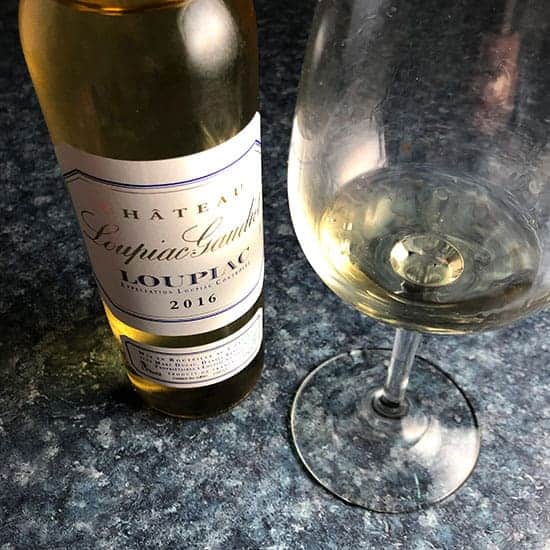 Chateau Loupiac-Gaudiet 2016 – $17 I get a bit of funkiness –in a good way– on this one along with the sweetness. Good with the gorgonzola crackers, also tasty with sopresetta.
Segur du Cros Loupiac 2017 – (Not Currently Imported) Honey on the palate, silky mouthfeel. Good paired with sushi.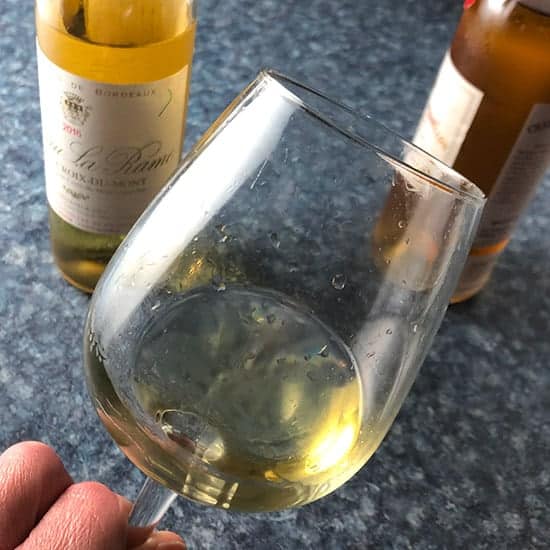 Château la Rame Sainte Croix du Mont 2016 – $30 Well-balanced. Pineapple fruit with notes of honey. More weight to it than some in the lineup. You can see from the photo above why these wines are also referred to as "Golden Bordeaux"!
Chateau du Cros Loupiac 2016 – $21 Rich layers of flavor — honey and hazelnut. This was the second bottle we tried with our Indian meal, with good results.
Château Cousteau Cadillac 2016 – $18 "Rich, fruity, pleasant and greedy." (again, winery tasting notes, greedy isn't a tasting term I've used!).
Chateau Dauphine Rondillon Loupiac 2009 – ($23) White pepper on the nose. Rich layers of flavor, including notes of coconut. One of my favorites! Happy to sip this as dessert on its own, it also paired pretty well with our Roasted Beet Dip.
Château du Pavillon Sainte Croix du Mon 2002 – (Not Currently Imported) It was fun to taste one with more age on it! Definitely still very flavorful and good fruit. The winery notes "Apricot nose. Honey and citrus fruits. Elegant mouth with candied fruits." 80% Semillon, 18% Sauvignon and 2% Muscadelle.