Sweet wines might intuitively suggest sweet food pairings. Today we share a variety of creative Food Pairings for Sweet Bordeaux Wine that show a wide range of foods can be enjoyed with this special category of French sweet wine. Disclosure: The wines described here were sent as complimentary samples for the French Winophiles event.
My first instinct is definitely to pair dessert foods with Sweet Bordeaux wines.
Yes, a Sweet Bordeaux wine with cheesecake is something I might still have from time to time. But after a Sweet Bordeaux tasting event last year with Snooth, followed by the opportunity to do some more tasting and pairing this month with the French Winophiles, I can see now that there is a much wider range of pairings that work with Sweet Bordeaux wine. Yes, these wines are good choices for dessert, but we have now seen that they are also excellent paired with your favorite spicy, savory and salty foods, too!
In a moment, I will break down some of the pairings we tested out and others we have learned about through our research. First, we will provide a little bit of background information on this type of wine.
About Sweet Bordeaux
Before we get into the pairings, let me clarify that "Sweet Bordeaux" is not an appellation (AOC) or other such formal term. Rather, it is a term used along with "Golden Bordeaux" to reference sweet white wines produced in Southern Bordeaux.
There are actually 8 AOCs producing Sweet Bordeaux wine, located on both sides of the Garonne River. The AOCs are: Bordeaux Supérior, Cérons, Loupiac, Premierès Côtes de Bordeaux, Côtes de Bordeaux Saint-Macaire, Cadillac, Sainte-Croix-du-Mont and Bordeaux Moelleux.
More information about this category of wine and the AOCs that produce it can be found on the Sweet Bordeaux website.
We will use the Sweet Bordeaux term to refer to this general category. Of course, the wines take on flavor profiles based on the specific region they are from. The common theme is a sweetness in the flavor profile that might have you at first think of sweet foods for the pairing. Our experimenting shows there are many more pairing options that work well with Sweet Bordeaux wines!
Pairings for Sweet Bordeaux Wine
So, these wines are sweet as we know. You can go for a sweet to sweet pairing, but we saw through this tasting that the sweetness of the wine can also set up a nice contrast with spicy, salty foods, savory and umami. Of course some of the foods we tried cross these categories, but I will group them by their dominant flavor. After covering the pairings, we've got some more details on the wines we tried.
Spicy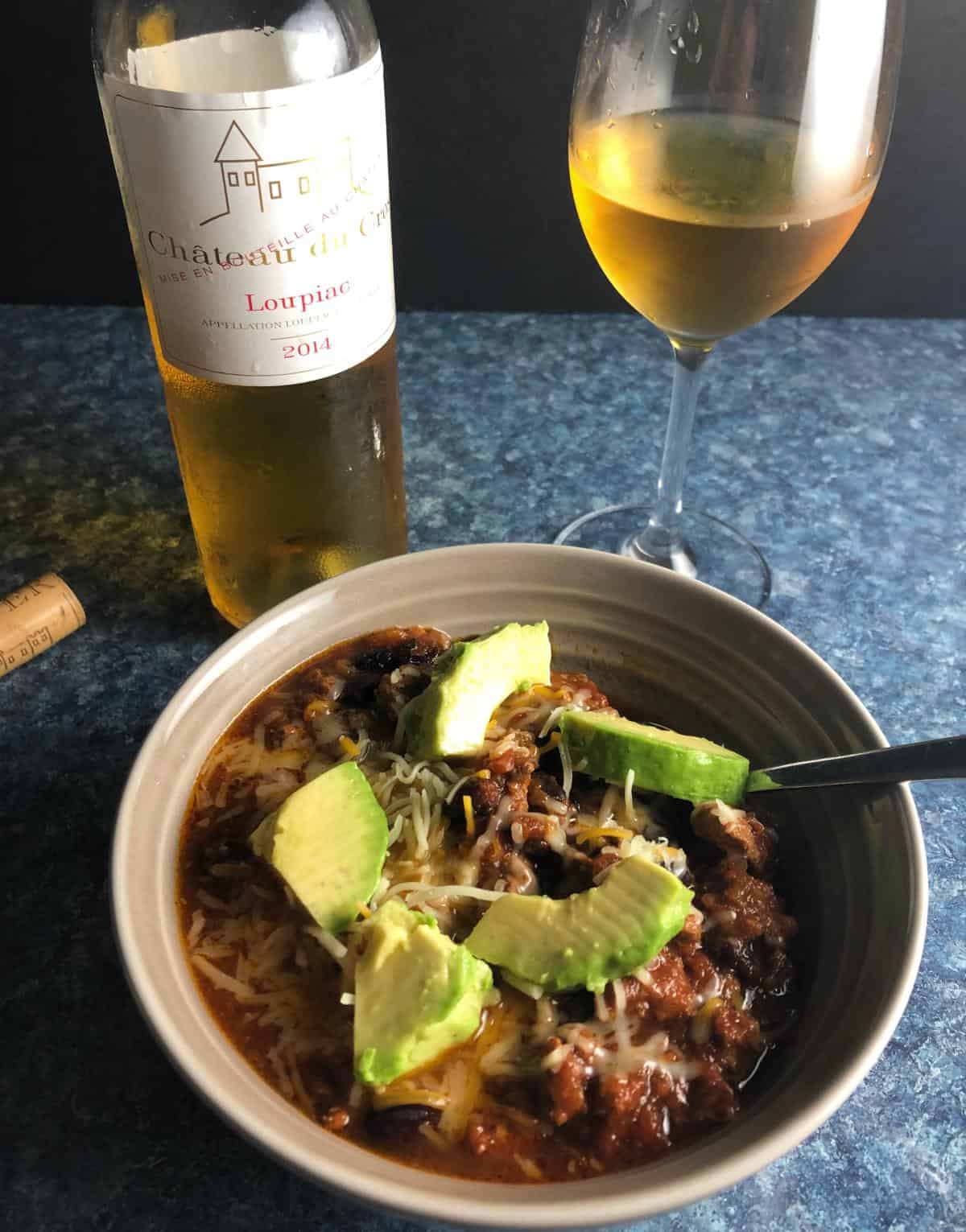 Chili: Recalling that Indian food worked well last year in our experiment, I decided to try the Sweet Bordeaux / spicy pairing idea with some of our Black Bean Turkey Chili. We paired the 2014 Chateau du Cros Loupiac ($30, 13% ABV) with the chili, and were very pleased with this spicy / Sweet Bordeaux combo.
Indian Food: Last time around with a Sweet Bordeaux lineup, we enjoyed the wines with some vegetable samosas that had a nice kick. A younger version of the 2016 version of the Chateau du Cros Loupiac was delicious with a quick meal made by simmering some leftover chicken and chickpeas in a jarred Madras curry sauce (great way to use leftover chicken BTW!).
Empanadas: We brought several Sweet Bordeaux wines to a friend's wine dinner party back in 2019 (ah, wine dinners in 2019…). We started to enjoy them with dessert; then a late arriving friend came bearing empanadas with a spicy sauce. The empanadas were delicious with the Sweet Bordeaux! With that pairing in mind, I think I'm going to have to get a couple more bottles of Sweet Bordeaux to try with a batch of our Turkey Enchiladas!
Sushi: Well, I guess sushi is more in the spicy category if you like it with wasabi, which is definitely part of sushi eating for me! Jodi isn't into seafood, so we picked up some vegetarian avocado sushi rolls to enjoy with the sweet wines. The Château la Rame Sainte Croix du Mont was the wine we chose to go with our sushi, and it was a delicious pairing!
Savory
Tzatziki Dip with pita chips has been one of our go to pre-dinner snacks lately, which made it a natural to test out with one of the Sweet Bordeaux wines. I'm considering it savory based on the Greek yogurt and dill flavors, although we did eat it with salty chips. This turned out to be a winning pairing for the Chateau La Hargue Moelleux. The lightness of the wine and subtle sweetness made it a great partner for the dip!
Foie Gras: Of course, foie gras and Sauternes is a classic pairing! So foie gras is also a good choice when you have some Sweet Bordeaux on hand. We didn't test this classic pairing recently but would like to soon!
Sausage: During our 2019 tasting, savory sausage with a little spice worked nicely with the 2017 Segur Du Cros Loupiac along with some mashed potatoes and salad.
Mashed Potatoes: The sausage mentioned above had both the savory and spice to make it pair well with the Sweet Bordeaux, the mashed potatoes on the side shows that this type of wine goes well with straight savory foods, too.
Poultry: Many of the golden Bordeaux labels suggested poultry as a possible pairing. I did test that out with the Chateau La Hargue, but I found that the wine was a bit too light for our Thanksgiving style meal. I suspect one of the richer wines we sampled, perhaps the Chateau du Cros Loupiac, might work for the Thanksgiving feast.
Salty
Gorgonzola Crackers: We got to try the 2016 Chateau Loupiac-Gaudiet again this year after sampling a bottle in 2019. I noted last year that this wine, which has a bit of funkiness along with the sweet, worked well with some gorgonzola crackers that we had.
Cured Meats go with many different types of wines. During the 2019 tasting, soppresseta was mentioned as a particularly good pairing option, and that was spot on! This cured meat has the salty and spicy kick going for it. I'm sure prosciutto would work nicely, too.
Popcorn: I haven't had a chance to test this pairing, but have seen several people note they liked the pairing, and it certainly is a wine friendly snack!
Sweet Bordeaux Wine Tasting Lineup
Chateau Loupiac-Gaudiet 2016 – ($20, 13% ABV) I get a bit of funkiness –in a good way– on this one along with the sweetness. Good with the gorgonzola crackers, also tasty with sopresetta.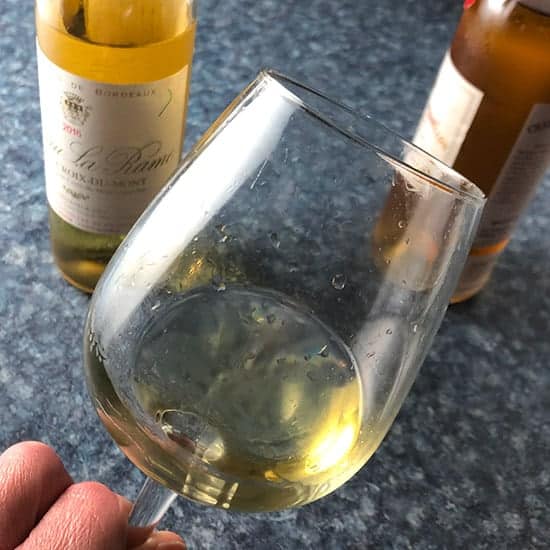 Château la Rame Sainte Croix du Mont 2016 – ($35, 13% ABV) Well-balanced. Pineapple fruit with notes of honey. More weight to it than some that I've sampled. You can see from the photo above why these wines are also referred to as "Golden Bordeaux"! I mentioned that we enjoy La Rame with the sushi; but we did manage to save enough to also enjoy it with some pumpkin cheesecake. That was reminder that we should broaden the range of foods we pair with Sweet Bordeaux, it is also still a classic choice for dessert! This wine had the heft to go with the cheesecake, and the pineapple fruit notes were good with the pumpkin spice flavors.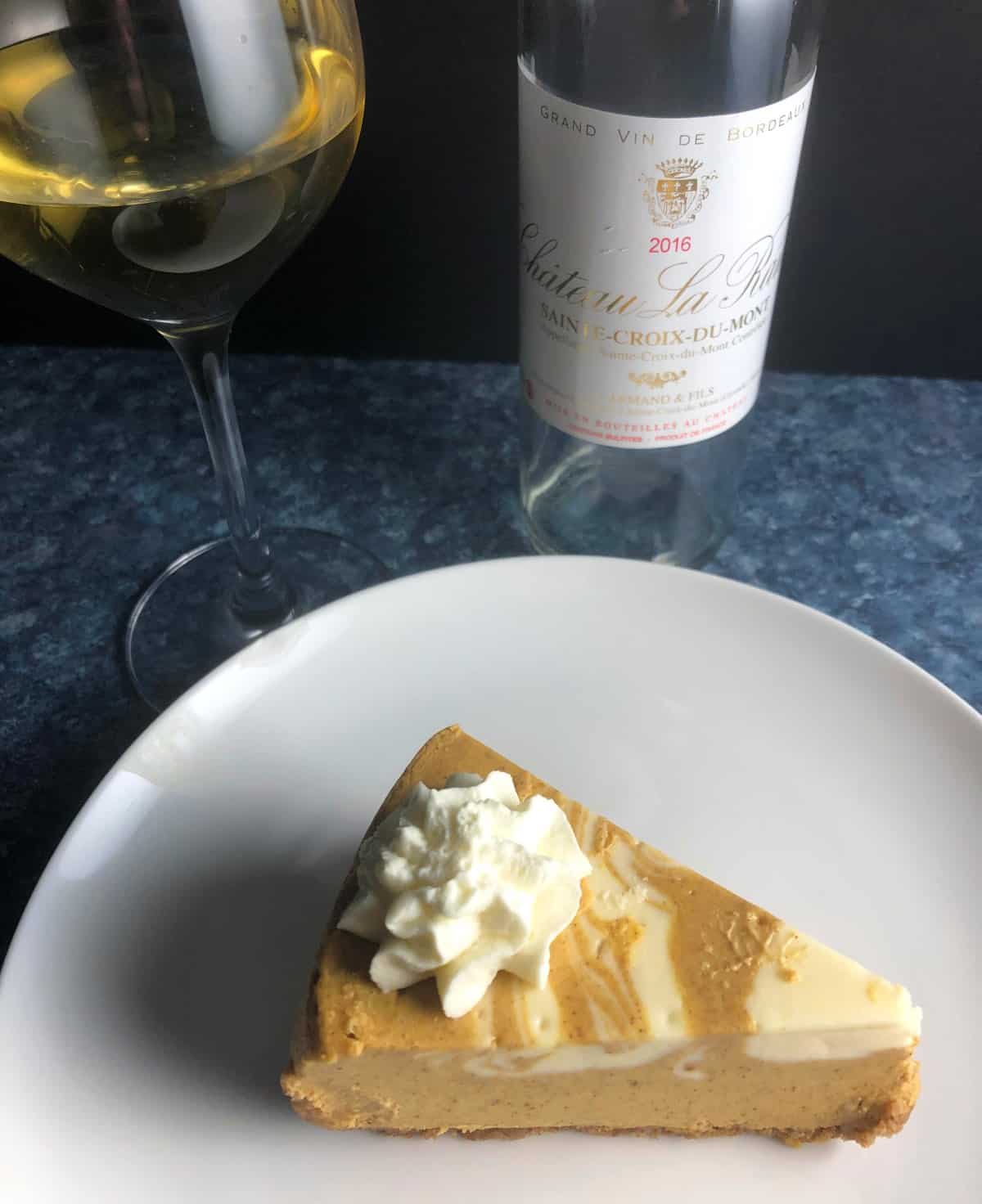 Chateau du Cros Loupiac 2014 – ($30, 13%) I get notes of almond on the nose. Rich layers of flavor — honey and hazelnut. Excellent with chili and Indian food!
Winophiles on Sweet Bordeaux
Take a look below at all the great pairing ideas tried by our group! We love for you to join us in our chat on Saturday Nov. 21 at 11-noon EST. Just look for #Winophiles on Twitter!