This Easy Black Bean Turkey Chili is loaded with lively fresh flavor, and is kid friendly according to our resident expert. I would rate this chili as being medium spiciness, good flavor but won't burn your insides!
After about 15 minutes active cooking, let the chili simmer for 45 minutes more for an easy, healthy meal. We also include an option for making this turkey chili in a slow cooker. Read on for details, or click here to jump down to the recipe. Disclosure: Some of the recommended wine pairings was provided as a courtesy sample.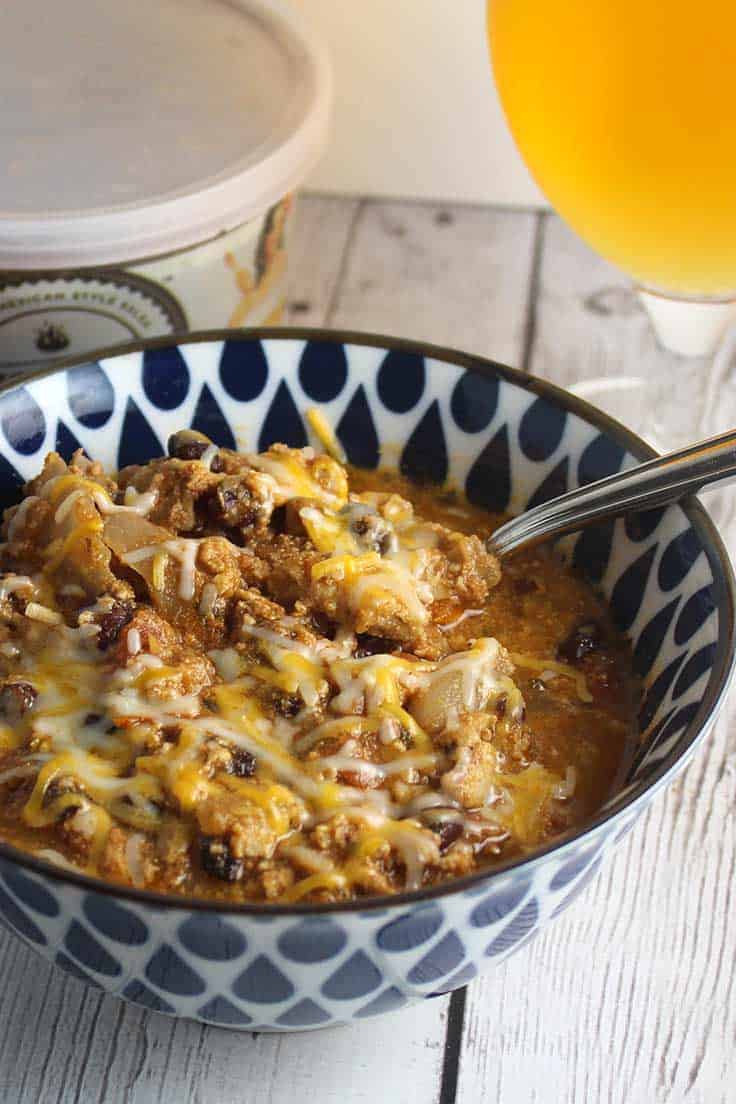 We had a chili breakthrough with this Black Bean Turkey Chili recipe!
Usually our 12 year old just takes his obligatory trying bites of various kinds of chili I've made, then seeks an alternative that he can eat. Somehow my instinct told me he might be ready to dig into some good chili–perhaps it is seeing the way he now puts away a big order of chicken curry at our local Indian restaurant. Though I had a backup option in the fridge, I didn't mention that, and just set out a bowl of the Black Bean Turkey Chili for him, just like Mom & Dad's.
He took a bit, "Mmm, this is pretty good." B really started eating it eagerly when he started dipping some tortilla chips into the chili. "This is really good! You should make this again!"
So don't take it from me, take it from our discerning 12 y.o. food critic! This Easy Black Bean Turkey Chili is a winner!

Salsa for this chili
I originally made this Black Bean Turkey Chili with Nola's Roasted Corn and Black Bean Salsa. I met representatives from the company at an event featuring local food businesses based at the incubator, Commonwealth Kitchen, hosted by Sam Adams Brewery.
Unfortunately, when I started researching why the Nola's salsa was no longer at Whole Foods, I learned that the company is no longer in business. They had a great product, but I guess this serves as a reminder it's not easy to sustain a small business over time.
The salsa is a key ingredient in this chili. I make this fairly often so am testing different brands. I will let you know if I land on one that I really like — if you have a favorite corn and black bean salsa I should try, let me know in the comments.
Or you could try making your own salsa! This Fresh Spicy Bean Salsa recipe for Pip and Ebby looks like a great option!
The Easy Mexican Dip was also originally made with the Nola's salsa. That dip or this chili would make for great eating for that big game today! You know that game I mean, the one I can't mention here because I didn't spend millions to be allowed to do so
Looking for another turkey chili recipe idea? Give our Slow Cooker Turkey Chili with Avocado a try!
Turkey Chili in a Slow Cooker
Although I originally made this recipe on the stove top and give the instructions that way, I also regularly make this recipe in a slow cooker. To do so, brown the onions and the turkey in a skillet. Pour the browned turkey and onions into the slow cooker, then add all of the other ingredients. Cook on low for 7.5 hours and your chili is ready to eat! I make this a lot on weekends when I know we will be at the ballpark for much of the evening when I'd usually be cooking.
Pairings for our chili recipe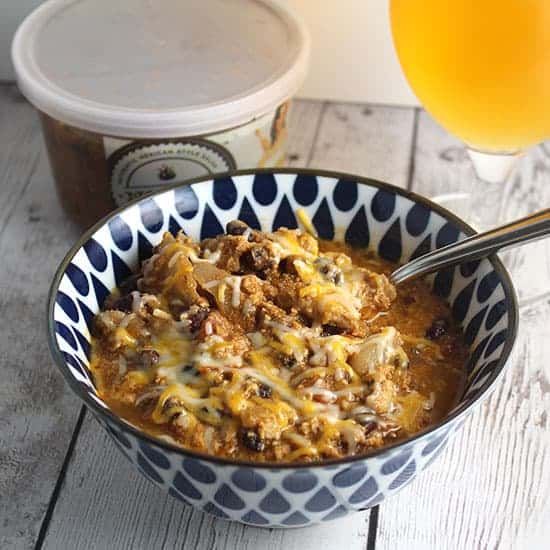 You know we like wine here with most of our recipes, but we originally tested the black bean turkey chili with beer. Seemed like the thing to do for chili and football in mind. An IPA is generally a good option for spicy food, and we went with the Fresh Tracks from Harpoon–another local New England product (guess who I'm rooting for in that game I can't mention!). Fresh Tracks is their spring ale, one seasonal ale I don't mind seeing hit the shelves early! This beer has nice bright hoppy flavor with a touch of citrus, and is refreshing with the chili.
But fear not, wine lovers. We have had a chance to sample the black bean turkey chili with some good wine pairings too!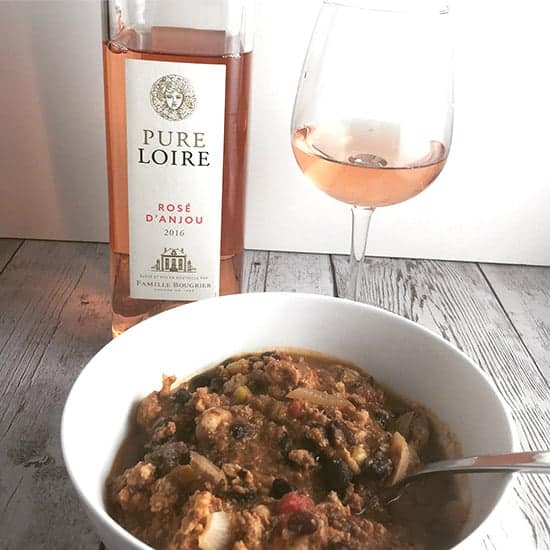 We hit upon a great wine pairing for this black bean turkey chili the other night. I've tended to go with red wine with chili, but wanted to get some ideas about what to serve with this. Martin's ENOYFYLZ article on wine pairings for chili mentions a number of red and white wines to try with chili. I took note of his suggestion "don't forget about rosé."
Martin's comment reminded me that the bottle of 2016 Pure Loire Rosé D'Anjou (12% ABV) that I had on hand mentions that it is good with spicy food. I don't naturally think of rosé for spicy food, but decided to give it a try! This wine was provided as a free sample for the French Winophiles February event.
The Pure Loire Rosé turned out to be an excellent pairing for the black bean turkey chili! Salmon hue in the glass, I get melon on the nose. Taste of strawberry fruit, bit of kiwi, with moderate acidity. Refreshing along with the chili! Medium body with nice mouthfeel. I will definitely be getting more of this rosé to try with other spicy foods. It is only available at Total Wine in the US.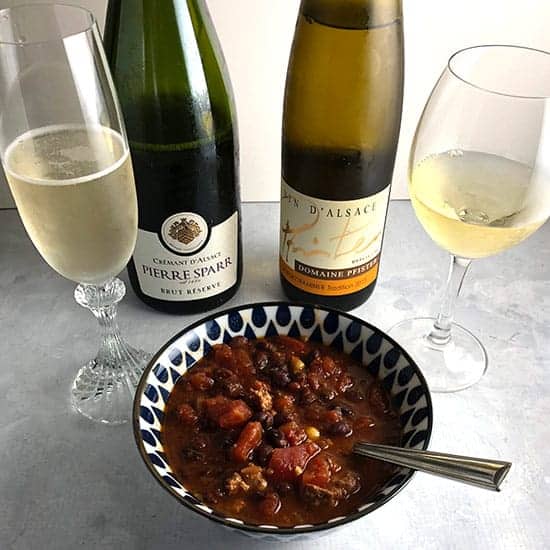 This Easy Black Bean Turkey Chili is a go-to recipe in our house, so I recently had the chance to try it with another wine pairing. In fact, we had two bottles of Alsace wine as part of the #AlsaceRocks event with the French Winophiles group.
The Domaine Pfister Gewurztraminer ($30, 13.5% ABV) might have been the winner with a spicier chili. But for the moderate spice levels in this recipe, the Pierre Sparr Crémant d'Alsace ($20, 12.5% ABV) was my preferred pairing. I got apple blossoms on nose, light mouthfeel, gentle bubbles. Apple fruit with hazelnut notes. The bubbles and clean fruit cleansed the palate, getting us ready for our next bite of chili. Give it a try next time you make this Easy Black Bean Turkey Chili and let us know how you like it!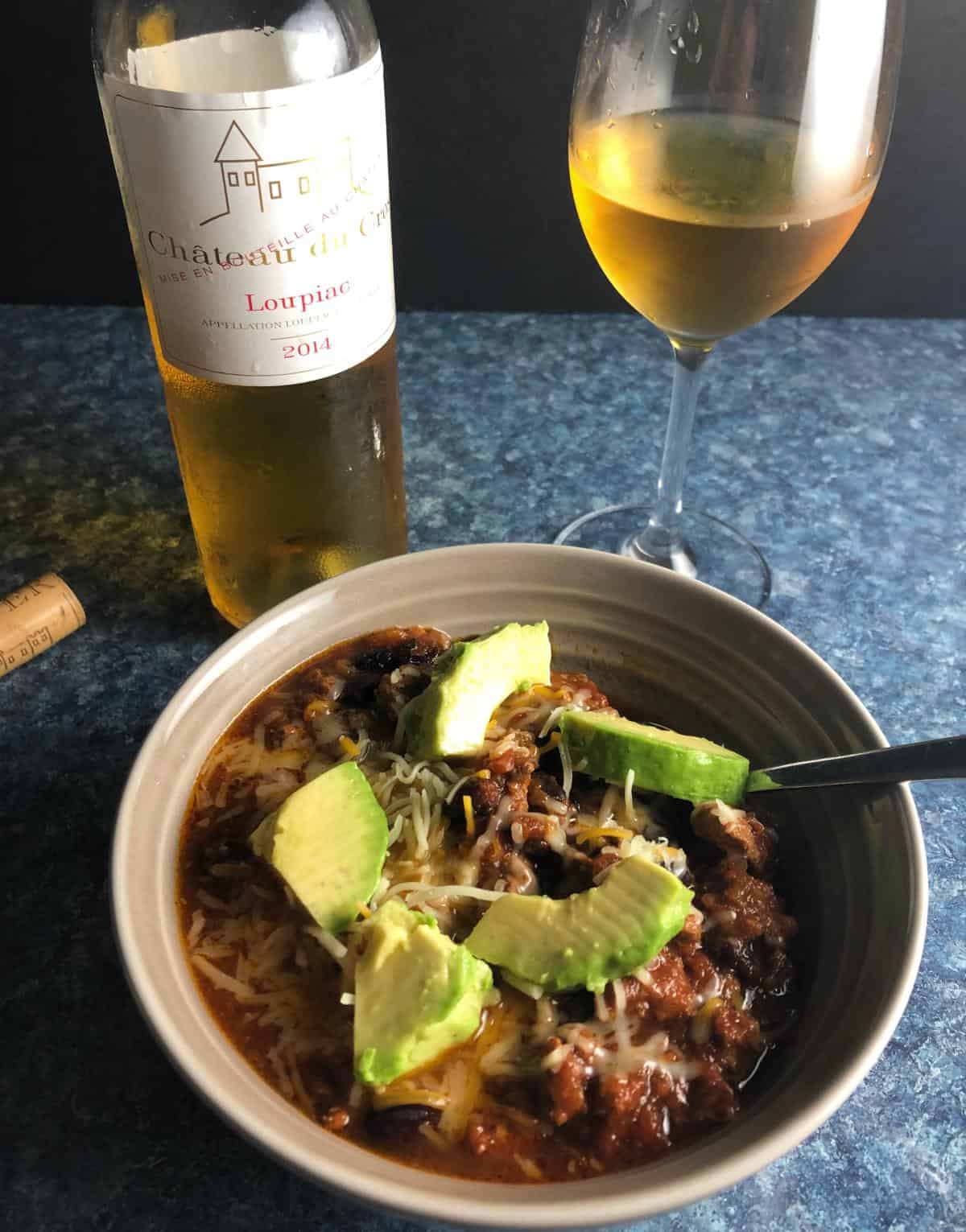 Another recent pairing we really enjoyed with this chili is the 2014 Chateau du Cros Loupiac ($30, 13% ABV). We tasted this as part of of a Sweet Bordeaux Wine event, and found the spicy / sweet thing really made this pairing work nicely.
Red wine with turkey chili
For awhile, I didn't have much luck with red wine pairings for this recipe– I tried a Grenache from Paso Robles that didn't quite mesh. A Cab Franc from the Finger Lakes was just a bit better. That left me sticking with my rosé or Cremant suggestions.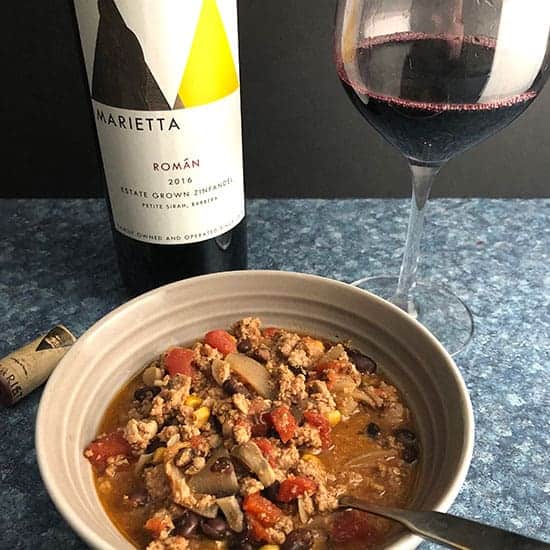 But more recently I've had some Zinfandel work well with this turkey chili. For instance, the 2016 Marietta Román Estate Grown Zinfandel ($25, 14.9%) from Sonoma County paired nicely — the wine is rich and lush, with good structure.
More about wine with chili
I've recently done some more writing about wine with chili and also did a YouTube video about pairing wine with chili. Over there I do mention two red wines that did work with this chili recipe — a Zinfandel and a lower alcohol Syrah both worked well recently.
Print
Recipe card
Easy Black Bean Turkey Chili
Turkey and black beans simmer with fresh salsa and spices for an quick, tasty and healthy meal.
Author: Cooking Chat
Prep Time:

10 mins

Cook Time:

55 mins

Total Time:

1 hour 5 mins

Yield:

6

servings

1

x
Category:

Main

Cuisine:

Tex Mex
1 tbsp

extra virgin olive oil

1

onion

5

crimini mushrooms, chopped

3

cloves garlic, minced (or

1 ½ tsp

garlic powder)

1

jalapeño pepper (optional), seeded and flesh chopped

2

lbs ground turkey

14 ½

ozs diced tomatoes

1.5

to

2

teaspoon chili powder
salt and pepper to taste

2 tsp

soy sauce

14 ½ oz

can black beans, drained and rinsed

16

ozs Roasted Corn and Black Bean Salsa

⅓ cup

ketchup

8

ozs low sodium chicken broth
optional toppings: shredded cheese and/or sour cream
Instructions
Heat the olive oil in a large pot on medium heat. Add the onion, sauté for a few minutes until it begins to soften. Stir in the mushrooms, followed by the garlic and jalapeño pepper, if using.
Gradually add the ground turkey to the pot, breaking it up with a heavy spoon as you go. Add salt and pepper to taste. Cook for about 5 minutes, stirring occasionally, until the turkey begins turning white.
Stir in the tomatoes, chili powder and soy sauce. Simmer for 10 minutes.
Add the black beans, salsa, ketchup and chicken broth to the pot. Stir to combine. Simmer uncovered for 45 minutes, stirring occasionally.
Serve the chili in bowls with optional toppings, if desired, and enjoy!
Notes
Look for other high quality salsa with roasted corn and black beans.
The ketchup and soy sauce add some good flavor but you can reduce the amount if you want to lower the sodium content.
You can also make this recipe in a slow cooker. To do so, brown the onions and the turkey in a skillet, then pour that into the slow cooker, along with all the other ingredients. Cook on low for 7.5 hours.
Keywords: turkey chili, black beans, healthy recipes
Recipe Card powered by
Have you tried this Easy Black Bean Turkey Chili recipe? Leave a comment and rate this recipe!