Hi there! You may have found this article looking for a good wine pairing for carrot ginger soup. I wrote this post a few years ago looking for wine pairings suggestions for the soup I was making. More recently I picked up on the suggestion that this might be good with a Gewurztraminer. To see how that turned out, and get my recipe for carrot ginger soup, visit this updated Wine Pairing for Carrot Ginger Soup.
I find soups to be generally challenging for wine pairings, how about you? Not sure why, maybe it's the liquid to liquid aspect of it. I have landed on a few good ones. My favorite would be the Golden Winter Soup and Pinot Noir combination 
The other night I was making Carrot Soup with Orange and Ginger from the Williams-Sonoma Soup  cookbook; if you don't have that book, here's a version from Food Network that is similar (though I didn't have the cilantro in version I used). The citrusy element and ginger had me a bit uncertain about what to try. So I used Twitter to crowd source some suggestions. @pnrieslingfan suggested a dry Gewurztraminer or perhaps a Riesling. @rbcellars tweeted "Thinking Sauvignon Blanc or maybe even sparkling".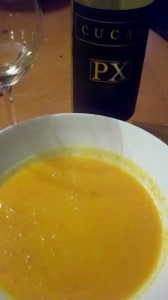 I didn't have Riesling or Gewurztraminer on hand, but did have the less common Pedro Ximenez, a Chilean bottle from Cucao Winery in the Elqui Valley. This grape is more often used making sherry. In this version, the taste did have a crisp citrusy element that picked up the orange juice in the soup. There was also a hint of sweetness in the soup dish, from the carrots I suppose. That didn't exactly mesh with the wine. Overall, I'd give the pairing a "B". Of the various suggestions, I'm especially interested in trying the Gewurztraminer with this next time, and the sparkling idea is interesting. What would you try?