Here's a delicious top round roast beef recipe! This is an easy, affordable to make for your family, as top round is a relatively inexpensive cut of beef. We made this with a two pound roast from Walden Local Meat. The small roast is perfect size for a family dinner, or scale it up for a larger holiday crowd.
Roast beef is a classic family meal. I associate it with Sunday's at my Nana's house where there was always a big roast, enough to feed any extended family that showe dup that day.
But a smaller roast can be a perfect meal for dinner when you just have a few people to feed. So today we are sharing our recipe for a 2 lb. top round roast beef. We get this size roast regularly from our Walden Local Meat share; as we are able to customize the portions for our family of three.
We've done some testing to share our cooking times and methods for the small roast, but you can easily scale things up for a larger top round roast.
Jump to:
What is a top round roast?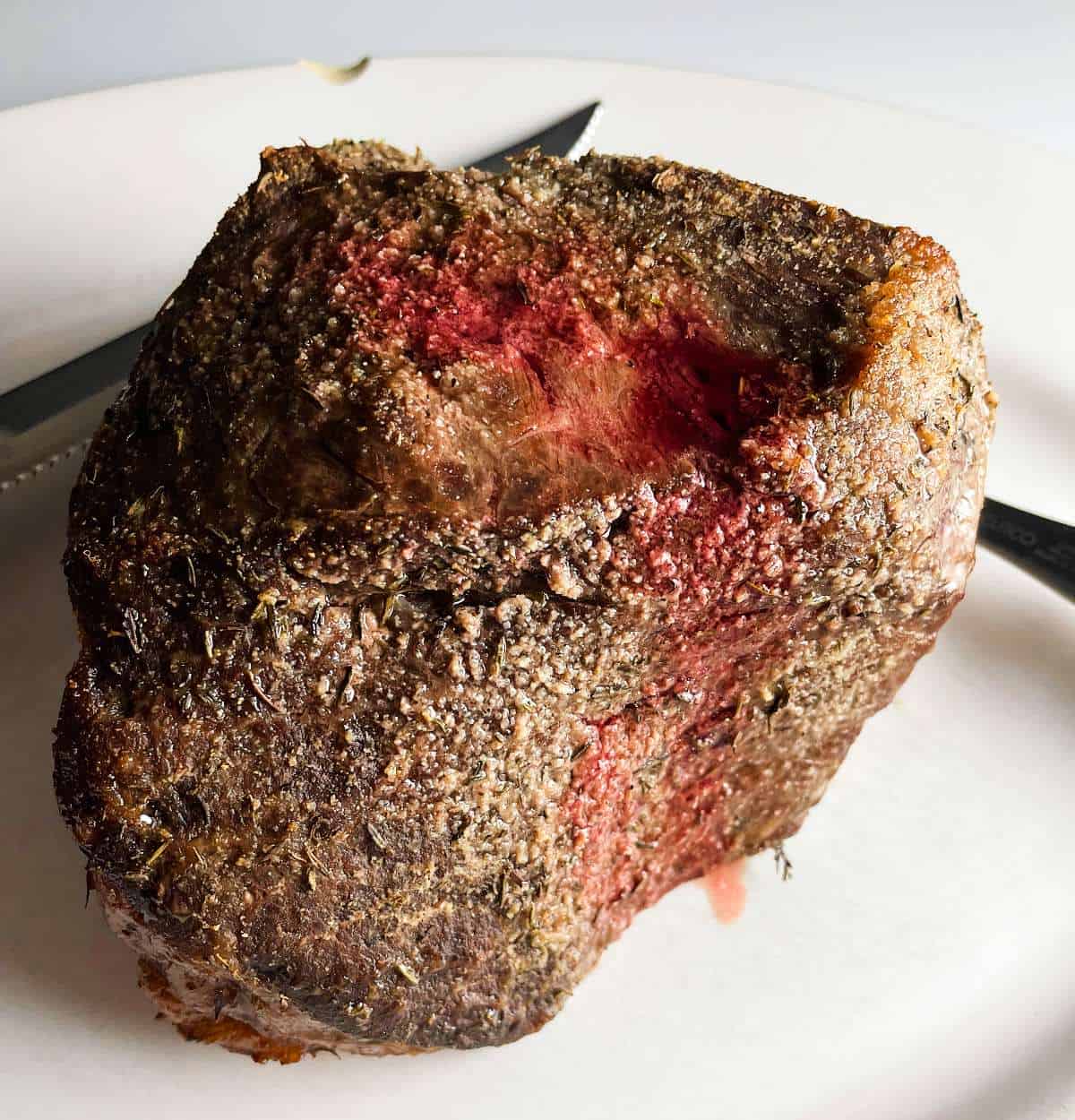 The top round roast is cut from the upper thigh in the rear of a beef cow. It is a lean cut that benefits from the slow cooking method we share in this recipe.
Top round is a classic choice for making roast beef. In fact, it is often what is used for sliced roast beef from a deli.
Grass-fed ground beef from Walden
We've been a member of Walden Local Meat for several years now, which provides us home delivery of local meat, including grass-fed beef. You can pick different share sizes based on your needs. As a family of three, we wind up getting small, 2 lb. roasts fairly often, so we have had an opportunity to experiment with today's recipe.
On a recent Cook Local podcast interview, I had a chance to chat with two Walden team members about cooking local turkey and other aspects of the business. Check out that episode to learn more about Walden.
We enjoy supporting local farms through our Walden membership, and also like the way it contributes to sustainability by cutting down on food miles.
In addition, I have seen evidence that grass-fed beef has some health benefits (see for instance this Mayo Clinic article). Compared to grain-fed beef, pound-per-pound grass-fed beef is much better as it is lower in fat and calories. It also contains 5x more omega-3 fatty acids and higher amounts of omega-6 fatty acids. These good-for-you fatty acids help reduce the risk of heart disease and auto-immune conditions. Grass-fed beef also contains a higher amount of antioxidants that help to fight cell damage.
This top round roast beef recipe is a great way to cook a small roast of grass-fed beef from Walden or a similar farm in your area. That said, you can definitely use this recipe for whatever top round beef you have available. Note that grass-fed beef tends to cook a bit faster, so keep that in mind when planning your cooking times.
Recipe tips and overview
Here's an overview of our easy top round roast recipe; head on down to the recipe card for more details.
Take the beef out of the refrigerator about 30 minutes prior to cooking, to bring closer to room temperature. Of course, if you are starting with a frozen roast, you need to plan to thaw the beef first.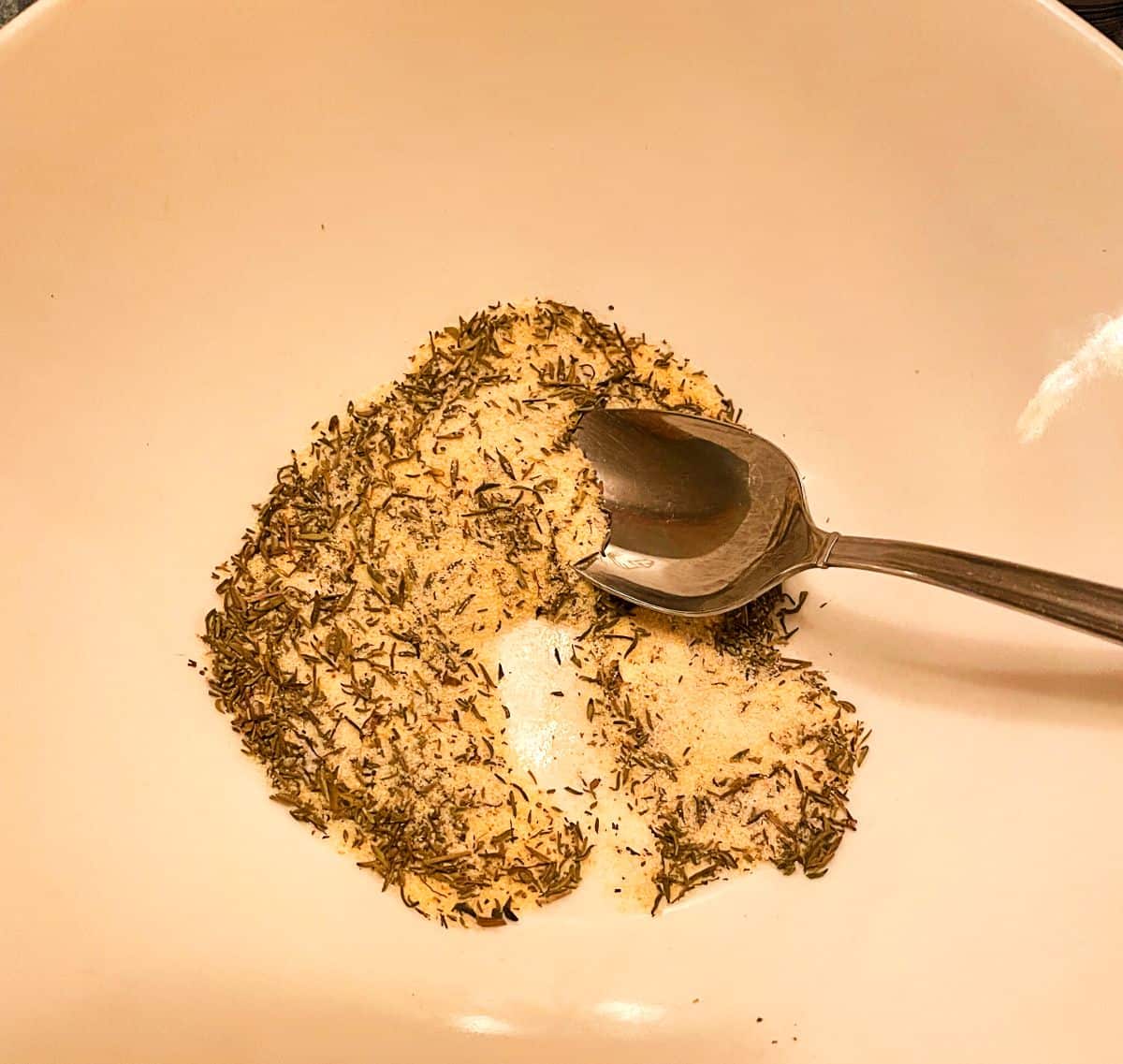 Make the spice rub by combining 1 tablespoon garlic, 1 tablespoon salt and 1 tablespoon dried thyme in a bowl.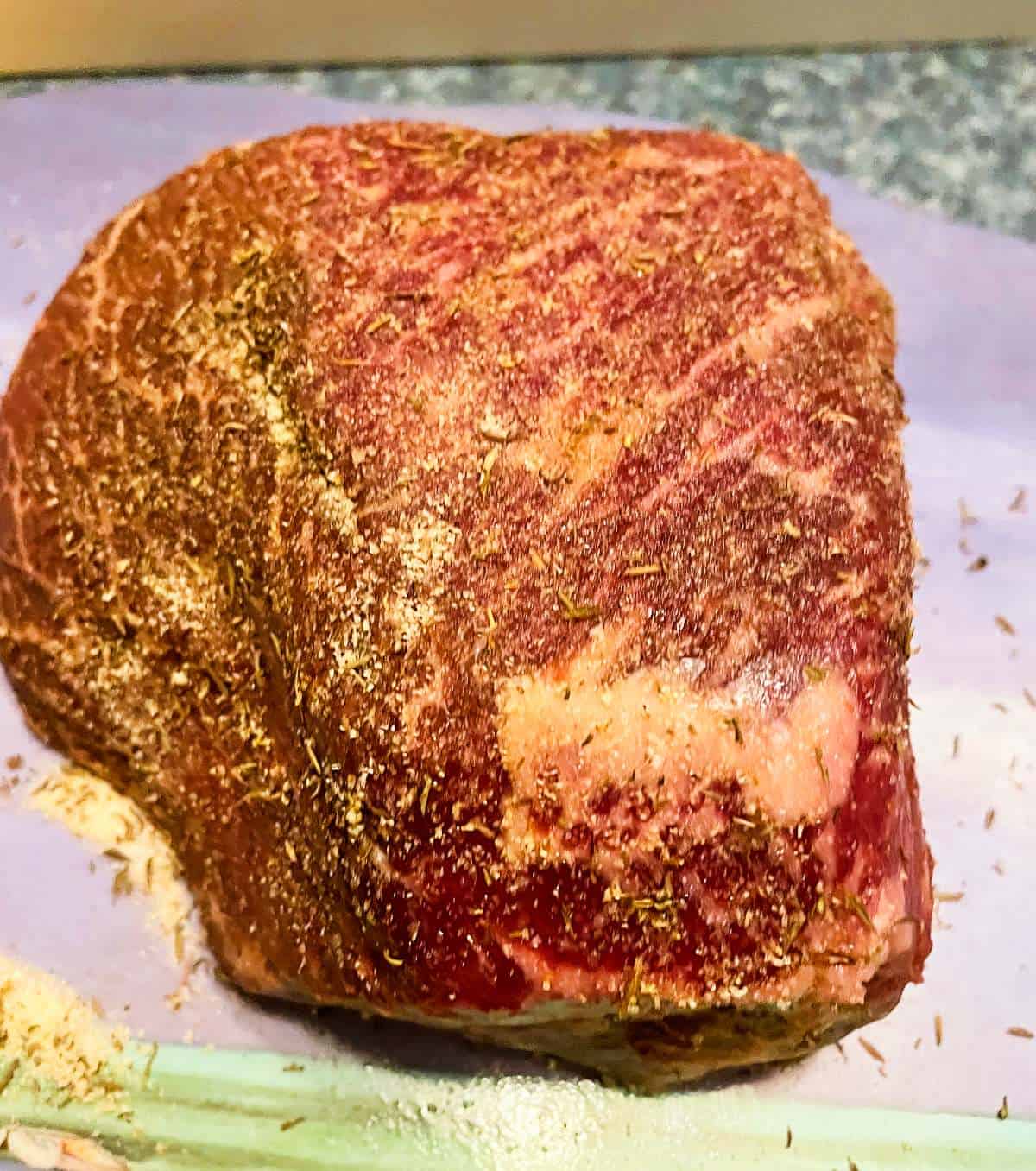 Place the beef on a work surface, and sprinkle the spice blend evenly over the beef. Rub it into the meat, and let it sit with the rub for about 15 minutes.
Preheat the oven to 450 degrees.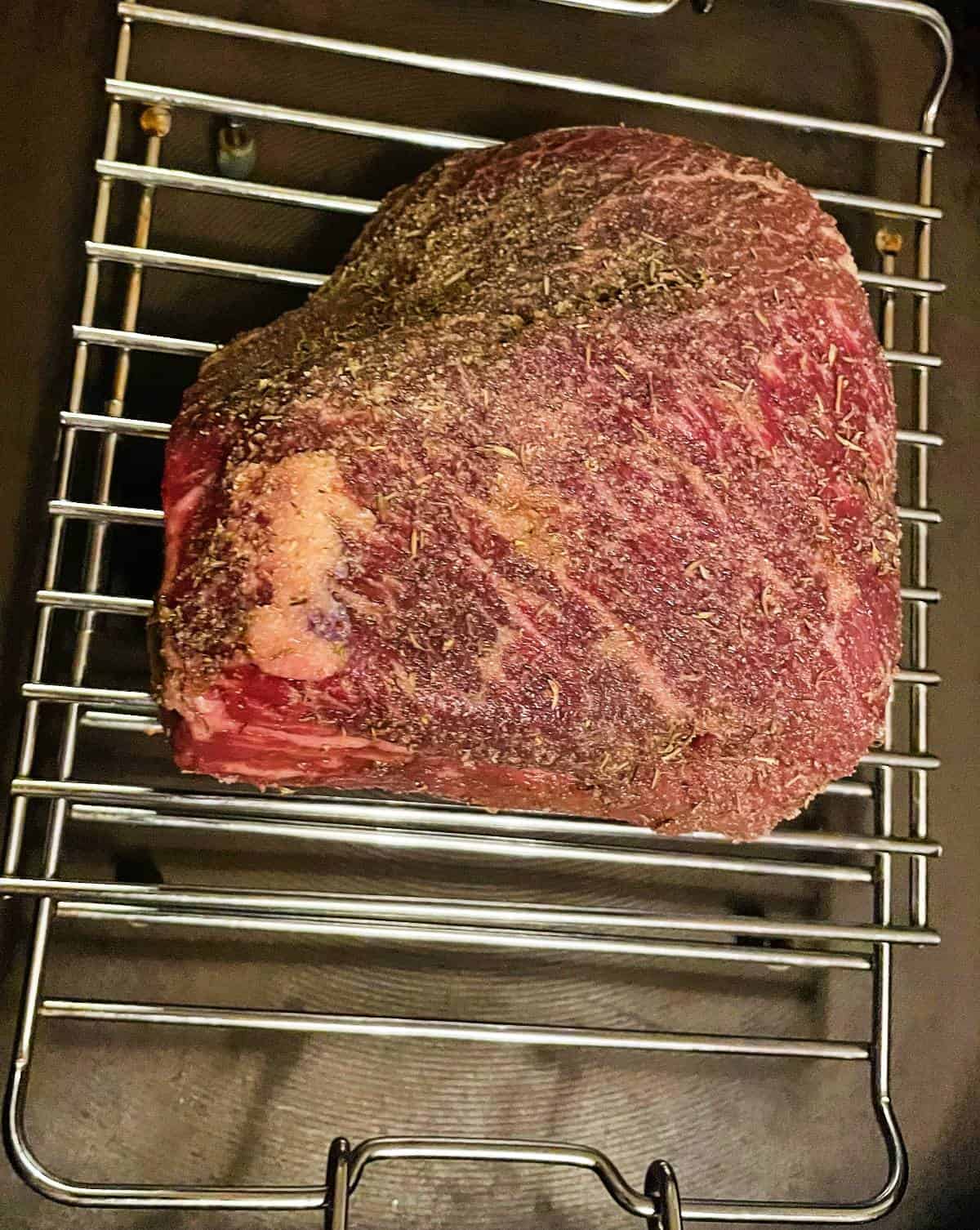 Put the beef onto a roasting rack, in a roasting pan. Put the beef into the 450 degree oven.
Roast the meat at 450 degrees for 15 minutes. Then drop the temperature to 325 degrees. Check a two pound roast at about 35 minutes at the lower temperature (50 minutes total time).
Let the meat rest for ten minutes after it is within your target temperature range. Slice thinly to serve.
How to serve this roast beef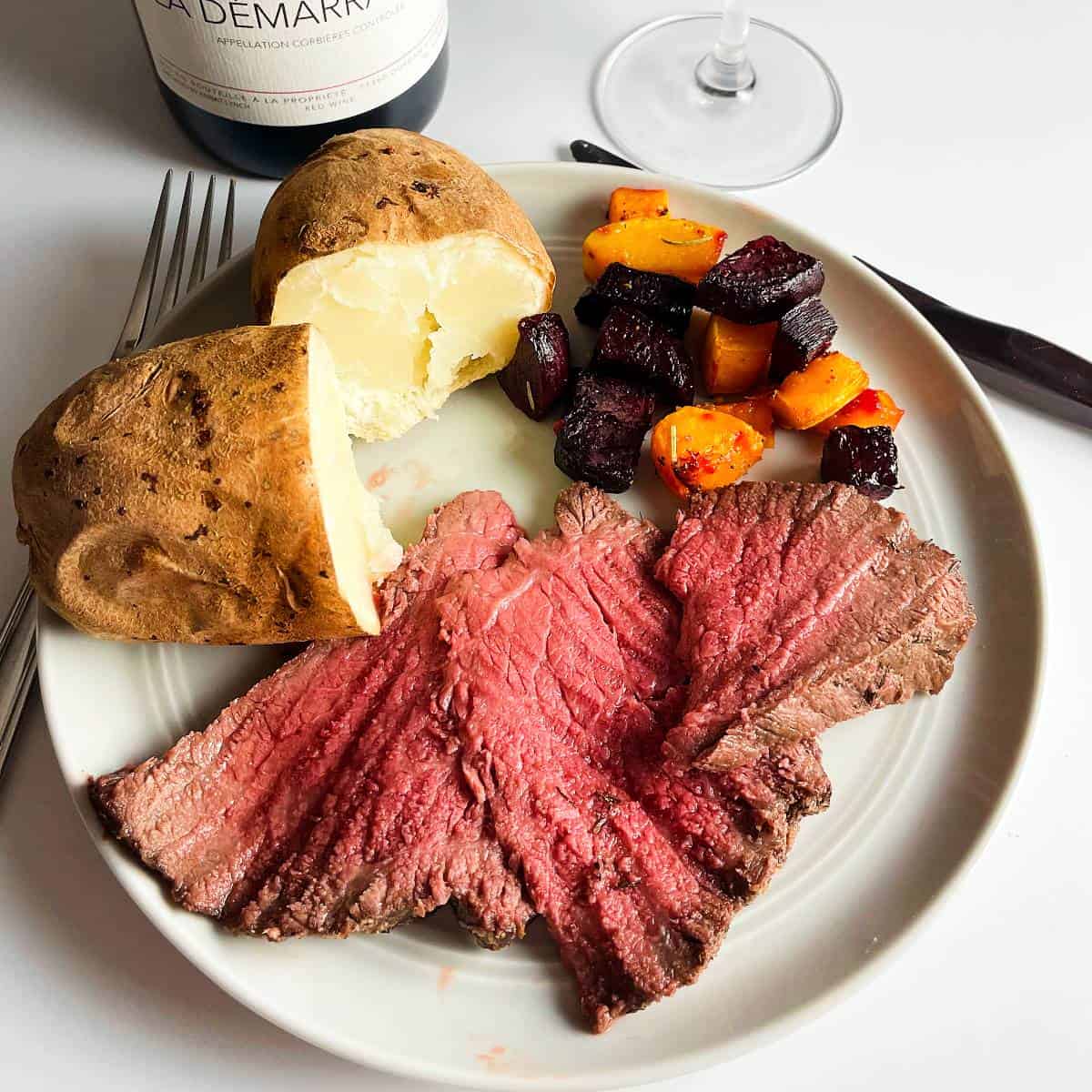 Cooked to a nice medium rare, this top round roast beef is quite flavorful served with just a bit of the accumulated juices on the platter and/or the roast pan. We cover a few more serving options below.
Roast beef with simple pan sauce
We will sometimes serve roast beef with a simple pan sauce. If you want to try this, near the end of the roasting time, simply met a little butter and sauté a shallot or small onion in a small sauce pan. When the roast is done, pour the juice from the pan into the sauce pan, along with a quarter cup or so of red wine. Bring to a simmer, add another tablespoon of butter, and reduce the sauce while the meat rests. Pour the sauce into a bowl and pass at the table.
Serving with horseradish cream
Our super popular spoon roast recipe gets served with a simple horseradish cream. Basically, you whip together 1 cup heavy cream, 2 tablespoons horseradish and ½ teaspoon mustard to make that no cook sauce. Check out the spoon roast recipe for more details.
Roast beef with gravy
Of course, gravy is a popular option for serving with roast beef. I'm not a big gravy maker, I tend to go more for the pan sauces I mentioned above. Here are a couple of gravy recipe ideas if that's what you'd like for your top round roast:
Sides for top round roast
Most recently, we enjoyed our easy top round roast recipe with some simple sides — baked potatoes and roasted beets & butternut squash recipe.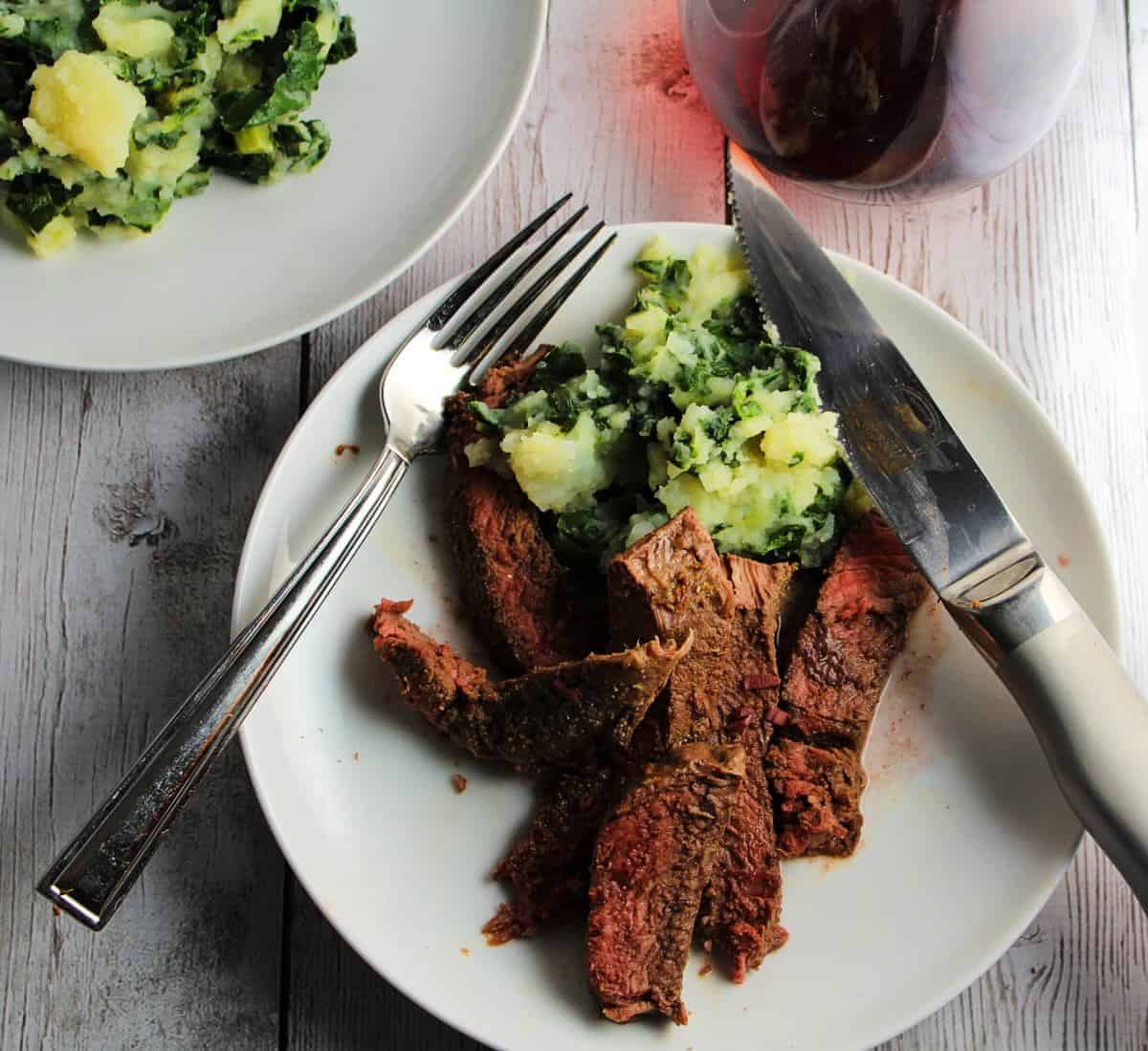 A couple of other great sides for this roast beef include:
For more ideas, check out our What to Serve with Roast Beef collection of over 40 recipes!
Wine pairing
We wrote recently about Cabernet Sauvignon wine pairing tips recently. Sure, a good Cabernet could certainly work with this roast beef recipe, but we went in a different direction.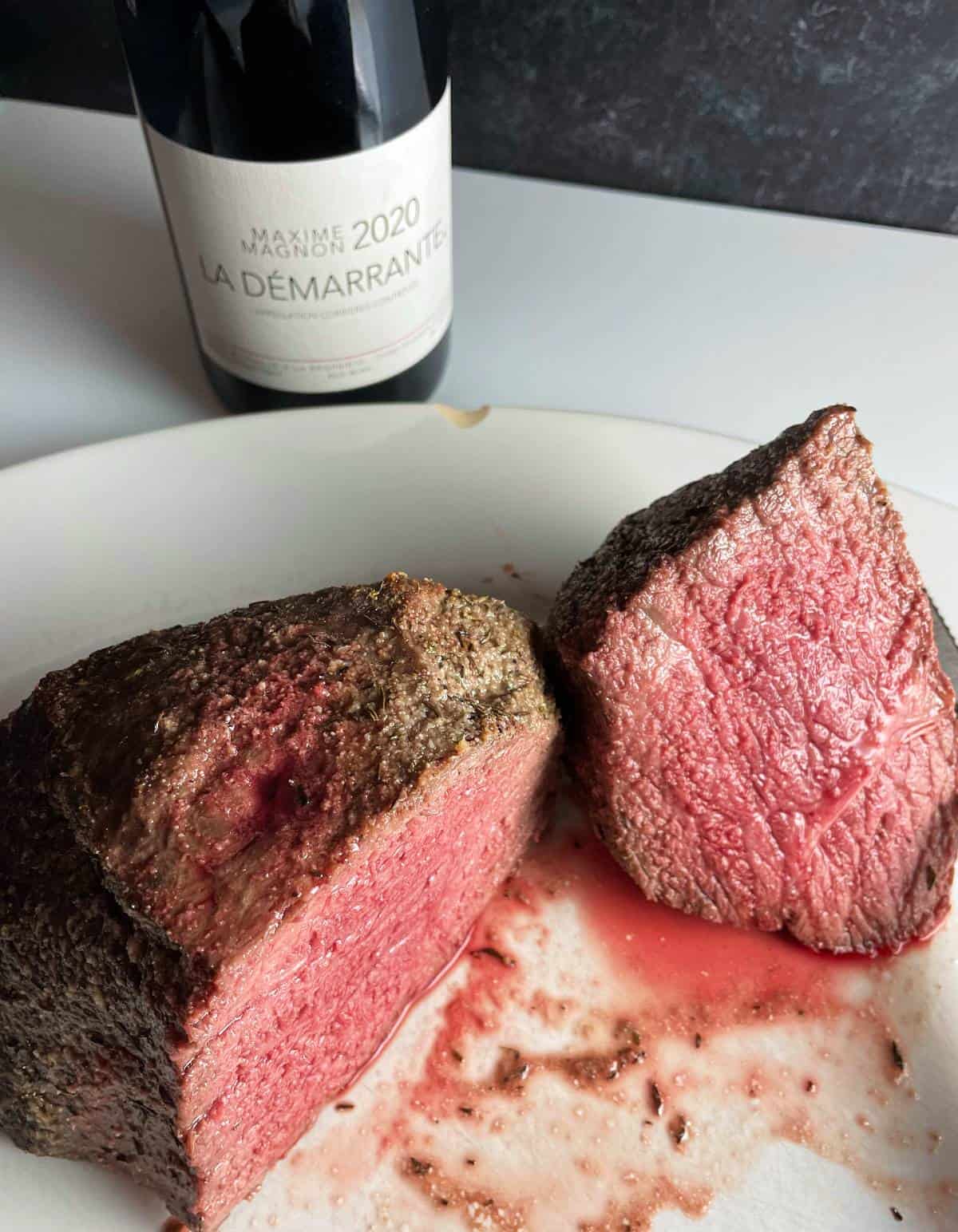 Our featured wine pairing for the Top Round Roast Beef recipe is the 2020 Maxime Magnon La Démarrante ($32), a Carignan based red blend that also has Syrah and Grenache. The wine is from the Corbières AOC in the Languedoc region. This wine was provided as complimentary sample as part of a Languedoc webinar we joined this fall.
Like all Maxime Magnon wines, La Démarrante is made with organic grapes from old vines growing in steep vineyards. The wine has a dense nose, with classic garrigue notes, conjuring up a sense of walking through brush and brambles. On the palate, black cherry fruit, tar and currant. This is a rich, flavorful wine.
I definitely give this Maxime Magnon La Démarrante a thumbs up for pairing with the top round roast. I could also seeing this wine being a great partner for our Chanterelle Mushroom Beef Stew.
Print
Recipe card
Top Round Roast Beef Recipe
An easy recipe for top round roast, with a simple rub to enhance the natural flavors of the roast beef. We used a small, two pound roast, but you can increase the cooking time as needed for a larger roast.
Author: Cooking Chat
Prep Time:

5 mins

Cook Time:

1 hour

Total Time:

1 hr 5 mins

Yield:

6

servings

1

x
Category:

main

Method:

roasting

Cuisine:

American
1 tablespoon

garlic powder

1 tablespoon

salt

1 tablespoon

dried thyme

2

lbs top round roast beef
Instructions
Preheat oven to 450 degrees and take the top round roast out of the refrigerator if you haven't already, so it begins to come closer to room temperature.
Make the rub: combine the garlic powder, thyme and salt in a small bowl. Place the beef on a work surface. Sprinkle the rub over the meat, and use your hands to spread it evenly over the meat and rub it in. Set the meat aside for about 15 minutes to let the rub absorb into the beef.
Roast on high: put the roast beef on a roasting rack, placed in a roasting pan. Put the beef in the oven and roast at 450 degrees for 15 minutes.
Finish roasting on lower heat: After roasting for 15 minutes, reduce the oven temperature to 325 degrees. Check a two pound roast 35 minutes after lowering the heat (50 minutes total roasting time). For medium rare, you want to be taking the beef out of the oven at around 135 degrees, as the temperature will rise while resting. Roasting time will vary based on heat of your oven and size of your roast. Our small roast came to medium rare after 42 minutes at the lower temp (57 minutes total roasting).
Let the meat rest: Let your top round roast rest on a platter for at least 10 minutes before slicing and serving. This is a good time to make a quick sauce or gravy, if desired.
Serve: After the meat has rested, thinly slice the roast beef. Plate a couple of slices per person. You can serve with a bit of the juice that has accumulated on the platter if you like. Or, serve with a gravy or horseradish cream.
Notes
Adjusting cooking times: This recipe uses a small, two pound top round roast. Adjust cooking times based on the size of the roast. Cooking the roast for 15 minutes per pound, after dropping the oven temperature to 325, is a good rule of thumb for a medium rare roast. i.e. a 4 lb roast would be 60 minutes at the low temp, 75 minutes total cooking time. Check the internal temperature a bit sooner than that if you like the meat more on the rare side and/or your oven tends to run hot.
Similar recipes: We also have a recipe for top round roast beef  if that is the cut that you have. The method is very similar to this one!
Keywords: easy top round roast, top round roast recipe, cooking a small 2 lb roast, beef top round roast, roast beef grass fed
Recipe Card powered by