Today we talk about Cabernet Sauvignon Wine Pairing, including some recent highlights we've enjoyed along with some past favorites. This is part of the December Wine Pairing Weekend on the theme "Merlot vs. Cabernet Sauvignon Faceoff". Disclosure: Some of the wines discussed in this article were provided to me as a complimentary sample.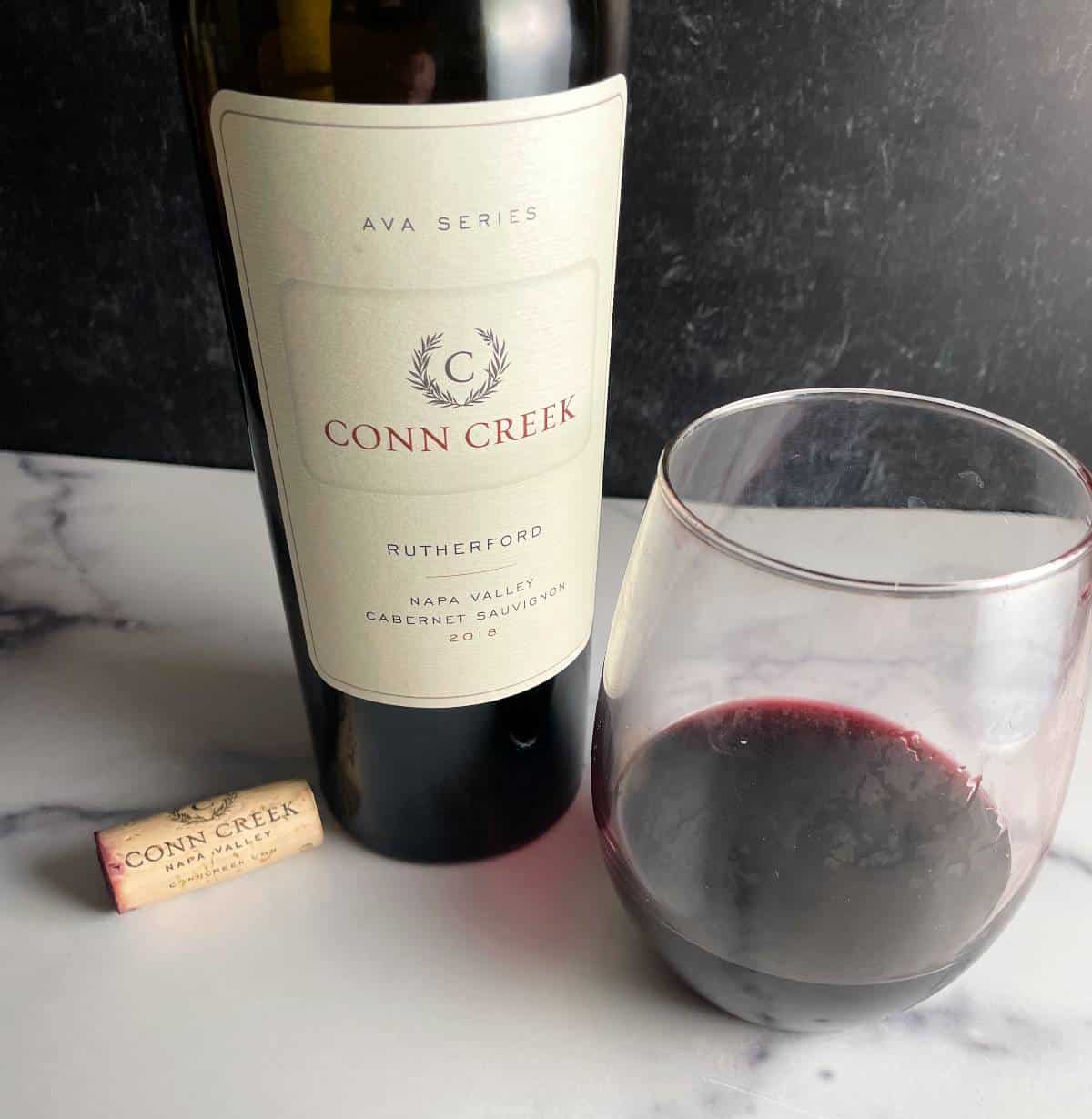 Today the Wine Pairing Weekend crew is doing a Merlot vs. Cabernet Sauvignon Faceoff. Thanks to Linda from My Full Wine Glass for hosting this topic.
Now, if you peruse Cooking Chat and see how many Merlot pairing articles I have here, you would think that I would be going all Team Merlot here today. Yes, Merlot is a great, food-friendly wine that is often under appreciated. But I've already covered the topic pretty thoroughly — check out our Merlot Food Pairing article, which as has over 25 of our favorite pairings.
But Cabernet Sauvignon is clearly one of the most popular red wines in the US, and according to Wine Folly, it is the most planted grape in the world.
Just last night, I was at a potluck dinner party where guessed were invited to bring a bottle of wine. It's getting chilly here, so it was almost all red wine lined up on the table. And yes, almost all Cabernet Sauvignon. Just a Syrah I brought and a Malbec favored by another guest, amidst a forest of Cab bottles.
A reminder to me that it's time I give Cabernet Sauvignon some attention here!
I've had a couple of experiences this fall that have given me a good reminder of the pleasures of drinking a good Cabernet Sauvignon. We'll lead off with some wines I tasted with Cuvée Collective. Stay tuned for details of a delicious Bordeaux dinner I attended recently.
After these recent highlights, we'll cover some of our favorite Cab pairings over the years.
Jump to:
Napa Cabs with Cuvée Collective
This fall, I've had a chance to sample some great wines via Cuvée Collective, a wine NFT program that provides access to exclusive benefits in the wine world, currently focused on Napa and Sonoma.
The Cuvée Collective wine NFTs offer some great in-person tasting opportunities and other experiences. For now, I've been enjoying the wine samples and the opportunity to taste them virtually along with the Cuvée Collective community and winery team members.
We've had a chance to try a couple of Napa Cabs with Cuvée Collective. Dislosure: the two wines described below were provided as complimentary samples.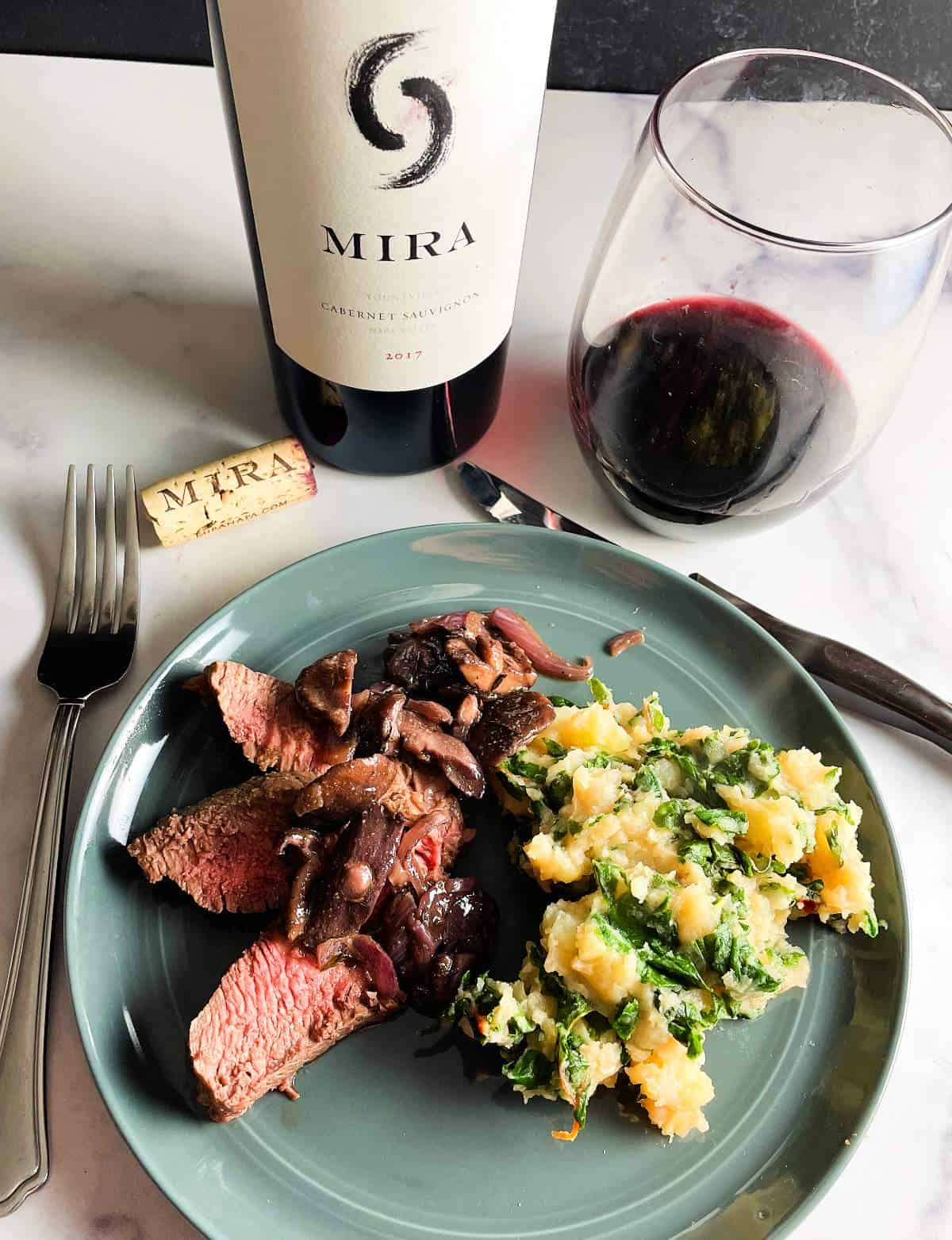 2017 Mira Cabernet Sauvignon with steak: We paired with this Napa Cab from the Yountville AVA with roasted sirloin topped with shiitakes mushrooms. Inky dark purple in the glass. On the nose, pine forest and dark red fruit. Black cherry fruit, velvety mouthfeel. Some cocoa and menthol notes. This 2017 is drinking very well right now!
As you might imagine, this Cabernet Sauvignon went very well with the steak. Mushrooms definitely further enhance a pairing with Cab and other big red wines. Speaking of the mushrooms, we regularly get local shiitakes from Fat Moon Farm as part of our Family Dinner local food delivery. Learn more about that in this podcast episode.
Here's our go to recipe for roasted sirloin. Also on the plate with that meal, we had some Swiss Chard Potatoes. This is an Italian mashed potatoes recipe that uses olive oil instead of butter. A tasty change of pace!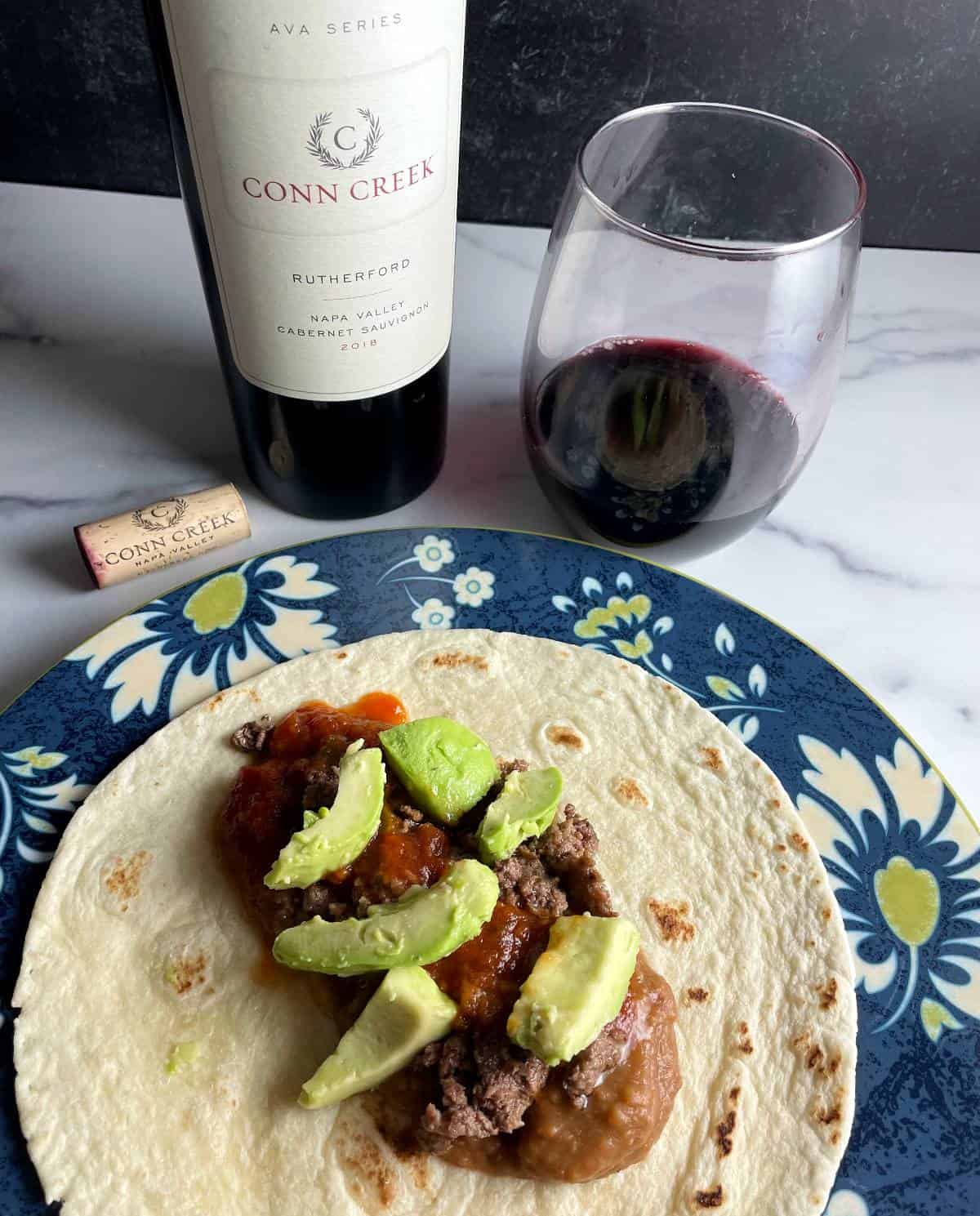 2018 Conn Creek Cab for taco night: OK, there was still beef involved, but opening the Conn Creek Rutherford Cabernet Sauvignon ($120, 14.8%) for taco night was not a typical move! But we wanted to taste it with the Cuvée Collective crew for the Wine Wednesday live event with the winery. And tacos were what we had on the menu for the midweek meal!
I get violet and oak on the nose of this Napa Cab. On the palate, cherry, vanilla and a touch of spice. That spice element probably helped bridge to the tacos. I'm thinking the avocado, with it's fat content, also help make the taco / Cab pairing work. I wouldn't call this a classic wine pairing, but it definitely worked!
This 2018 Conn Creek Cab is already showing well-integrated tannins. My final tasting note was very technical – "Yummers!".
Cabernet Pairings with Beef
One reason I don't have an extensive array of Cabernet pairings here on Cooking Chat is that when I cook up a simple steak dinner, it's often a Cabernet Sauvignon based wine that we will enjoy with it.
Those easy steak meals from the grill or oven don't necessarily involve recipes. But here are a few favorite Cabernet Sauvignon and beef pairings we've enjoyed:
Oven Roasted Sirloin Steak with Onion Sauce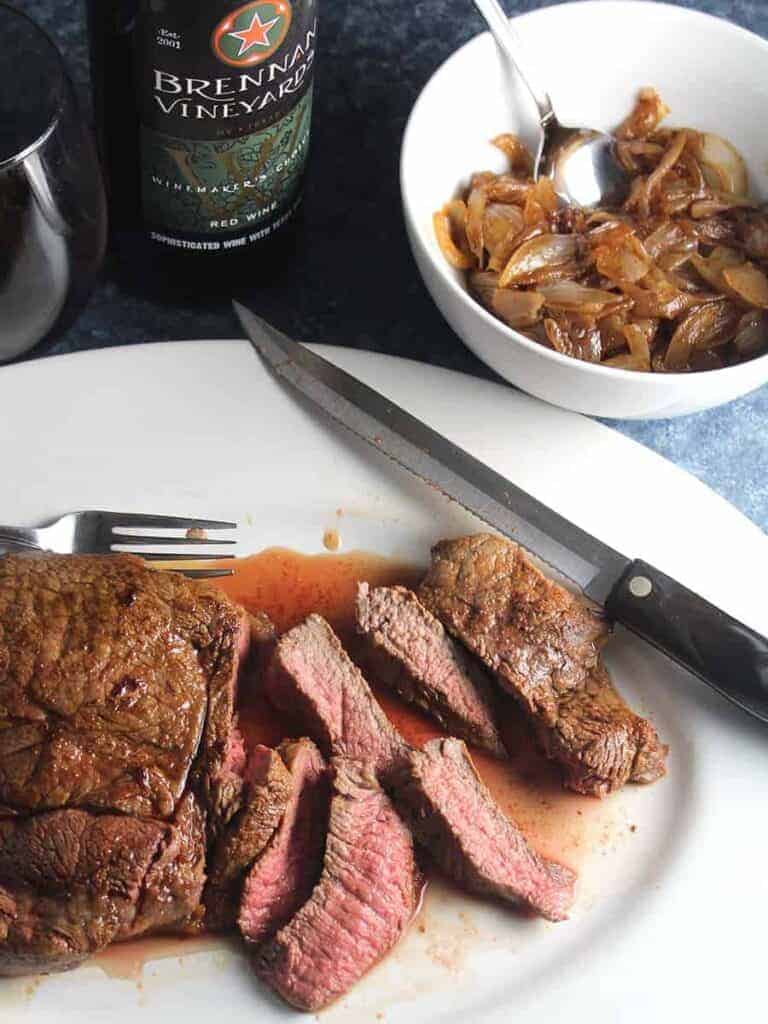 OK, the wine here is just 58% Cabernet Sauvignon, but this Oven Roasted Sirloin Steak recipe is very popular and Cab friendly! Deserves a feature here.
There are a few interesting notes about the wine we served with the sirloin. First the Brennan Vineyards Wine Makers Choice is from Texas! We don't have Texas wines very often. Also of note, this is a nonvintage wine, something you don't expect from a wine going for north of $40. But in this case, the winemaker blends premium barrel reserves from across multiple vintages to make the wine. It definitely works, a delicious wine.
In addition to the Cabernet Sauvignon, the Wine Makers Choice also has Cabernet Franc (25%) and Carmenere (17%).
Bordeaux Braised Beef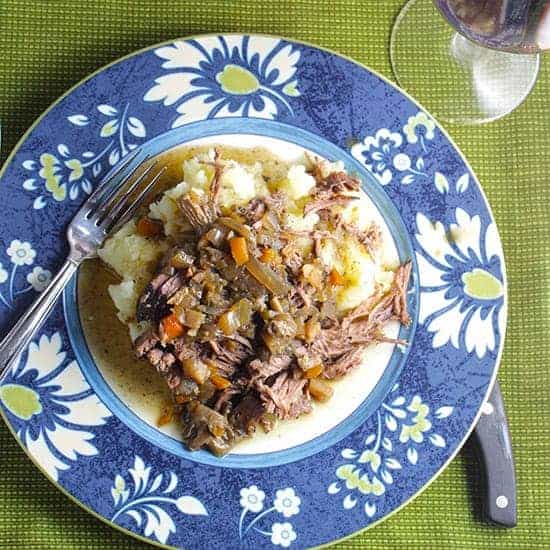 In our Bordeaux Braised Beef recipe, the meat slowly cooks in a Cabernet based Bordeaux. We paired it with the 2010 Chateau Patache d'Aux Cru Bourgeois (13% ABV) from the Médoc. The age of the wine is due more to this being an older recipe of ours! It's a good quality, moderately priced Bordeaux.
This wine from the Left Bank has Cabernet Sauvignon as the primary grape, with a good bit of Merlot and a bit of Cab Franc and Petit Verdot. Enough tannic structure to work nicely with the beef.
Other Cabernet Pairings
Yes, Cabernet Sauvignon paired with beef is a truly a classic wine pairing. But we've experimented with some food to pair with Cabernet Sauvignon other than beef. Here are some pairings we've enjoyed.
Roasted Asparagus with Mushrooms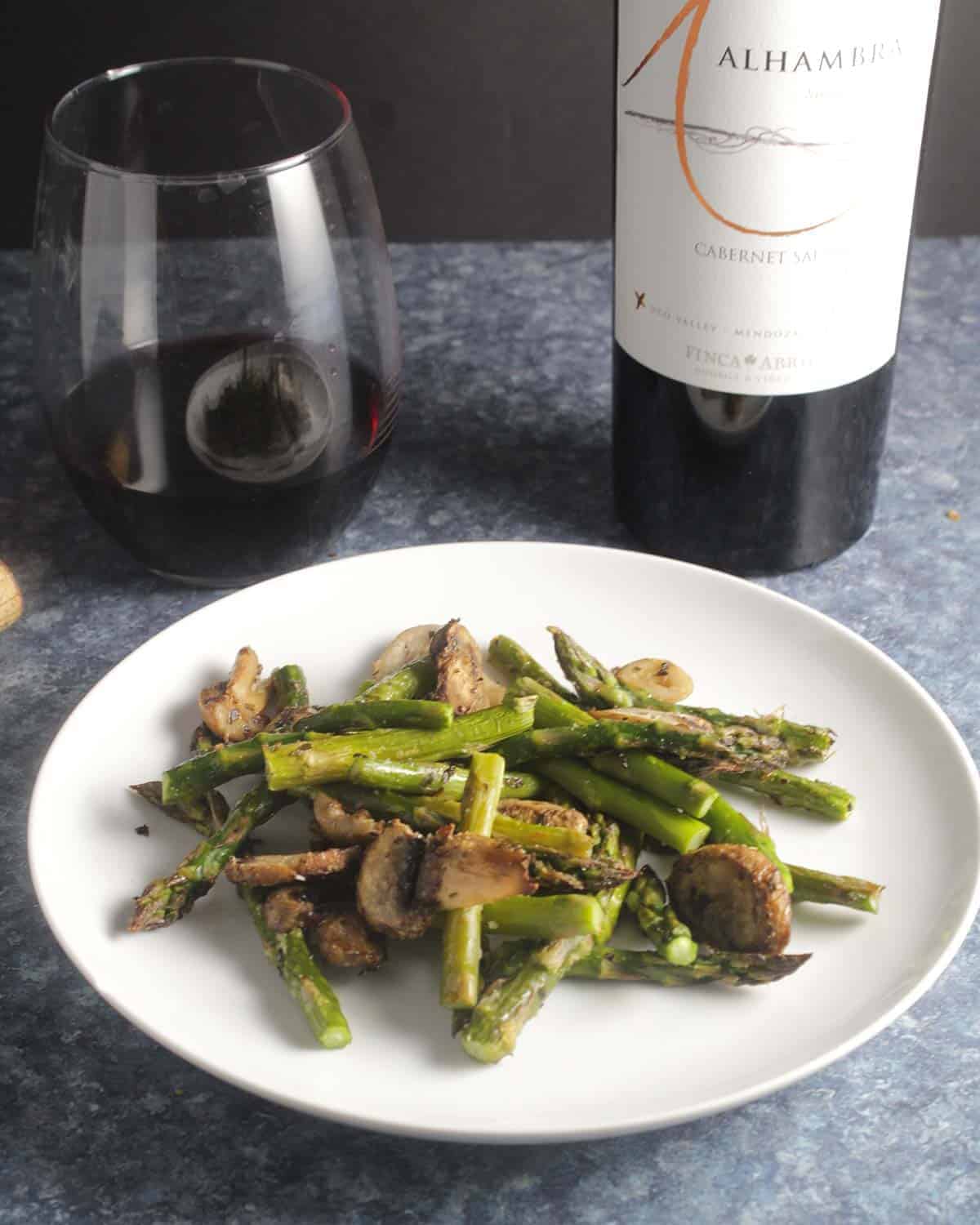 OK, we did also have some beef on the plate when we served our Roasted Asparagus and Mushrooms with a Cab!
But roasting the asparagus makes it more wine friendly. Adding mushrooms to the dish really sets it up for a red wine pairing. The Alhambra Cabernet Sauvignon Reserva from Finca Abril in Argentina's Valle de Uco worked well with the dish, and is a good Cab for under $20.
Pizza???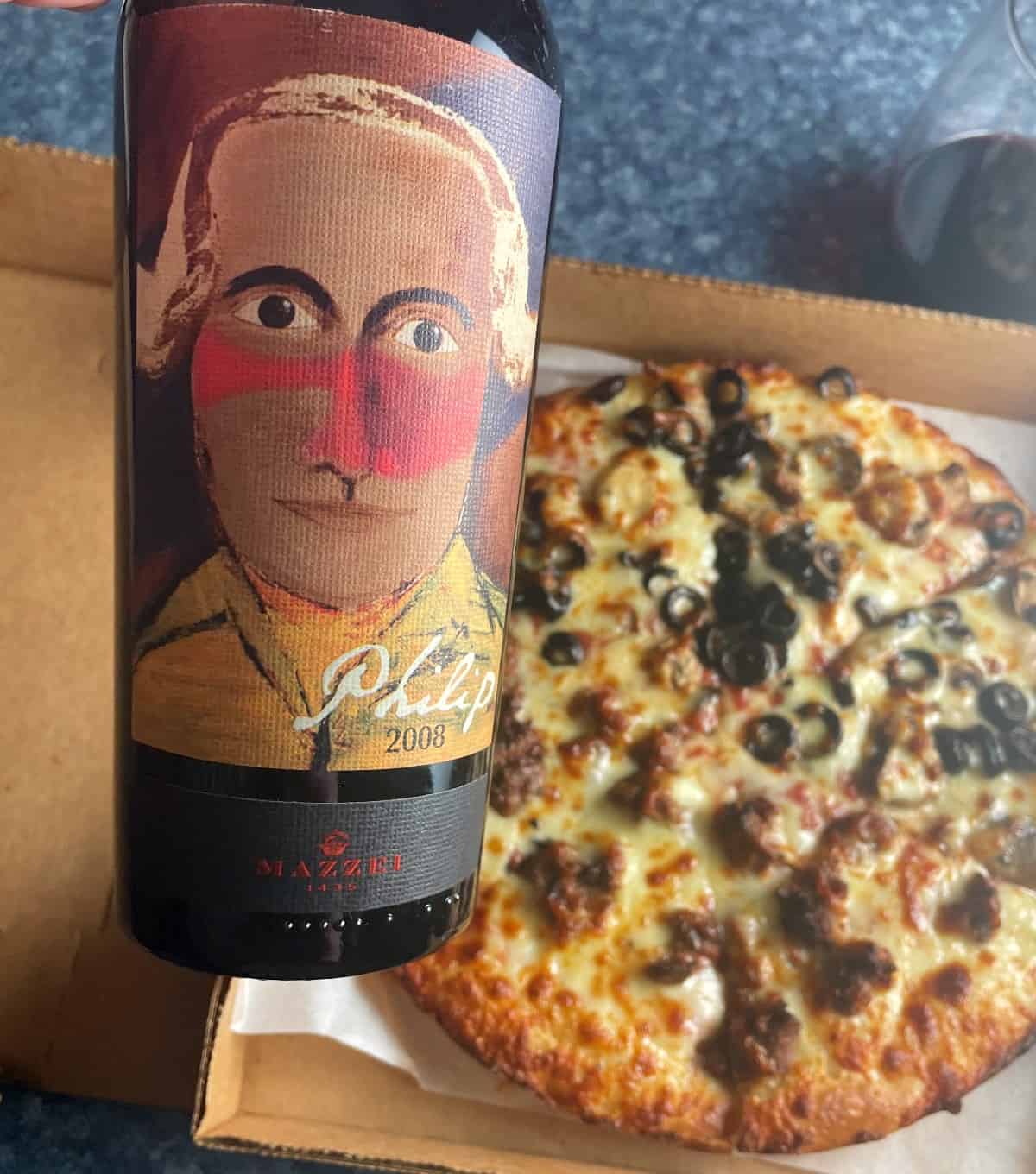 Ok, wine loving friends, I would not typically recommend Cabernet Sauvignon with pizza. But bear with me.
My recent birthday fell on a Friday evening, but Jodi had to make a last minute trip to visit her family. So with just me and our son around during a stressful time, sticking with our Friday night pizza and show routine seemed like the right thing to do.
But being my birthday and all, I had to open a good wine, right? I've had the 2008 Mazzei Philip Cabernet Toscana ($50ish, 14.5% ABV) sitting in my cellar for awhile. The front of the label doesn't indicate Cab, so I had been thinking it was a more typical Italian red. Pizza and Italian red wine sounded good, so decided this would be my birthday wine.
By the time I went to order the pizza, I realized that the Philip Toscana was 100% Cab. I ordered half meatball pizza, thinking the beef / Cab thing of course. The other half of the pizza was mushrooms and olives — olives being another bridge ingredient for Cabernet.
As you might expect, the tannins on this 2008 had really softened, leaving complex layers of fruit and mineral notes. This aged Cab actually worked quite well with the pizza! I preferred the mushroom and olive pizza with it, despite the typical winning combo of Cab and beef.
Takeaway: an well-aged Cabernet with integrated tannins is going to have a broader range of pairing possibilities compared to a young Cab with firm tannings and powerful fruit.
Roasted Duck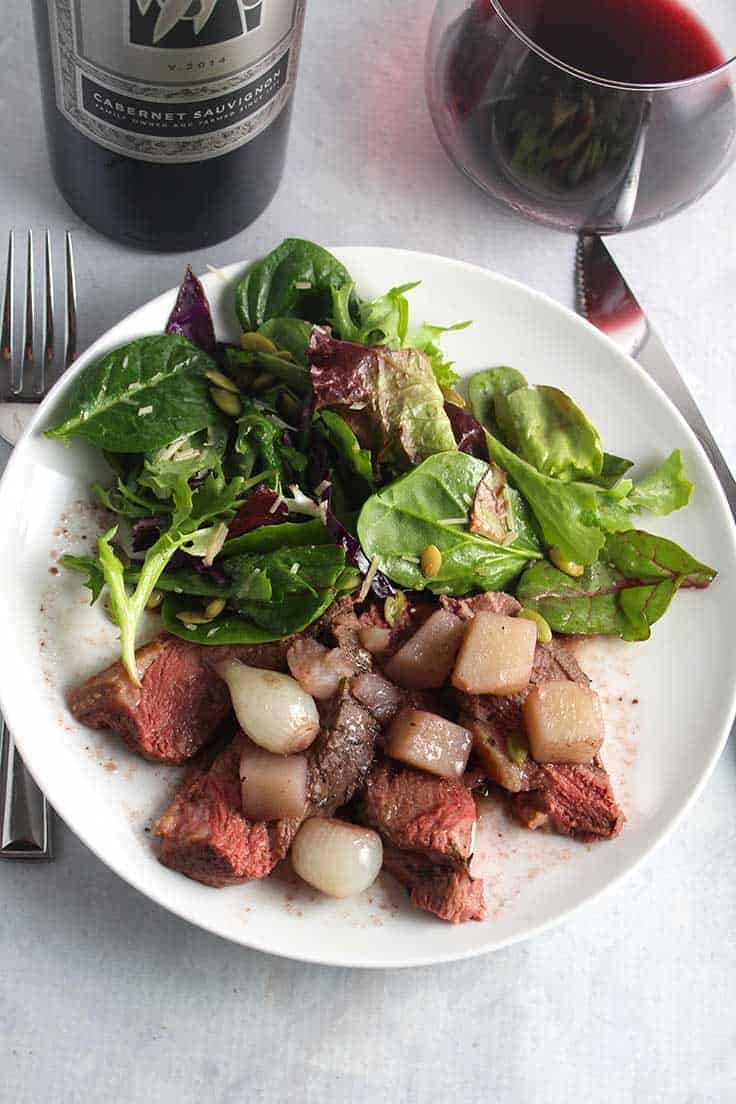 OK, back to meat for this Cabernet pairing. But this time, we call your attention to a delicious combination of Cabernet Sauvignon with roasted duck topped with pearl onions.
We were provided a sample of the 2014 B.R. Cohn Cabernet Sauvignon (14.3% ABV) to serve with the roasted duck. The recipe was suggested by a catering company that works with the winery.
The grapes for this B. R. Cohn Cabernet Sauvignon are sourced from Sonoma and Mendocino County grapes. The wine is a blend of 88% Cabernet Sauvignon and 12% Merlot. This is a fruit forward CAb with lush flavors–I get blackberry in particular–and a long finish. Moderate tannins. All adds up to some excellent sipping, and it is very good paired with the Roasted Duck Breast recipe.
Merlot vs. Cabernet Articles
Check out these articles from my colleagues to learn more about Merlot and Cabernet pairings, and some of the differences between these two major grapes.