In Episode 18, we talk to Mike Leahy and Tony Sudak from Walden Local Meat Co. to get ideas for cooking local turkey and other ways to feature local meat and other products during the holiday season. The episode also provides background on Walden's innovative business model for getting meat from local farms onto your plate.
In this episode, we cover:
Tips for cooking local turkey for Thanksgiving, along with some general turkey preparation tips.
Ways to find a local turkey for Thanksgiving.
Special items Walden will be offering for Christmas, Hanukkah and winter cooking.
Background on Walden Local Meat Co. — the origins of the company and how it has grown.
How Walden reduces waste by using as much as possible as it processes meat.
Some lesser known cuts of grass fed beef you should try.
Classes you can take and tasty items you can grab at Walden's South End Butcher Shop.
Today's Guests – Mike Leahy and Tony Sudak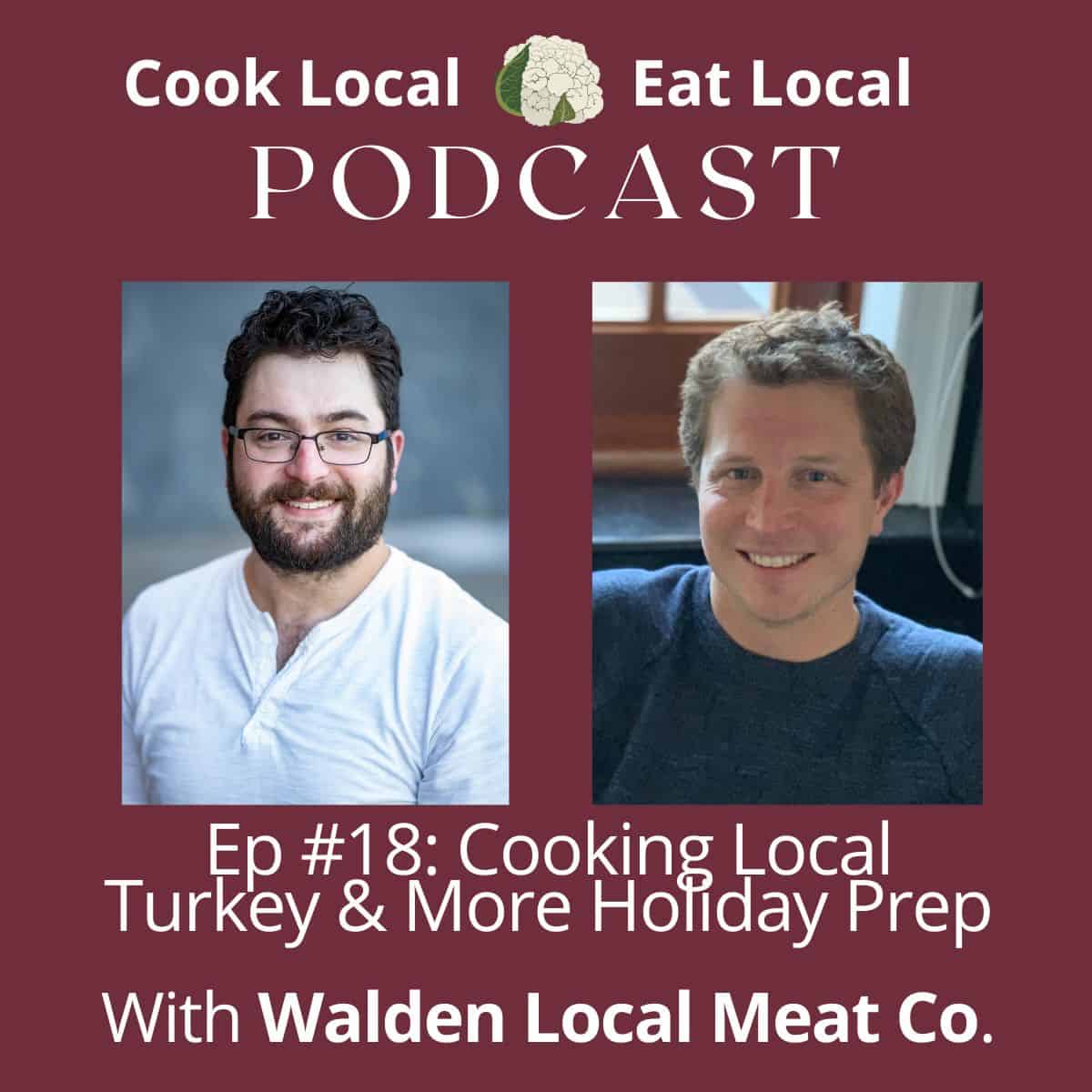 Here's some background on today's guests:
Mike Leahy is the Vice President of Brand & Marketing for Walden Local Meat Co. with deep experience in the food and beverage industry. Before joining Walden Local Meat over a year ago, Mike spent time at Anheuser-Busch and Blue Apron, among others, leading initiatives for brand strategy, innovation and new product development.
Tony Sudak is an Apprentice Butcher at Walden Local's South End Butcher Shop. He was previously a Sous Chef and Chef de Cuisine at multiple restaurants in Boston and the surrounding area.
Resources
Here are some of the resources referenced on the show:
Finding a local turkey: You can still order a local turkey from Walden if you catch this on Friday, November 18 and order by 3 p.m.. If you miss that deadline, the EatWild website can be a good option for finding a farm with a local turkey.
Learn more about Walden Local Meat and sign up for a share on their website.
Learn about classes at the Walden Butcher Shop in Boston's South End.