This Turkey Pesto Panini features zesty pesto and savory melted cheese for a delicious sandwich. You can make this panini with leftover turkey, or sliced turkey from the deli. If you like the Starbuck's turkey pesto panini why not try making this at home? Pair it with Prosecco to make it even better! Disclosure: the wine highlighted in this article was provided as a complimentary sample.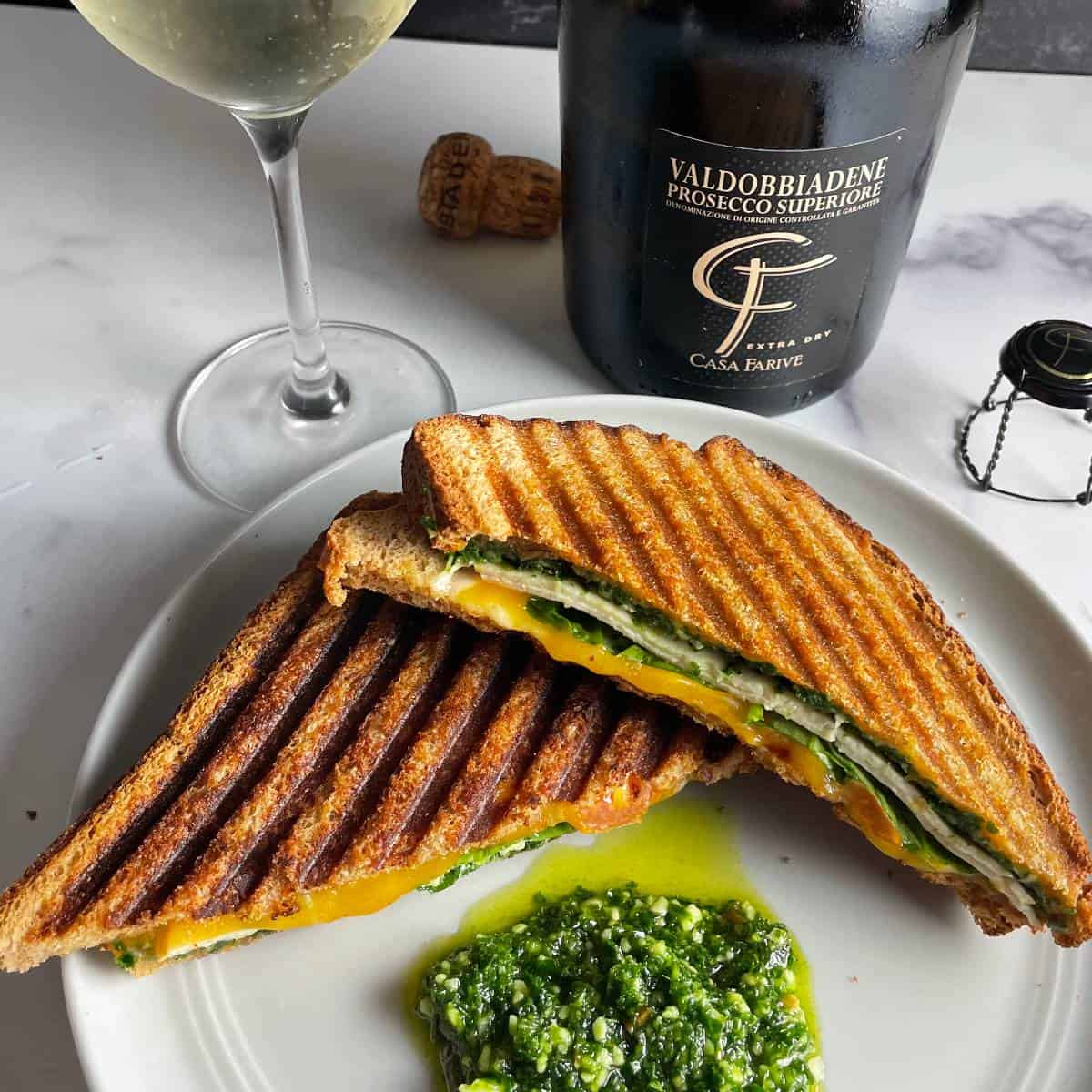 I gravitate toward sandwiches with pesto when ordering lunch out somewhere. And yes, I have ordered that turkey pesto panini at Starbucks many times!
I make plenty of fresh pesto at home, but that tends to be used for pasta, or perhaps to top some fish or chicken. See for instance this popular Orzo, Salmon and Pesto recipe. This turkey pesto panini is a reminder that featuring pesto in a sandwich is another great way to use it!
Recently I heard about a contest to come up with recipe that would pair well with Prosecco. I noted updating this turkey pesto sandwich was on my to do list, and thought, hmm…Prosecco and panini, that could be a good combo! We'll get more into the pairing ideas after we cover some basics on how to make a delicious turkey pesto panini.
Jump to:
What makes this recipe work
Turkey is a fairly neutral canvass that lets the flavorful pesto shine. The bite of the pesto is contrasted by savory melted cheese, and you get some just warmed tomato and wilted spinach in the mix for some extra flavor and nutrition.
Cooked up in some bread that gets a bit crispy with nice griddle marks, and you know you've got a winner with this turkey pesto panini! Just make sure you leave some pesto for dinner!
What you need for this panini
OK, there's not a lot you need to make this turkey pesto panini! Here's a quick overview.
Pesto: If you already have pesto on hand, making this panini is a breeze!
But if you want to whip up a batch of pesto specifically for this turkey panini, we've got you covered!
The recipe card starts out with my recipe for a small batch of basil pesto. We have also enjoy this turkey sandwich with kale pesto.
Turkey: I first made this panini with sliced deli turkey. But for the most recent remake of this pesto panini, I had leftover turkey after making some herb roasted turkey breast.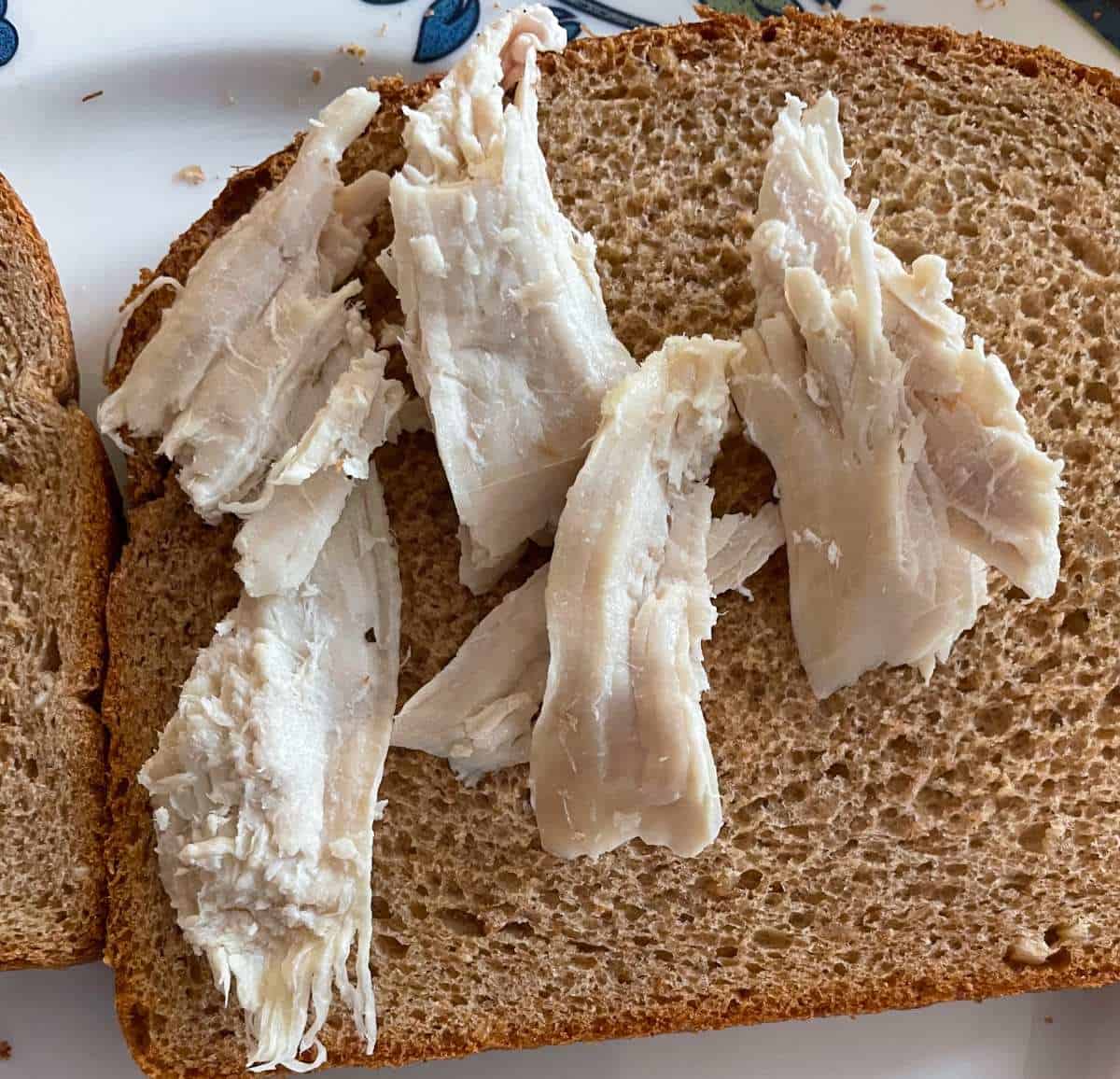 After making our Leftover Turkey Stew with Butternut Squash, we had just some small pieces of turkey left, but it was enough to serve as the basis for our turkey panini.
Bread: As you can see from the photo above, to make this panini, I use the basic whole wheat bread we typically have on hand. But you could definitely use ciabiatta, focacia (that's used for the Starbucks panini) or other Italian bread if you like.
Sandwich press: It certain helps to have a sandwich press to get the nice griddle marks going on the panini. I definitely like the Cuisinart Griddler Panini and Sandwich Press (Amazon affiliate link) that I have–a well-used Christmas gift from a few years ago! I'm sure there are other good options available.
If you don't have a sandwich press and want to make this turkey pesto panini on the skillet, do so in similar fashion to a basic grilled cheese. Use a spatula to press down on the sandwich as it cooks to facilitate the melting.
Recipe tips and overview
Here are some tips with some visuals to make this turkey pesto panini. The recipe is for one panini, but you can easily scale it up. Head on down to the recipe card for the full instructions.
Pesto panini with deli turkey: start by spreading the butter on one side of each piece of bread, then put the butter side down on a plate to continue making the sandwich.
The photo below shows how we made this panini the first time we cooked it up.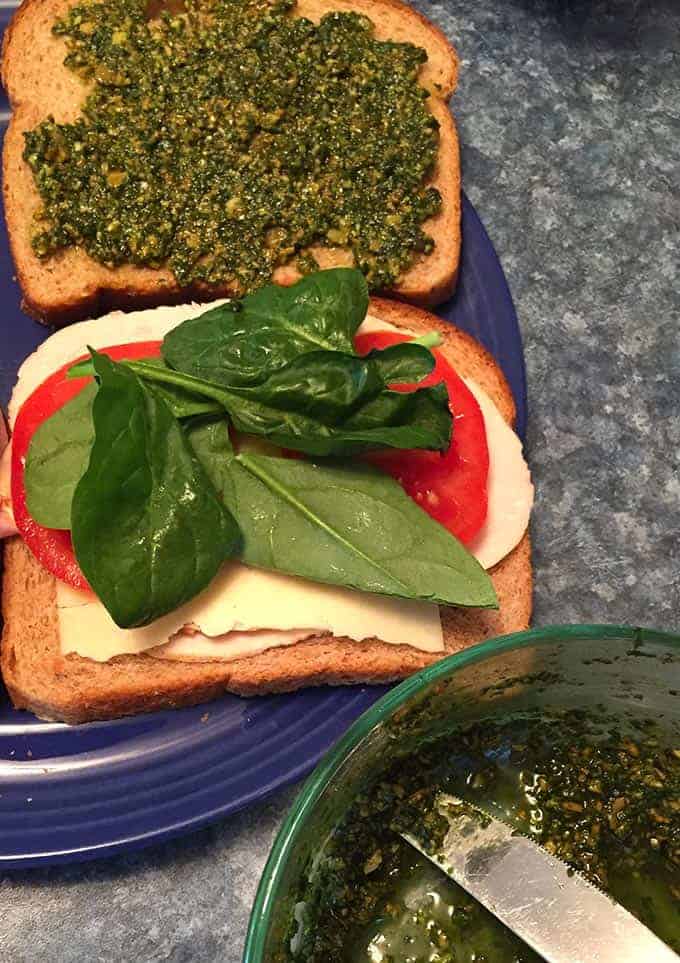 Spread the pesto to cover one piece of the bread. Then layer the turkey, cheese, and tomato, followed by the spinich.
Carefully close up the sandwich and transfer it to the sandwich press. Cook for 3 to 5 minutes until the cheese is nice and melted and you get some good griddle marks going.
Using leftover turkey: As I mentioned, I had fairly small pieces of leftover turkey on hand the last time I made this panini.
I spread the pieces over the bread, then topped it with some chopped cherry tomatoes — I find those are a tastier option when it isn't peak tomato season.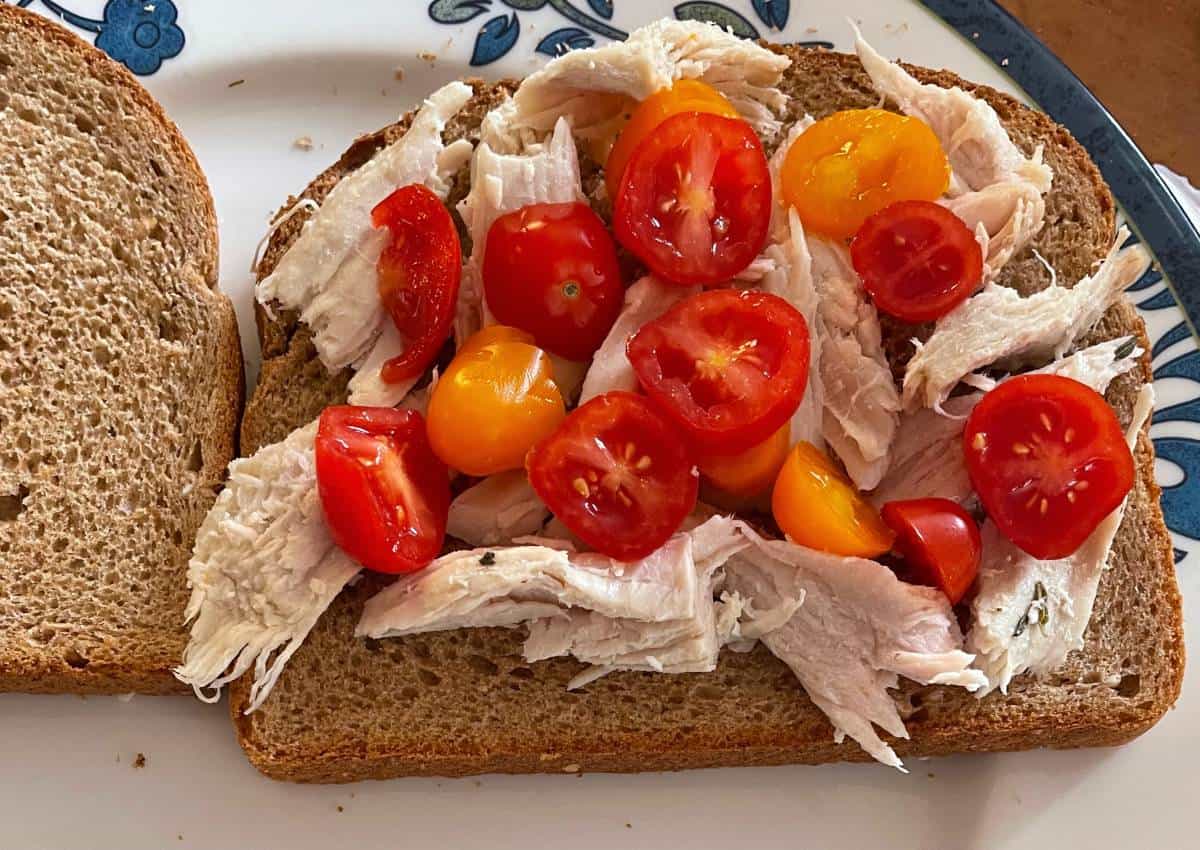 Then add the spinach and cheese over the turkey and tomatoes. Spread the pesto on the other piece of bread, then you are ready to move it to the sandwich press.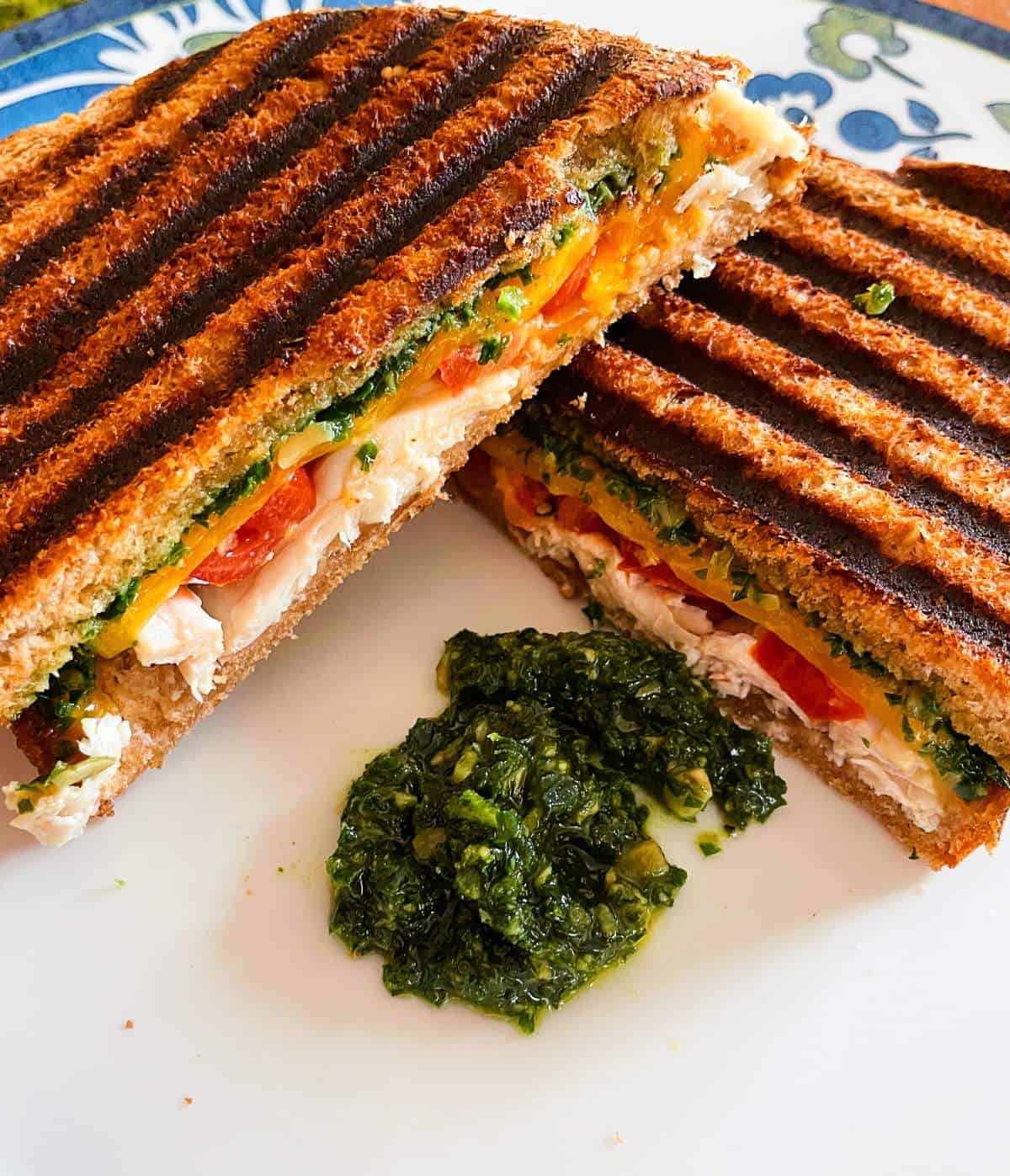 After cooking for 3 to 5 minutes, you are ready to enjoy the panini!
As you can see in the photos, we like to serve this turkey panini with an extra dollop of pesto.
Turkey Pesto Panini: Frequently Asked Questions
Do you need a sandwich press to make this panini?
A sandwich press definitely helps! But you can make this sandwich in a skillet as you would any kind of grilled cheese or similar sandwich. Here's one sample recipe for grilled cheese in a pan if you are looking for tips.
What kind of turkey for panini?
You can use leftover roast turkey or sliced turkey from the deli to make this panini. It's a great way to use leftover turkey, but you don't have to wait for Thanksgiving leftovers to make this sandwich!
What kind of pesto is best for a panini?
I originally used basil pesto for this turkey panini, and that is certainly a good choice. But kale pesto works great, too, and you experiment with other pesto as well.
Is panini good paired with Prosecco?
Yes! In our next section, we cover lots of detail about what makes Prosecco work well with this turkey pesto panini recipe.
Pairing with Prosecco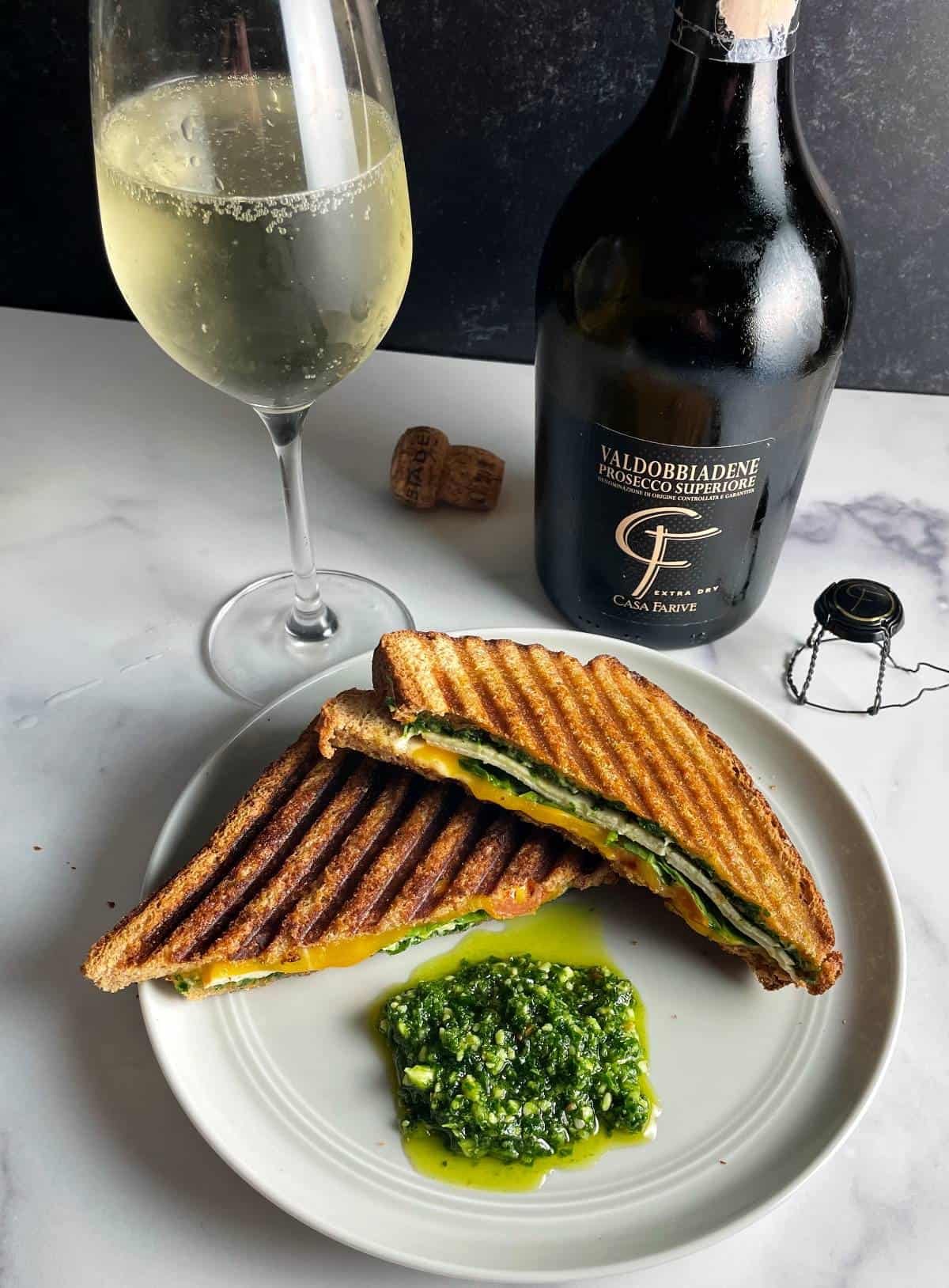 When I heard about the "What's your Prosecco Superiore style?" recipe contest, my first thought was to make something new to go with the bottle of Extra Dry Prosecco Superiore I had available. But then I noted I was due to remake this turkey pesto panini recipe, and it needed a pairing. I thought this combo might work nicely!
Let's get some more background on this versatile wine before we get more into today's pairing.
What is Prosecco Superiore?
Prosecco is a popular Italian sparkling wine made using Glera grapes (also known as Prosecco). It is made using the Martinotti-Charmat method.
The Conegliano Valdobbiadene DOCG is a small area comprising 15 towns in the hills that lie between Conegliano and Valdobbiadene in the Veneto region of Northern Italy. The steep hills in this area, in the foothills of the Dolomites, requires hand harvesting. In a past article, we covered more about the Prosecco Superiore quality standards if you'd like more information.
Extra Dry Prosecco Superiore
We chose to focus on the Extra Dry Prosecco Superiore typology. Extra Dry Prosecco Superiore must contain between 12 and 17 grams / liter of residual sugar. The Prosecco terms can be a little counterintuitive; you want to go for "Brut" if you are looking for something more dry / with less sugar than Extra Dry.
While I don't like super sweet wines, I do enjoy the refreshing aspects of a sparkling wine that has a bit of sweetness. I find it also sets up some pairing possibilities.
I was initially thinking I'd pair the Extra Dry Prosecco Superiore with something that was a little bit of spice, to go for the spicy / sweet contract. Instead, I decided to use the sweetness in the Prosecco to offset the bite of the pesto in this panini. Let's turn now to cover more about this Prosecco pairing.
Pairing details
We had a sample bottle of the Cantine Vedova Valdobbiadene Extra Dry Prosecco Superiore ($12, 11% ABV, 16 g/l residual sugar). I get light notes of honeysuckle on the nose. Pear fruit and hints of almond on the palate. There's a touch of sweetness that contrasted nicely with the garlicky pesto, as anticipated.
The gentle bubbles cleanse the palate, a nice finish to the savory aspects of the panini you get from the butter and melted cheese.
So there you have it — Prosecco and panini! I'm not sure that is considered a classic pairing — but I submit it for consideration!
Print
Recipe card
Turkey Pesto Panini
Turkey, fresh pesto, cheese and tomatoes pressed together for a tasty Turkey Pesto Panini. You can make this with leftover turkey or sliced deli turkey — both work great! The instructions here are for one panini, but you can easily scale up this recipe based on the number of sandwiches you would like.
Author: Cooking Chat
Prep Time:

5 mins

Cook Time:

5 mins

Total Time:

10 mins

Yield:

1

serving

1

x
Category:

Sandwich

Method:

sandwich press

Cuisine:

Italian
For the pesto (skip if you already have some – you will want about 2 tablespoons of pesto per sandwich)
1 cup

basil

2

cloves garlic

⅓ cup

Parmesan or Pecorino cheese

½ cup

extra virgin olive oil

2 tablespoon

toasted pine nuts or pumpkin seeds
For the sandwich
2

slices of bread

1

slices cheddar cheese

2

slices turkey breast – leftover turkey or deli turkey

2 tbsp

basil pesto
handful of spinach

1

thin slice of fresh tomato

1 tbsp

softened butter
Instructions
Make the pesto (if you don't have on hand): Add the garlic to a food processor, and pulse to mince. Add the remaining ingredients, and process on high until everything is well combined. Set the pesto aside.
Preheat a sandwich press. See notes below for approach without a sandwich press. Spread half the butter on one side of a piece of bread. Spread the remaining butter on one side of the second piece of bread. Place both buttered sides down on a plate.
Spread the pesto (we use about 2 tablespoons of pesto) on one of the unbuttered sides of bread, and set aside.
Add cheese & turkey: On the other unbuttered side of bread, add slice of cheese, followed by the turkey. Place the tomato on top of the turkey, then top with the spinach.
Close the sandwich up by taking the bread with the pesto and placing it pesto side down on the cheese.
Heat the panini: Carefully move the sandwich and set it in the heated press. Gently press down on the sandwich maker. The sandwich takes about 3 to 5 minutes to get the cheese melted and develop those nice griddle marks. Keep an eye on the cheese as the sandwich heats, you don't need to cook it much past the point where the cheese has started to melt.
Finish sandwich: When the panini is ready, use a plastic spatula to remove the sandwich from the press. Plate the sandwich, cutting it in half if you like for presentation effects. Serve with an extra dollop of pesto. Enjoy!
Notes
We gave this recipe for one panini, but it scales up easily. If you make pesto fresh for this recipe, you will have enough for several sandwiches and/or some leftover for another meal.
Use pumpkin seeds instead of pine nuts for a nut free pesto.
This turkey panini is also good with kale pesto.
To make this turkey pesto panini without a sandwich press, do so in similar fashion to a basic grilled cheese in a skillet. Use a spatula to press down on the sandwich as it cooks to facilitate the melting.
Keywords: Starbucks copycat turkey pesto panini, leftover turkey panini, turkey sandwich with pesto
Recipe Card powered by
More ways to use pesto
As I mentioned, if you make a batch of pesto for this turkey panini, you will have some leftovers. Here are some great ways to put it to use.
Tools to use