Last Updated on
Our easy to make, flavorful Ground Beef Chili gets paired with a Saperavi red wine from Moldova. We also got to try a couple more wines from Moldova as part of our exploration of the country's wines with our Wine Pairing Weekend friends. Disclosure: Wines mentioned here were provided as complimentary samples.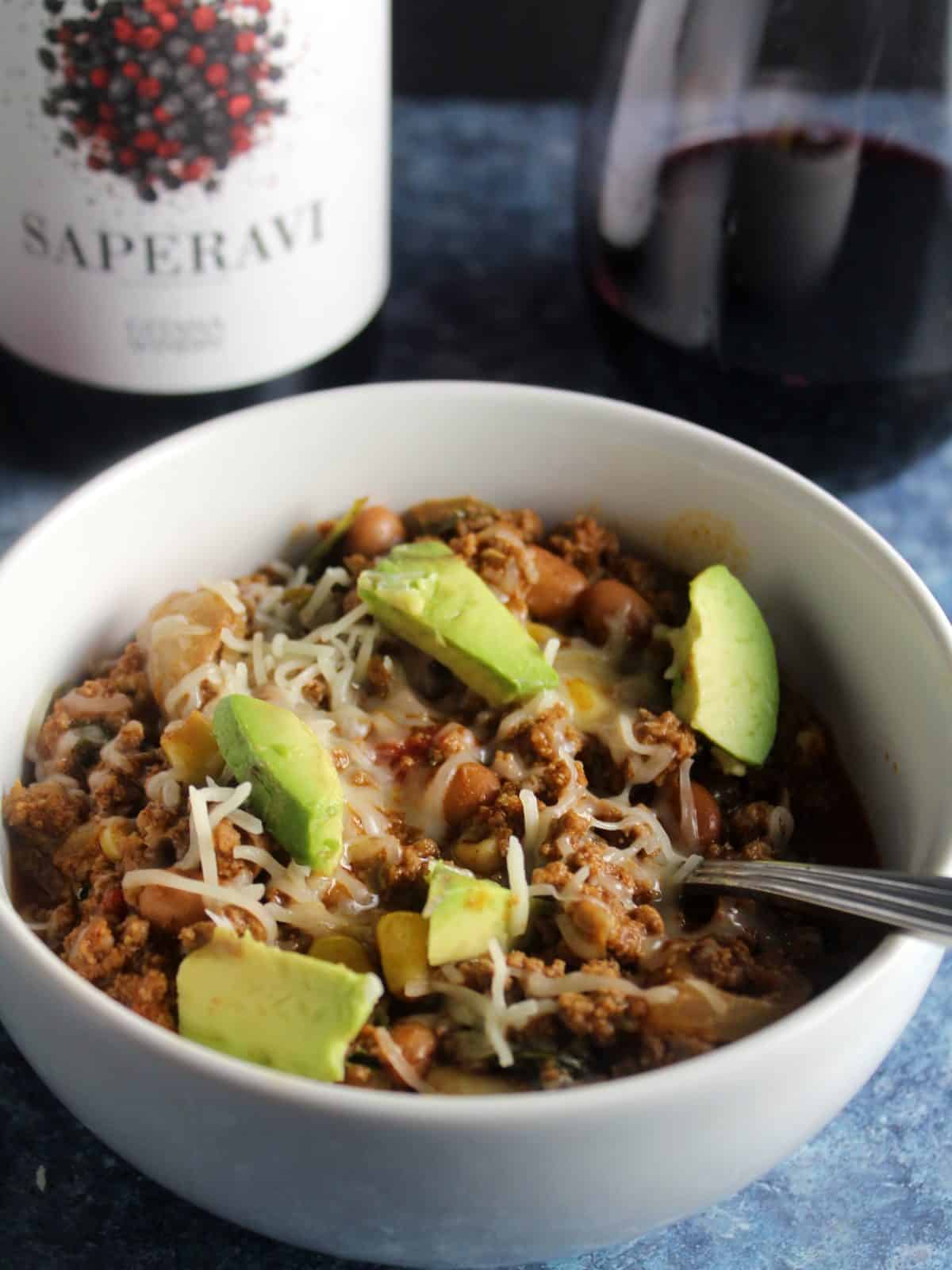 Travel in the typical sense of the world may have come grinding to a halt here in 2020, but we have found wine to be a great way to explore the world these days.
After recent events with my fellow bloggers had me focus on destinations such as Israel, Georgia and other ancient world wines, today our attention turns to Moldova.
Wines from Moldova
I'm pretty good with my geography, but I must confess I definitely had to hop online to see where Moldova is located. Quick answer — the former Soviet republic is located between Romania and Ukraine in Eastern Europe.
Wine clearly has an important place in Moldova's culture and its economy. The winemaking history goes back some 5,000 years, with references in the Iliad to wines from the region. In the Middle Ages, vineyards owners ruled the country, according to the Wine of Moldova site.
Moldova is the country with the highest density of vineyards in the world, with 81,000 hectares planted in the relatively small country. We might not see too many wines from Moldova here in the US, as top destinations for the country's wine include Romania, Poland and China.
But after more US customers have a chance to try Moldovan wines like we did, I expect there will be more demand for it here!
Some 2% of Moldova's GDP comes from the wine industry. By contrast, you have to add the beer and spirits industry along with wine to get to 1.65% of US GDP, according to this source.
Perhaps even more distinctive are the vast underground wine collections to be found in Moldova. One of those, Mileștii Mici, holds the Guinness record for largest wine collection in the world.
Wine of Moldova includes a combination of international varieties and local grape varieties. We got to sample some from both categories, which was fun!
70% of Moldovan vineyards are planted to white grapes such as Rkatsiteli, Sauvignon Blanc, Chardonnay, Aligoté. Common red grapes planted include Cabernet Sauvignon, Merlot, Pinot Noir, and Saperavi.
For more information, visit the Wine of Moldova website and the articles from my fellow Wine Pairing Weekend bloggers — links follow the recipe. Thanks to Jeff from foodwineclick for hosting this event, inspired by his trip to visit wineries in Moldova last year!
Making Ground Beef Chili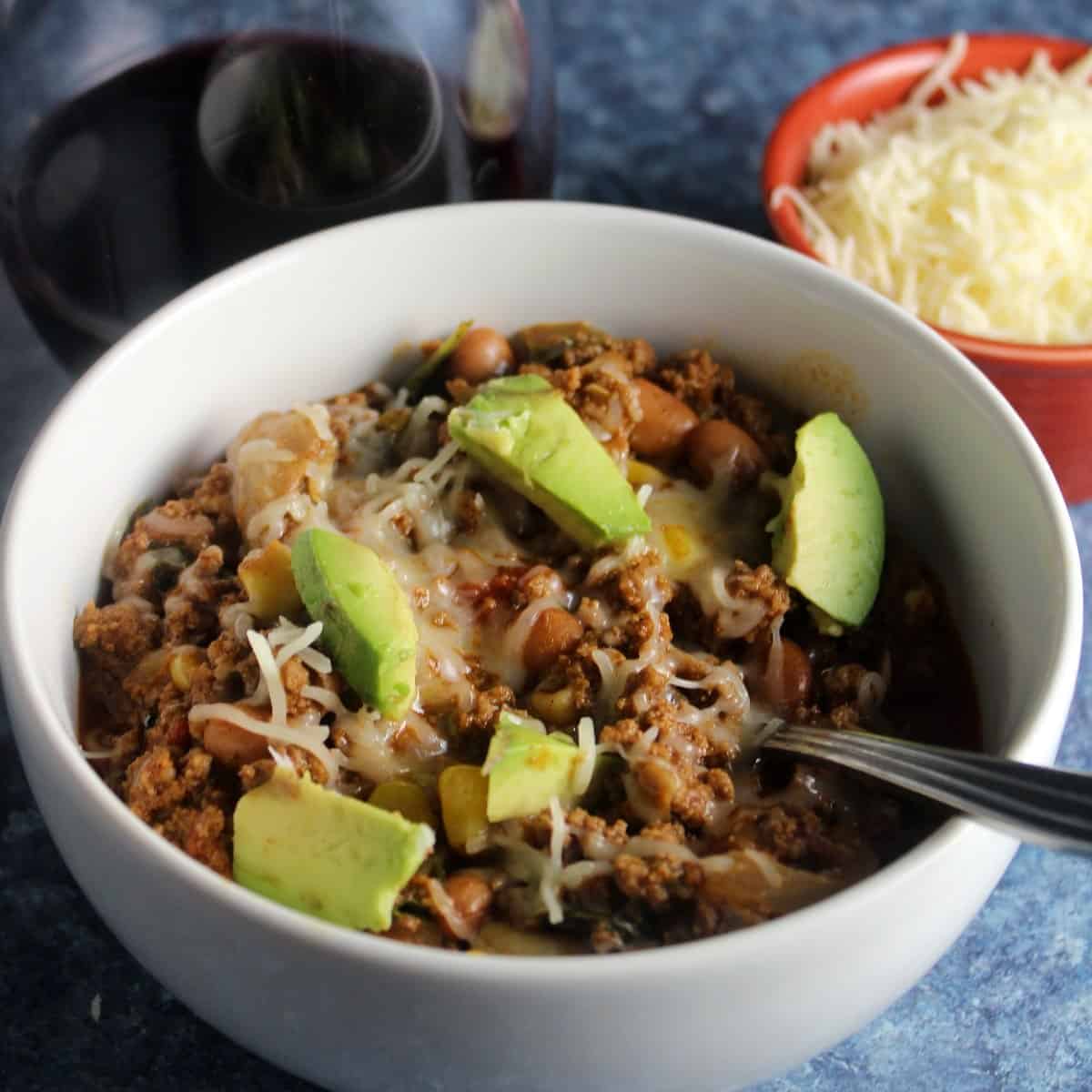 The bottle of Saperavi we were provided to sample suggested pairing the bold red wine with meat or a "spicy stew".
Our grill is out of commission, so why not try some chili, I thought. Wound up being a great call for a Fourth of July weekend meal, served up with the Saperavi.
I tend to make chili with turkey, as in our Easy Black Bean Turkey Chili. But a ground beef chili seemed to be the way to go with Saperavi.
Our beef chili recipe is definitely one you can play around with based on your taste. This version comes out a medium spiciness, which I like better than full on spice when I want to pair the chili with wine. Check out our video on pairing wine with chili for more on that subject.
You can definitely try varying the fresh chili peppers used, and the combination of spices. After I made this batch of chili, someone suggested adding ginger to it, which I wouldn't have thought of. Maybe next time!
I wound up with a bunch of extra cooked macaroni recently. Thinking of a Cincinnati style chili, I decided to add some of that. You could definitely skip if you'd prefer.
Chili purists might cringe at the mention of adding a green like kale to the recipe. But if I'm making something spicy like a pot of chili, I figure throwing a bit of greens into the mix adds a bit of additional nutrition without altering the flavor.
You definitely want to let the chili simmer for a good hour or so to let the flavors meld nicely.
Wine Pairing for Beef Chili
We opened the 2017 Gitana Winery Saperavi ($30, 14% ABV) to pair with our chili.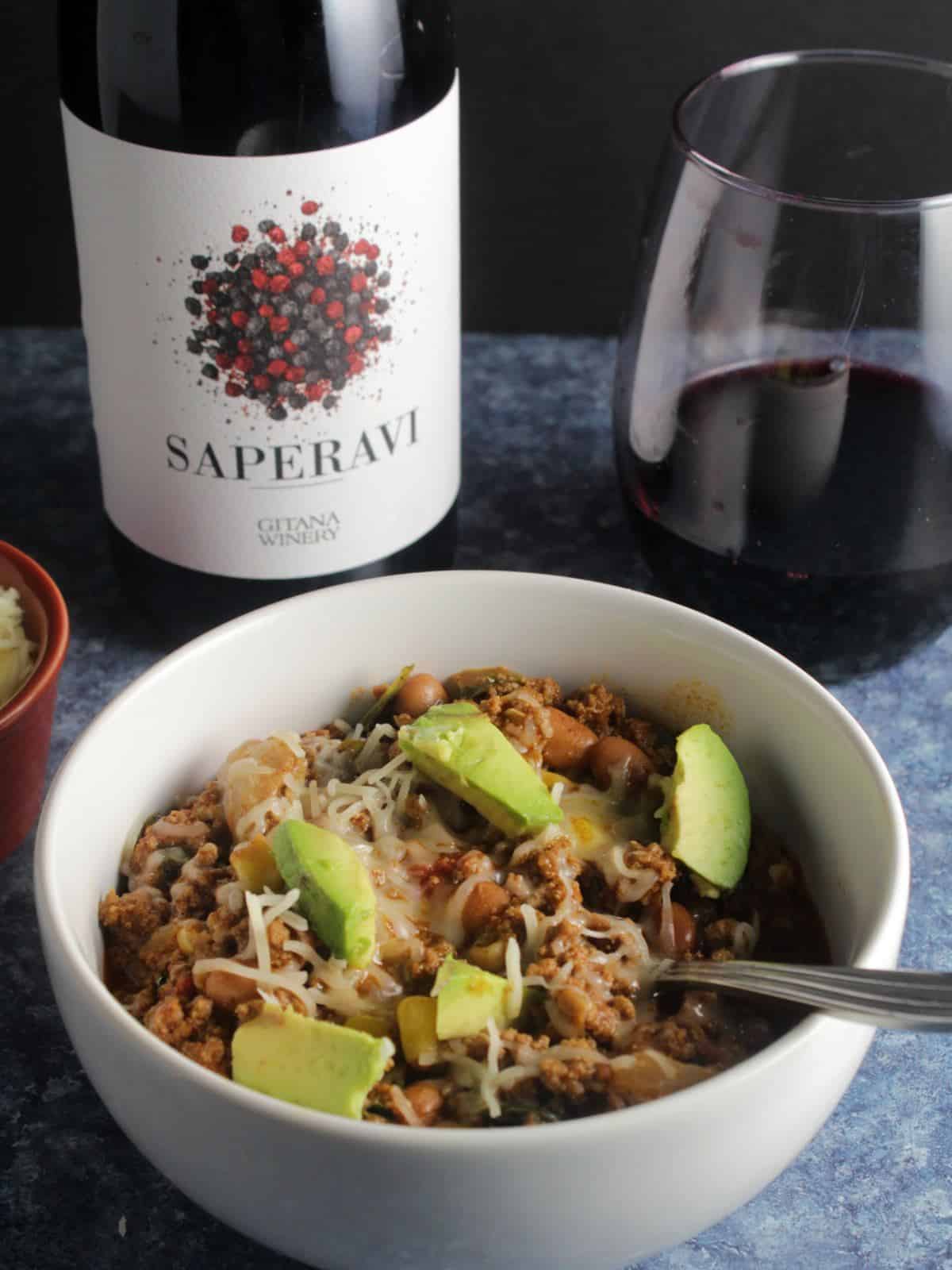 Deep purple in the glass, with violets on the nose. A fruit forward red wine, with cherry and boysenberry on the palate.
The fruit forward aspect of the wine, with moderate tannins, helped make this a wine a good partner for the chili spices. The robust Saperavi has the heft needed to go with the beef. This pairing is definitely a winner that I would recommend!
I didn't notice until writing this up that the wine is aged in clay amphora, which helps to soften the tannins.
Gitana Winery is located in the southern part of Moldova, in the Valul lui Traian wine region.
More Wine from Moldova
We are highlighting the Saperavi with our chili today, but we enjoyed trying two other wines from Moldova for this event.
The first wine we opened was the the 2015 Chateau Vartely Individo (14% ABV), a blend of Cabernet and Merlot. We paired it with our Vermont Wagyu Beef Ribeye with Caramelized Onions (meat lovers, you definitely need to check that out!).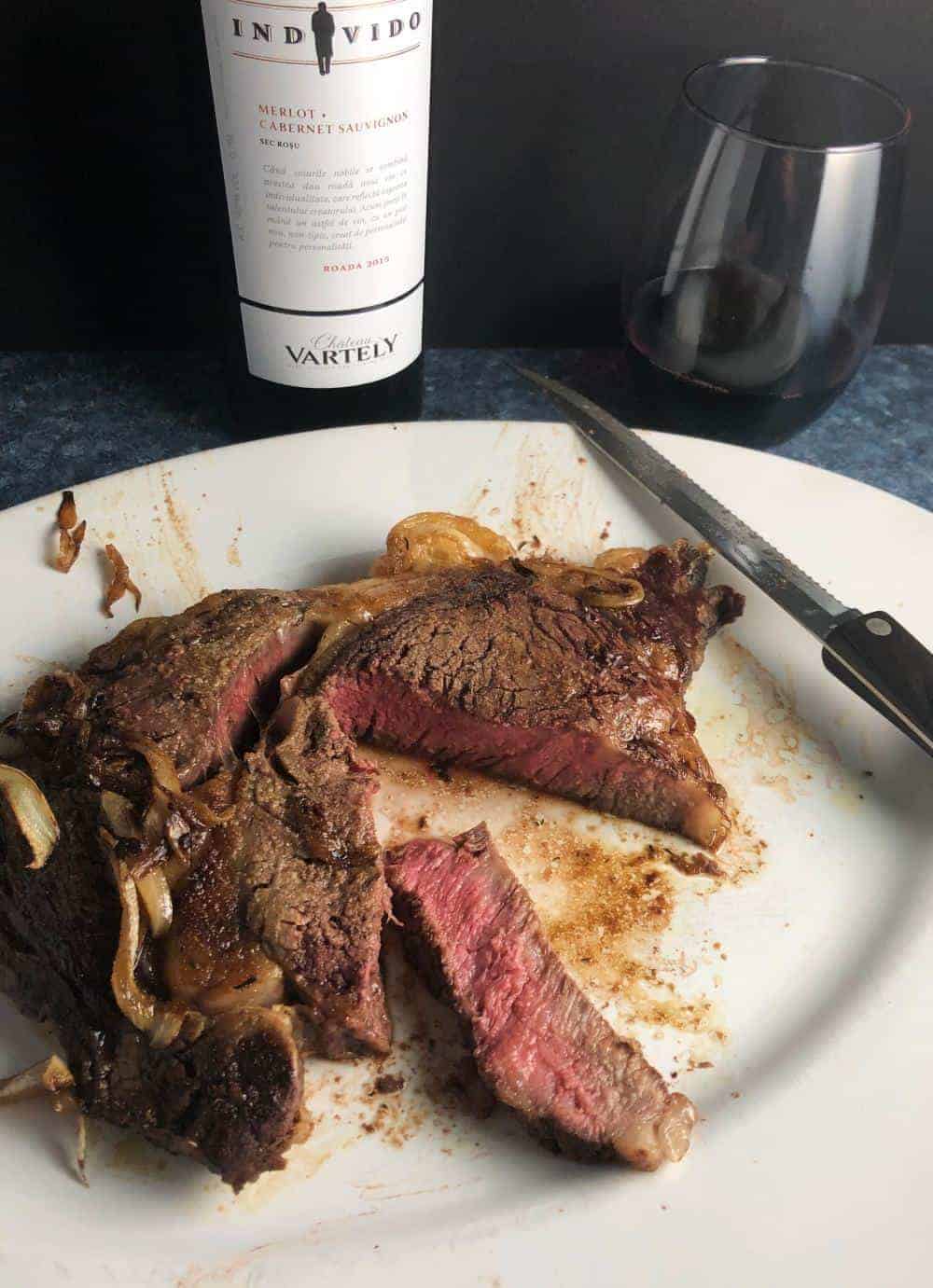 The Individo is dark red in the glass with amber notes. Lush berries and bramble on the nose. On the palate, prunes and toffee. Reminds me a bit of an aged Bordeaux. Interesting yet approachable wine. Paired very well with the Wagyu ribeye!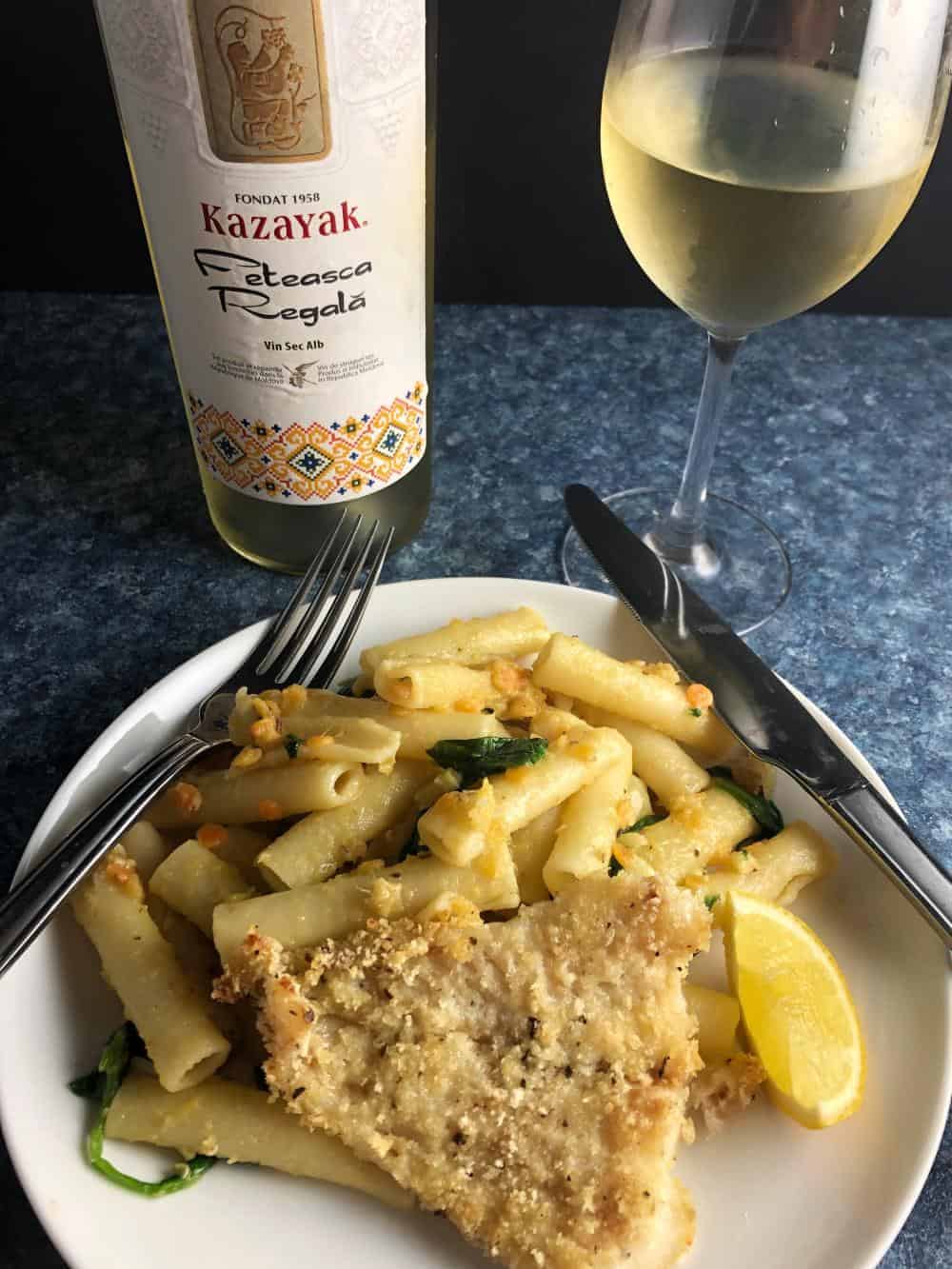 On a lighter note, we got to try a white wine made from an indigenous grape, too. The Kazayak Feteasca Regala (12.5% ABV) has lemon peel and hibiscus on nose. On the palate, kiwi and lemon fruit with notes of seashell.
This white wine paired nicely with our baked haddock, served along with pasta with red lentils and ginger.
Print
Ground Beef Chili with Red Wine from Moldova #winePW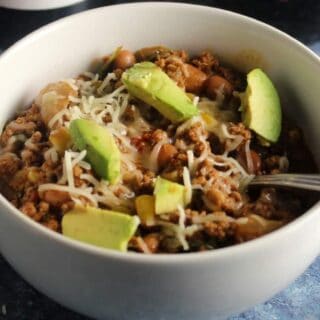 A deeply flavored ground beef chili recipe with beans, fresh chili peppers, corn and more. Flavorful, moderately spicy.
Author: Cooking Chat
Prep Time:

10 mins

Cook Time:

60 mins

Total Time:

70 mins

Yield:

6

servings

1

x
Category:

Main

Method:

stove top

Cuisine:

Tex-Mex
Ingredients
1 tbsp

extra virgin olive oil

1

onion, chopped

2

chili peppers — I used 1 serrano, 1 Fresno

1.75

lbs ground beef — I use grass fed ground beef
pinch of salt

3

cloves garlic, minced

14.5

ozs diced tomatoes

8

ozs low sodium chicken broth

2 tbsp

chili powder

1 tsp

cumin

1/8 tsp

cinnamon

1/2 tsp

coriander

1/2 tsp

smoked paprika

1 tbsp

ketchup

14.5 oz

can pinto beans, drained and rinsed

1/2 cup

frozen or fresh corn kernels
handful finely minced greens (optional)

1/2 cup

cooked elbow macaroni (optional)
Toppings
Shredded cheddar and/or Monterey Jack cheese
Sliced avocado
Sour cream
Instructions
Sauté onions & chilis: Add the oil to a large pot. Heat on medium, and add the onions. Cook until the onions begin to soften, about 5 minutes. Add the chili peppers and cook for a couple more minutes.
Brown the beef: Add the ground beef to the the pot with a pinch of salt, breaking the beef up with a sturdy spoon. Stir to combine with the onions and chili peppers. Cook, stirring occasionally, until the beef begins to brown. After about 5 minutes, the beef should be starting to brown. Stir in the minced garlic.
Add the liquid: Add the tomatoes, chicken broth and ketchup to the pot stirring to combine with the beef. Raise the heat a bit to get the liquid simmering, then reduce heat to medium low to maintain the simmer.
Add the spices: Stir the spices into the pot — chili powder, cumin, cinnamon, coriander and paprika.
Add the beans and corn: Stir in the pinto beans and the corn, and greens if using. Simmer uncovered for about 45 minutes, stirring occasionally.
Finish the chili: Add the cooked pasta toward the end of cooking, if using it. When the chili has simmered for at least 45 minutes after adding the beans, it is ready when you  are! Serve the chili in bowls, topped with cheese and avocado slices. Enjoy!
Notes
Mix it up! This recipe provides a good base for your to create your own delicious chili! Sure, you can follow it exactly, but this is definite a recipe that can be easily adapted to suit your tastes. Experiment with the types of chilis used, the amount and type of spices uses, etc. Have fun experimenting and tasting!
Chili peppers: The heat comes from the seeds and the pith (the fibrous material connecting the flesh to the seeds). Use more or less depending on how much heat you like.
Greens: Greens are definitely not a typical addition to chili recipes! But we had some extra kale on hand, so I finely minced a handful and added to the chili. Adds a bit more nutrition and not enough to impact the taste or texture.
Keywords: beef chili, grass fed beef chili, chili recipes about one hour, stove top chili, chili with red wine pairing
Recipe Card powered by
More Pairings with Wine of Moldova
Be sure to see what my fellow Wine Pairing Weekend bloggers have cooked up to go with their wine from Moldova! You can also learn more by joining our live Twitter chat on Saturday, July 11, 11 am Eastern Time. Just tune into the #winePW tag on Twitter to join the conversation.
Andrea at The Quirky Cork shares "Cooking Out with Moldovan Wine"
Liz at What's in that Bottle shares "Moldova Mashup: Wines of Moldova & Foods of the World"
Terri at Our Good Life shares "Special Celebration and Moldova Wines"
Wendy at A Day in the Life on the Farm shares "Smoked Pot Roast with a Negru de Purcari from Moldova"
David at Cooking Chat shares "Ground Beef Chili with Red Wine from Moldova"
Deanna at Asian Test Kitchen shares "Pairing Moldovan Wine with Burmese Cuisine"
Linda at My Full Wine Glass shares "Finally, a grill! Just in time for Moldovan wine pairing"
Camilla from Culinary Adventures with Camilla shares "Maidens from Moldova + Summer Suppers"
Jennifer at Vino Travels Italy shares "A Look into the Wines of Moldova"
Jane at Always Ravenous shares "Savory Cheese Crostata Paired with Moldovan Wines"
Michelle at Rockin Red Blog shares "Discovering Wines of Moldova."
Cindy at Grape Experiences shares "Have You Tasted Wines from Moldova? Try These!"
Rupal at Syrah Queen shares "Uncorking Moldova – Three Wines To Try Now"
Martin at Enofylz Wine Blog shares "Getting To Know the Wines of Moldova"
Nicole at Somms Table shares "Tasty Moldovan Food & Wine Explorations"
Gwendolyn at Wine Predator shares "Moldova: Bubbles, Red Blend, and …Pizza? Yes!"
Pinny at Chinese Food and Wine Pairings shares "Moldovan Wines and Korean Sushi – Kimbap"
Susannah from Avvinare shares "Moldova – An Ancient Country with Beautiful Wines to Discover"
Jill at L'Occasion shares "A First Taste of Moldova Wines"
Jeff at Food Wine Click! shares "Cabin Pairings for Moldovan Wines"