This classic Chicken and Mushroom Risotto recipe makes for some delicious and hearty comfort food. This risotto is made in the traditional style, with broth gradually ladled into the risotto for a deep, rich flavor.
This risotto recipe is excellent paired with a good Merlot red wine! Disclosure: Wines discussed here were provided as complimentary samples by the wineries.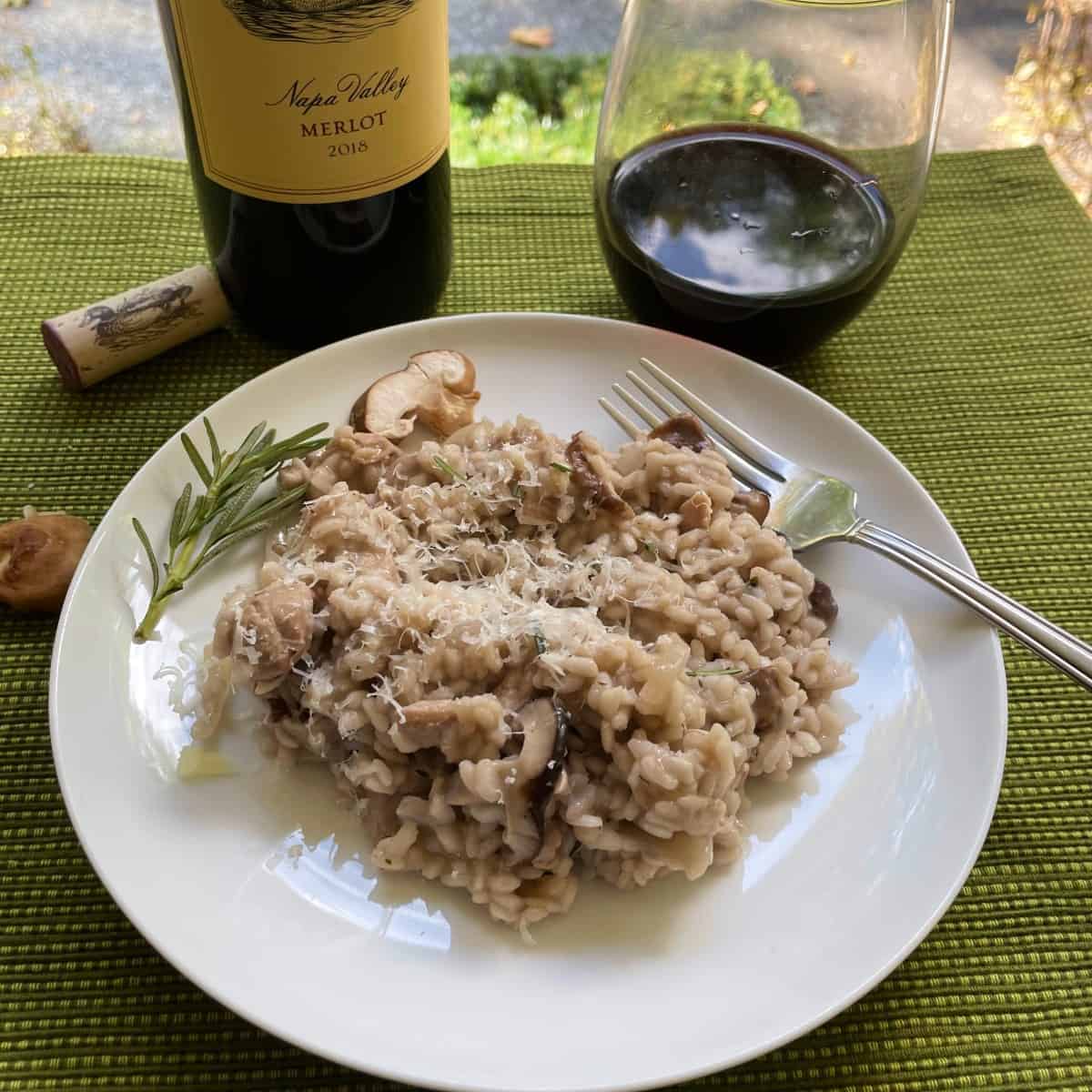 We call this a classic Chicken and Mushroom Risotto, because it is made in the traditional manner. Chicken broth is gradually ladled into the mixture of chicken, rice and mushrooms, allowing time for deep, rich flavors build up.
The result is a delicious, creamy risotto this is comforting without being too heavy.
Sure, you can find risotto recipes out there that will suggest some quicker methods for making risotto. Some might work OK, but I suspect you are more likely to get a heavy, gooey risotto that doesn't have nearly the flavor of our risotto dishes.
I don't have anything against easy recipes per se — you can find plenty here on Cooking Chat. Take for instance our Easy Grilled Steak Tips, or in the Italian department, our Quick Tortellini with Spinach and Garlic.
I get it, on a busy day, you just need to get something quick and healthy on the table to feed your family.
But sometimes cooking involves taking the time to savor the experience. As you gradually cook this chicken and mushroom risotto over low heat, you are getting great smells as you stir that pot. You take comfort in the warming qualities of this dish, perhaps an antidote to a chilly day out there.
When the risotto is done, you have earned this plate of savory goodness. Pour yourself a good glass of wine, and you are enjoying la dolce vita.
Jump to:
Ingredients
This chicken risotto recipe relies on a few simple, quality ingredients. Here are the details and some of the options.
Arborio rice is the short grained Italian rice typically used to make risotto. I don't recommend substituting just any rice. But if you want to mix things up, you could try carnaroli, a medium grained rice used in some parts of Italy. You can order arborio rice here on Amazon. affiliate link)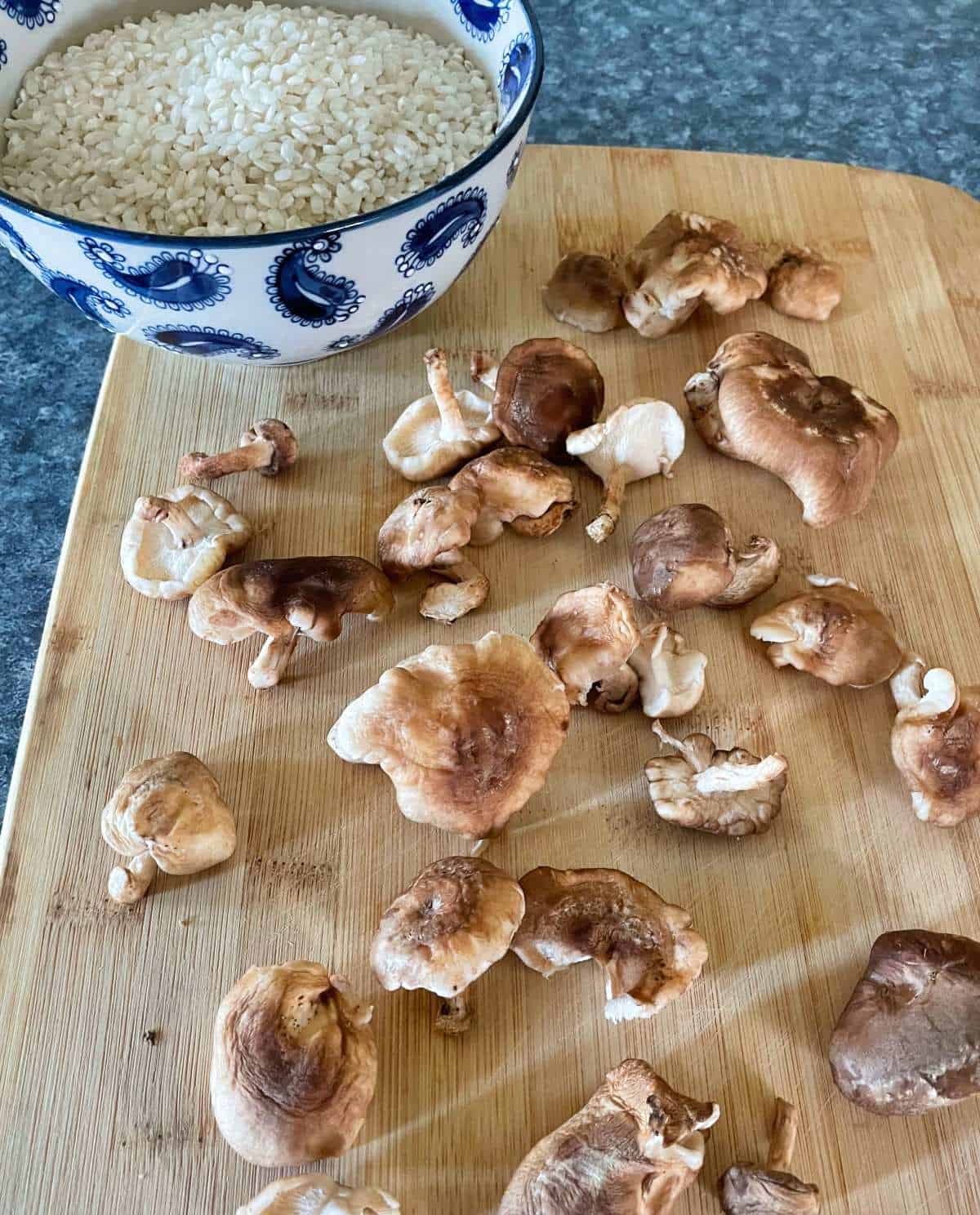 Mushrooms I used basic button mushrooms the first time I made this recipe. But mix it up if you like! For our recent remake, we used organic shiitake mushrooms from the local Fat Moon Farm. Wild mushroom varieties bring a nice, deep flavor. We have also enjoyed making Roasted Portobello Mushroom Risotto, so you could try the big mushrooms here, too.
Cheese – Parmigiano cheese (often Parmesan cheese in the US) is the classic choice for risotto. We do sometimes use Pecorino Romano cheese, which is a bit less expensive, but still flavorful. I recommend getting a block of good Parmigiano or Pecorino cheese and grating it yourself for freshness.
Chicken – I used boneless, skinless chicken thighs in this recipe, cut into bite sized pieces.
The thighs hold up well in the slow cooking process. But you could use chicken breast if you prefer; I have done so in other risotto.
Broth- I typically use chicken broth in this recipe. But if you happen to have reserved liquid from reconstituting dried mushrooms, you can use that instead, or in combination with the broth. You want at least 7 cups for broth, which gives you rice that still has a bit of firmness. Add a bit more broth (½ cup to a cup) for rice that is a little softer.
Recipe tips & steps
Below find some tips and an overview of the steps for making this chicken and mushroom risotto recipe. Head on down to the recipe card for full details!
Cooking mushrooms and chicken together: In my previous versions of mushroom risotto, I sautéed the mushrooms separately and then added them in with the rice toward the end of the risotto making. But here we cook them together, and that works nicely. Not to mention one less pan to clean!
Stirring risotto The key to classic risotto is gradually ladling the broth into the rice, and stirring frequently. But it doesn't mean you have to stir constantly; however, I do generally stay around the kitchen to keep an eye on when the liquid has been absorbed. Pro tip: If you do need to step away from the stove for a few minutes, add 2 ladles of broth in stead of one, and give it a good stir.
Here's the overview of the steps with some visuals:
Start simmering the broth as you prep some of the other ingredient. Add the broth to a large soup pot, and turn the heat up to medium high to bring it close to a boil. Then lower the heat to medium low to keep the broth simmering, uncovered.
Sauté the onion with the olive oil in a large nonstick pan.
Add the chicken to the onion after the onion has started to soften.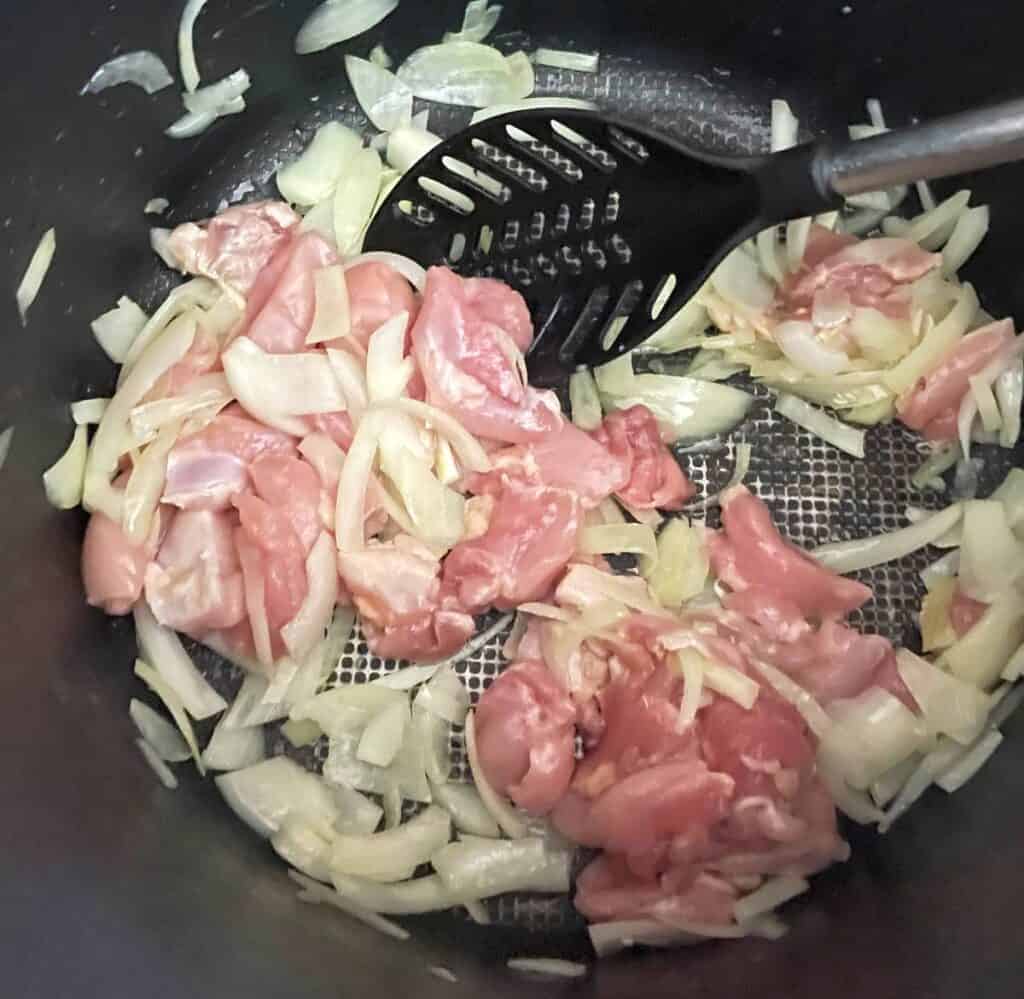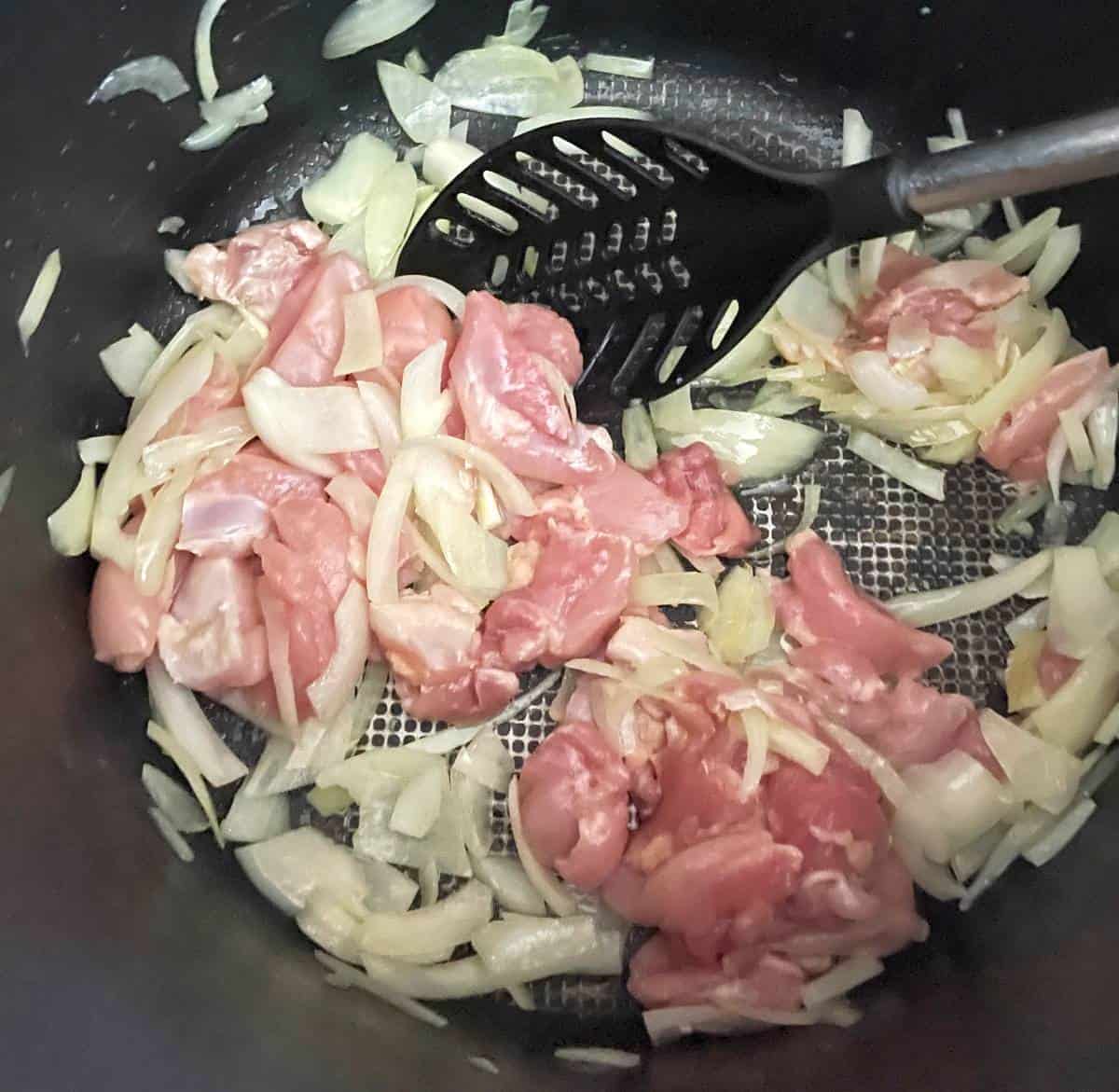 Cook the chicken for about 3 minutes, stirring occasionally. When the chicken begins turning white, as shown below, you are ready to add the mushrooms.
Stir in the mushrooms to combine with the chicken.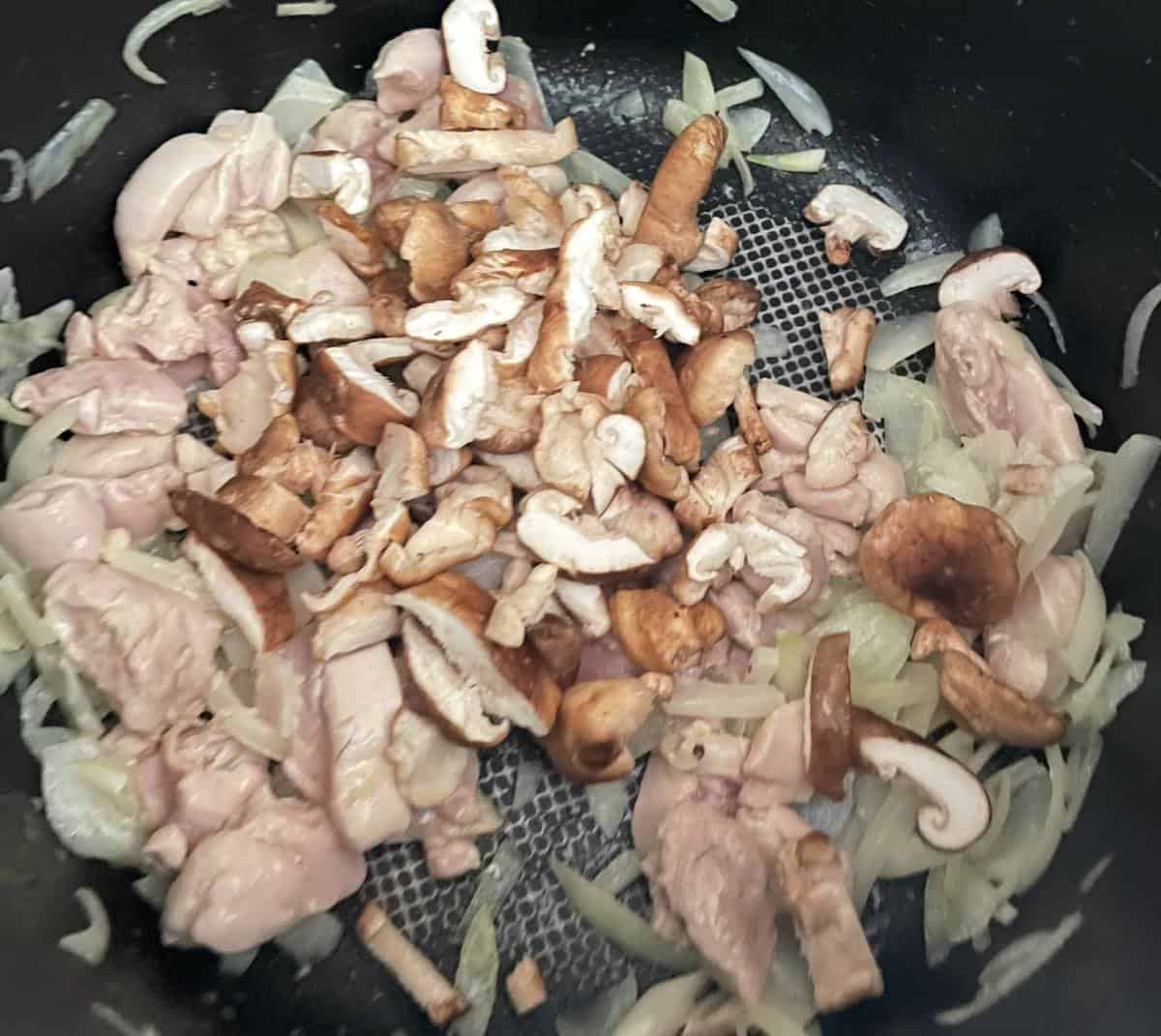 Cook for a few minutes so the mushrooms start to sweat.
Add the cooking wine, then the risotto. Stir the wine in with the chicken and mushrooms. Next, stir in the risotto so so that the arborio rice gets coated with the wine and other ingredients.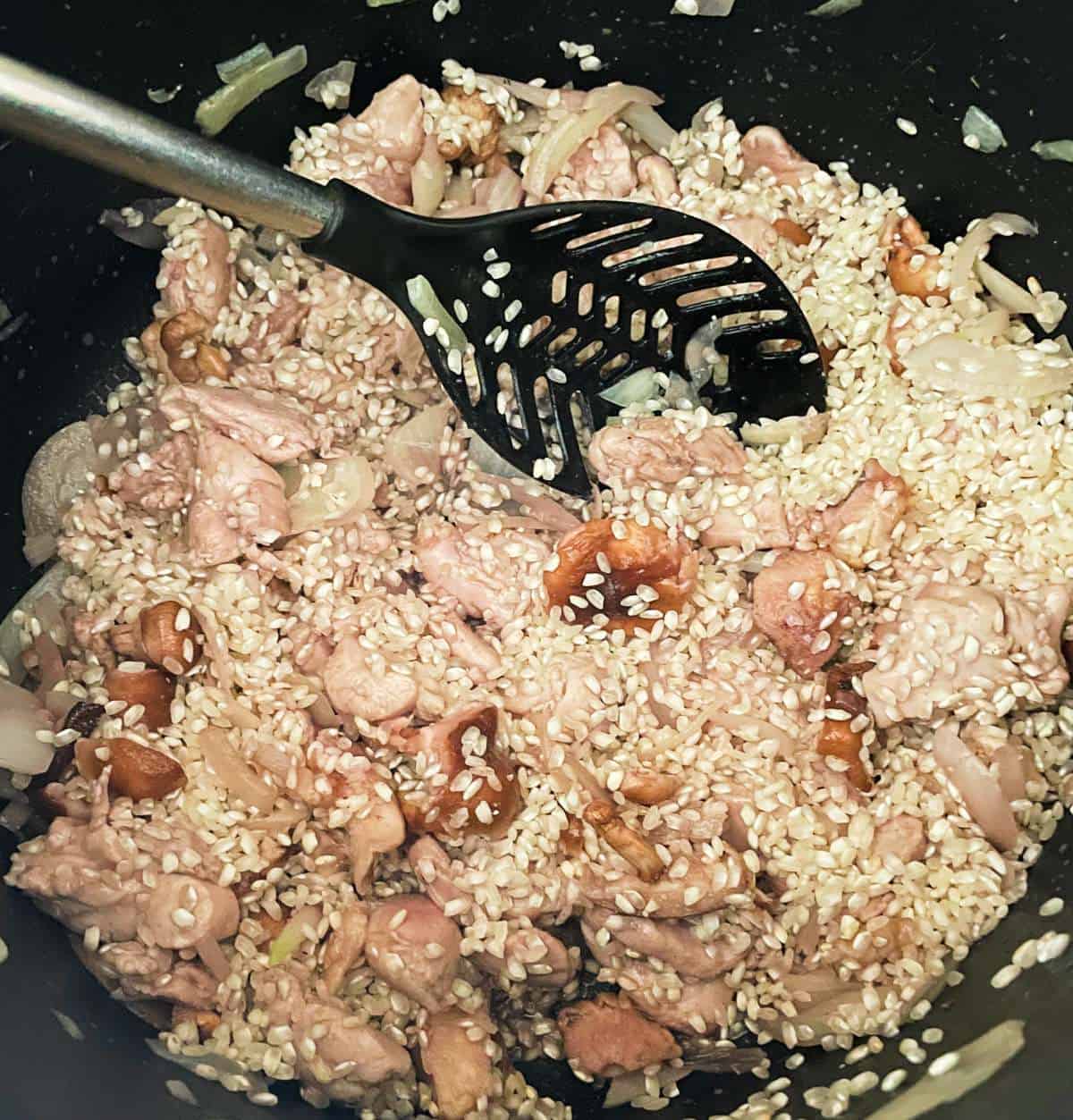 Scoop 2 ladles full of broth (about 1 cup) into the risotto, after the wine has been mostly absorbed (which will be shortly after you add the wine and stir).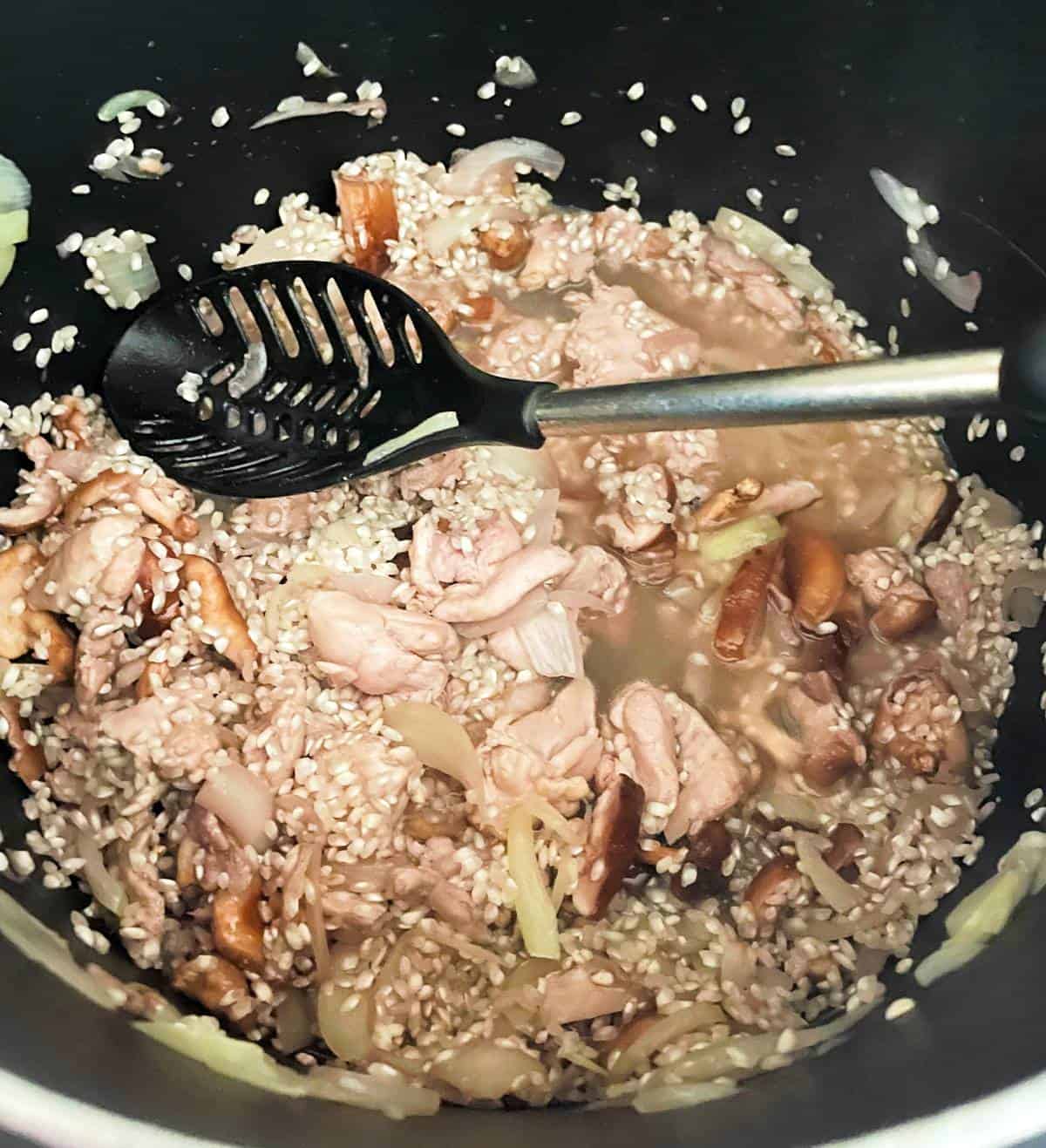 Now you start the process of frequently stirring the broth in with the risotto.
Add the herbs & spices after adding the first ladles of broth.
You add more broth, a ladle full or so at a time, each time the broth you have added is mostly absorbed. It takes about 30 minutes of gradually ladling in the cooking liquid and frequent stirring, to get the risotto ready.
Stir in the Parmesan cheese upon adding the final portion of broth, along with salt and pepper to taste.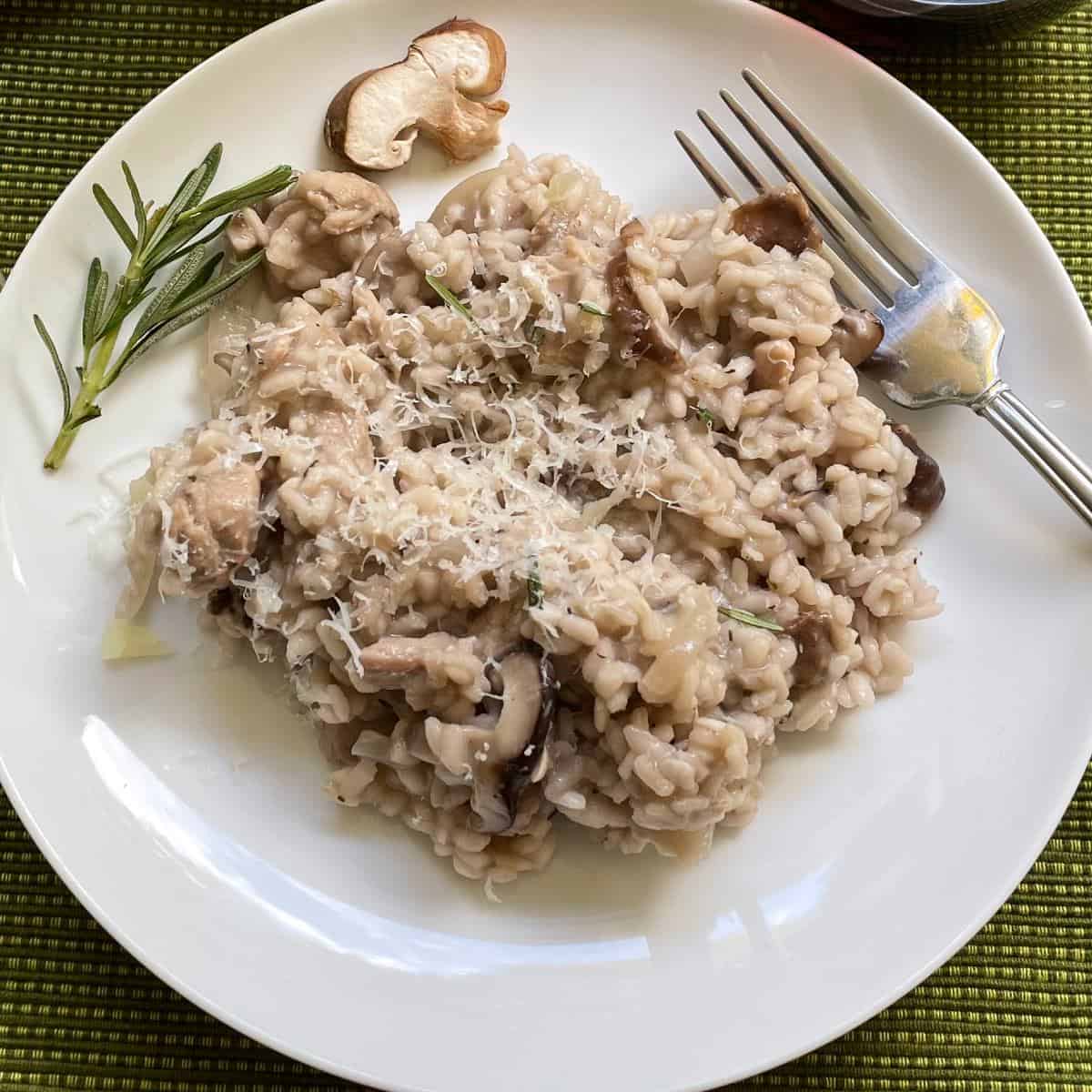 You can also finish the chicken risotto with one or more of the following optional ingredients:
1 tablespoon of butter
1 teaspoon Tuscan olive oil blend, or similar quality extra virgin olive oil
a bit of truffle salt or truffle butter if you are lucky enough to have some on hand!
Frequently Asked Questions – FAQ
Do you have to stir risotto constantly?
No, you don't have to stir risotto constantly. That said, you do need to give the risotto pot a stir every few minutes as you gradually ladle the liquid into the risotto pot.
Can you use normal rice in a risotto?
Italian arborio rice is the classic choice for making a risotto. Some recipes suggest it is OK to use other long grained rice, but if you are making this classic risotto recipe, why not go with the traditional rice used for it? Arborio rice is easy to find these days in the US – you can order the kind we used here on Amazon, too. (affiliate link provided)
Do I have to put wine in risotto?
Wine is typically used in a classic risotto recipe, including ours. But as this kitchn article explains, there are ways to make risotto without wine if you prefer. But a quick note, if you are concerned about the alcohol, that cooks away when used in a recipe like this.
Can you reheat leftover risotto?

You can definitely reheat risotto. Leftover risotto is not quite as good as the first night it comes out of the pot, but it is still quite tasty.Put a portion sized serving in a microwave dish, and zap it for a minute. Give it a stir, and put it in for another 30 seconds or so until it is heated through.

What to serve with risotto
My first instinct is to serve a green salad with risotto. This Arugula Salad with Maple Vinaigrette is one good option; or perhaps you might like to try this Easy Homemade Caesar Salad from Throwdown Kitchen.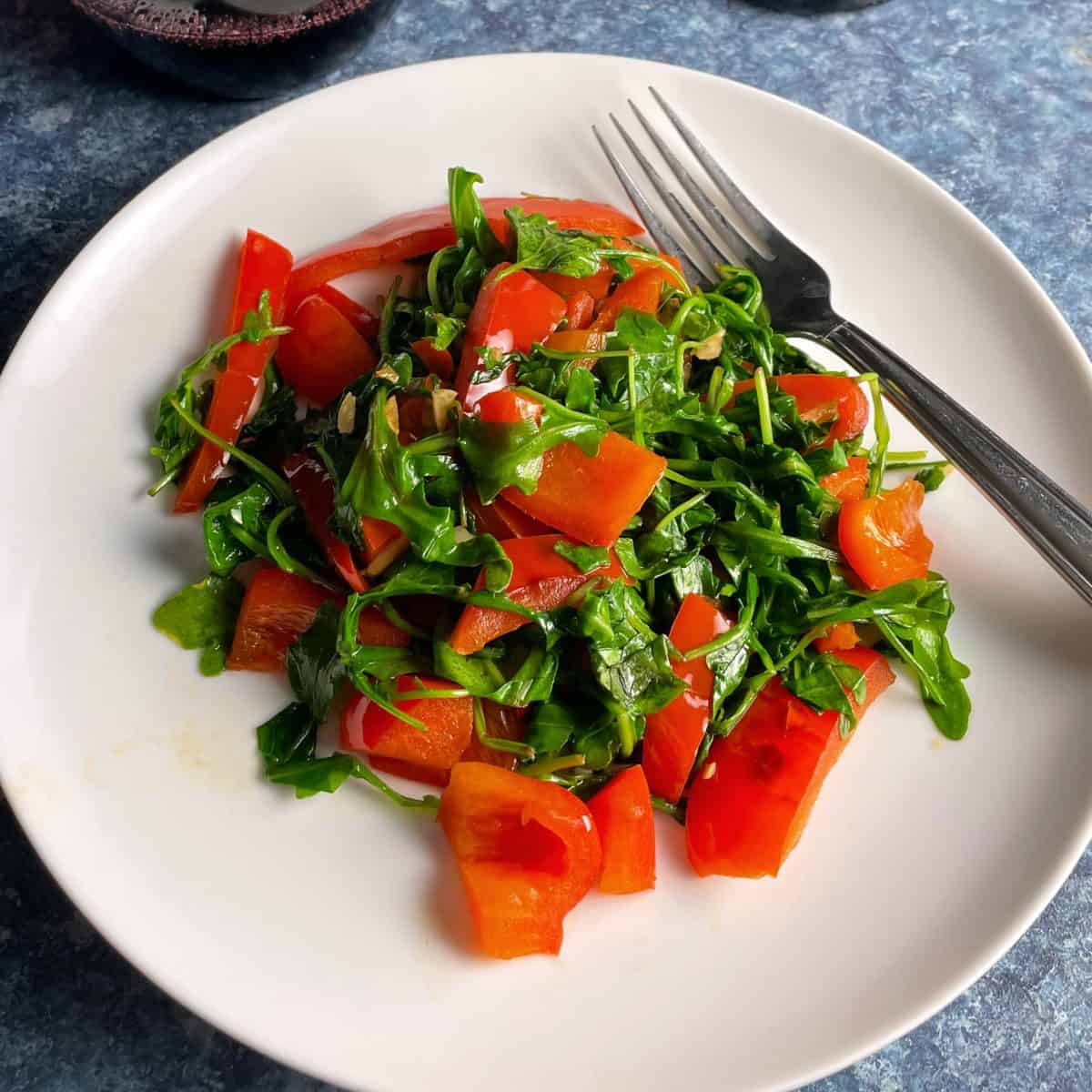 You could also do a side of Sautéed Arugula with Red Bell Peppers or perhaps this Sautéed Swiss Chard.
Wine pairing
Sure, my first instinct when I think of wine pairing for risotto is a good Italian red wine. But I had a notion that some good American Merlot could work well with our chicken and mushroom risotto, and that has proven true as we have tested several Merlot pairings.
For our most recent remake of this risotto, we opened a bottle of the 2018 Duckhorn Napa Valley Merlot ($56, 14.5% ABV). I get plum fruit and notes of allspice on the palate of this Merlot. Nice silky mouthfeel.
There is 16% Cabernet Sauvignon blended in with the Merlot (82%), plus small amounts of Cab Franc, Petit Verdot and Malbec. This gives the Merlot a Bordeaux style composition along with the Napa fruit.
Duckhorn Vineyards has a long history of producing excellent Merlot. The winery was founded in 1976, and it became one of the first Napa wineries making top quality Merlot in the US. In 2017, the Duckhorn Three Palms Vineyard Merlot was named "Wine of the Year" by Wine Spectator.
Print
Recipe card
Chicken and Mushroom Risotto
Chicken and mushrooms cooked with arborio rice for a rich and satisfying risotto.
Author: Cooking Chat
Prep Time:

10 mins

Cook Time:

40 mins

Total Time:

50 mins

Yield:

6

servings

1

x
Category:

main

Method:

stove top

Cuisine:

Italian
1 tbsp

extra virgin olive oil

1

onion, chopped

1

lb bonless, skinless chicken thighs, cut into bite sized pieces (see notes)

2 cups

sliced mushrooms

½ cup

dry red wine

2 cups

arborio rice

7 cups

chicken stock or mushroom soaking liquid (see note)

½ tsp

fresh rosemary, minced, or

⅓ tsp

dry rosemary

½ tsp

dried thyme

½ tsp

dried garlic

½ cup

parmesan cheese plus more for serving
salt and pepper to taste
Optional finishing touches: Tuscan olive oil, truffle salt, 1 tablespoon butter
Instructions
Heat broth: Bring the chicken stock or mushroom liquid to a simmer, and keep warm.
Sauté onion: Heat the olive oil on medium low heat in a large nonstick pan. Add the onion, and sauté until it begins to soften, about 5 minutes.
Stir in the chicken, and cook for about 3 minutes, as the chicken starts to turn white on the outside. Add the mushrooms, and stir to combine. Cook for a few minutes, and the mushrooms will begin to "sweat" (give off a bit of liquid)
Add the cooking wine, stirring to combine. Bring to simmer, then stir in the rice, making sure the rice gets well coated with the wine, chicken and mushrooms. Add the thyme, rosemary and garlic powder. Add salt and pepper to taste.
Start adding broth: When the wine has been mostly absorbed, which happens a minute or two after stirring it together with the rice, add a ladle or two of broth to the rice. Stir the risotto mixture and cook until the broth is absorbed.
Continue adding broth and stirring: After the first portion of broth has been mostly absorbed into the risotto, add another ladle of broth and repeat the stirring process. Stir frequently throughout the risotto cooking. Continue adding more broth once the previous portion has been absorbed.
Finish the risotto: Once all or most of the liquid has been absorbed and the rice is tender to the bite, the risotto is almost ready. It takes about 30 minutes of gradually ladling in the cooking liquid and stirring regularly. Add the cheese to the risotto, and stir well. Add any of the optional ingredients, if you would like. Plate and enjoy with a good glass of red wine!
Notes
Chicken- we used boneless, skinless chicken thighs here. The thighs do well during the slow cooking, but you can use chicken breast if you prefer.
Using dried mushrooms: When you reconstitute dried mushrooms, the process generates a rich mushroom flavored liquid. If you are using dried mushrooms for another recipe and don't need the liquid, save it for making this risotto! If you don't have mushroom liquid on hand, you can use the chicken stock.
Stirring: You don't need to stir the risotto constantly, but definitely frequent stirring is needed. After ladling in more liquid, give the pot a good stir. Then you can leave the risotto for a minute or two, before giving it another stir.
Broth quantity: If you happen to only have a 32 ounce container of chicken broth (4 cups) you can round out the liquid by adding 3 cups of water. When we did this recently, we also added 1 teaspoon of miso paste to bring a little more flavor.
Keywords: risotto, mushroom risotto, Merlot pairings, chicken and mushroom risotto
Recipe Card powered by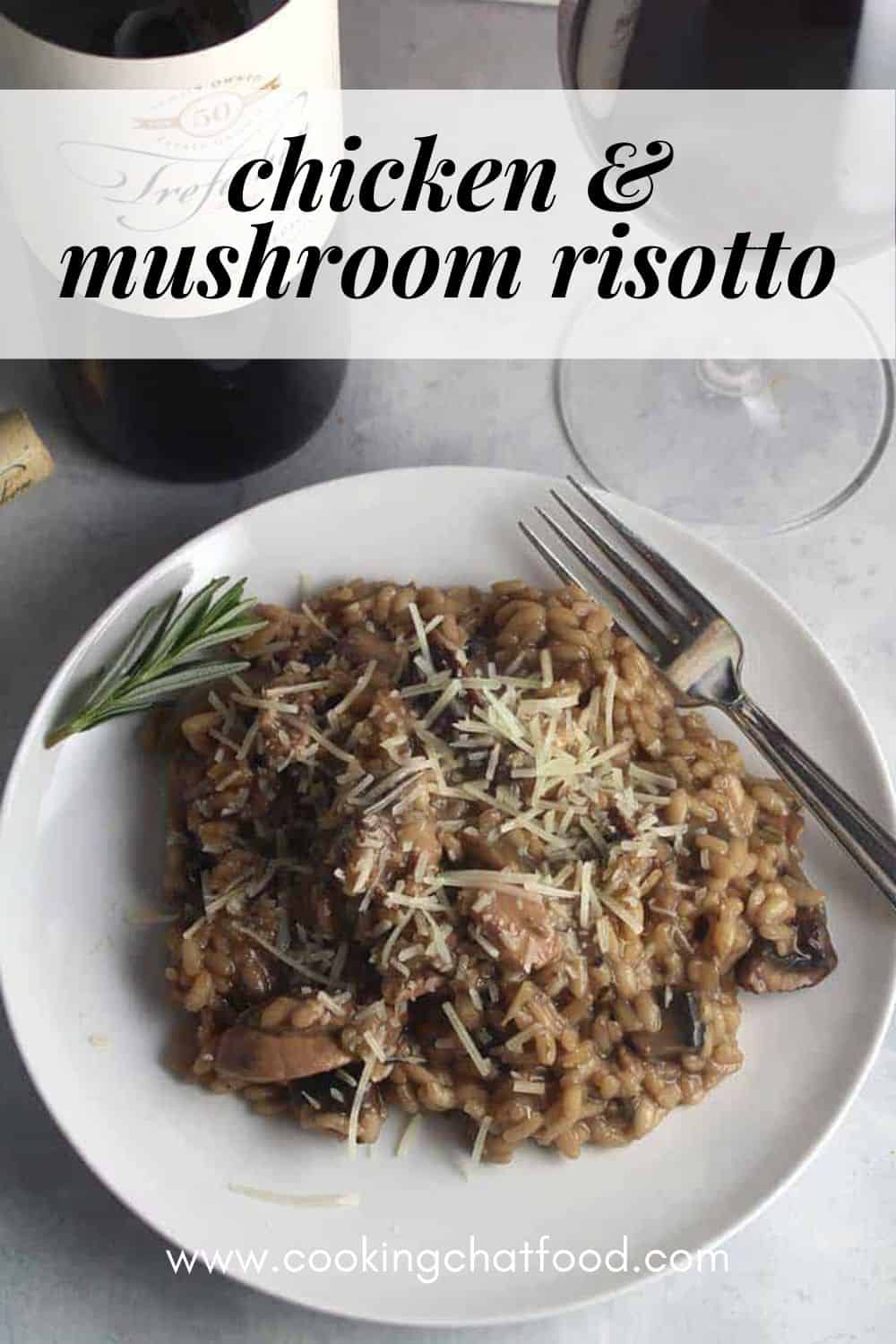 More Merlot pairings
The notion that Merlot could work with this dish was reinforced when I found a recipe for Merlot Roasted Mushrooms along with a bottle of Trefethen Merlot. Seems like the folks at this Napa winery had similar interests in finding some non-meat dishes that work with Merlot. And they featured mushrooms in that recipe, so I thought I was on the right path with this pairing.
So on the night I first made this risotto, I opened the 2015 Trefethen Merlot ($40, 14.1% ABV). I get violets and sage brush on the nose, ripe berry fruit and some vanilla on the palate. Balanced, moderate tannins makes this a good match for risotto.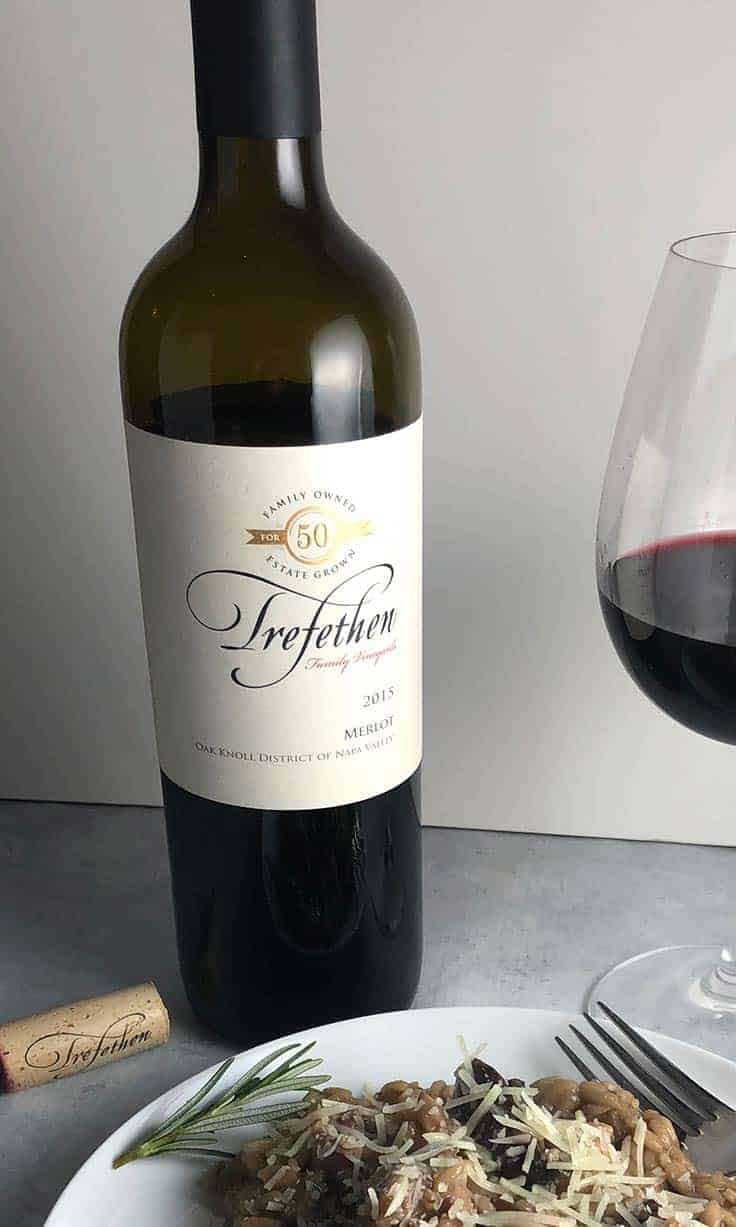 The Trefethen Merlot is from the Oak Knoll District of Napa Valley. It is comprised of 95% Merlot, 3% Cabernet Sauvignon and 2% Malbec. The Merlot sees 18 months of oak aging, 40% new oak.
Trefethen Family Vineyards is celebrating its 50th anniversary of making wine in the Oak Knoll District, located in the cooler southern area of Napa Valley. They are one of the few remaining family own vineyards in Napa.
I recall enjoying Trefethen wines at one of the first big tasting events I went to earlier in my wine journey, but I hadn't had any of their wine in awhile. So it was fun to feature the Trefethen bottle in our first #MerlotMe month post!
This chicken and mushroom risotto wound up lasting for a few nights, so we got try another Merlot with it on risotto night 2. I opened the 2016 Chelsea Goldschmidt Alexander Valley Merlot ($20) to try with the risotto.
This Merlot has a woodsy nose and blackberry fruit. More notable tannins than the Trefethen, the Goldschmidt Merlot opened up nicely with a little time in the glass. This Merlot from Sonoma's Alexander Valley is also a good match for the risotto! For more on the winery, visit their website.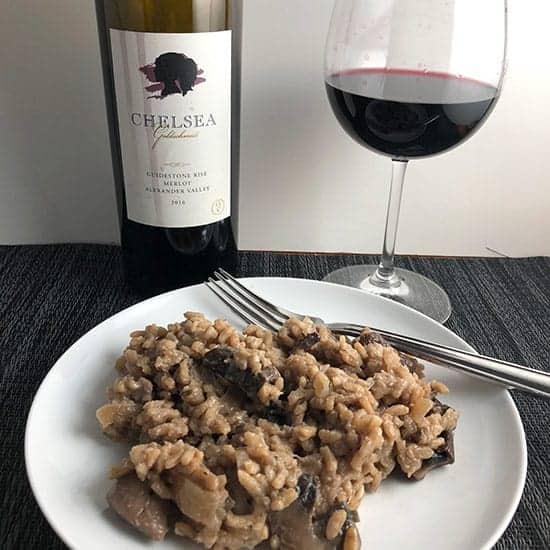 Thinking about Merlot for dishes that aren't meat based, this pairing shows you want to look for Merlots with moderate tannins, and relatively low on the alcohol. Relatively being the operative word here; the alcohol in the Merlots we are sampling for #MerlotMe month range from low 14% up to 15.3%.
So I am reserving those in the 15% range for the meat dishes we are planning! For more Merlot pairing ideas, visit our Merlot Food Pairings article.
Want some other pairing ideas for mushroom risotto? We've got an article on wine pairings for mushroom risotto you should check out!