This Chicken and Mushroom Risotto recipe makes for some delicious and hearty comfort food. Excellent paired with a good Merlot! We sampled the recipe two Merlots as part of our #MerlotMe month tasting and pairing. Disclosure: Wines provided as complimentary samples by the wineries.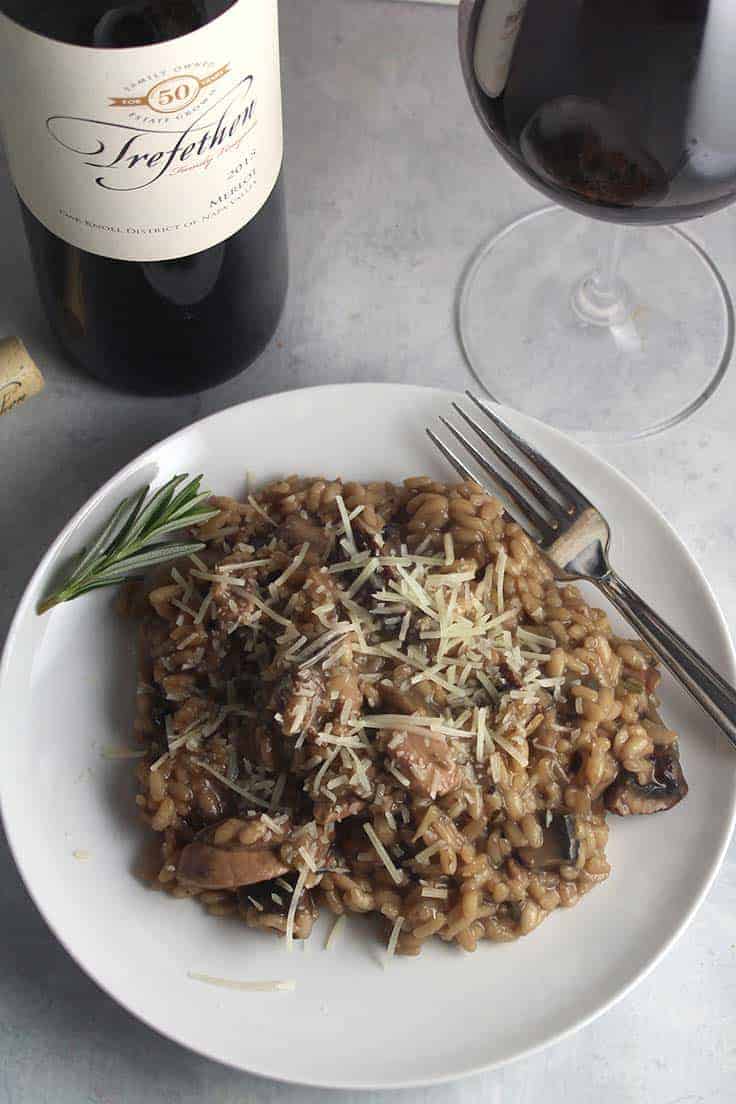 We have had a good amount Merlot rolling in to sample for #MerlotMe month, which is just getting started. For variety sake, I was looking for some hearty fare that would pair well with Merlot that does not have beef or pork as the basis.
Chicken and Mushroom Risotto is definitely some serious comfort food that can stand up to a bigger red wine like Merlot! And this recipe made enough for us to have a couple nights of leftovers, giving us a chance to test the pairing out with multiple Merlots.
For more about this month's #MerlotMe observances and an invite to our Wine Pairing Weekend event, visit Jeff's invitation post on foodwineclick.
Making chicken and mushroom risotto
I wanted to try a few things making this chicken and mushroom risotto. In my previous versions of mushroom risotto, I sautéed the mushrooms separately and then added them in with the rice toward the end of the risotto making.
In this chicken and mushroom recipe, I start the chicken and mushrooms cooking in the risotto pot prior to adding the rice.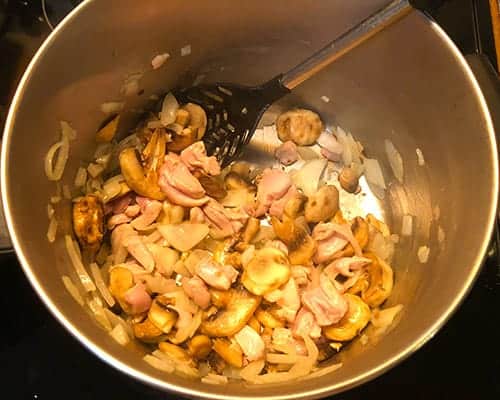 This way, you can do all the cooking in one pot (along with another pot to keep the liquid warm). This one pot cooking approach worked fine for this chicken and mushroom risotto.
If you happen to be wondering what to do with leftover liquid from soaking dried mushrooms, making this chicken and mushroom risotto is the perfect solution!
You need about 7 cups of broth to make this risotto. Like most other risotto recipes here on Cooking Chat, we use 2 cups of arborio rice. So if you have liquid left from reconstituting dried mushrooms, this is a great recipe. When you have finished soaking dried mushrooms, pass the liquid through a sieve lined with a wet paper towel or coffee filter to remove the grit. Save it for risotto making night!
Do you have to stir risotto constantly?
No, you don't have to stir risotto constantly. That said, you do need to give the risotto pot a stir every few minutes as you gradually ladle the liquid into the risotto pot.
Can you reheat risotto?
As I mentioned earlier, with two of us working on this chicken and mushroom risotto, we got several meals out of the risotto making effort. So yet, you can definitely reheat risotto. Put a portion sized serving in a microwave dish, and zap it for a minute. Give it a stir, and put it in for another 30 seconds or so until it is heated through.
Leftover risotto is not quite as good as the first night it comes out of the pot, but it is still quite tasty. With no need to cook an entree, put some effort into making a nice salad to serve with the risotto. And open a good wine to go with the risotto, of course!
Merlot pairing
Sure, my first instinct when I think of wine pairing for risotto is a good Italian red wine. But I had a notion that some good American Merlot could work well with our chicken and mushroom risotto.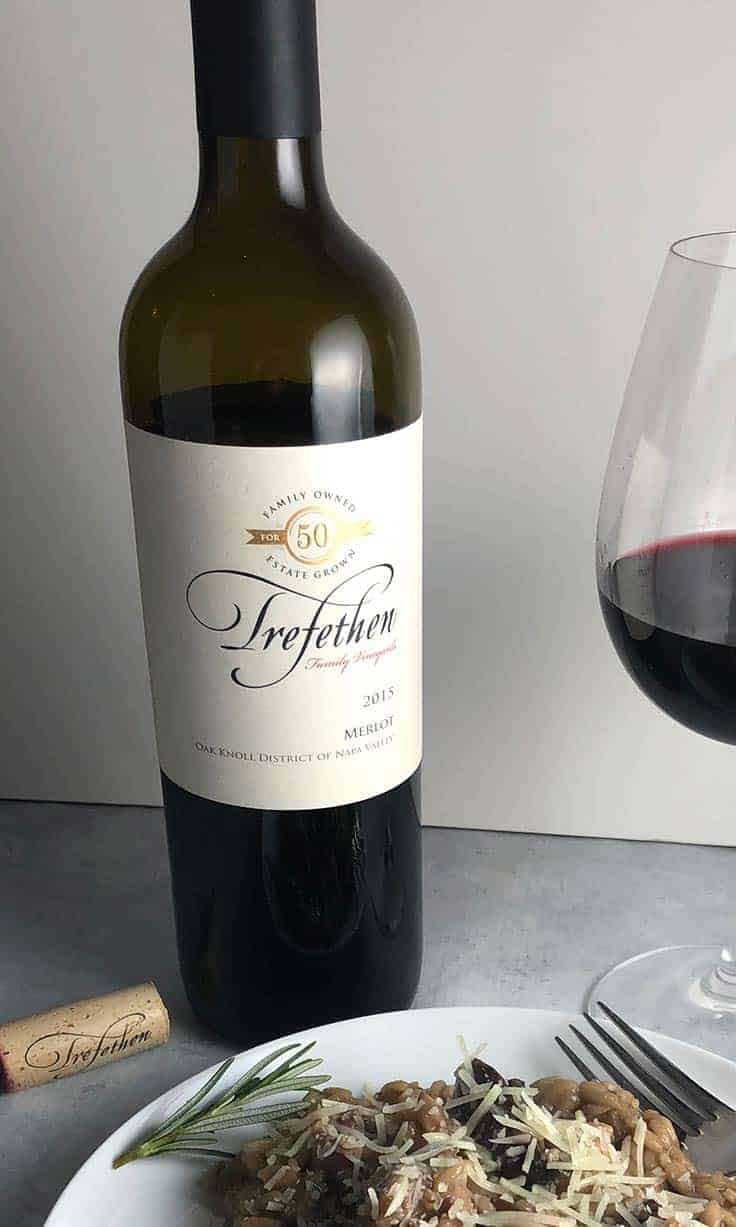 The notion that Merlot could work with this dish was reinforced when I found a recipe for Merlot Roasted Mushrooms along with a bottle of Trefethen Merlot. Seems like the folks at this Napa winery had similar interests in finding some non-meat dishes that work with Merlot. And they featured mushrooms in that recipe, so I thought I was on the right path with this pairing.
So on the night I first made this risotto, I opened the 2015 Trefethen Merlot ($40, 14.1% ABV). I get violets and sage brush on the nose, ripe berry fruit and some vanilla on the palate. Balanced, moderate tannins makes this a good match for risotto.
The Trefethen Merlot is from the Oak Knoll District of Napa Valley. It is comprised of 95% Merlot, 3% Cabernet Sauvignon and 2% Malbec. The Merlot sees 18 months of oak aging, 40% new oak.
Trefethen Family Vineyards is celebrating its 50th anniversary of making wine in the Oak Knoll District, located in the cooler southern area of Napa Valley. They are one of the few remaining family own vineyards in Napa.
I recall enjoying Trefethen wines at one of the first big tasting events I went to earlier in my wine journey, but I hadn't had any of their wine in awhile. So it was fun to feature the Trefethen bottle in our first #MerlotMe month post!
As I mentioned, this chicken and mushroom risotto wound up lasting for a few nights, so we got try another Merlot with it on risotto night 2. I opened the 2016 Chelsea Goldschmidt Alexander Valley Merlot ($20) to try with the risotto.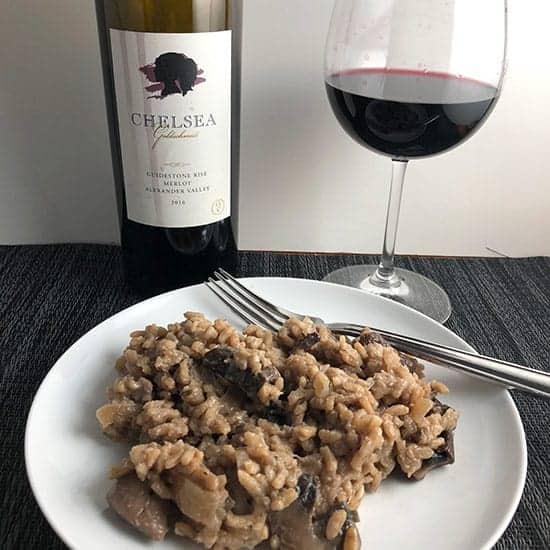 This Merlot has a woodsy nose and blackberry fruit. More notable tannins than the Trefethen, the Goldschmidt Merlot opened up nicely with a little time in the glass. This Merlot from Sonoma's Alexander Valley is also a good match for the risotto! For more on the winery, visit their website.
Thinking about Merlot for dishes that aren't meat based, this pairing shows you want to look for Merlots with moderate tannins, and relatively low on the alcohol. Relatively being the operative word here; the alcohol in the Merlots we are sampling for #MerlotMe month range from low 14% up to 15.3%.
So I am reserving those in the 15% range for the meat dishes we are planning! For more Merlot pairing ideas, visit our Merlot Food Pairings article.
Want some other pairing ideas for mushroom risotto? We've got an article on wine pairings for mushroom risotto you should check out!
Print
Chicken and Mushroom Risotto
Chicken and mushrooms cooked with arborio rice for a rich and satisfying risotto.
Author: Cooking Chat
Prep Time:

10 mins

Cook Time:

40 mins

Total Time:

50 mins

Yield:

6

servings

1

x
Category:

main

Method:

stove top

Cuisine:

Italian
1 tablespoon

extra virgin olive oil

1

onion, chopped

1

lb chicken thighs, rinsed and cut into bite sized pieces

2 cups

sliced mushrooms

½ cup

dry red wine

2 cups

arborio rice

7 cups

chicken stock or mushroom soaking liquid (see note)

½ teaspoon

fresh rosemary, minced, or

⅓ teaspoon

dry rosemary

½ teaspoon

dried thyme

½ teaspoon

dried garlic

½ cup

parmesan cheese plus more for serving
salt and pepper to taste
Instructions
Bring the chicken stock or mushroom liquid to a simmer, and keep warm.
Heat the olive oil on medium low heat in a large nonstick pan. Add the onion, and sauté until it begins to soften, about 5 minutes.
Stir in the chicken, and cook for about 3 minutes, as the chicken starts to turn white on the outside. Add the mushrooms, and stir to combine.
Add the cooking wine, stirring to combine. Bring to simmer, then stir in the rice making sure the rice gets well coated with the wine, chicken and mushrooms. Add the thyme, rosemary and garlic powder. Add salt and pepper to taste.
When the wine has been mostly absorbed, add a ladle or two of broth to the rice. Stir the risotto mixture and cook until the broth is absorbed. Add another ladle of broth and repeat process. Stir frequently throughout the risotto cooking.
Once all or most of the liquid has been absorbed the rice is tender to the bite, the risotto is almost ready. It takes about 30 minutes of gradually ladling in the cooking liquid and stirring regularly.
Add the cheese to the risotto, and stir well. Plate and enjoy with a good glass of red wine!
Notes
When you reconstitute dried mushrooms, the process generates a rich mushroom flavored liquid. If you are using dried mushrooms for another recipe and don't need the liquid, save it for making this risotto! If you don't have mushroom liquid on hand, you can use the chicken stock.
You don't need to stir the risotto constantly, but definitely frequent stirring is needed. After ladling in more liquid, give the pot a good stir. Then you can leave the risotto for a minute or two, before giving it another stir.
Keywords: risotto, mushroom risotto, Merlot pairings, chicken and mushroom risotto
Recipe Card powered by