Today we are exploring amphora wines, and how modern winemakers are utilizing ancient techniques to produce quality wines. For the article, we connected with an amphora wine expert, and tasted some representative wines. Our article is part of the Wine Pairing Weekend's focus on the topic this month.
Clay vessels generally referred to as amphora have been used in wine making for thousands of years. The clay material used in amphora allow some oxygen to penetrate to the juice during the winemaking, without imparting the flavors one gets from oak.
Amphora wines can be found throughout the world, with notable examples from Georgia, Portugal, Armenia, Greece and Italy. Some winemakers in the US are also making wines with amphora.
Thanks to Gwendolyn Alley from Wine Predator for hosting today's even focusing on amphora wines!
Jump to:
Amphora wine terms around the world
Amphora is the general name for the clay vessels used in winemaking. Different terms are used around the world for this. In Georgia, qvevri refers to both the winemaking vessel and the technique for making wine with it. Qvevri have a conical shape, and are buried underground.
In Portugal, they refer to it as talha, in Spain, amphora vessels are called tinaja. In Italy, you will find the terms Anfore, orci or giare used. This Wine Enthusiast article was our resource for these terms and some other background information.
The country of Georgia has a winemaking tradition with qvevri that goes back some 8,000 years. In 2013, UNESCO added the traditional qvevri winemaking to its Representative List of the Intangible Cultural Heritage of Humanity.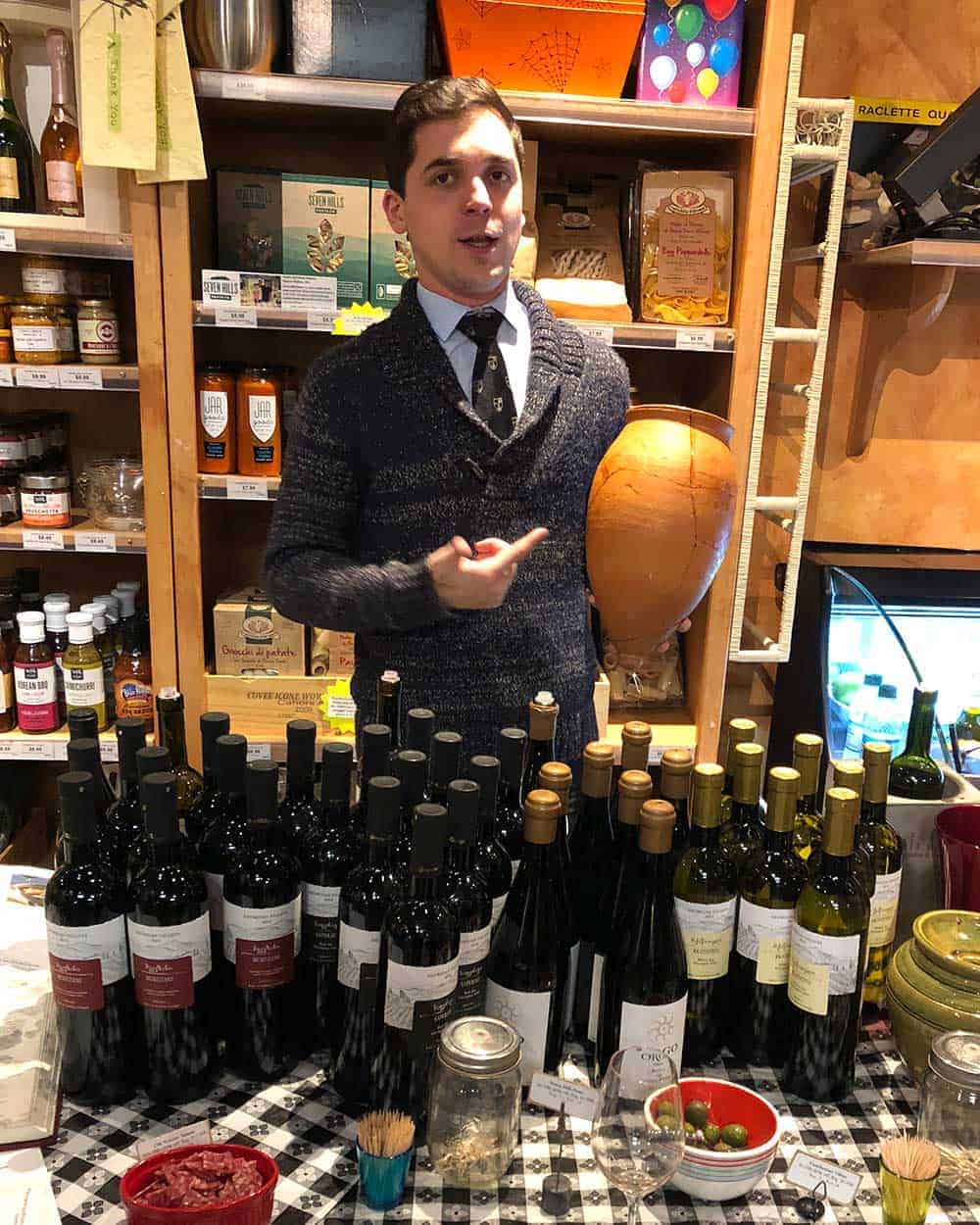 I first learned about kvevri from Georgian wine importer Kosta Cherinikov when he was doing a tasting at local wine ship. A couple years ago, he invited us to a Georgian wine event that I wrote about in this article on Ancient World wines.
With Georgia's rich history of amphora winemaking, I figured it would be a good focus for today's article. And Kosta helped me by connecting me with an expert with some deep knowledge on the subject.
Meet our expert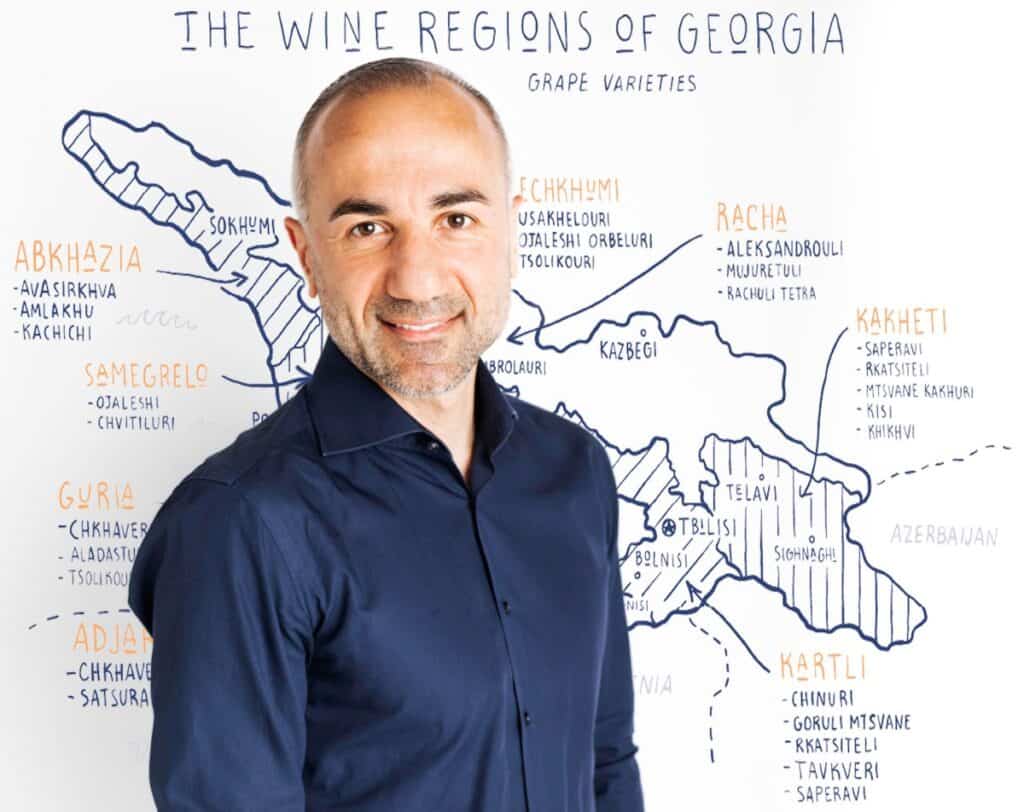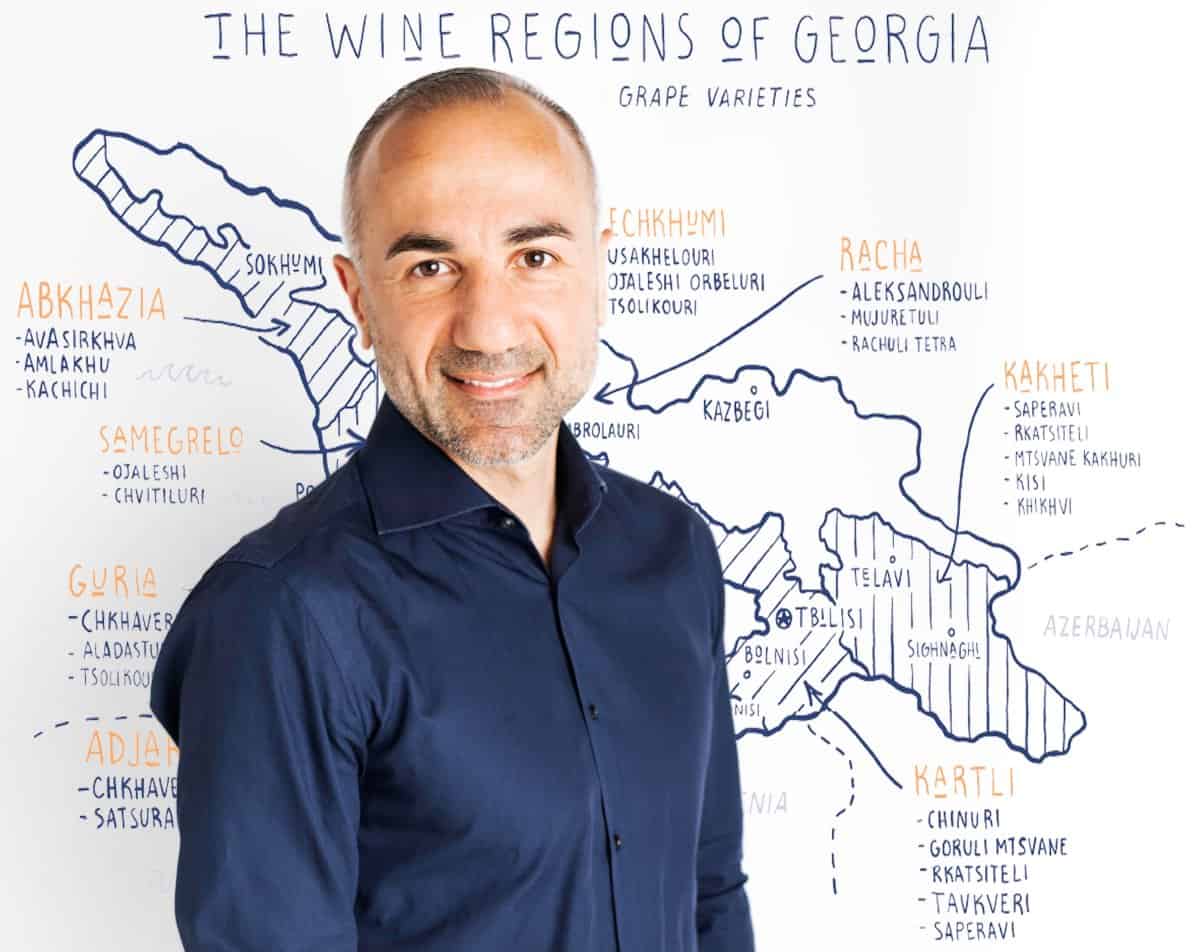 Lasha Tsatava is a native of the country of Georgia where evidence of winemaking has been found dating back 8,000 years. Although he has spent more than half of his life in the United States, his passion for Georgian wine, food and culture is as strong as ever, and he is an enthusiastic ambassador of Georgian wines and grape varieties.
Lasha recently completed his WSET Diploma in Wine. He is the first Georgian to earn this accomplishment. Lasha also completed the Italian Wine Maestro program and is studying to become a French Wine Scholar. He has been serving as one of the Directors of the Boston Sommelier Society since 2019 and is involved in promoting the wines of Georgia around Boston and beyond.
The next few sections about amphora wines come from my email interview with Lasha.
Qualities of Amphora Wine
The exchange of oxygen afforded by the clay vessels leads to purity of fruit expression, without non-fruit flavors being imparted as is the case with oak.
Lasha notes that fermentation can often occur over a longer period of time with amphora winemaking, leading to a higher extraction level.
"Overall the fruit character of the clay vessel fermented wines tends to be high-toned and elevated, kind of amplified in a way," observes Lasha. "Lastly, wines that are aged in clay vessels tend to mature faster because of the micro oxygenation."
Evolution of amphora winemaking
I asked Lasha if winemakers using amphoras today basically using the same process that would have been used in ancient times. He explained that the process has evolved:
"There is a lot more information available for winemakers to pay attention to and take into consideration when making amphora wines whether it's grape variety characteristics, vineyard management techniques based on grape characteristics, harvesting times, winemaking techniques, frequency of punch downs in amphora, fermentation temperatures, etc."
Grapes used
I asked Lasha about types of grapes used in amphora winemaking. Here's what he had to say on this topic, as he explains why it depends on the style of wine that is desired:
For example, according to Gogi Dakishvili of Orgo wines (Katheti, Georgia) if you are making 6 months skin contact wine in Qvevri from white grape varieties, it's important to use phonologically fully ripe grapes. Skins, pips and if desired even stems must be fully ripe so they do not impart any off aromas on the wine. So in this case, the grape varieties that retain acidity while getting ripe would be preferred.
In another example, the winemaker might choose to make wine with partial or no skin contact at all and in this case the complete ripeness might not be necessary. For example, Pedro Ribeiro in Alentejo, Portugal harvests his grapes little earlier than full ripeness in order to preserve maximum acidity in hot climate of Alentejo and the same time impart a touch of herbaceous character on his red wines, which lifts the wine and makes is more fresh and quaffable.
Amphora wines and pairings
OK, it is time to start moving from the technical background to my favorite subject — wines to try, and pairings to go with them!
Before I get to the pairings I have tried with amphora wines, let me share some of Lasha's picks for amphora wines along with his pairing ideas:
Orgo Rkatsiteli or their Kisi from Katheti, Georgia. Pairing suggestion: pork skewers roasted on vine charcoals or pomegranate infused baby back ribs and Khachapuri (Georgian traditional cheese bread).
Herdade do Rocim – Fresh from Amphora Nat'Cool, a red blend from the Alentejo region of Portugal. Pairing suggestion: duck confit with Georgian ajika spice and sautéed vegetables.
OK, it's time to check out the pairings I have tried for our amphora wines article!
Chubini Saperavi for taco night
I've enjoyed amphora wines before, but wanted to sample some specifically for this event.
Knowing Georgia (the country!) has a long history of using amphora to make wine, I asked my friend Kosta Chernikov from the Georgian Toast for suggestions. He pointed me in the direction of the 2018 Chubini Saperavi ($25, 13.5%). I picked it up at Malden Square Fine Wines if you are in the area and interested in trying it.
The Saperavi is inky dark purple in the glass. Violets and camphor notes on the nose. Black cherry and notable acidity on the palate, a polished mouthfeel. Well-balanced.
I nibbled on some cheddar cheese while first tasting a bit of the Saperavi.
Kosta had suggested the wine would go well with grilled meat or perhaps juicy grilled vegetables. I went in a slightly different direction, opening the wine for our Taco Tuesday routine. Given the pairings suggestions, I prepared a beef and bean tacos with some grilled poblano peppers.
The Saperavi paired well with the beef in the tacos as well as the smoky flavor of the grilled poblano. A good bottle and pairing!
This Saperavi is made in the Kakhetian style, with the fruit is macerated along with the skin, seeds and stems of the grapes in underground qvevri. Six months of skin contact.
Pairing for Cauliflower Bacon Spread
For a #winePW event last year, we paired our recipe for a Cauliflower Bacon Spread with an amber wine, also from Chubini.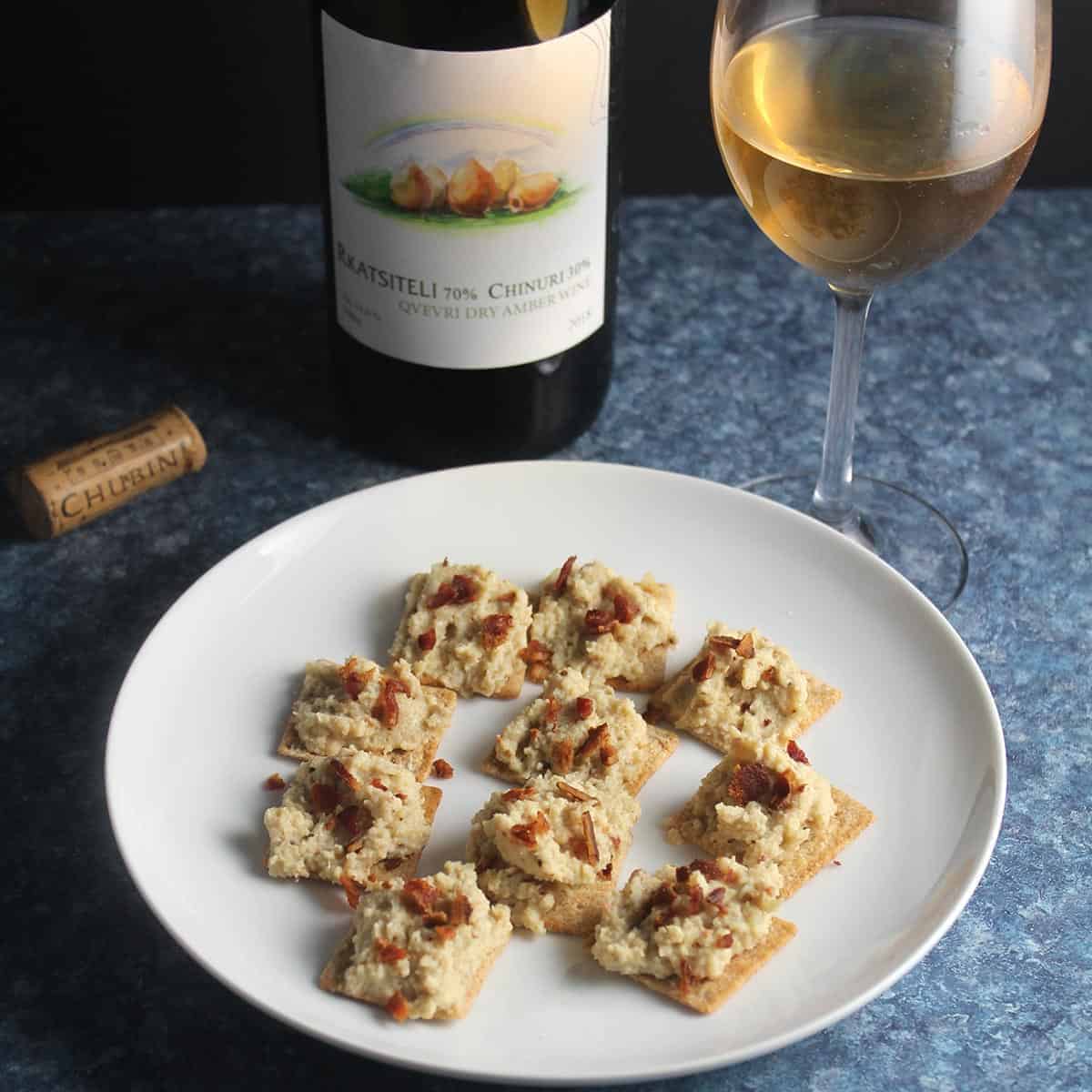 I initially stumbled upon this pairing idea when I was asked to come up with a pairing for skin fermented Chardonnay from Scribe, for a gathering of some fellow oenophiles.
Kosta was there, and was quite enthusiastic about roasted and grilled cauliflower with orange wines. So I remade the recipe to pair with the 2018 Chubini Qvevri Amber Wine ($20, 13% ABV).
With notes of almond, lemons and apricot, and a complex mouthfeel, this wine is a very good pairing for our cauliflower spread!
Chubini Winery lies in the foothills of the Caucasus Mountains. It was founded in 2016 by the young winemaker, Tornike Chubinidze.
I cover more detail on the winery in this post, and you can also learn more in this video with Tornike talking about winemaking.
Georgian Saperavi with Turkey Chili
While picking up the Chubini Saperavi, I figured I would get another bottle to taste for this event. So the other night we opened the 2018 Velistsikhe Veranda Saperavi ($20, 12%ABV) to go with our Hatch Chili with Turkey.
I get number 2 pencil, plum and other red fruits on the palate of this Saperavi from Georgia. I liked it better with the chili than on its own.
Visit our article on Wine with Chili for more pairing ideas like this!
More wines to try
In addition to the bottles mentioned earlier, Lasha suggested the following additional amphora wines that you might want to try.
Thierry Germain's Qvevri Cabernet Frank from Loire Valley, France
Solomnishvili Winery's Qvevri Saperavi Budeshuri 1984 from Katheti, Georgia. (1984 is brand name, vintages are fairly recent)
Avondale's, certified organic, Grenache-Syrah-Mourvedre blend from Paarl, South Africa
Domaine De La Pousse d'Or Amphora, 1er Cru, Volnay, Burgundy, France
Elisabetta Foradori's Nosiola from Trentino, Italy (she uses Tinajas from Spain)
Herdade do Rocim, Amphora from Alentejo, Portugal
COS Pithos Bianco from Sicilia, Italy
A.D. Beckham Amphora wines from Oregon, USA. He handcrafts the amphora himself! More on the winery website.
Amphora Wine Articles from #winePW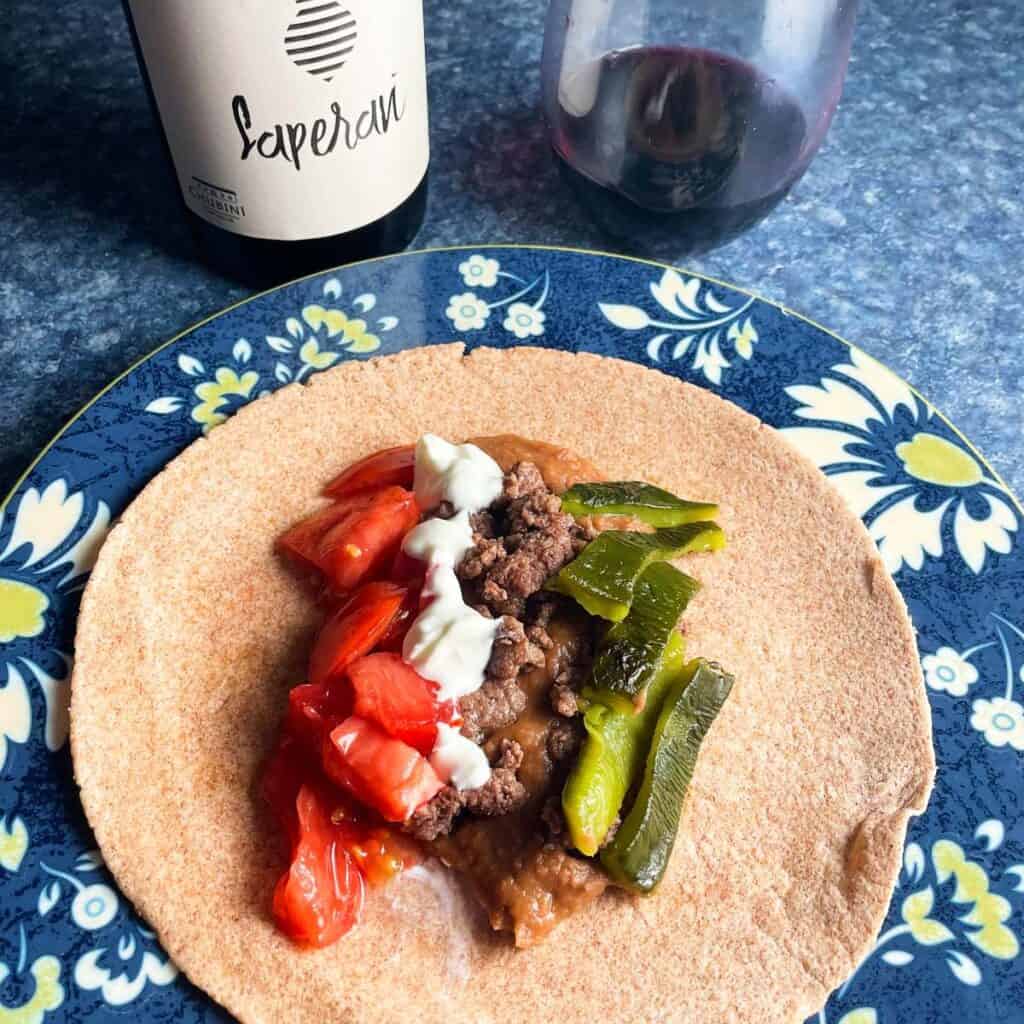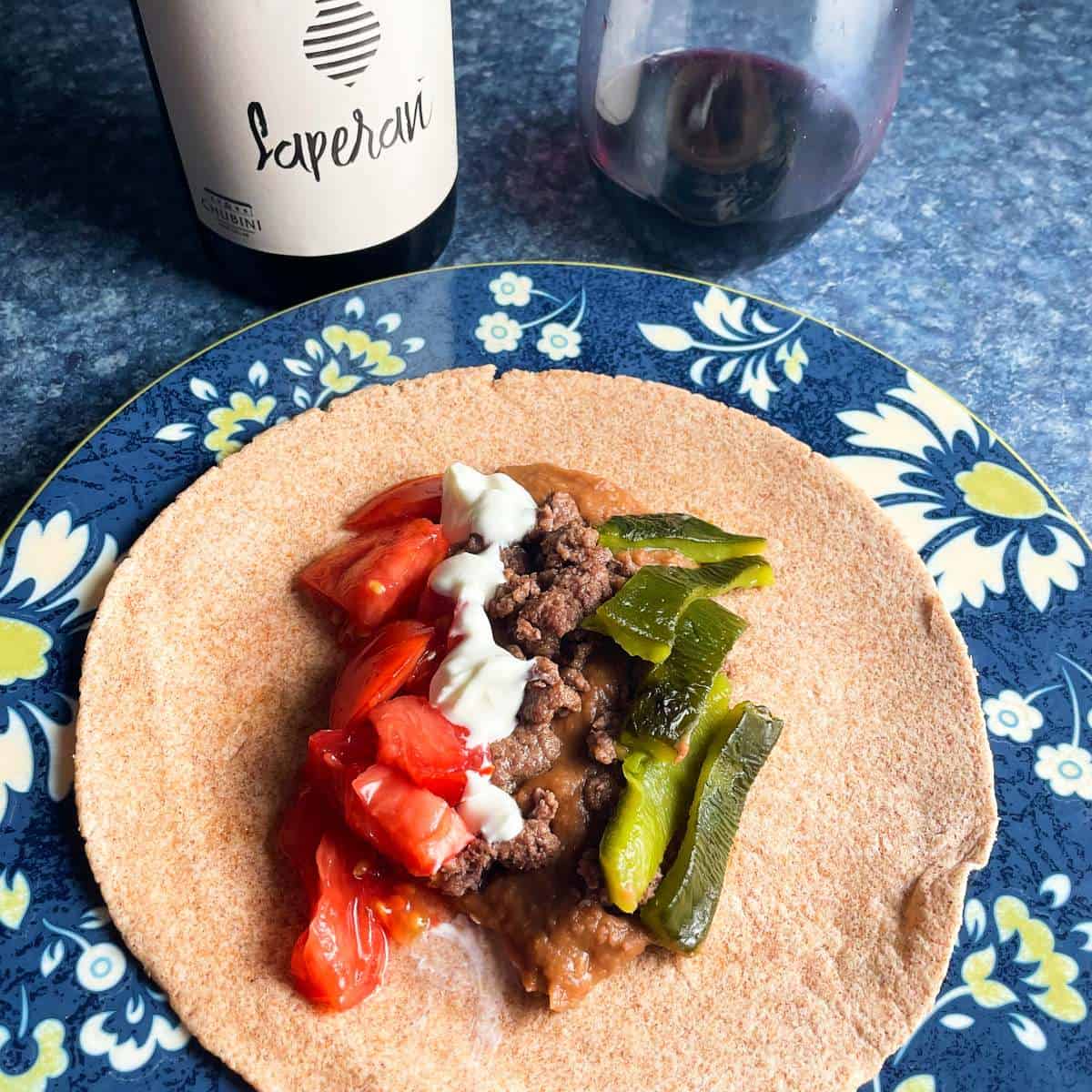 There are amphora wines being made all over the world. Take a look below at both wine discoveries and delicious food pairings. Then, why not join our chat on Saturday August 14 11 am-noon EDT on Twitter at #WinePW?