Hatch Chili with Turkey is a flavorful and healthy recipe featuring the special chile peppers from New Mexico. We include options for making the chili in a slow cooker or on the stovetop. Recipe made using a complimentary bag of roasted Hatch Chiles from the Hatch Green Chile Store. Check out our collection of the Best Hatch Chile recipes if you are looking for some other ideas!
We paired this turkey chili with a Cabernet Franc from Paso Robles, as part of the Wine Pairing Weekend's focus on the region this month. Slow cooker version of the recipe originally published in September 2016; updated with the wine pairing suggestion and stovetop option in November 2021.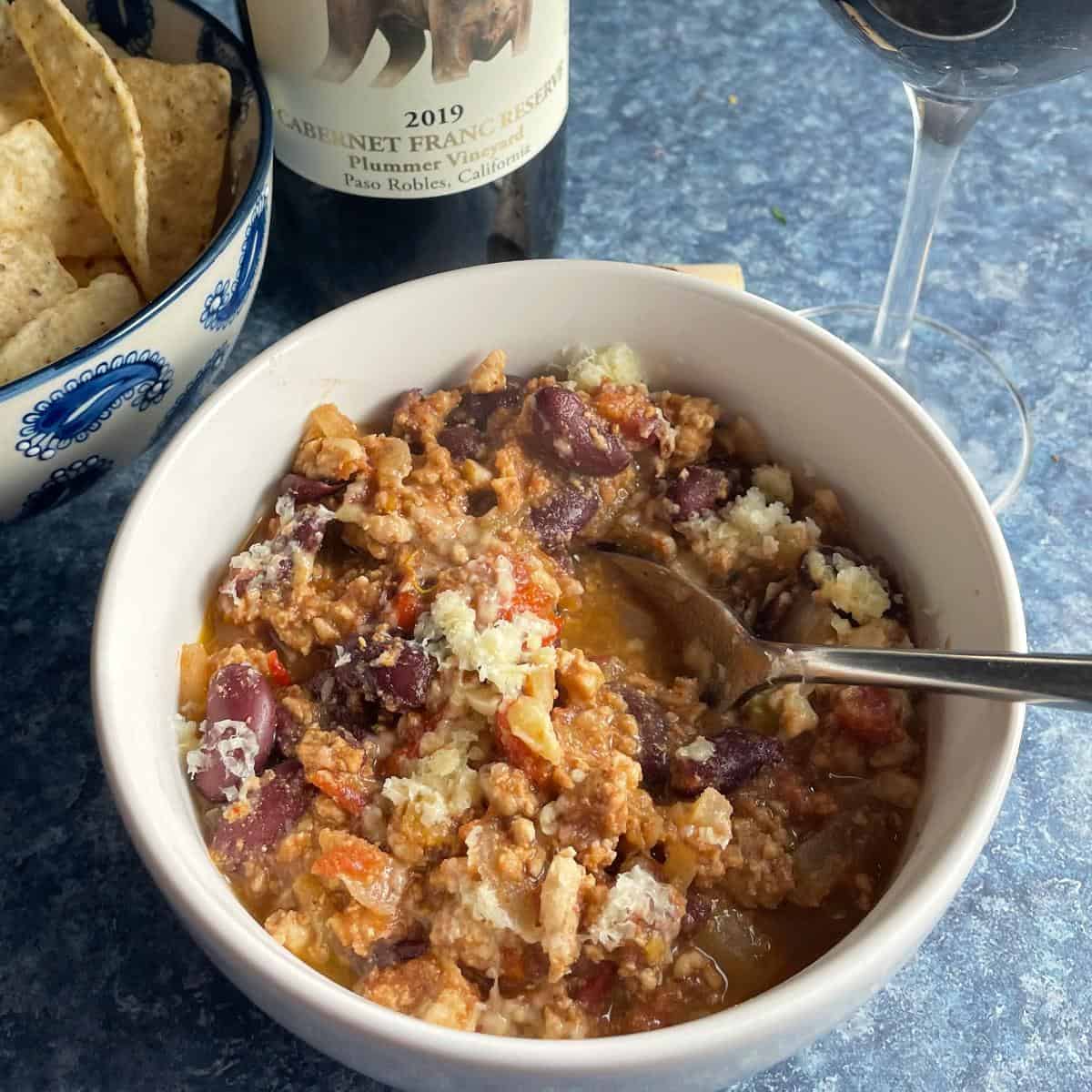 Today we are highlighting and pairing two products that take on the unique characteristics of regional growing conditions – the combination of soil and climate referred to as terroir.
In our bowl, we have a delicious and healthy turkey chili, flavored by Hatch red and green chiles, which hail from the Hatch Valley in New Mexico.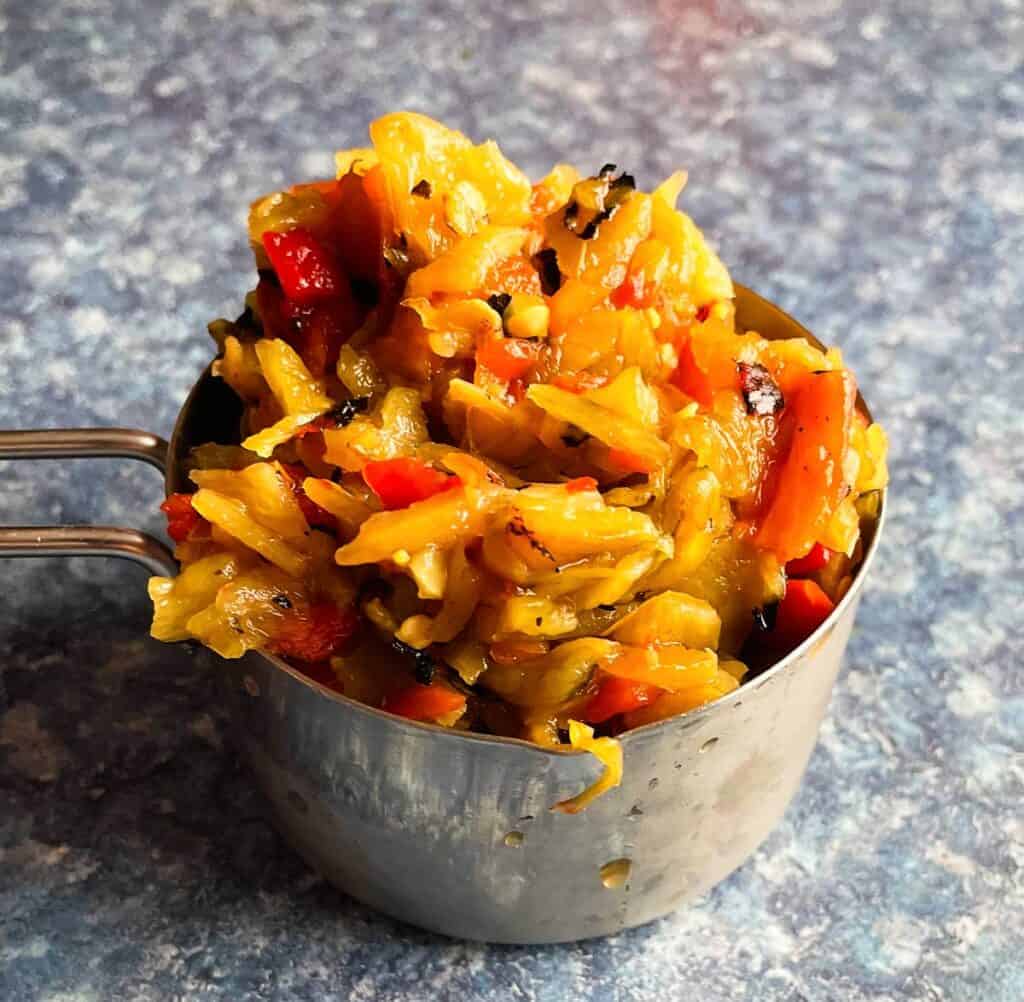 These special, richly flavored chiles come into season in August, and can be found fresh in August and September. Good news! You can order them frozen, as we did, and enjoy the freshness throughout the year.
For more recipes ideas, be sure to check out our collection of the Best Hatch Chile Recipes.
Jump to:
Recipe tips
Head down to the recipe card for the full details on how to make this chili. Here are some tips to keep in mind:
Heat level: The heat level in this chili is going to be driven by the Hatch chiles you use. When I've gotten fresh Hatch chiles, they tend to be in a medium spice level.
When you order frozen Hatch chiles as shown above, you can choose between a mild, medium or hot chile. I should also mention that the come all prepped for adding to the chili once you have thawed them.
We had mild chiles for the most recent remake of this Hatch chili. I added a bit of extra chili powder to bring the spice level of the chili up to a medium range.
Generally speaking, the chili prepared as instructed will give you a flavorful but moderate spiced chili. Among other virtues, that makes it more conducive to pairing with wine!
The heat in a chile pepper comes from the pith, the white tissue connecting the seeds with the outer part of the plant. Removing this reduces the heat level, using some or all of it increases the heat.
Slow cooker vs. stovetop: We initially made this recipe in the slow cooker. That is a great option when you have some time in the morning to do a little dinner prep. You can get the Hatch chili going in the slow cooker and have your dinner cooking all day, with no more effort. Perfect for a busy day!
Sometimes we'd rather just start this chili about an hour before dinner time, so we also have a stovetop version.
In the slow cooker method, the beans and turkey gradually absorb the liquid generated by the tomatoes. I recommend about a half cup less tomatoes when doing the stovetop version, to get the desired level of chili thickness.
Frequently asked questions – FAQ
What are Hatch chiles?
Hatch chiles are chiles grown in the Hatch Valley in New Mexico. As Preston Mitchell from the Hatch Green Chile Store explained to me in a previous comment here on Cooking Chat:
"[Hatch is] a town in Southern NM where the soil, climate, and tradition of growing chile are all so great that the chile grown here has developed a reputation in the marketplace. Similar to Champagne (made only with grapes grown in a specific area in France) or the Vidalia onion, (grown only in the Vidalia region of Georgia) "Hatch" is any chile grown here in the Hatch Valley."
Can I use fresh chiles?
Yes. I call for frozen Hatch green chiles, which means you can make the recipe any time during the year. But if you have fresh chiles when they are in season in August or September, go ahead and use them! You will want to roast or grill them first, and peel off the skin when the roasted chile has cooled. Check out our Grilled Ribeye with Hatch Chile Salsa for details on how to do this.
Can I use leftover turkey in this recipe?
I haven't tried it, but I suspect it could work. I would try substituting some leftover turkey for one pound of the ground turkey. i.e. you would start by browning 1 pound of ground turkey instead of 2. Cut the leftover turkey into bite sized pieces, and it toward the end of cooking so it just heats up but doesn't try out. I would say put the leftover turkey in with one hour left of slow cooking, or 15 minutes left on the stove top.
Is leftover chili good?
Yes! We keep leftover chili in the refrigerator in the chili for up to 5 days or so. I like to store it in the pan, and gradually reheat it on the stovetop. I find the flavor builds a bit with the reheating of leftover chili.
Wine pairing from Paso
The first time we made this Hatch chili we paired it with a beer.
But that was awhile back, and since then, we have done a lot of experimenting on the topic of wine with chili.
I realized recently that Cabernet Franc is one red wine I hadn't tried as a pairing for chili. I tested the combo a few weeks ago, and liked the pairing well enough to come back and do it again for today's Wine Pairing Weekend event!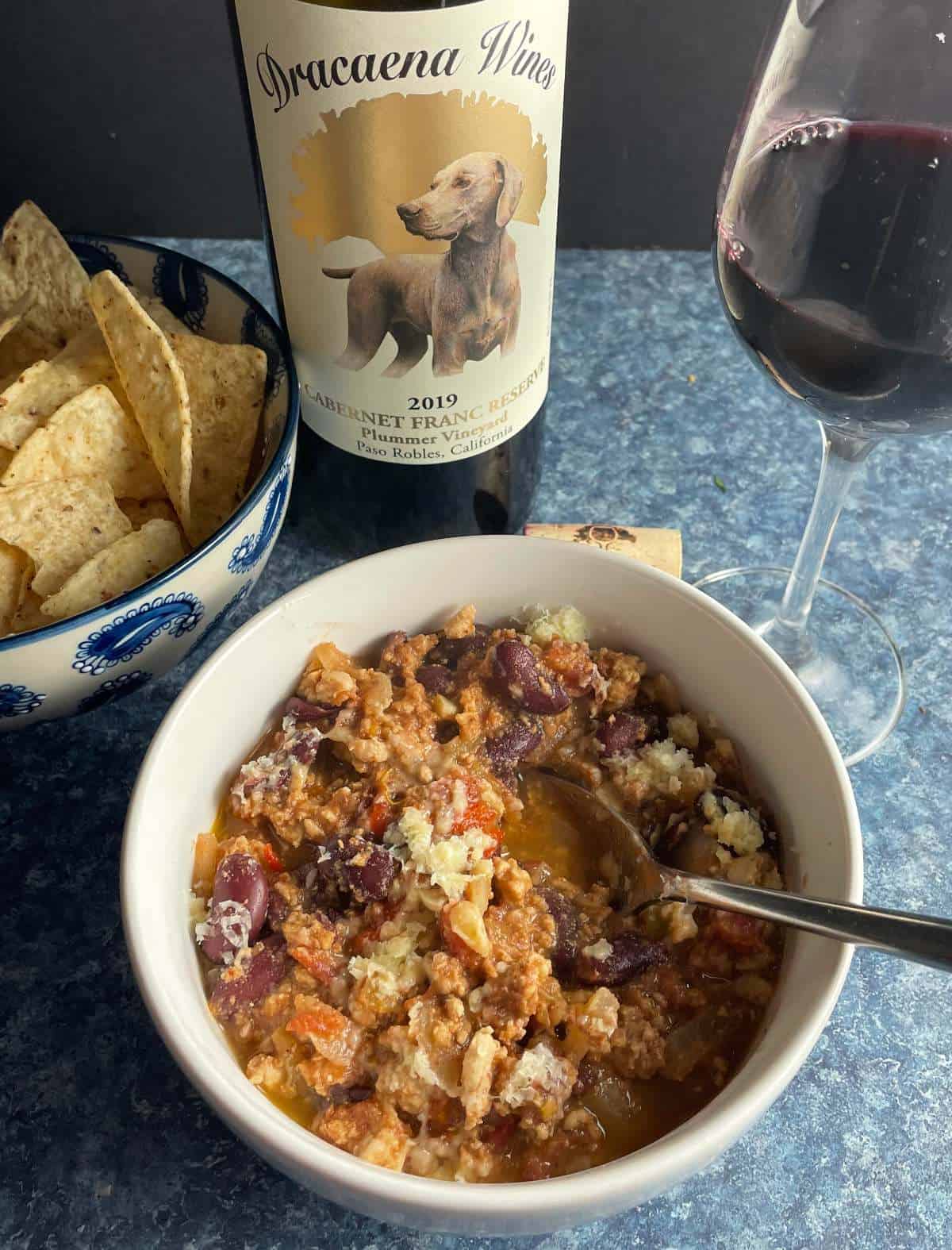 We had one bottle left of the 2019 Dracaena Wines Plummer Vineyard Reserve Cabernet Franc (14.5% ABV), and I figured it could be a good match for this turkey chili. I get brambles on the nose of this wine. On the palate, plum fruit and a variety of spices, including cinnamon. A long silky finish.
This is definitely a great Paso Robles Cabernet Franc! If you haven't had much experience with Cab Franc on its own as opposed to in a blend, this is definitely a good one to try.
Why the pairing works
A super hot, five alarm style chili is going to be hard to pair with wine. But this Hatch chili has moderate spice levels, opening up to some good wine pairing possibilities.
Cabernet Franc is known for having notes of green pepper. Granted, that is bell pepper being referenced as opposed to chile peppers, but it seems like the pepper notes from the varietal do carry over to pairing well with chili.
The spice notes I get from the wine also work nice with the Cab Franc. I included cinnamon in my tasting notes, and also use a bit of cinnamon in this chili recipe. That set up a winning pairing! I give it an "A"!
Print
Recipe card
Hatch Chili with Turkey
Turkey chili flavored by roasted Hatch chiles, for a healthy and flavorful meal. Instructions given for slow cooker and stovetop methods.
Author: Cooking Chat
Prep Time:

10 mins

Cook Time:

45 mins

Total Time:

55 mins

Yield:

8

servings

1

x
Category:

Main

Method:

stove top or slow cooker

Cuisine:

American Southwest
1 tbsp

olive oil

2

onions, chopped

5

cloves garlic, minced

1 cup

roasted Hatch chiles, chopped

28

ozs diced tomatoes (cut to

24

ozs for stove top)

2

lbs ground turkey

2

14 oz cans kidney beans, drained and rinsed

1 tsp

cumin

3 tsp

coriander

1 ½ tsp

paprika

2 tsp

chili powder

1 tbsp

ketchup

¼ tsp

cinnamon
optional shredded cheese and chopped scallions for topping
Instructions
Starting the chili
Sauté onions: Heat the olive oil in a large skillet on medium heat. Add the onions, cook until they begin to soften, about 5 minutes.
Add the turkey to the skillet. Cook for about 10 minutes, stirring occasionally, until the turkey meat begins to brown. Add the garlic toward the end of this browning time.
Slow cooker steps
Transfer to slow cooker: After browning the turkey as described in the first two steps above, transfer the turkey and onions to a slow cooker. Add the remaining ingredients, except for the the cheese, to the slow cooker: Hatch chile peppers, tomatoes, kidney beans, and dried spices. Stir to combine the ingredients.
Slowly cook the chili: Cover the slow cooker, and cook on low for 7.5 hours.
Serve: When the cooking time is done, serve the chili in bowls, topped with the cheese if you are using it. Enjoy!
On the stovetop
Add tomatoes and chilies: After the two "starting the chili" steps, add the 24 ozs of diced tomatoes, followed by a heaping cup of Hatch green chiles. Stir to combine, and bring to a simmer.
Stir in the dry spices — 1 teaspoon cumin, 3 teaspoon coriander, 1 ½ teaspoon paprika, 2 teaspoon chili powder and ⅓ teaspoon cinnamon. Then add the tablespoon ketchup. Stir to combine.
Simmer the chili uncovered for at least 30 minutes, stirring occasionally. An extra 10 to 15 minutes simmering time, for a total of 45 minutes, deepens the flavor if you have time. 
Serve: Scoop the chili into bowls, and serve with optional cheese and scallions for topping. Enjoy!
Notes
The cooking time listed is for the stove top version. Plan on 8 hours from start to chili ready to serve if you are making it in the slow cooker. That includes about 15 minutes active time in the beginning, followed by the hands off, slow cooking time.
Hatch chiles come in mild, medium or hot. I have made this chili with mild and medium; personally I prefer the medium version. If you have mild on hand but want the chili a bit hotter, you can increase the dried spices, especially chili powder.
Keywords: hatch chile chilli, hatch green chili ground turkey, Hatch chili recipes, healthy southwest chili
Recipe Card powered by
Wine Pairing Weekend Visits Paso Robles
Be sure to check out all of the other #winePW articles featuring info about Paso Robles along with some tasty pairings!