This Wine with Chili article is based on lots of experimenting to find pairings we like best and can recommend for you. So if you are a wine lover like me, don't let someone tell you only beer can pair well with chili! We cover some of our favorite wine pairings for chili along with some general tips to keep in mind.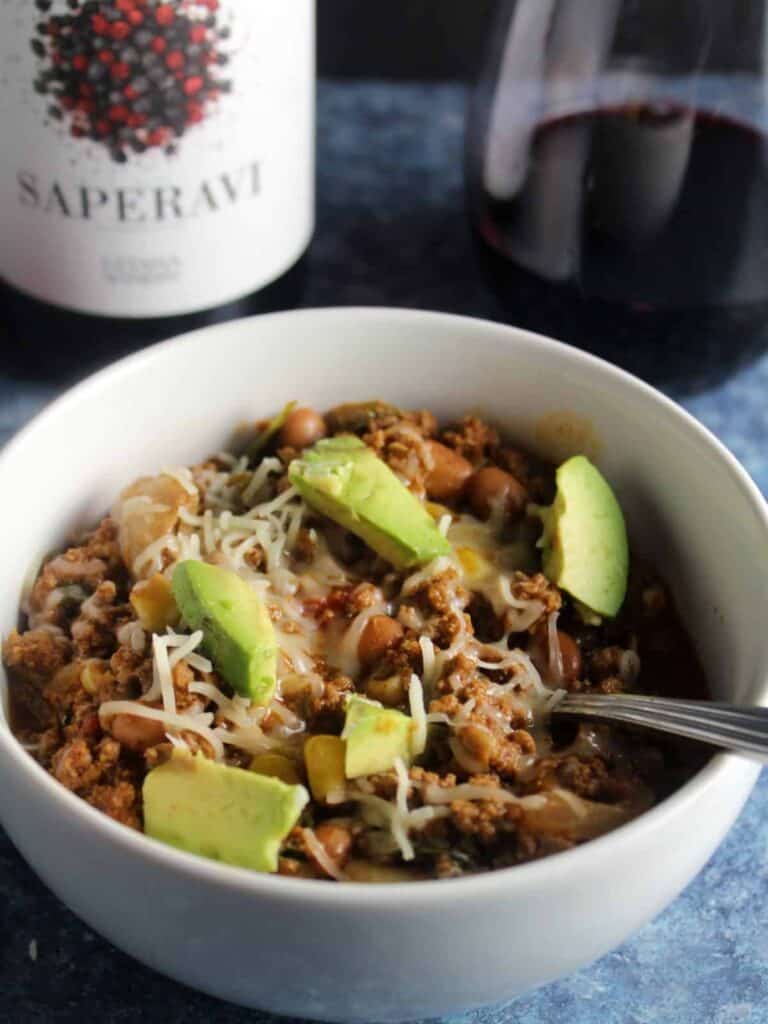 Sure, many people might lean toward beer with chili. But for those of us who prefer to drink wine with our dinner, there is a quest to fine wine that pairs well with chili. This article on with with chili, initially developed in February 2019, captures results of our pairings experiments.
Recently the Wine Pairing Weekend group explored "Wine for hard to pair foods". I was too busy to get something new published, but I figured it would be a great time to update this article.
Jump to:
Why is chili hard to pair with wine?
The primary challenge pairing wine with chili is the spice level. Many wines will not work well with spicy food. For instance, Cabernet Sauvignon might typically be a good pairing for a beef dish, but the tannins in a Cab are likely to clash with the spice of chili.
Of course, chili comes in a range of spices and ingredients. A wine perfect for a meaty chili con carne might not be the optimal choice for a white chicken chili.
Most chili recipes have tomatoes, adding acidity which also needs to be factored in with the pairings.
Chili pairing tips
While the spice and acidity can pose some challenges, a range of options will work, depending on the chili recipe you are using and your own palate. A few general ideas to keep in mind:
Fruit forward red wines with lower tannins will tend to work better, particularly if you are keen to open a red.
Lower alcohol wines tend to be more food friendly, especially when dealing with a challenge like chili. However, a well made wine with higher alcohol, such as a Zinfandel we have tried successfully, can work if it is fruit forward.
Try rosé and sparkling wines as an alternative to red. This strategy can work especially well for a chili that doesn't use beef, such as our black bean turkey chili.
Moderate the spice in the chili recipe if enjoying a glass of wine with your chili is a goal. If you have your heart set on a five alarm chili, you might want to go for a good IPA craft beer!
Experiment! There are no hard and fast rules. Experiment with your own pairings, and let us know what you find.
You might find some similarities between these tips and what we offered when talking about wine pairing for enchiladas!
Red wine options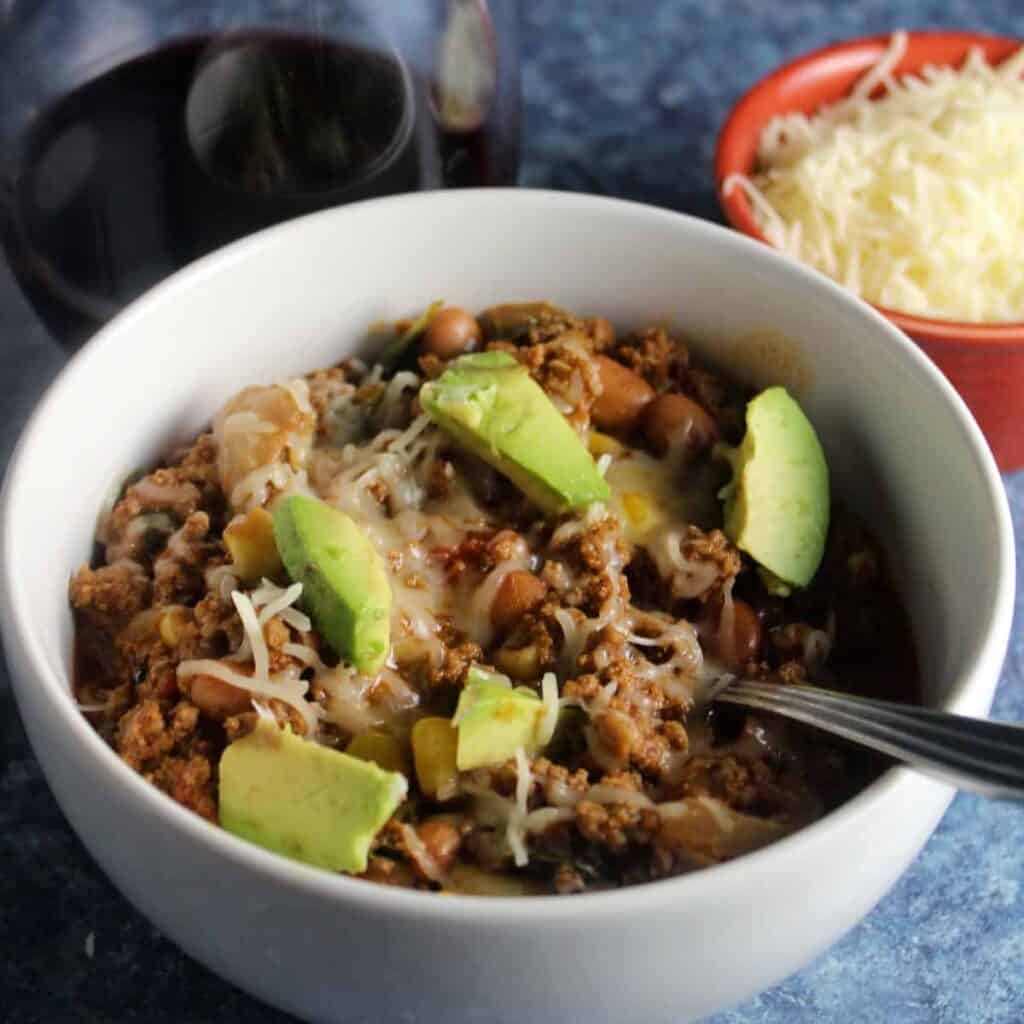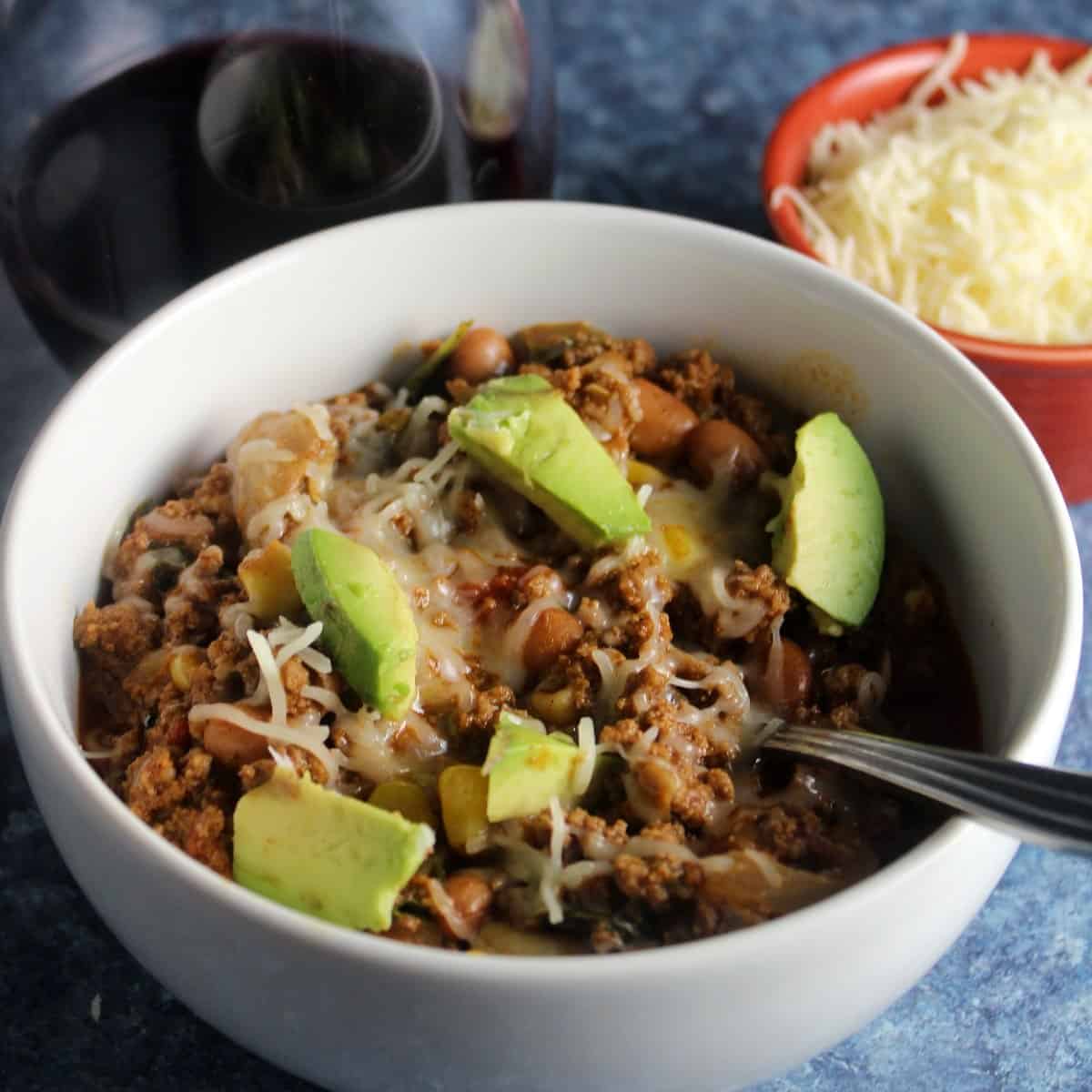 What red wine can you serve with chili? I'll start with a quick overview of picks from my own experimenting and input from colleagues
Zinfandel that is fruit forward.
Tempranillo (the grape featured in a Rioja)
Saperavi – a common red grape from Georgia (the country), we enjoyed a good low tannin Saperavi from Moldova with our Ground Beef Chili. We also have enjoyed a Saperavi from Georgia with our Hatch Chili with Turkey, as we discussed in the post on amphora wines.
Syrah with its peppery notes gets some frequent mentions as a chili pairing, and you could also try it with chili as part of a GSM (Grenache / Syrah / Mourvedre) blend.
Cabernet Franc Can also be a winner, as demonstrated by the pairing of the Paso Robles Cab Franc with that same Hatch Chili mentioned above.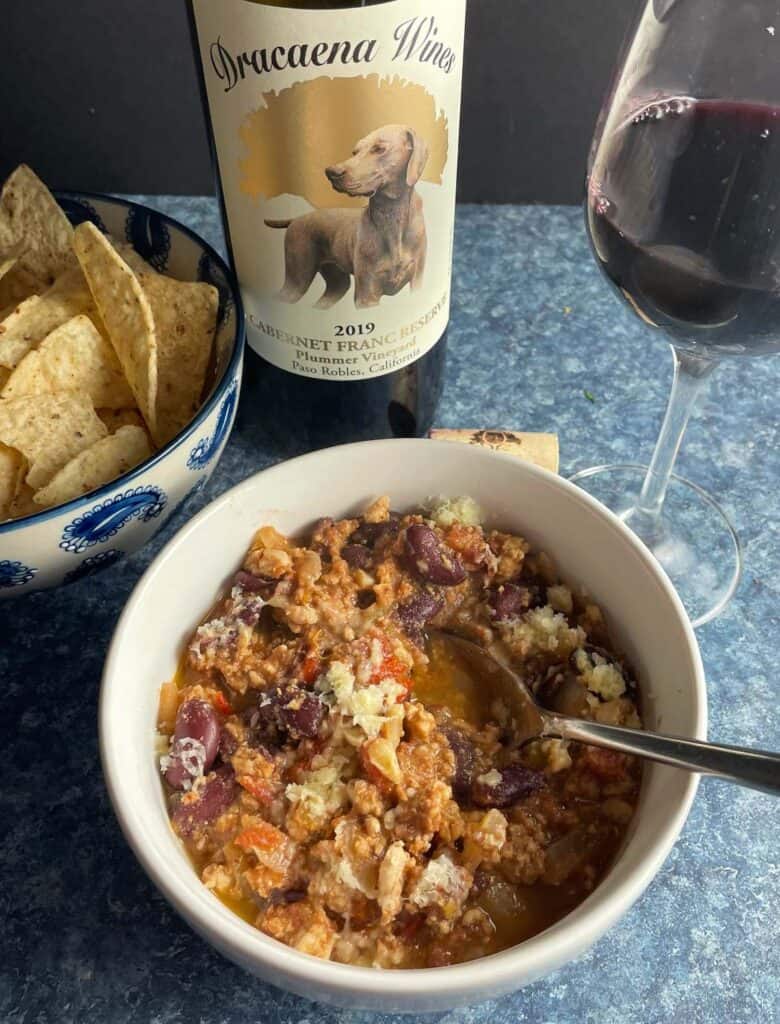 Although I generally wouldn't tend to recommend a Cabernet with chili, due to the tannins, I did really enjoy the L'Ecole Cabernet Sauvignon with some chili mac and cheese I cooked up earlier this year. Seems like the cheese and macaroni diluted some of the strong spice and acidity that make Cab not a go to chili pairing. I need to write up this recipe!
Rosé and sparkling wine
Martin from ENOFYLZ Wine Blog first turned me on to the idea of trying rosé with chili, and I am now a fan! Look for a medium to full bodied rosé to go with chili. As I discuss more below, the Pure Loire Rosé d'Anjou was the first rosé I enjoyed with chili.
Sparkling wines can work nicely, too. I might not open an expensive Champagne to go with chili, but a good value bubbly can be a good option. We enjoyed a Cremant d'Alsace with chili, for instance. See our Best Food Pairings for Cremant for more ideas on pairing with this style of wine.
White wine
I don't have a lot of typical white wines to recommend with chili. I did test out a Gewürztraminer, but that didn't work out as well as I thought it might.
But I did really enjoy the 2014 Chateau du Cros Loupiac ($30, 13% ABV) with our black bean turkey chili recipe.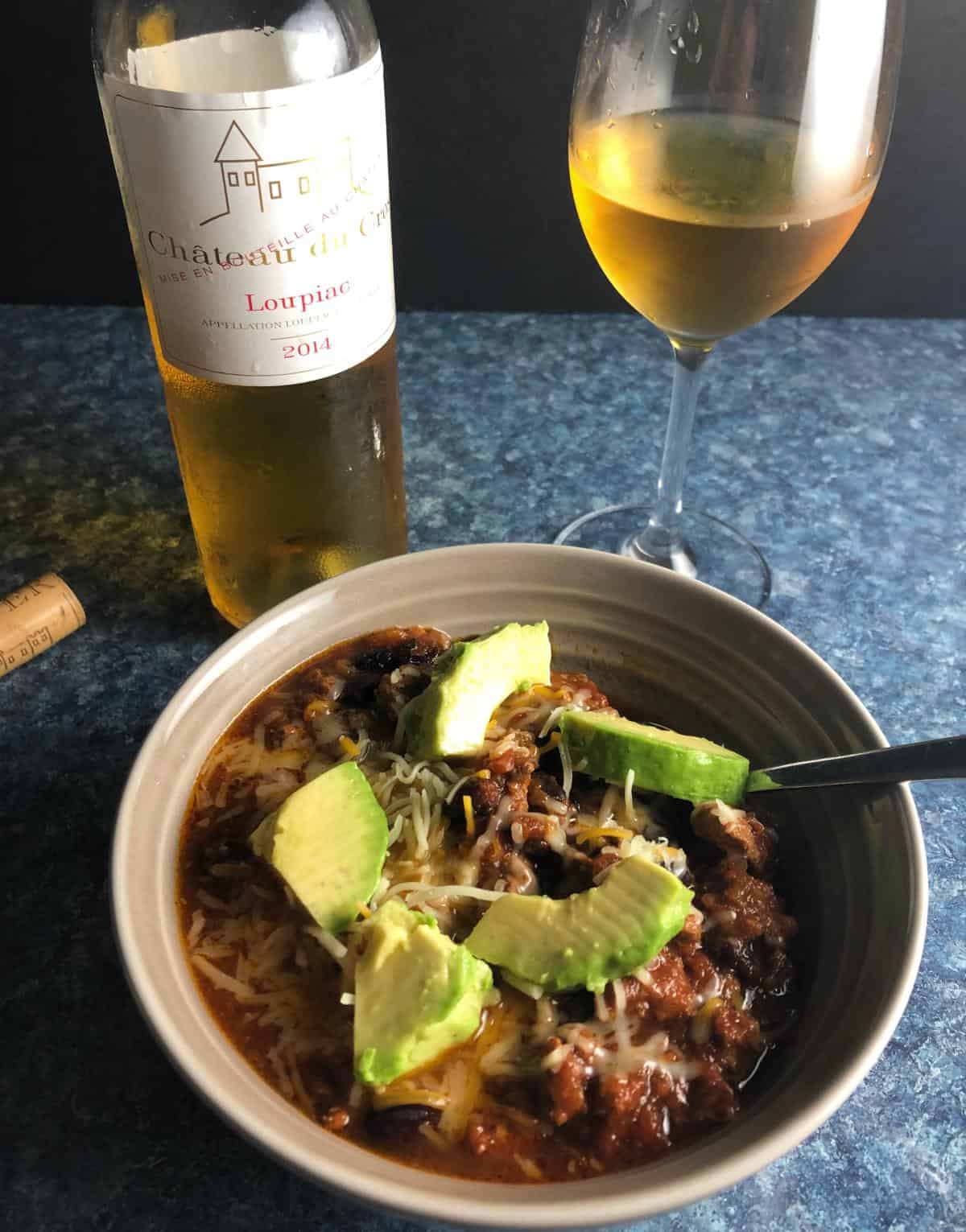 This a Sweet Bordeaux style wine — a similar style to a Sauternes at a more affordable price. This spicy / Sweet Bordeaux combo worked out nicely. See our Food Pairings for Sweet Bordeaux for more about this wine style.
I suspect white wines might go with a white chili style; stay tuned as I will be sure to test that theory soon!
Chili recipes
I've mentioned a couple of chili recipes earlier, but let me summarize my go to chili recipes along with some wine pairing notes:
Ground Beef Chili, which we have enjoyed paired with Saperavi from Moldova.
Easy Black Bean Turkey Chili, definitely our most made chili! So we've also gotten to test it with a range of wine pairings.
Slow Cooker Turkey Chili with Avocado (shown above) is a convenient recipe to have in the mix, as you can get it set up early in the day and then have a meal ready with almost no work in the evening. We've enjoyed it paired with a Syrah.
More notes from tasting and testing
I did an update of this wine with chili article in 2021, seeking to better organize the information for you. The original article had notes about several pairings I tried and notes from some fellow bloggers. I figured some of that detail might be of interest to some looking for a deeper dive, and it follows below.
Wine Pairing Problems event
An interest in finding wine pairings with chili led me to put together an episode of "Wine Pairing Problems" back in February 2019, which included a video on Wine with Chili as well as the initial version of this article. I sourced some ideas on Twitter that you can find captured here on this Twitter Moments.
Initially I was going to have guests join me for the live video, but ran into some technical issues. So we did a live Twitter event instead, and some ideas from it follow below.
Jill and Jason really went all out for the live chili and wine tasting \! They tried a Rioja, Pinot Noir and Zinfandel in the red wine department. The couple also tried a rosé and a sparkling wine. Their verdict: they liked the Zin the best!
As Jill shared their results on Twitter, Michelle from Rockin' Red Blog chimed in that she often has wine with chili, particularly Zin, Tempranillo and Syrah. Linda Whipple from My Full Wine Glass added that she likes Pinot Noir and Nero d'Avola with chili.
I decided to test a rosé along with a Zinfandel for the Wine Pairing Problems discussion.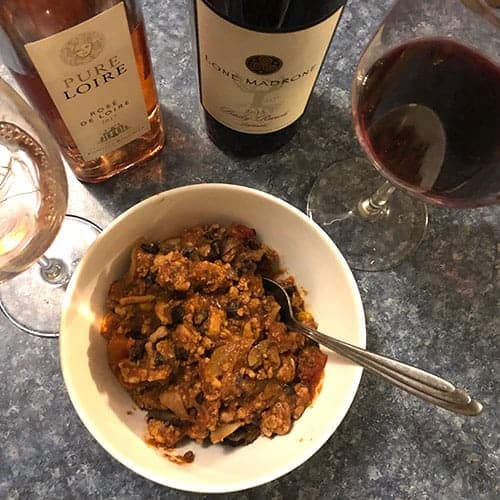 The 2017 Pure Loire Rosé de Loire ($12, 12.5% ABV) rosé has a light floral nose and pleasant melon fruit. This is a blend of Cab Franc, Gamay and Grolleau. This rosé definitely does refresh the palate between bites.
The 2015 Lone Madrone Bailey Ranch Zinfandel ($45, 15% ABV) was sent to me as part of a complimentary sample package of Paso Robles wines. This Paso Zinfandel has cedar and menthol on the nose. Blackberry fruit on the palate with notes of vanilla and oak. We really enjoyed this Paso Zin. Despite the 15% alcohol content, it definitely works with the chili. The fruitiness of it without a lot of tannins helps it play nicely with chili.
With our Easy Black Bean Turkey Chili, I might give a slight edge to the rosé in terms of matching the chili. But if we were pairing with a beef chili, I could see where the Zin would be preferred. However, if you are in the mood for a red, the Paso Zinfandel is definitely a bottle that works can work with our chili. And if you are simply looking for a very good Zinfandel, I again would say the Bailey Ranch Zin is a nice choice. More on the vineyard can be found here.
Pairings for turkey chili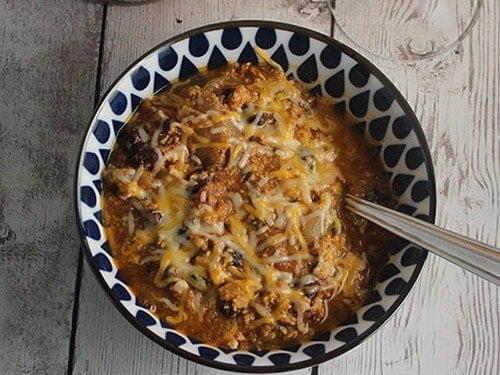 I have to say that my go to chili recipe would have to be the Easy Black Bean Turkey Chili shown above. This chili has medium level spiciness. Although it is made with turkey, our black bean turkey chili is a tomato based recipe similar to a beef chili in many respects.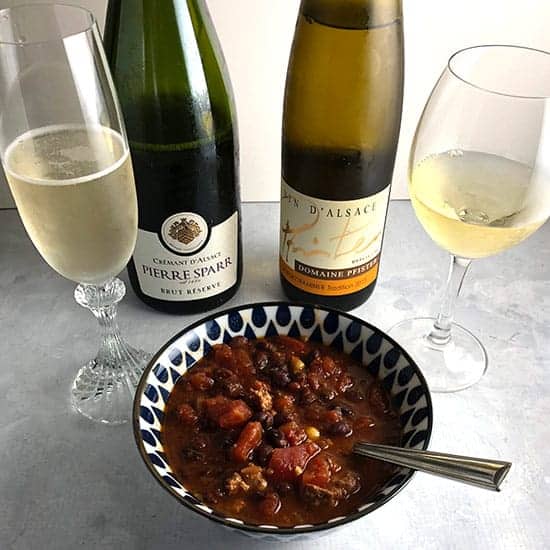 One evening that I tested some pairings for our turkey chili, we compared a Riesling with a Pierre Sparr Crémant d'Alsace ($20, 12.5% ABV), and the Crémant came out the winner. The Riesling we opened had more residual sugar than needed for our moderately spiced chili.