Today we serve a Roasted Cauliflower Bacon Spread over wheat crackers. This is an excellent pairing for an orange wine, a topic we delve into today with the Wine Pairing Weekend blogging group.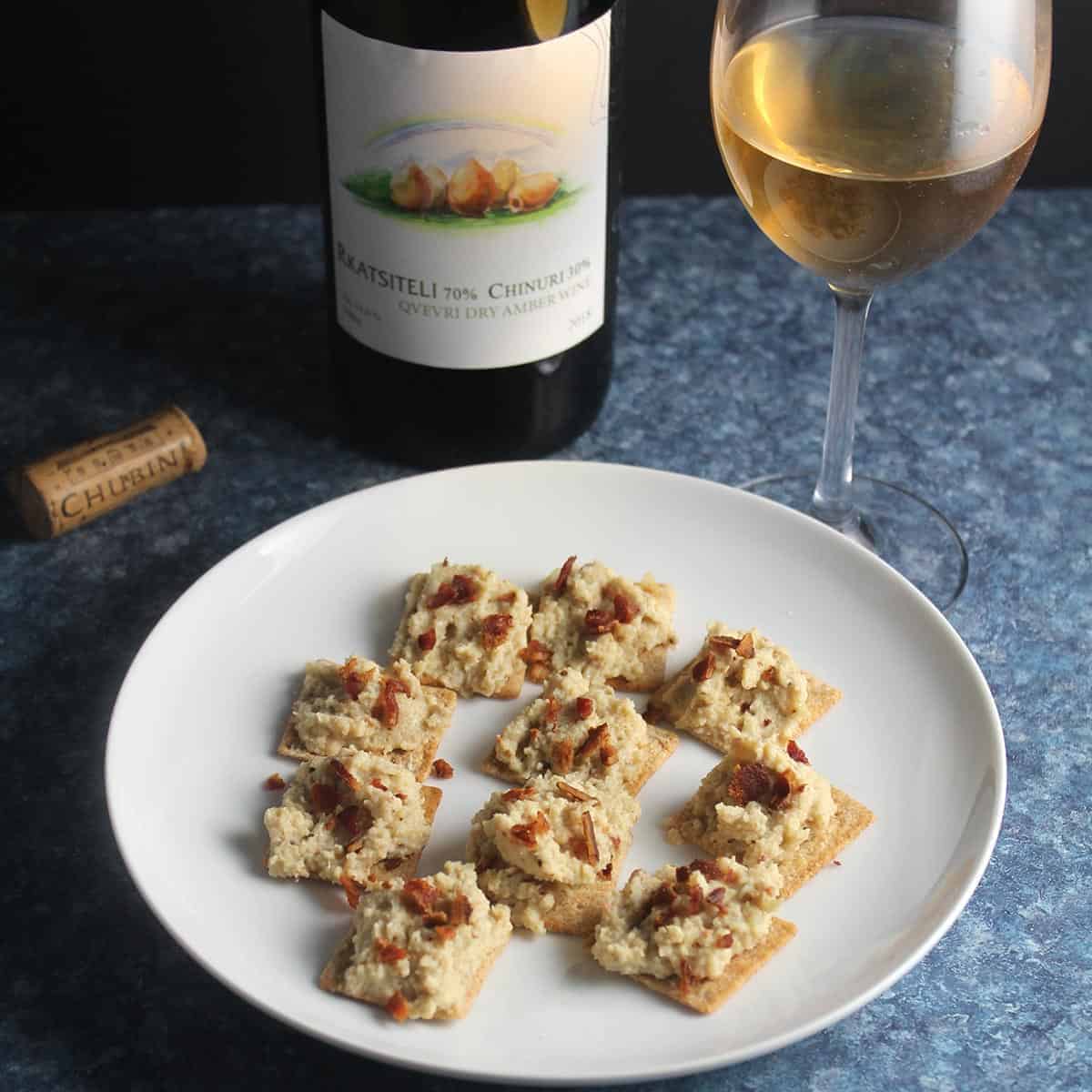 Our tasty Roasted Cauliflower Bacon Spread was created originally when we were asked to create a pairing for an orange wine, a category with which I have had a lot of experience.
Our article gives you some background on skin contact wines, a.k.a. "orange wine", and how our recipe evolved to pair with one. Then we get into the amber wine from Georgia and background on Chubini winery, rooted in Georgian winemaking tradition. The recipe details follow the wine information. Click here to jump right to the info you need to make the recipe.
Jump to:
What is an orange wine?
No, orange wines are not made with oranges!
Although the term orange wine might be a bit more recognizable, the term "skin contact wines" is perhaps a better way to describe this category, and that is the term we are using for this event.
Orange wines are made with white wine grapes, with a method typically used for red wine grapes. The grapes are fermented with their skins, thus the term skin contact wines. This contact with the skins during fermentation gives the wines their orange hue.
For more background on this type of wine, see Martin's event preview post on ENOFYLZ.
Pairings for orange wine
I don't have much experience with orange wine. So when I was asked to come up with a food pairing to go with a skin contact Chardonnay for a gathering of wine savvy friends, I was slightly intimidated.
Thinking about the bit of funkiness you can get from the natural, skin fermented wine making process, I started thinking something with a smoky quality might work nicely.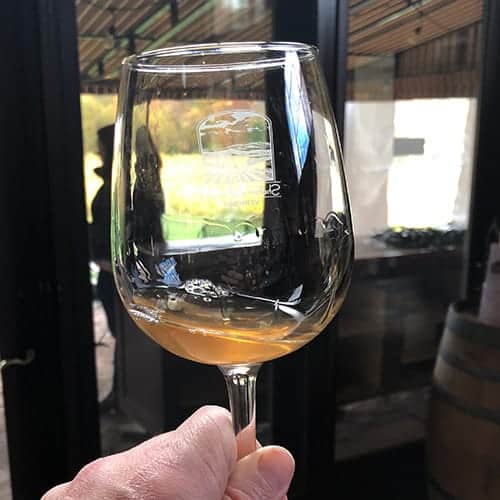 The Iapetus Tectonic from Vermont was one of the more memorable orange wines I'd tried. I had a chance to interview winemaker Ethan Joseph about winemaking in Vermont, and Ethan mentioned that he loves the Tectonic paired with charcuterie and pistachios. That combo was in the back of my mind as I considered what to make for my orange wine pairing assignment.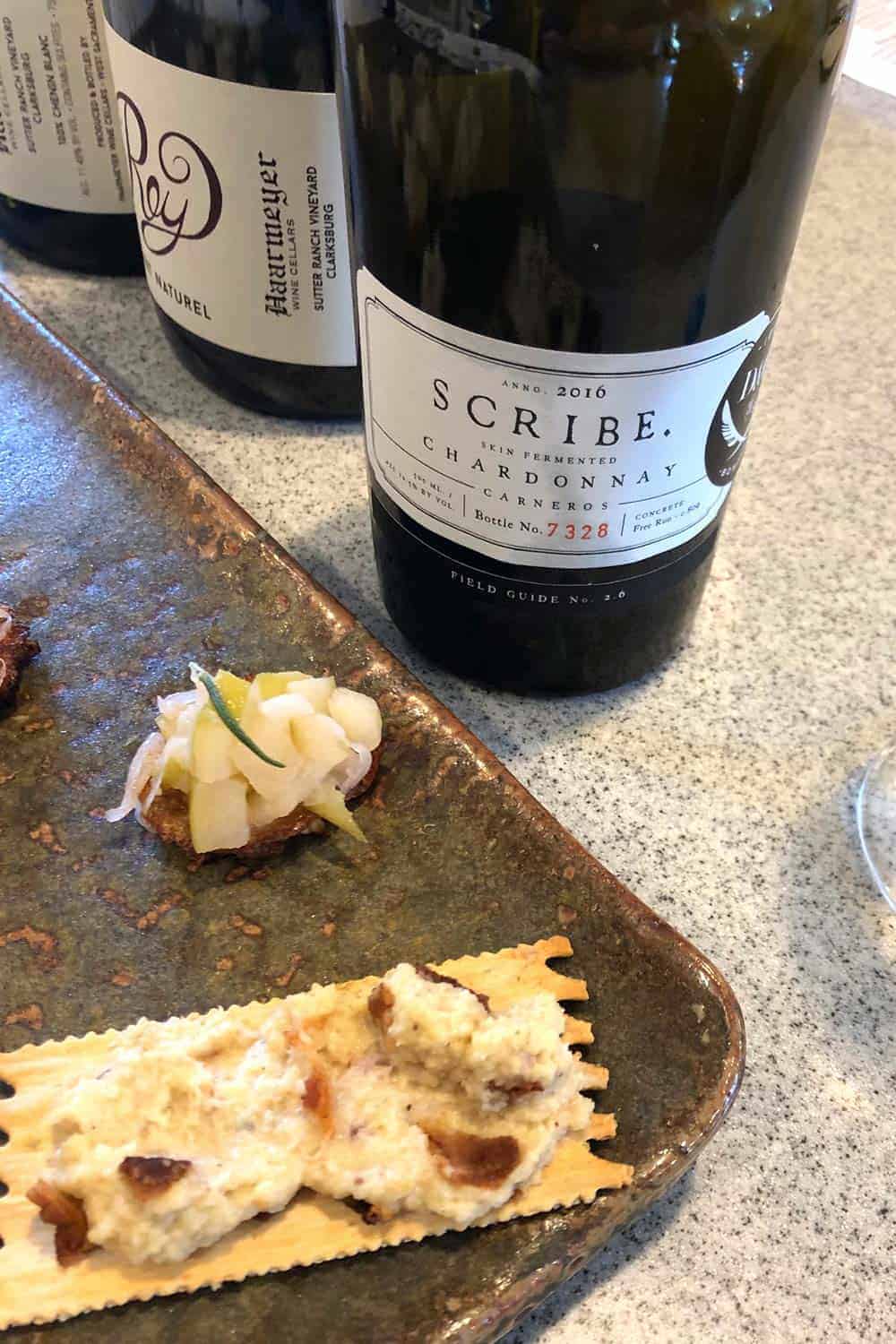 I decided to try to make a dip that combined smoky qualities you get from bacon as well as roasted cauliflower. The consistency wound up being thicker than a dip, thus we wound up with cauliflower bacon spread. Serving the spread on whole wheat crackers goes along with the wine style.
Now, roasted cauliflower bacon spread is not an obvious slam dunk kind of thing. So I was a bit anxious as I passed my creation around the room as our host poured out the Scribe Skin Fermented Chardonnay to go with the appetizer I had made.
Kosta Chernikov, who imports wines from Georgia, was at the tasting event and began extolling the virtues of the spread I'd brought paired with the orange wine. "Grilled cauliflower is a great pairing for orange wine," he noted, so it made sense that my pairing would work.
As we will see, Georgia has a long tradition of make skin contact white wines, so I was clearly on to something here!
I lucked into a good pairing! But doing a bit more reading, such as this Tasting Table article, I am coming to appreciate that the tannic aspect of skin contact wines along with the acidity do make them a good food pairing option. I am curious to see what my Wine Pairing Weekend colleagues come up with for this event (see links below the recipe).
An Amber Wine from Georgia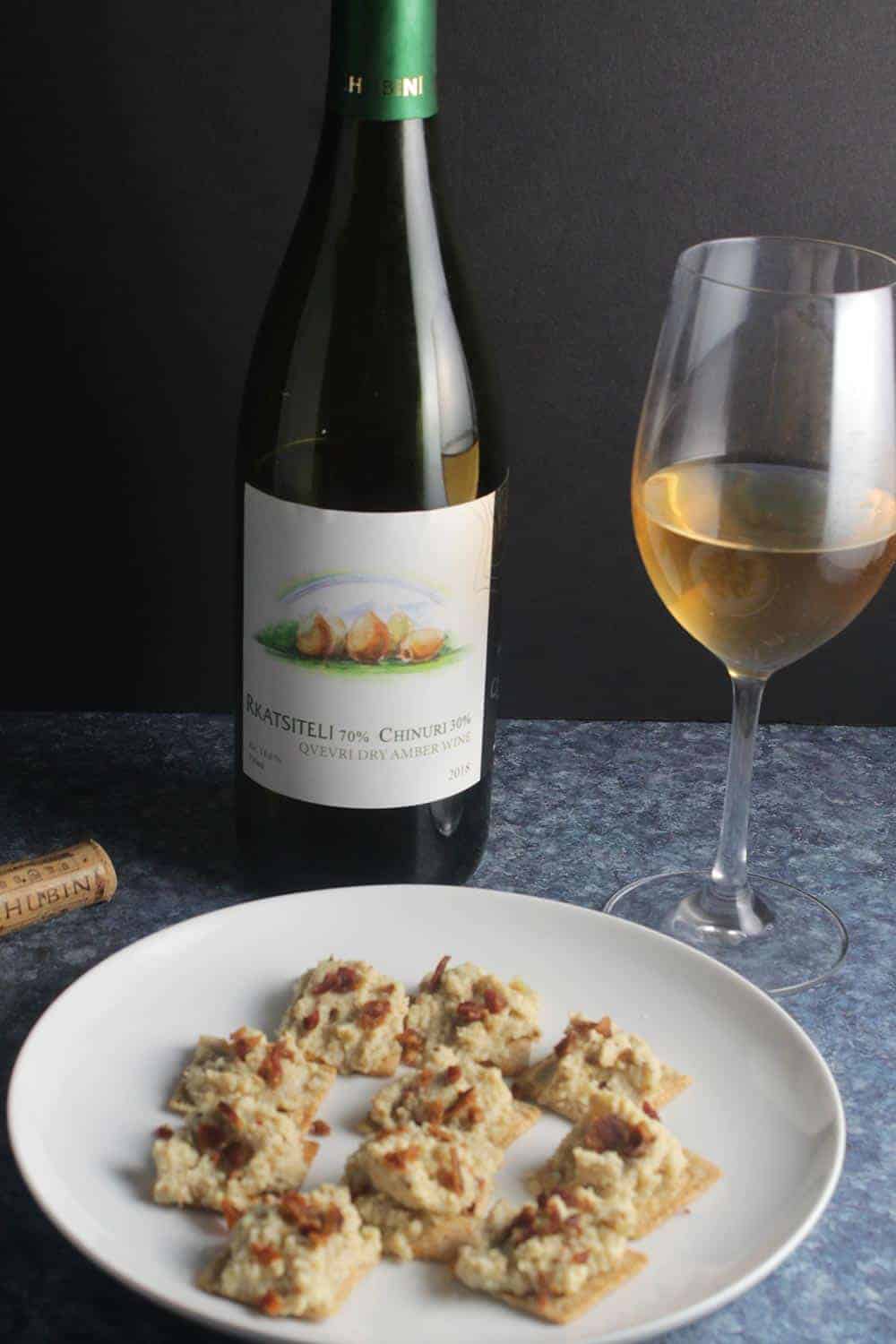 When I saw we had the skin contact wine theme coming up, I knew it would be a great time to remake the Cauliflower Bacon Spread and pair it with an orange wine.
Now that tasting and browsing the local wine shop isn't a thing for the time being, I started with some background research on what local shops have for the skin contact wine category.
Berman's Fine Wine in Lexington, MA has "orange wine" as a category in its dropdown menu, so that seemed promising!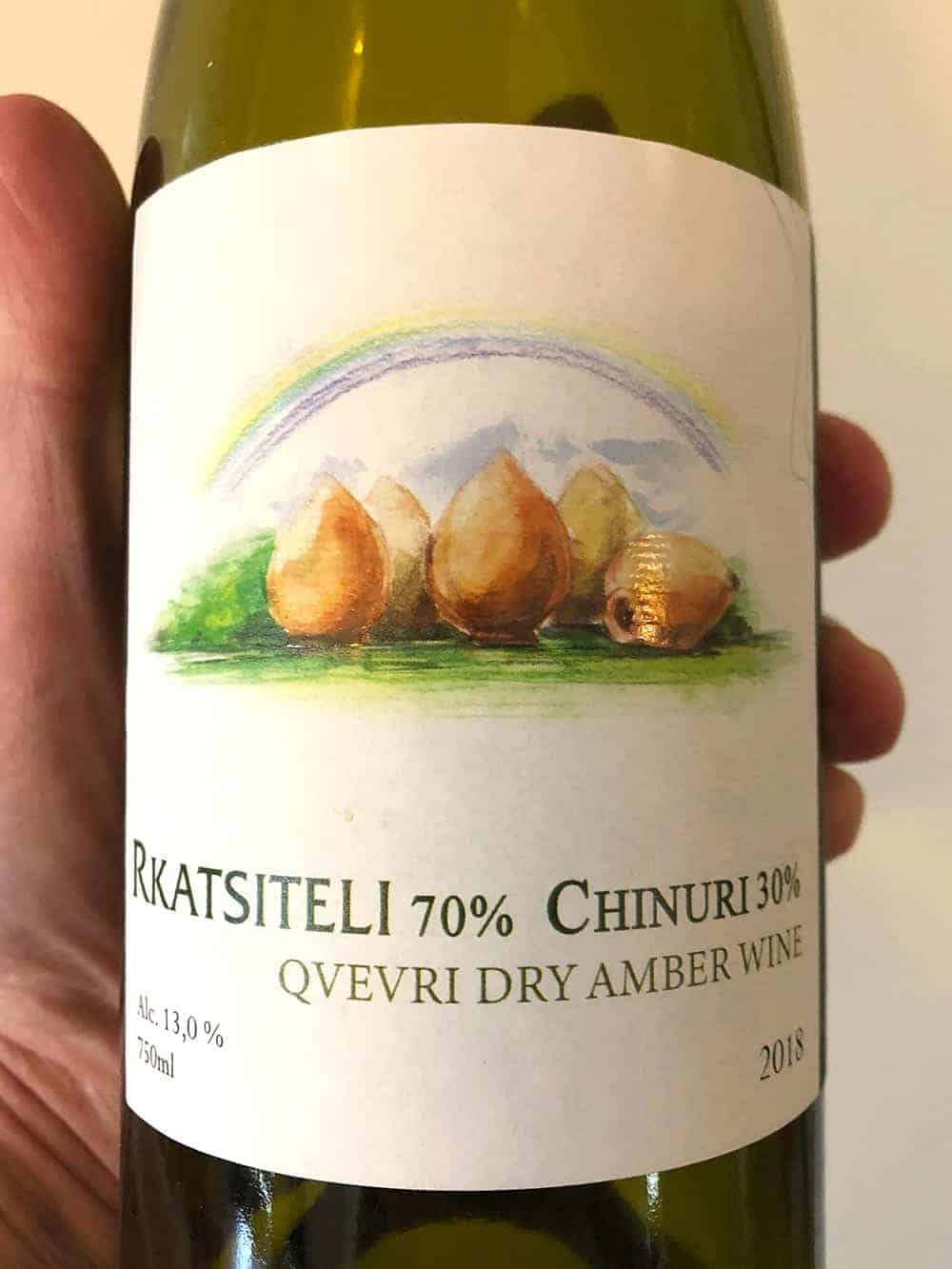 I found the Chubini Qvevri Amber Wine ($20, 13% ABV) from Georgia on the Berman's list, and I was in business. I correctly suspected this is one of the wines Kosta's company, Georgian Toast.
Looking at the wine in the glass, you can see why they use the term "amber" rather than orange.
This amber wine has beeswax and a bit of lemon on the nose. Almonds and apricot on the palate. The wine has a "chewiness" to it, coming from the bits of sediment left from the natural winemaking process, I presume.
The almond/apricot flavor profile of the wine definitely sets up a good pairing with the smokiness that comes from the roasted cauliflower and bacon. Definitely a good pairing!
Some wines get the phrase "easy drinking" attached. The Chubini amber wine is definitely in a different category. You want to thought sniff and taste this wine to appreciate its complexity; it has a brooding character to it. A good wine for the times.
Background on the wine
The Chubini amber wine is rooted in a 8,000 year old tradition of making wine in clay vessels called qvevri.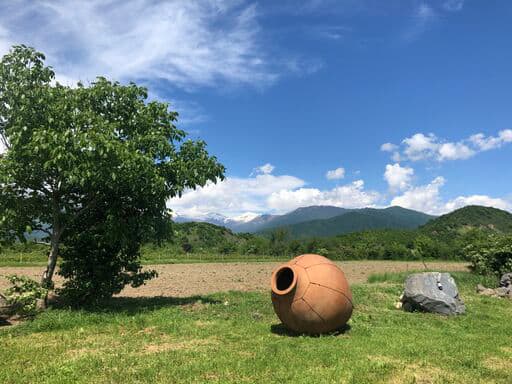 I talked about the Georgian winemaking history a bit in my Ancient World Wines article. Glad to have gotten my hands on a wine from Georgia for this one!
The Chubini amber wine is made from a blend of 70% Rkatsiteli and 30% Chinuri grapes. Rkatsiteli has been grown for several thousand years in Georgia, and is the most planted white wine grape there.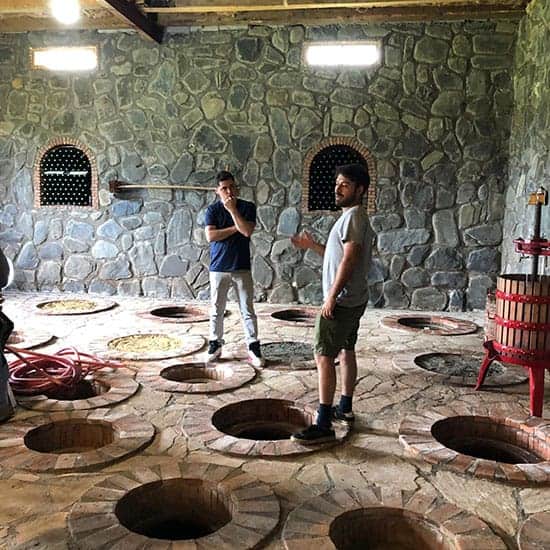 The winemaking is done in the Kakhetian style, which means the fruit is macerated along with the skin, seeds and stems of the grapes in underground qvevri.
The skin contact winemaking process lasts for 6 months with this wine. For more on wines made with qvevri and other amphora vessels, visit our article on Tasting and Pairing Amphora Wines.
Interestingly, Rkats, as it is sometimes called, grows fairly well here in New England too. I like the Rkatsiteli produced by Westport Rivers Winery here in Massachusetts.
I believe this is the first time I've tried a wine with Chinuri grapes; making it the 295th grape varietal I've recored trying. Who's counting? Me!
Chubini Winery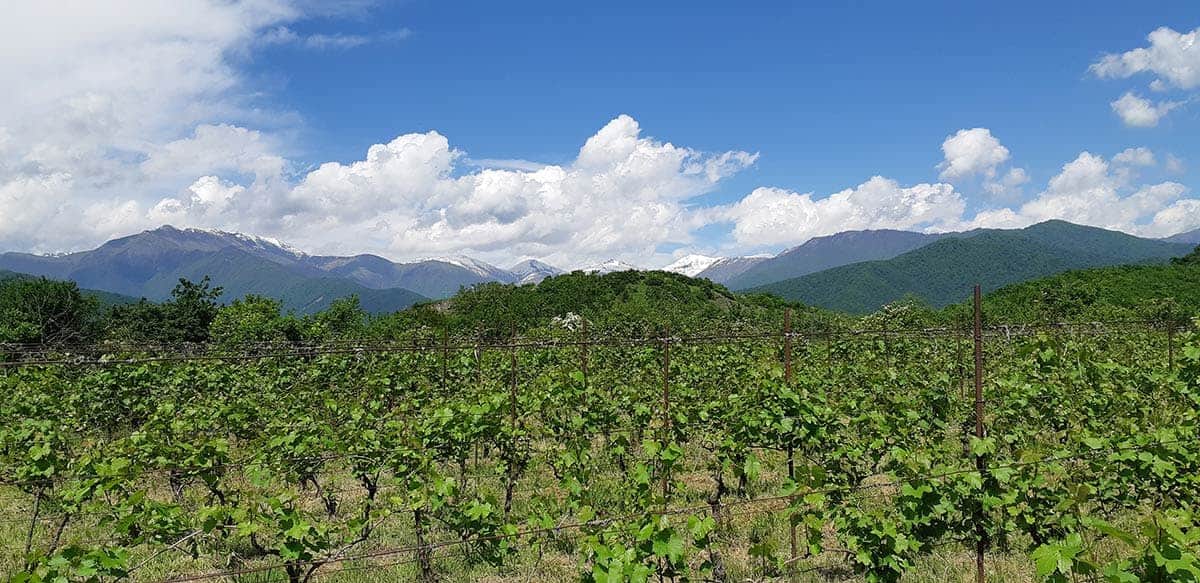 Chubini Winery lies in the foothills of the Caucasus Mountains, in the Eastern Kakheti region which has a long tradition of winemaking.
The young winemaker, Tornike Chubinidze, founded the winery in 2016.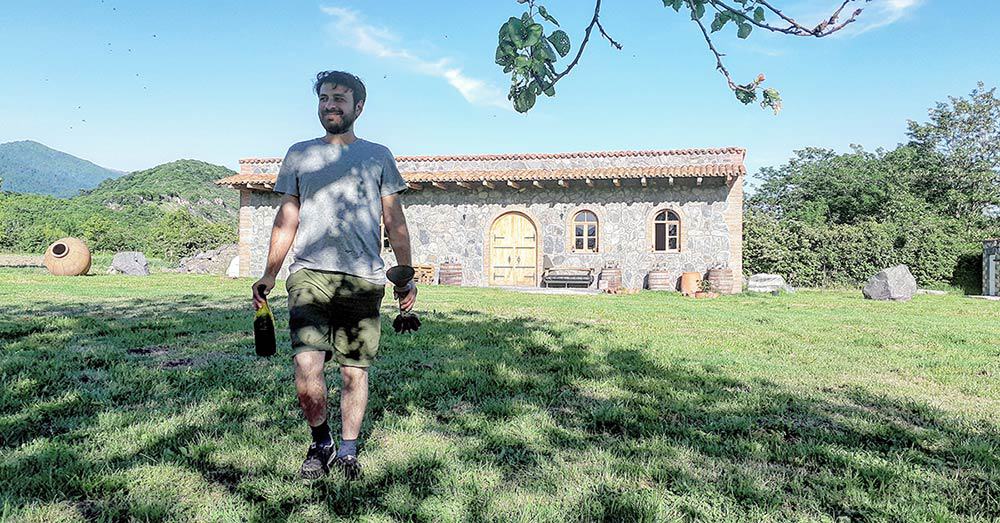 You can see hear his enthusiasm for producing quality, niche wines using ancient traditions in this video.
Chubini is a small production winery, producing red wine with Saperavi along with the Rkats based wines. It is currently available in Massachusetts, New York and California.

About the recipe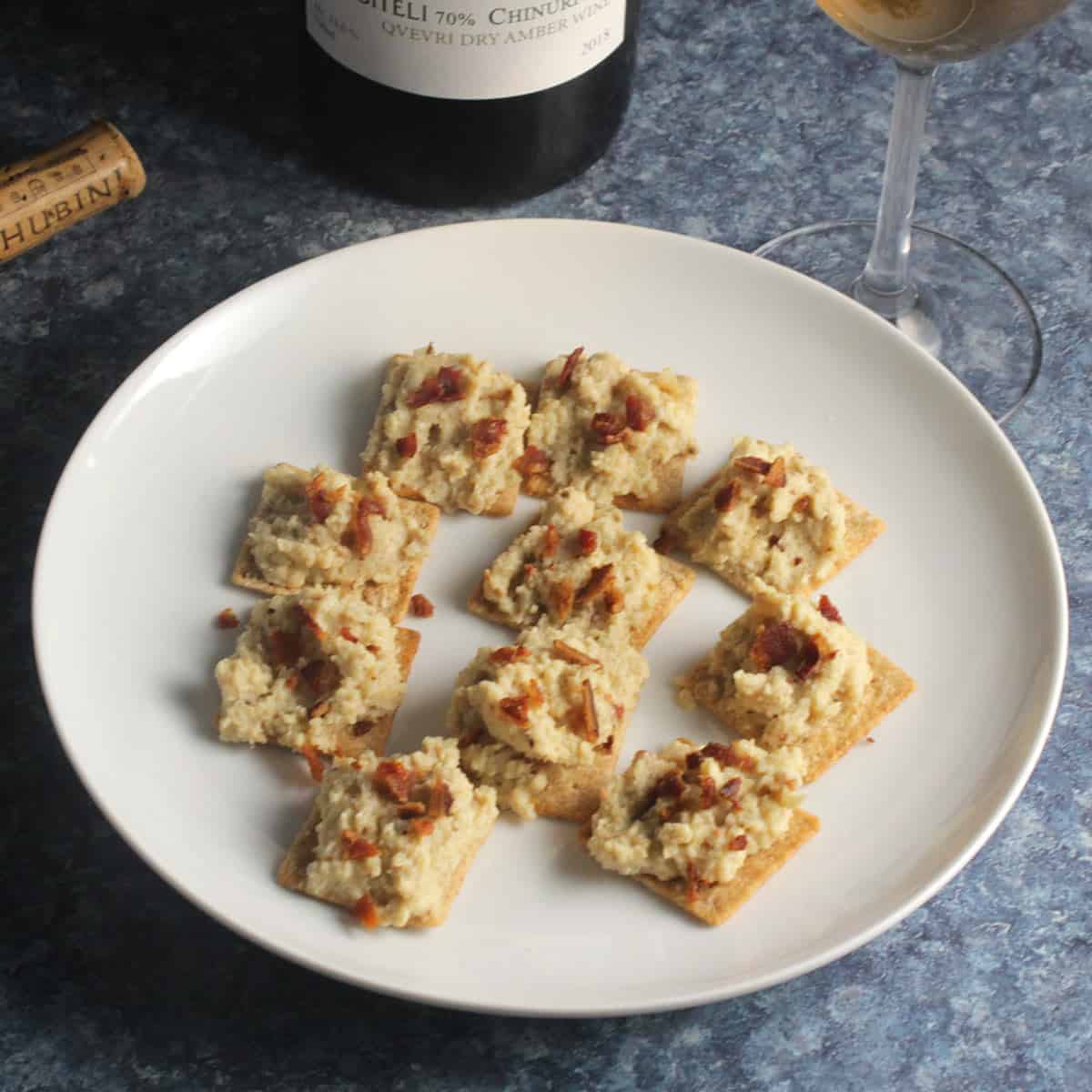 This cauliflower bacon spread gets a double dose of smokiness from the bacon and roasted cauliflower. Roasted garlic deepens the flavor!
The recipe as given in the card is pretty straight forward so I will just preface it with a few notes:
I used some softened goat cheese the first time I made the recipe, and I definitely like the flavor it adds, particularly for matching up with the amber wine. However, we are in a use-what-you-have mode, so I substituted sour cream for the recent batch. That works in terms of consistency.
I had some truffle salt on hand the first time I made it. If you have it, use it, but no worries if you don't.
You might figure this out on your own, but if you are going to get your skillet dirty to cook 2 slices of bacon for the recipe, you might want to cook some extra…especially if you have a teenage son in the house!
Print
Recipe card
Cauliflower Bacon Spread
Roasted cauliflower combines with bacon and goat cheese for a tasty spread. Serve on wheat crackers or raw veggies. Excellent paired with an "orange" wine.
Author: Cooking Chat
Prep Time:

15 mins

Cook Time:

40 mins

Total Time:

55 mins

Yield:

10

servings

1

x
Category:

appetizer

Method:

roasting & stove top

Cuisine:

American
1

head cauliflower, chopped (about

4 cups

florets)

5 tbsp

extra virgin olive oil, divided
generous pinch salt (truffle salt is great if you happen to have it)

1

head of garlic

2

strips of bacon

1 tbsp

milk

2 tbsp

goat cheese (softened)

1 tbsp

maple syrup

1 tsp

soy sauce

½ tsp

cumin
wheat crackers for serving
Instructions
Get started: Preheat oven to 400 degrees. The garlic and cauliflower can roast at the same time, the garlic will need a bit longer so give it a head start.
Roast the garlic: Cut the root end off the head of garlic, exposing the bottom of the garlic cloves. Drizzle exposed cloves with 1 tablespoon of the olive oil. Season with salt and pepper to taste. Wrap the garlic in aluminum foil, place in small baking pan and put in oven. Roast until garlic is brown and getting very soft, about 40 minutes. Set aside to cool when done roasting. When the garlic has cooled, squeeze the roasted garlic out of the skin and it is ready to use.
Roast the cauliflower: Spread the cauliflower florets in a baking dish. Toss the cauliflower with 2 tablespoons of the olive oil, and the salt. Place in over and roasted until starting to brown, about 35 minutes. You should be able to pierce the cauliflower easily with a fork when it is done. Set aside to cool when the cauliflower has done roasting.
Cook the bacon: Coat a skillet with oil spray and heat on medium. Add the bacon strips, and cook until nice and crispy, turning occasionally. When the bacon is browned and crispy, remove to a plate with a paper towel on top to cool. After it cools, break the bacon into bite sized bits.
Make the spread: Place the cauliflower in a food processor along with the remaining 2 tablespoons of olive oil. Pulse to chop the cauliflower. Add the milk, maple syrup, goat cheese and cumin, and pulse to combine. Add the goat cheese and pulse to combine again. Sprinkle in about half of the bacon bits along with 1 tablespoon of the roasted garlic, and pulse to combine. The spread is ready to go.
Serve the spread: Set out the number of crackers you want to make. Use a teaspoon to scoop a bit of the spread on each cracker, and smooth the spread out so it is even. Finish the Cauliflower Bacon Spread by putting a bacon bit or two on top of each cracker with the spread. Enjoy!
Notes
Sour cream can be used as a substitute for goat cheese. I have made it both ways, and definitely prefer the goat cheese but sour cream does work for the consistency you are seeking.
Nutrition info doesn't include the crackers.
Keywords: spreads, cauliflower and bacon, roasted cauliflower recipes, what to serve with orange wine
Recipe Card powered by
More Orange Wine Pairings
Be sure to check out what all the #winePW crew has come up with to serve with their skin contact wines! Join us for a live Twitter chat on Saturday, May 9, at 11 a.m. ET with the #winePW tag.