Wondering what to serve with Shepherd's Pie? We have rounded up a collection of 25 of the best side dishes to serve with this hearty main course. Plenty of salads, cooked vegetables and bread to choose from for your dinner!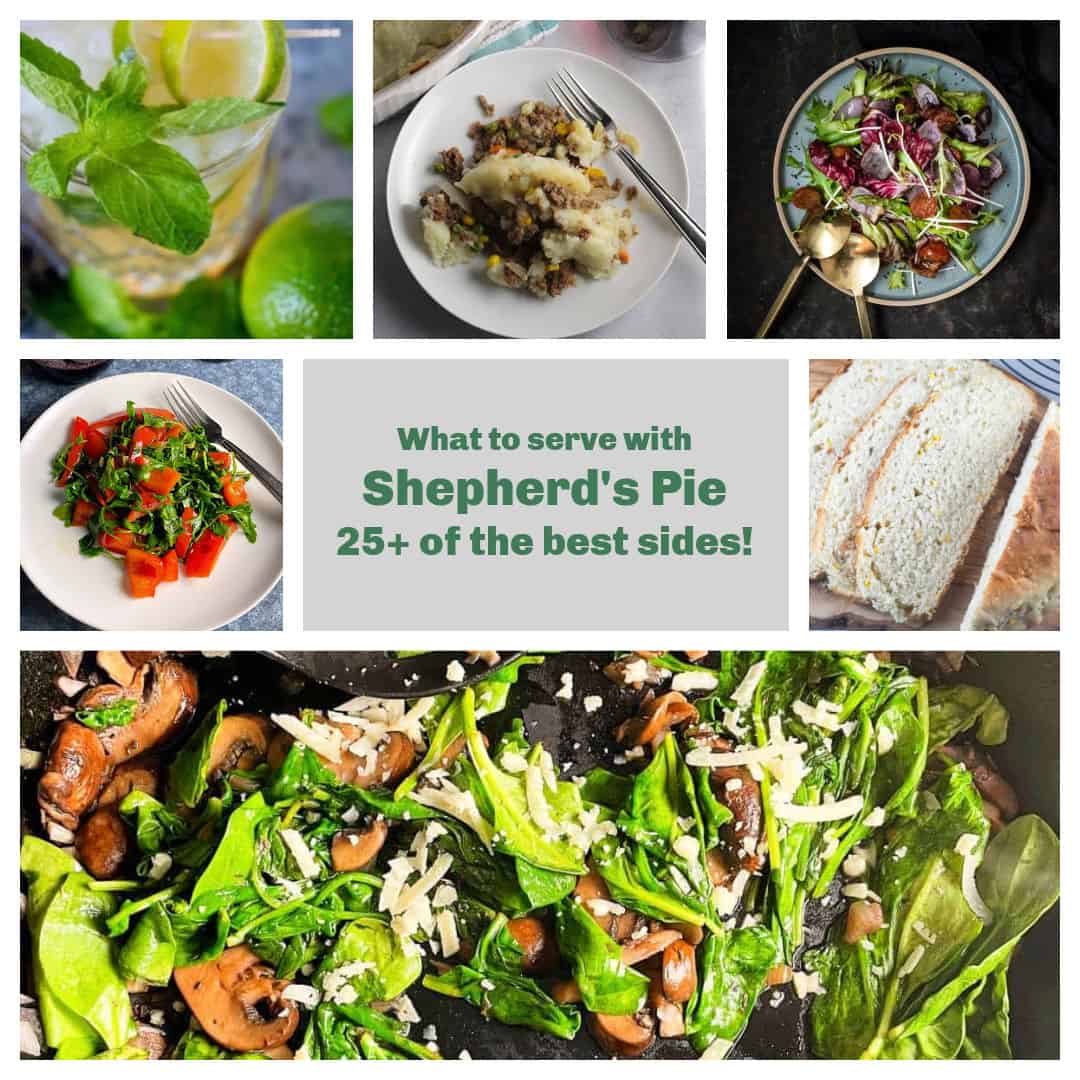 Shepherd's Pie is one of my favorite comfort foods! I have good memories of ordering it regularly at pubs while traveling around Ireland.
While Shepherd's Pie is substantial enough to be a meal on its own, we thought it would be helpful to put together a collection of side dishes to serve with Shepherd's Pie. So we have some tasty salads, cooked veggies and bread recipes. And we will close with a few ideas in the drinks department.
But first, a bit more about this classic comfort food…
Jump to:
What is Shepherd's Pie?
OK, first a few words about Shepherd's Pie. The dish has a layer of savory meat in a rich gravy, topped by a layer of mashed potatoes.
Traditionally, Shepherd's Pie is made with lamb, or sometimes a combination of lamb and beef. However, it is often made with ground beef instead of lamb, especially in the United States. In the British Isles, this type of dish made with beef is referred to as Cottage Pie.
Although I associate Shepherd's Pie with Ireland and Irish pubs here in the US, the dish has its origins in Britain. But no surprise with all the potatoes involved that it would be adopted by the Irish, too!
Given the Irish embrace of Shepherd's Pie, I did include it in my collection of Irish recipes for St. Patrick's Day.
Shepherd's Pie Recipes
In case you haven't come to this page with a shepherd's pie recipe in hand, I wanted to provide you with a few ideas.
Here on Cooking Chat, we have a delicious recipe for Beef Shepherd's Pie Casserole.
Here's a traditional shepherd's pie recipe from Culinary Ginger that looks good!
What to serve with Shepherd's Pie
Believe it or not, in Ireland I was often served a side of boiled potatoes to go with Shepherd's Pie. As much as I like potatoes, with the mashed potato topping on this classic dish, I figured it would be a good idea to offer up some other ideas for side dishes!
For this hearty main course, I was looking to share some lighter sides with plenty of veggies. A salad can be a great way to balance the meaty main, so we start there. But cooked veggies can be a nice option too — I know my Irish grandmother would always be sure to have some cooked veg options for us when serving Sunday dinner.
We follow the veggie recipes with some ideas for bread and beverages.
Salads
We'll start by featuring some great salad recipes. Shepherd's Pie can be a bit on the heavy side, so balancing the hearty main dish off with a healthy salad can make a great choice.
Salads
Serving a light salad with shepherd's pie can be a good way to balance the hearty main course. Here's a collection of great salads to serve.
Veggies with Shepherd's Pie
While salads are a great options, we often think of cooking Shepherd's Pie when the weather is chilly. So a good cooked vegetable dish can make a suitable side, whether it be veggies on the stove top, roasted in the oven, or prepared with a handy kitchen gadget.
Cooked Veggies
Cooked vegetables, roasted or on the stove top, can make a good side dish for Shepherd's Pie. We have a great range of options for you, including some coming from handy kitchen gadgets like the air fryer.
Bread and Muffins
Some fresh, homemade bread to soak up the juices of the Shepherd's Pie can round things out nicely!
Bread and Muffins
We have a few tasty bread recipes to go with your Shepherd's Pice!
Photo Credit: mondayismeatloaf.com
Anadama bread is a classic New England bread traditionally made with cornmeal and molasses. This version updates the ingredients to what you can find in commonly in your pantry.
Photo Credit: homemadeandyummy.com
An alternative to bread, these savory cheddar muffins with smoked cheese are the perfect side to any meal.
Photo Credit: www.chocolatemoosey.com
Irish Soda Bread Muffins - moist buttermilk muffins with raisins – are a great nod to Ireland plus uses up leftover buttermilk.
Beverage ideas
A pint of Guinness is certainly a classic choice to go with Shepherd's Pie!
But if you know me, you won't be surprised to know that I have also tested some wine pairings for Shepherd's Pie! My favorite was probably the Riparosso Montepulciano d'Abruzzo from Illuminati Vineyards, which I visited when exploring Abruzzo wineries back in 2018.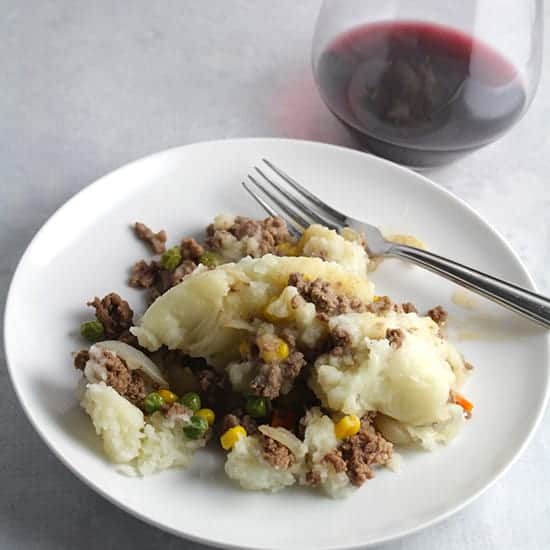 We also have had good results pairing the pie with a Cab based red blend.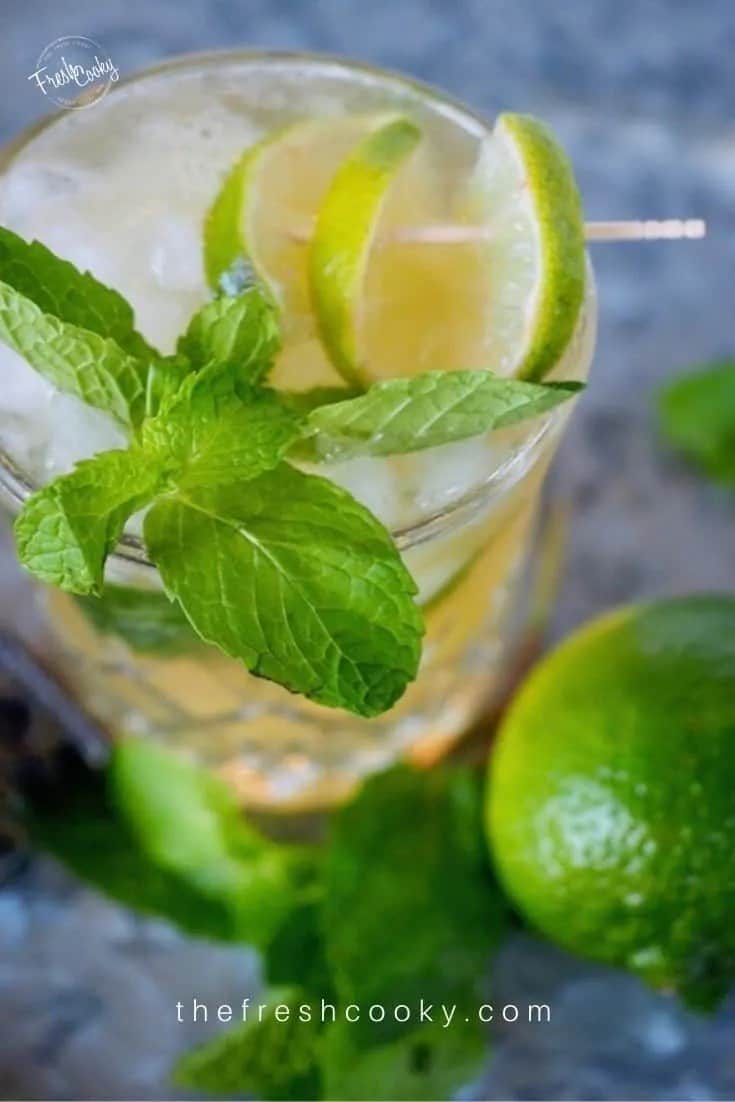 If it's a mixed drink you have in mind, Kathleen from The Fresh Cooky has an Irish Mule recipe you might want to try.