This collection of Classic Wine Pairings highlights some excellent food and wine pairings where the combination elevates the quality of the meal. By considering what makes for a classic pairing, we can also learn some general tips about what makes a great wine pairing. That ties into the theme of today's Wine Pairing Weekend "Back to School" event hosted by Robin at Crushed Grape Chronicles.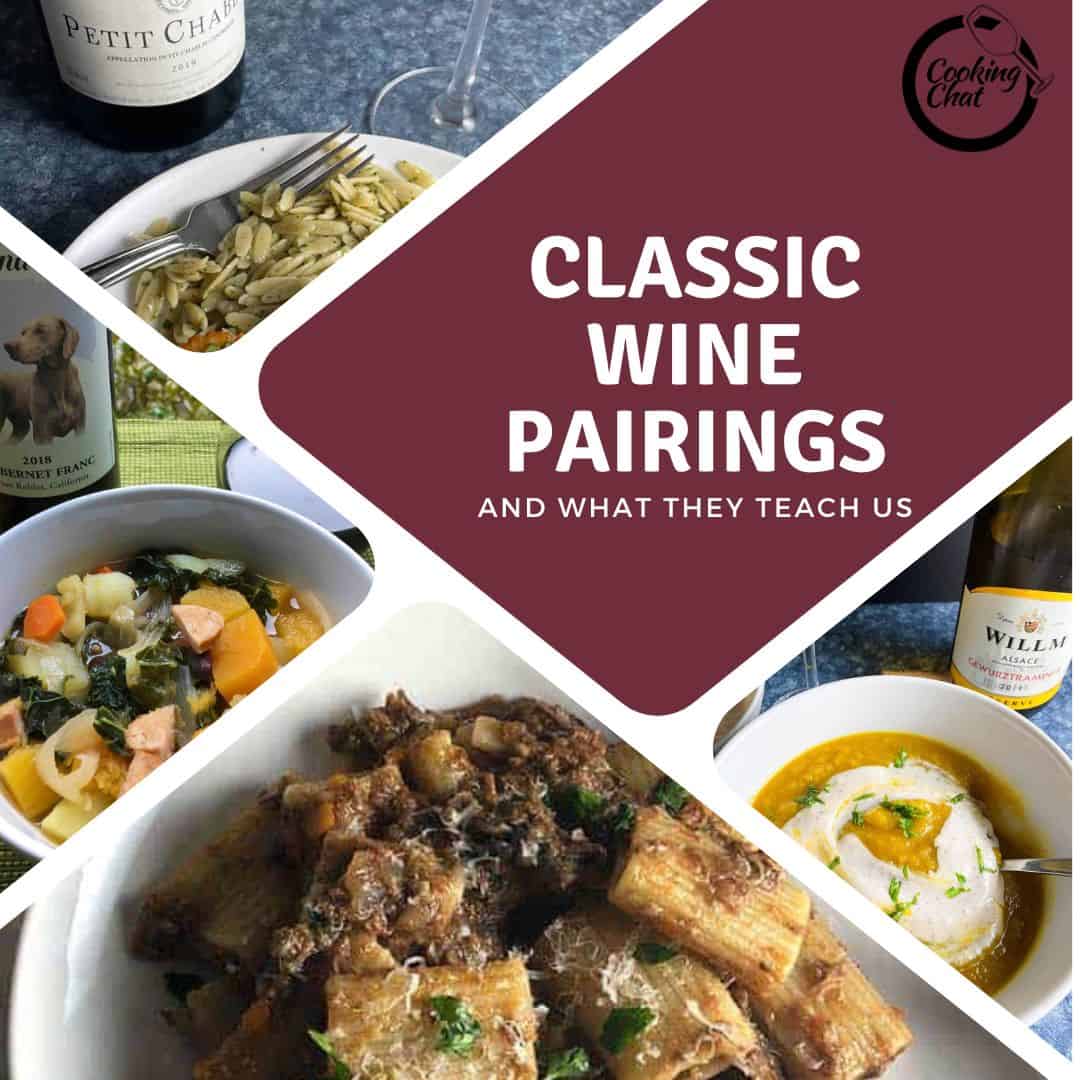 This collection of classic wine pairings can serve as a launching point in many directions. Maybe it simply sends you off with an idea for a great meal, enhanced by a good wine pairing. Or like other good lists, it gets you ready to debate about what else should be considered a classic pairing. And you might pick up some new ideas about what makes for a great wine pairing.
Jump to:
What makes a classic wine pairing?
Thinking about what makes something "classic" can shed some light on the topic in question. When we read classic literature, the author has typically spun a tale that brings forth truths that hold true over time. A classic song conjures up memories of times past, and captures the vibe of an era.
So what makes for a classic wine pairing? Some ideas that come to mind include:
The food and wine make each other better, elevating the meal from "good" to "special".
Many classics feature regional foods with wine from that same area, illustrating the "what grows together, goes together" premise.
Some classic pairings feature food and wine that common flavor elements, while others work well because of the contrast between the two (e.g. spice food with wine that has some sweetness to the flavor profile).
Classic pairings often involve popular types of wine. While I like to get off the beaten path and try a variety of interesting wines, classics tend toward familiar bottles that the average consumer might gravitate toward picking for dinner.
My list of classic pairings include some that many would recognize as belonging on a list of classics. But I did include a few that might be a bit less common, but that I find go so well together they warrant the classic label.
I hope this collection of classics can give you some ideas but also generates some new suggestions for the list. Please let me know in the comments what you think we ought to add to our collection of classic wine pairings!
Sauvignon Blanc with Pesto
Sauvignon Blanc with pesto sauce was one of the first pairings that came to mind when I thought about writing about classic wine pairings. In fact, we focused on this combination for one of the very first Wine Pairing Weekend events.
A crisp Sauvignon Blanc serves as a good contrast to the bite in a garlic laden pesto sauce. The wine cleanses the palate, and gets you ready for the next tasty bite of pasta!
A regional twist on this classic that we enjoyed is Ligurian Pesto Pasta paired with a white wine from the same region made from the Pigato grape (a local strain of Vermentino). The pasta used is trofie, which hails from the Ligurian region, which also happens to be the home of pesto!
Gewurztraminer with Curry
We love to enjoy a variety of curry flavors here! Although I often open a Riesling when curry is on the table, I have to give the nod to Gewurztraminer as the classic pairing.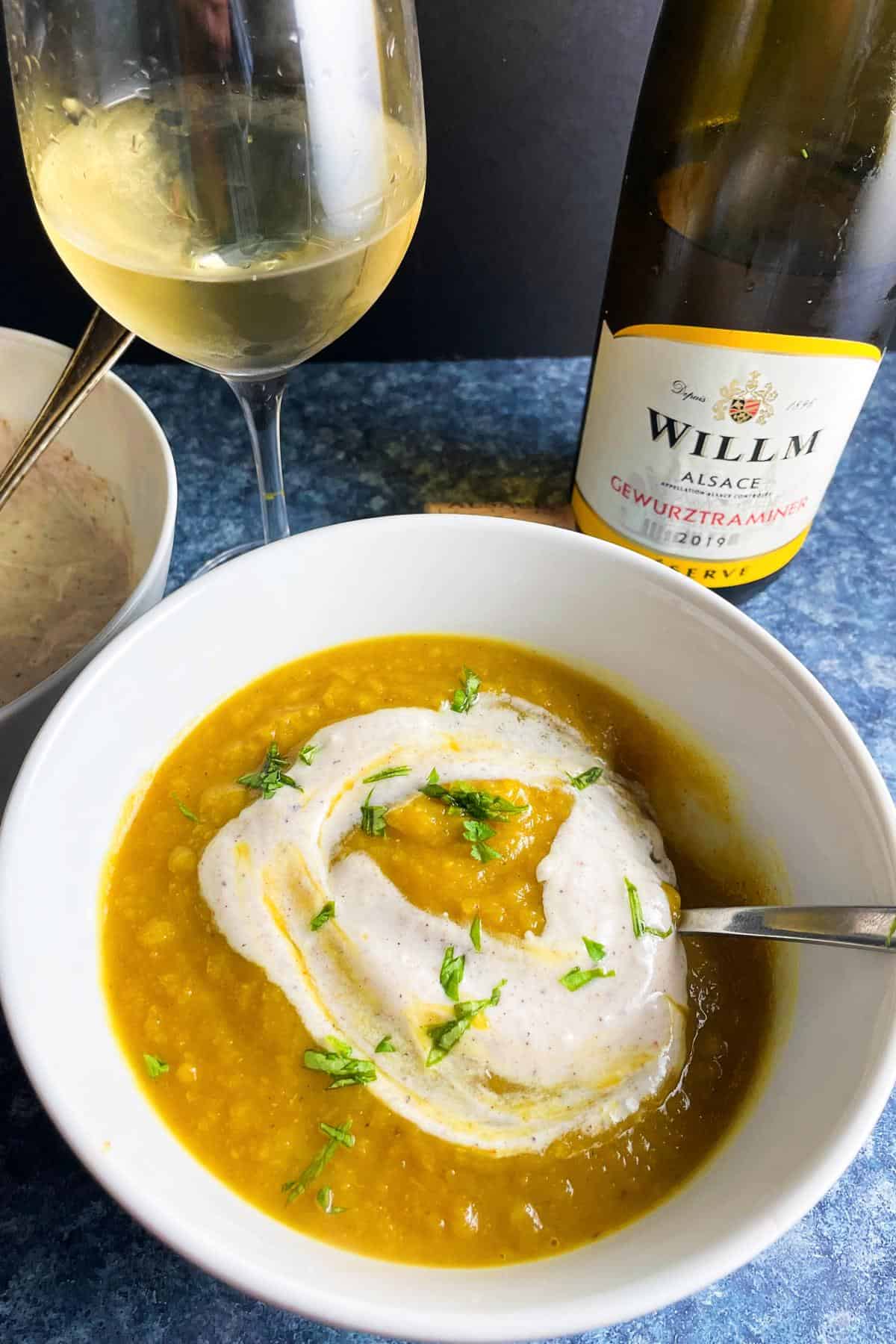 A good Gewurztraminer combines a bit of sweetness that can serve as a contrast to the the spicy curry, as well as some spice elements in the wine that can be a nice match for the curry spice.
We started with the Gewurztraminer paired with our Curried Acorn Squash Soup, perfect for the upcoming fall season. It's also wonderful paired with our go-to Indian Butter Chicken recipe, and the Butternut Squash Chickpea Curry. That butternut dish has more of a Thai flavor, another great fall recipe.
The Alsace region of Eastern France tends to be our favorite source for Gewurztraminer. But we've enjoyed some more local options, too. We just had a very good bottle recently from Westport Rivers Vineyard, and have had good Gewurztraminer from the Finger Lakes, too.
Chablis with Seafood
Chardonnay is such a popular wine, I was thinking about what classic pairings to suggest for it. For a typical Chardonnay that sees oak, I am thinking about something that matches the buttery notes — lobster maybe. I also like Chardonnay with creamy pasta sauces like our Fettuccine Primavera and this fall favorite, Creamy Roasted Acorn Squash Pasta.
But then I thought looking at a specific type of Chardonnay to find an ever better example of a classic wine pairing
A clean, crisp Chablis, which is typically unoaked or lightly oaked Chardonnay, sets you up for a pairing with seafood, especially shellfish.
A bottle of Petit Chablis paired beautifully with the Scallops and Pesto we put together awhile back. Definitely a classic pairing! The article accompanying that recipe has more background on Chablis, an appellation in the Burgundy region of France.
Sparkling Wine with Soft Cheese
Sparkling wines, including Champagne as well as other types of bubbly, can be a great option for pairing with a wide variety of dishes. We have gathered over 25 pairings for sparkling wine.
One classic pairing for sparkling wine that I keep coming back to is pairing it with soft cheeses. That gets even better if you add some salty prosciutto to the plate, as we did with the Cremant d'Alsace pairing showed above.
We've also enjoyed the combination of a Champagne with St. Nuage cheese, in the creamy / bubbly department.
Pinot Noir with Salmon and Mushrooms
Pinot Noir is probably the most versatile red wine for food pairings. It's the wine I tend to keep coming back to for Thanksgiving, and my go-to for a simple roast chciken.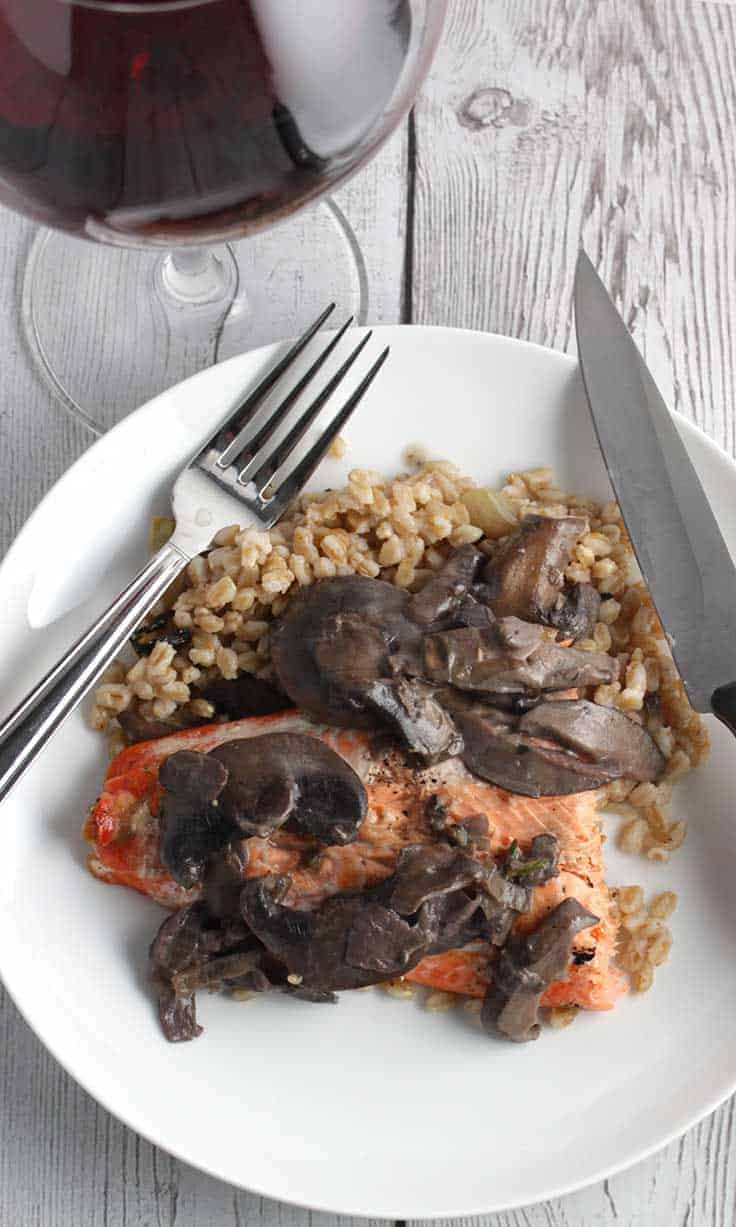 But in this lineup of classics, I wanted to highlight Pinot paired with salmon and mushrooms. First, it's a great demonstration of the point that red wine can work very well with meatier fish like salmon. Second, the earthiness of the mushrooms is enhanced by the same qualities we find in many good Pinots.
The Pinot with salmon and mushrooms combo is something we have fairly often here, and we have a couple version you can check out. There's this Grilled Salmon with Mushroom Sauce, shown above.
Sangiovese and Pasta with Meat Sauce
At first, I was going to focus on Chianti for this one, and suggest pairing it with spaghetti and meatballs for a classic wine pairing.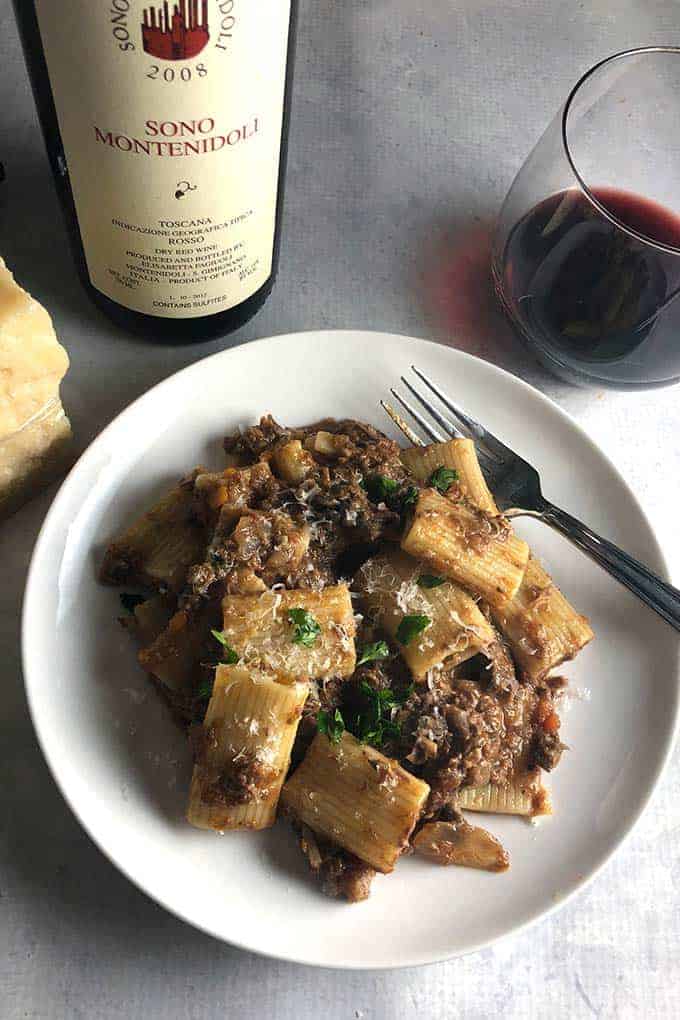 But I decided to broaden the category to the Sangiovese grape that serves as the basis for Chianti, as many of our pairings in this department are labelled Sangiovese.
The acidity in the Sangiovese stands up nicely to a tomato sauce, and it has enough substance to work well with the meat. Our Short Rib Ragu recipe paired with the Montenidoli Sono, an an intense Sangiovese, is definitely a great example.
For another classic Sangiovese, try some Chianti with a cheese pizza.
In addition to the elements of these Italian foods working well with Sangiovese, this classic pairing is also a great example of how regional foods go so well with wines from the same area. What grows together goes together, as they say.
Another classic: Bistecca alla Fiorentina
While it's not as well known here in the US as pasta with meat sauce, Bistecca alla Fiorentina (Florentine Steak) is another classic pairing for Sangiovese. This simple method for preparing a porterhouse steak is definitely worth trying! We enjoyed it with a Rosso di Montalcino, another Sangiovese based wine.
Nebbiolo and Porcini Mushroom Risotto
Talking about Italian foods that grow together going together prompted me to add this one to the classic wine pairings list!
Porcini mushrooms are common in Northern Italy, and we love to make risotto with porcini mushrooms! That sets up a perfect pairing with a good Nebbiolo.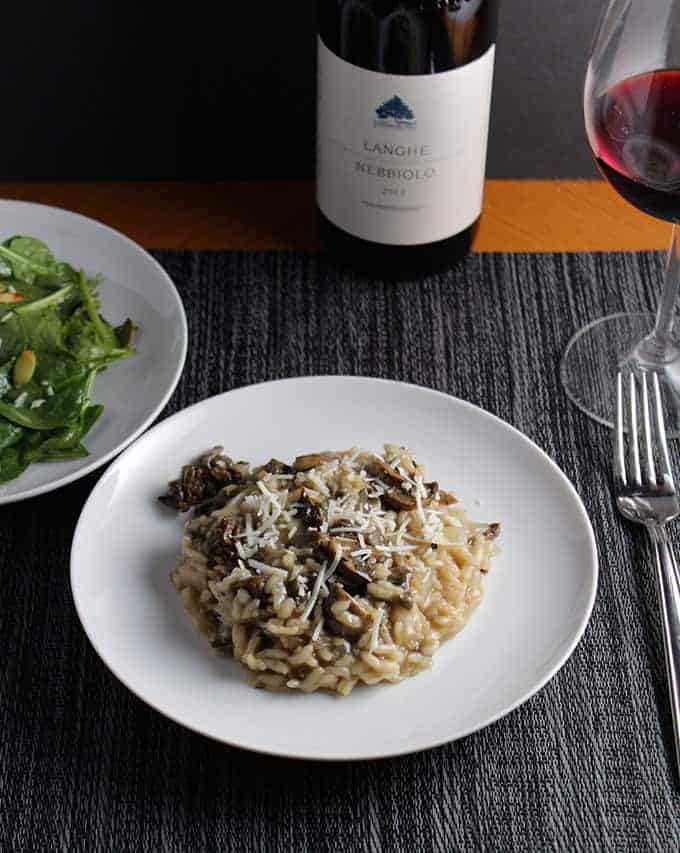 Now, Barolo is of course the most highly regarded version of a Nebbiolo based wine. But I have found good success finding high quality Nebbiolo that are outside the official Barolo territory, for a much lower price than a Barolo. So sure, you can splurge and go Barolo with Porcini Mushroom Risotto, but a humble Nebbiolo can do the trick.
Merlot with Pork Dishes
Merlot is another versatile pairing grape, a point we have come to really appreciate via our annual #MerlotMe observances. Perusing our collection of Merlot food pairing ideas, there's no one single pairing that stands above the rest. But dishes with pork, and typically a "bridge" ingredient that is also Merlot friendly, are among the best we've had with Merlot.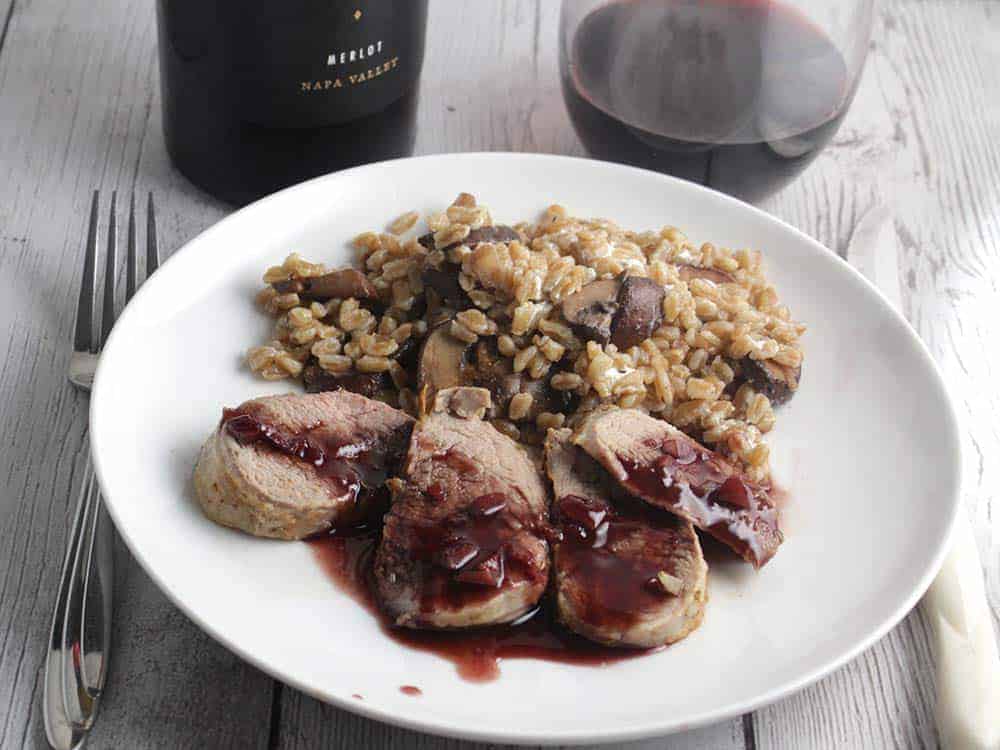 A couple of noteworthy examples include:
Pork Tenderloin with Blackberry Merlot Sauce – blackberries are one of those "bridge" ingredients, and you can't go wrong using a bit of wine you are serving with dinner when making the sauce!
Boneless Baked Pork Ribs – our most visited recipe here on Cooking Chat goes great with a Merlot! It so happens we featured both this recipe and the one above with the Peju Merlot from Napa Valley.
While Merlot certainly goes well with pork and other meats, we have come up with a number of good vegetarian dishes that pair well with Merlot.
Cabernet Sauvignon with Steak
This is probably one of the more obvious classic wine pairing picks!
There's a reason steak house wine menus are full of Cabernet Sauvignon along with Bordeaux blends dominated by Cab. The tannins in a Cabernet work well with the fat content in beef. Plus, a well-structure Cabernet based wine stands up well to the heft of a steak.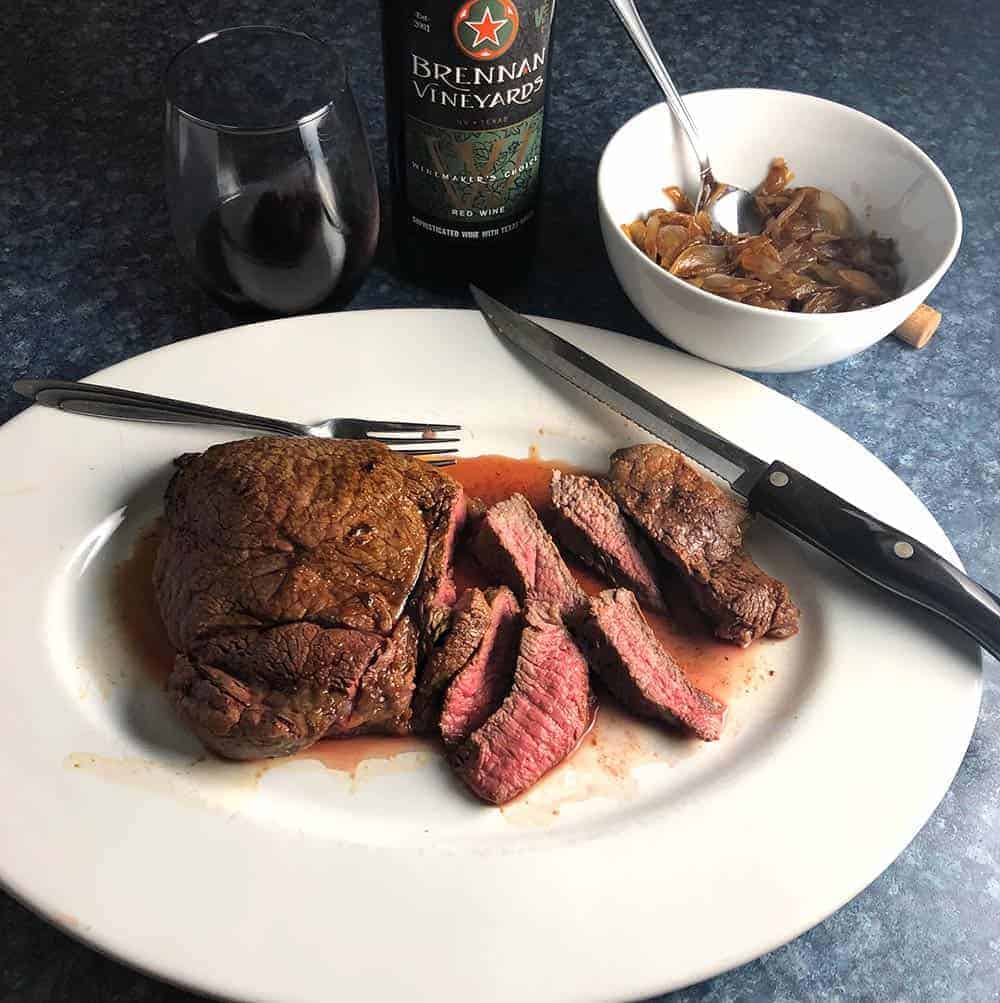 This steak / cab pairing is so obvious I realized I don't have a lot of recipes and photos to share with a straight up version of the pairing. So I'm featuring a photo of our Oven Roasted Sirloin Steak, which we paired with a Cabernet based blend from Texas.
Rhône Red Wines with Beef Stew
The earthiness of Rhône red wine blend is perfect with a hearty, slow cooked stew.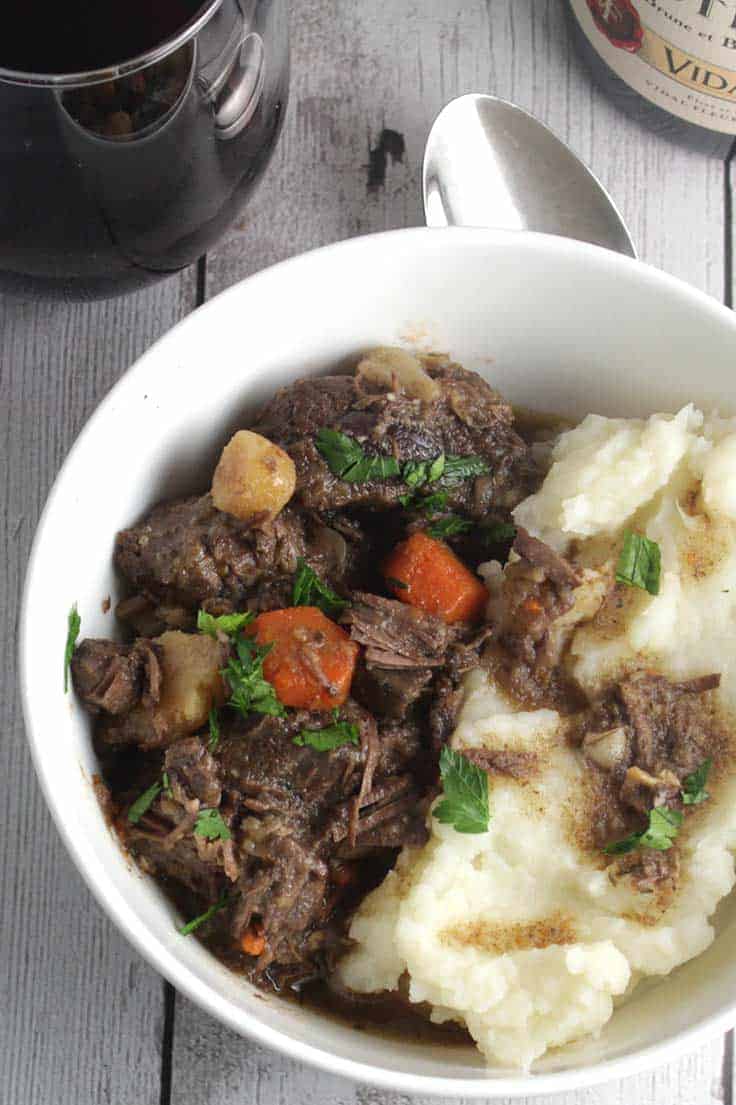 Our Beef Stew with Root Vegetables paired with a Côte-Rôtie for a delicious example of this classic pairing. Côte-Rôtie is a Syrah dominated red wine from the Northern Rhône.
Kale Soup with Portuguese Red Wine
This Portuguese Kale Soup recipe is a regular in our rotation, and one of the most popular Cooking Chat recipes.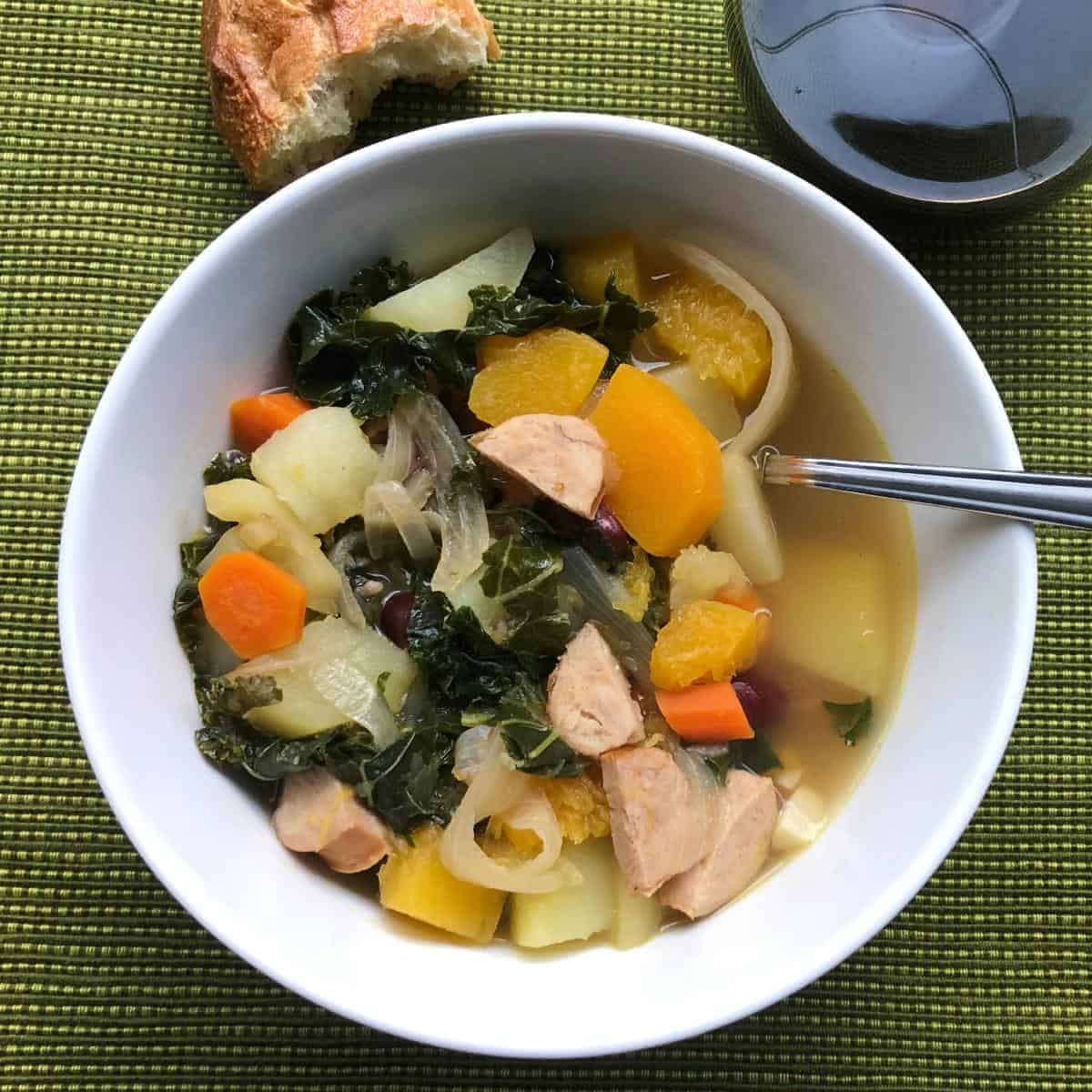 We have enjoyed the kale soup with a wide array of Portuguese red wine blends, with great results. This is definitely another one that shows the benefit of pairing a regional food with a wine from the same area.
As you can see in the photo, our Portuguese Kale Soup is laden with spicy sausages as well as a variety of veggies. The red blends that work well tend to be medium bodied, and have an aspect of the flavor profile that can match the sausages.
We have been known to mix the pairings up occasionally with our kale soup, too. We found the Dracaena Cabernet Franc to be another great option to go with the kale soup!
Classic Thanksgiving Pairings
I would have to say Pinot Noir is my first choice for a classic Thanksgiving wine pairing. But I also really like Chenin Blanc for a white wine. Check out our article What Wine Goes With Turkey for a deeper dive into classic Thanksgiving pairings along with some creative twists.
More Pairing Lessons from Wine Pairing Weekend
There is much more to learn about pairings! Check out these "Back to School" articles from my fellow Wine Pairing Weekend writers to get more great pairing ideas and insights!