Baked steak tips are delicious and easy with a simple barbecue flavored marinade. Pairs very well with a Tannat red wine from Uruguay. Limited prep needed but allow an hour for marinating the steak tips. First published February 2019, updated February 2020. Disclosure: the wine discussed here was provided as a complimentary sample.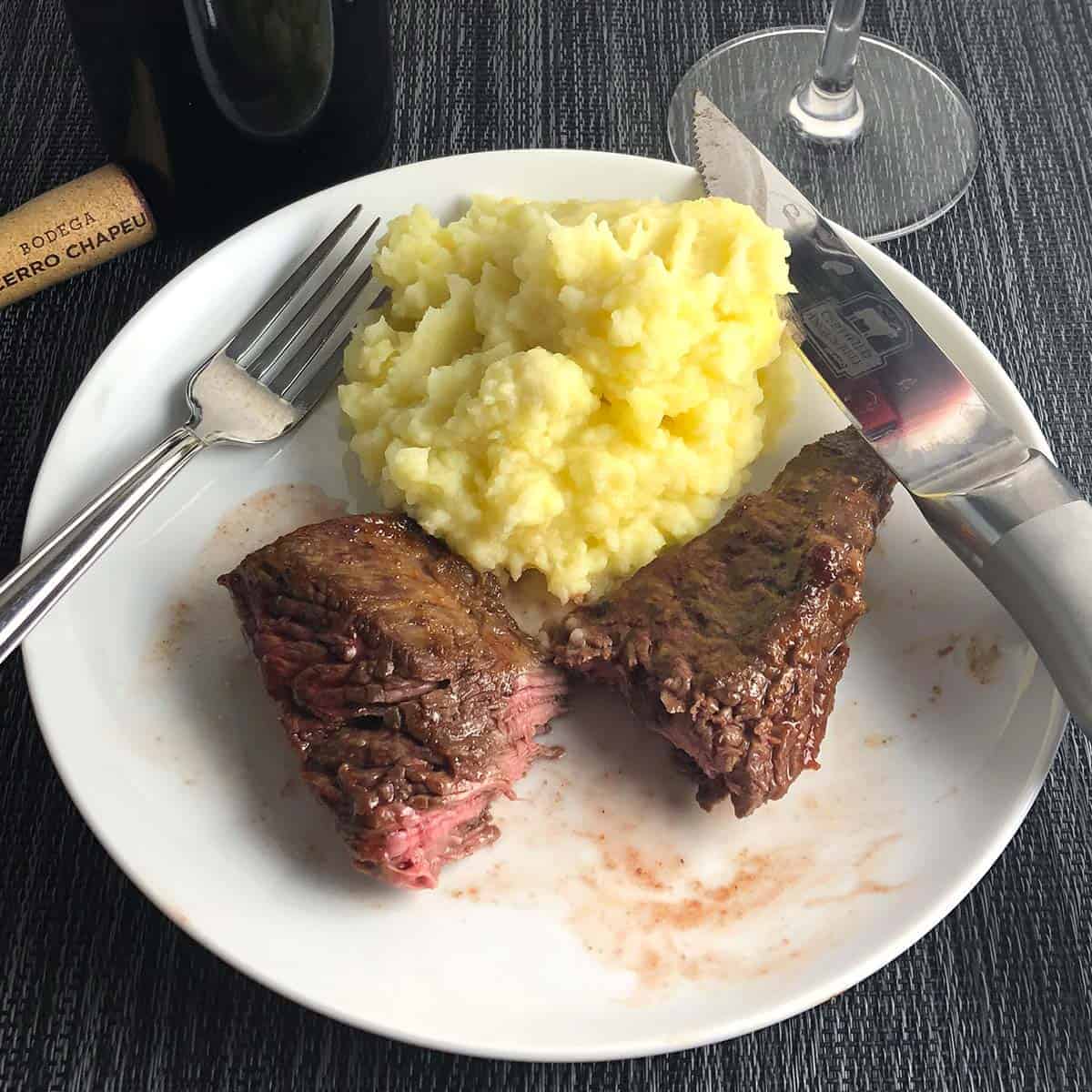 I've had very little experience with wines from Uruguay, so was very excited when Jeff from foodwineclick and Jill from L'Occasion suggested we focus on Uruguay for this month's Wine Pairing Weekend event.
Wine inspiration for recipe
When I saw I had Tannat to try, immediately thought about meat dishes. Tannat is a bold red wine with plenty of tannic structure. Tannat from Uruguay has a tendency to have softer edges than its French counterparts, but nonetheless our bottle seemed to suggest a meat dish.
Pia Carrau, our #winePW contact with the winery, mentions that they like to pair lamb dishes with their Tannat. So that's another idea for you!
Like Argentina, Uruguay food places an emphasis on grilled meat dishes. I'm a seasonal griller, so I decided to make BBQ Baked Steak Tips. I definitely associate steak tips with grilling, but I figured with a BBQ flavored marinade, we could make baked steak tips that would still work nicely.
Oh, if you do want to grill some steak tips, here's our recipe for Easy Grilled Steak Tips.
What are steak tips?
Steak tips are popular on restaurant menus and summer cookouts in our area. But what are they anyway?
Steak tips typically come from various muscles from the sirloin and round area. We tend to see them labelled as "sirloin steak tips" at the store.
Steak tips can come in a cube or strip shape, but they can also come as a whole steak. I haven't seen that much, but this Cook's Illustrated article on the subject suggests this is the best way to get steak tips.
Steak tips are a fairly inexpensive cut that benefit from marinating followed by fairly brief cooking period.
Speaking of sirloin, if you like this recipe you should also try our Oven Roasted Sirloin Steak recipe.
Tips for making this recipe
Here are a few tips for making these steak tips; click here to jump down to the recipe for the full details.
Allow for at least one hour for the steak tips to marinade; two hours or a bit more would be optimal.
Our marinade ingredients are intended to give a smoky sweet barbecue flavor. Key ingredients include soy sauce, maple syrup, ketchup, cider vinegar along with a variety of dried spices.
You can experiment with the ratios of ingredients, and try substituting other types of vinegar and spices. You could also try brown sugar instead of maple syrup if you like.
Start by browning the steak tips on the stove top for a few minutes, then move to the oven.
As noted in the recipe card, the pieces of steak tips tend to come in a range of sizes. The smaller ones will cook faster; pull them out when they are done and cook the bigger pieces a bit longer.
Baked Steak Tips with Cerro Chapeu Tannat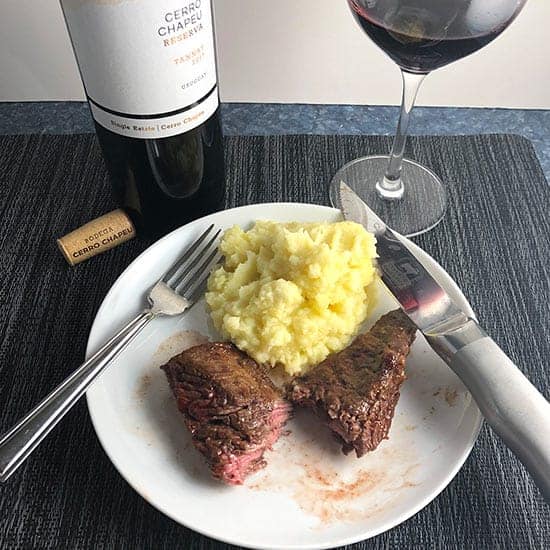 We received two bottles of 2017 Cerro Chapeu Reserva Tannat ($12, 13% ABV) to sample for this Uruguay #winePW event.
Nose: I first thought of a forest on a warm summer day on the nose of this Tannat. The tasting sheet mentioned cedar on the nose, and I can see that.
Palate: Dense, plum fruit with notes of cinnamon. Firm tannins. Pretty intense upon first opening it, I decanted it for 30 minutes prior to having it with dinner. The wine opened up nicely, showing lush fruit, pleasant mouthfeel and good acidity. I could see the wine aging for a few years; I do suggest a little decanting time if you drink it soon.
Pairings: As I suspected, this Tannat worked very nicely with our BBQ Baked Steak Tips. The Tannat certainly has enough tannic structure to stand up to beef. There is also enough subtle notes of cinnamon and other flavors to go nicely with the barbecue flavored marinade.
As I mentioned in this #winePW preview video, the Cerro Chapeu Reserva Tannat was also good to sip while nibbling on some aged gouda cheese. We saved enough of that 2nd bottle to also go with our beef and bean tacos that night. Definitely another thumbs up to that pairing!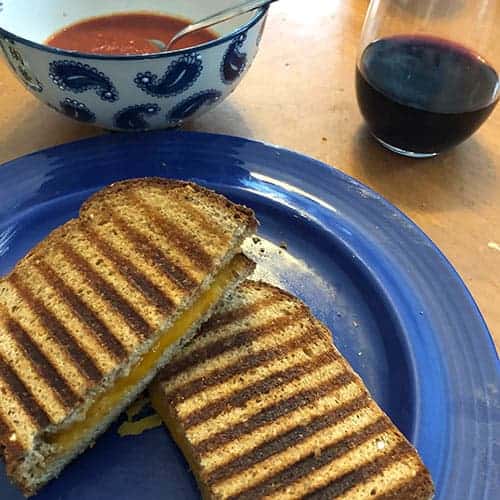 The night we had the baked steak tips, we had a little bit of the Tannat left the next day. It held up well overnight and was a nice treat with our lunch of grilled cheese with tomato soup.
Wine Details: This wine is made from 100% Tannat grapes, grown at around 1,000 feet above sea level in sandy red soils with good drainage. The grapes are handpicked, and crushed over tanks. Spontaneous fermentation occurs in open tanks. After 10 days of fermentation, the wine is aged for a year in 2nd use French Oak.
About Bodega Cerro Chapeu
Bodega Cerro Chapeu traces its winemaking roots to 1752, in Catalonia, Spain. The family has been making wine in Uruguay since the 1930s.
As Pia Carrau explains, her grandfather Juan Francisco Carrau Pujol founded Cerro Chapeu vineyards in 1975, after an investigation looking for the best soils in Uruguay to plant Tannat vines.
Bodega Chapeu has been a leader inUruguay wine innovation for decades, with a focus on terroir driven wines. Dr. Francisco Carrau is a professor at the University of Uruguay, and has trained most of the countries young winemakers.
Cerro Chapeu is a region within the department of Rivera. The rolling hills with red soil provide excellent growing conditions for Tannat. The winery is located about 7 miles from the international border with Brazil.
In addition to growing Tannat, Bodega Cerro Chapeu also grows Cabernet Sauvignon, Arinarnoa, Sauvignon Blanc, Pinot Noir and Chardonnay.
Other wine pairing options
I realize while Uruguayan Tannat was the original inspiration for this steak tips recipe, it might not be the easiest wine to find! If you don't have the Tannat available, this is a good time to open a bold Cabernet Sauvignon; or perhaps a Syrah from the Northern Rhone.

Print
BBQ Baked Steak Tips
Baked steak tips are delicious and easy with a simple barbecue flavored marinade. Pairs very well with a Tannat red wine from Uruguay. Note prep time include one hour to marinate the beef; there's only 10 minutes active prep time.
Author: Cooking Chat
Prep Time:

1 hour 10 mins

Cook Time:

14 mins

Total Time:

1 hour 24 mins

Yield:

5

servings

1

x
Category:

Main

Method:

baking

Cuisine:

American
2 tbsp

low sodium soy sauce

3 tbsp

ketchup

1 tbsp

cider vinegar

½ tsp

garlic powder

¼ tsp

cumin

½ tsp

smoked paprika

1 ½ tbsp

maple syrup
black pepper to taste

1 ¼

lbs steak tips
canola oil spray
Instructions
Make the marinade: in a small bowl, combine all of the ingredients from the through the black pepper.
Marinate beef: Pat dry the steak tips. Place the steak a large sealable plastic bag. Pour the marinade, then seal the bag. Gently toss the the steak in the marinade so that the steak is all well-coated. Marinate in the refrigerator for at least one to two hours prior to cooking.
Preheat the oven to 400 degrees when you are ready to start cooking. At the time you begin preheating the oven, move the steak tips to the counter to start bringing to room temperature.
Brown steak stips: Coat a large, oven-proof skillet with the oil spray. Heat the skillet to medium high on the stove top. Add the steak tips to the skillet, and brown on one side for 1 to 2 minutes, then turn this tips over to brown on the other side for another minute.
Bake steak tips: Move the skillet to the oven and bake for 10 minutes. After 10 minutes, check steak for doneness. Smaller pieces may be done at this point, larger pieces may need a few more minutes. Remove any pieces that are done to a platter, and tent with aluminum foil to keep warm.
Finish baking: Return the skillet to the oven to finish any steak tips that need a bit more cooking. They should be done to medium rare in 3 to 5 more minutes, or 14 minutes total cooking time. Add a couple minutes to cook to medium.
Finish & serve: Remove the skillet from the oven. Transfer the remaining steak tips to the platter, and pour over any juice that has built up in the pan. Let the steak rest for a few minutes. Slice into serving portions, plate and enjoy!
Notes
You will likely have several pieces of steak tips if you are making the amount given here in this recipe. They tend to come in a variety of sizes, thus you are likely to need to cook some pieces longer than others.
Alternatively, if some people prefer their meat medium to medium well, cook all of the steak for the same amount of time and give the small pieces that like their steak cooked more.
Note prep time include one hour to marinate the beef; there's only 10 minutes active prep time.
Keywords: steak tips, sirloin tips, baked steak tips, wine from Uruguay, Tannat
Recipe Card powered by
For another recipe that features BBQ meat flavors made in the oven, try our Boneless Baked Pork Ribs recipe!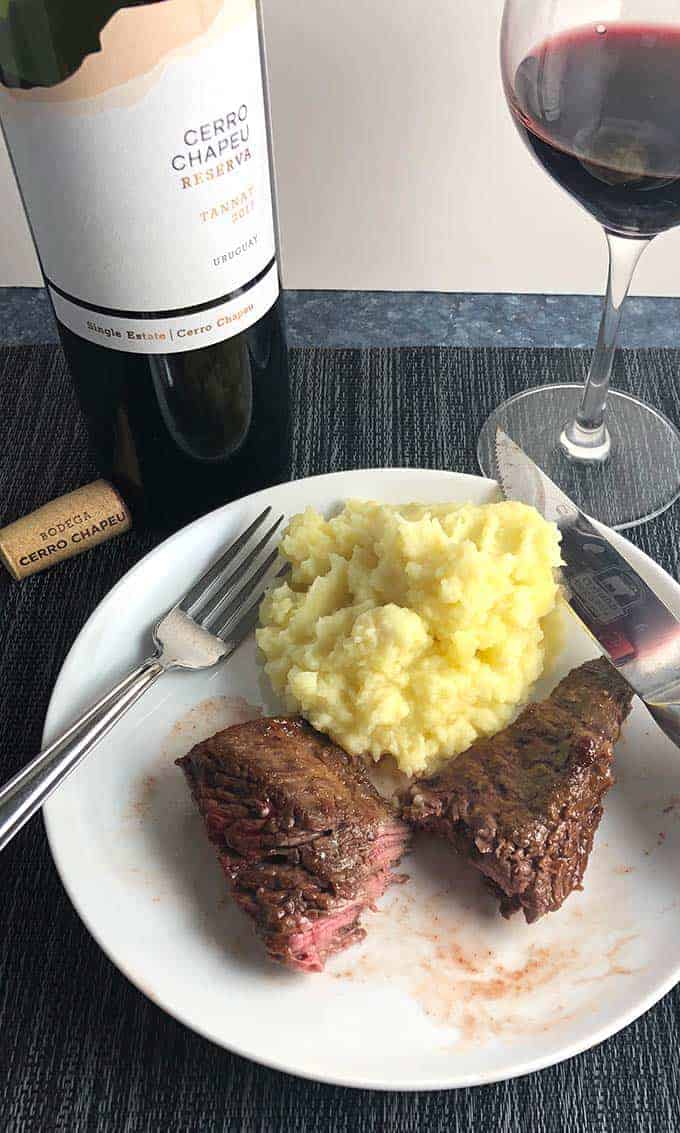 More Pairings for Uruguay Wines
Be sure to check out all the great Wine Pairing Weekend Articles! And join us for a live Twitter chat on today's topic, using hashtag #winePW, at 11 a.m. ET and 8 am PT on Saturday, February 9, 2019.