Looking for the best pulled pork recipe for a slow cooker? Here you go!
Our savory Slow Cooker Pulled Pork is a delicious meal that we like to enjoy with Sweet Potatoes Mashed with Cumin Sage Butter. A little effort up front, then the rest of the yummy magic takes place in the slow cooker over 8 plus hours. Note the original recipe calls for 8 hours of marinating the pork, so it does require some advance planning. Recently we have tested it successfully with shorter marinating times ranging from 30 minutes to 2 hours.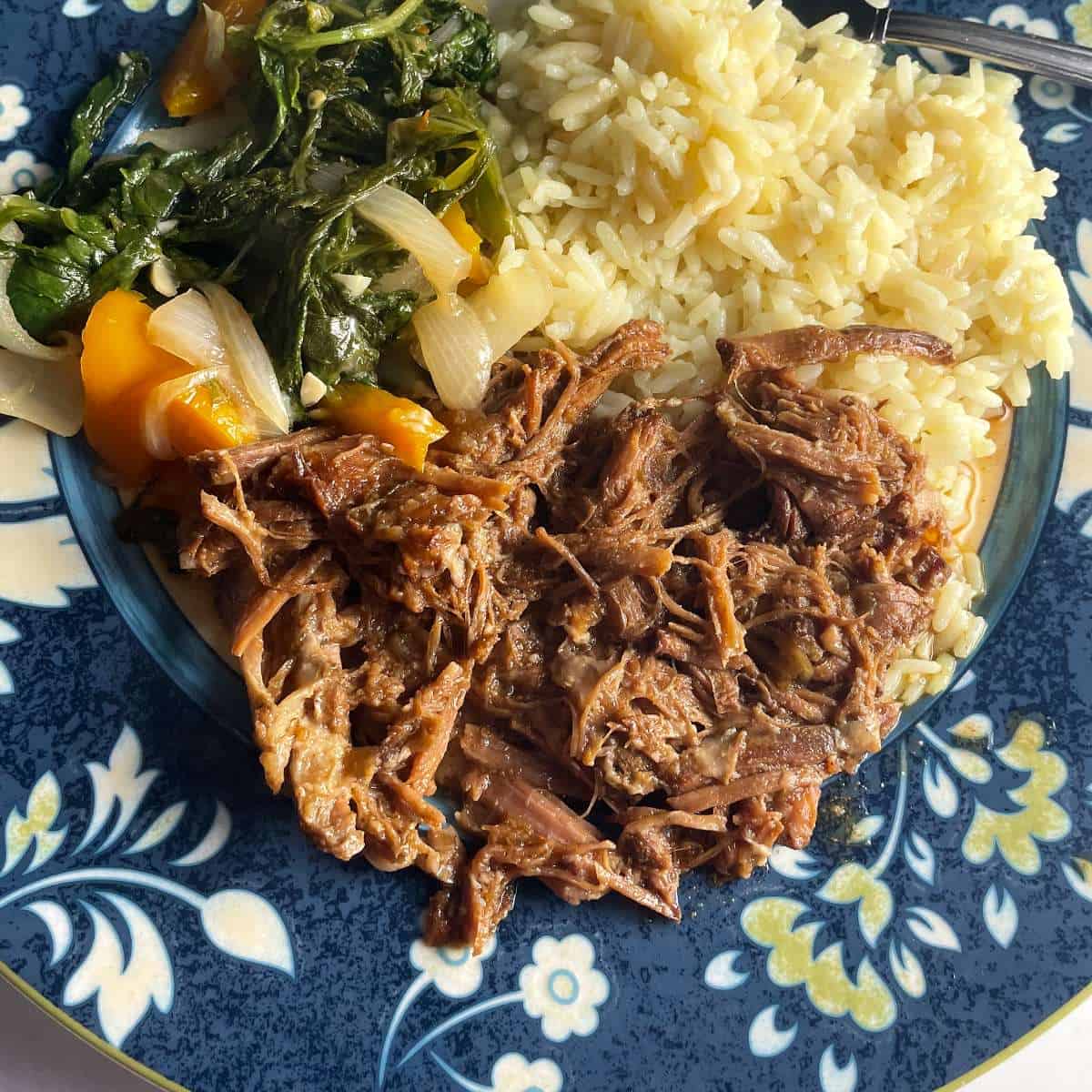 I love pulled pork, so not sure why it took so long for me to get around to coming up with a good slow cooker pulled pork recipe to share here. Perhaps it is because I hadn't had the best results trying to slow cook pork shoulder in the oven. But when our 10 year old came up with the request that I make "pork three ways", I figured it was time to try making pulled pork again.
Jump to:
What cut of meat is best for pulled pork?
When making pulled pork, the ideal cut of meat to use is typically a pork shoulder or pork butt. These cuts come from the shoulder area and are known for their marbling and connective tissue, which contribute to the savory, tender texture of the finished pulled pork.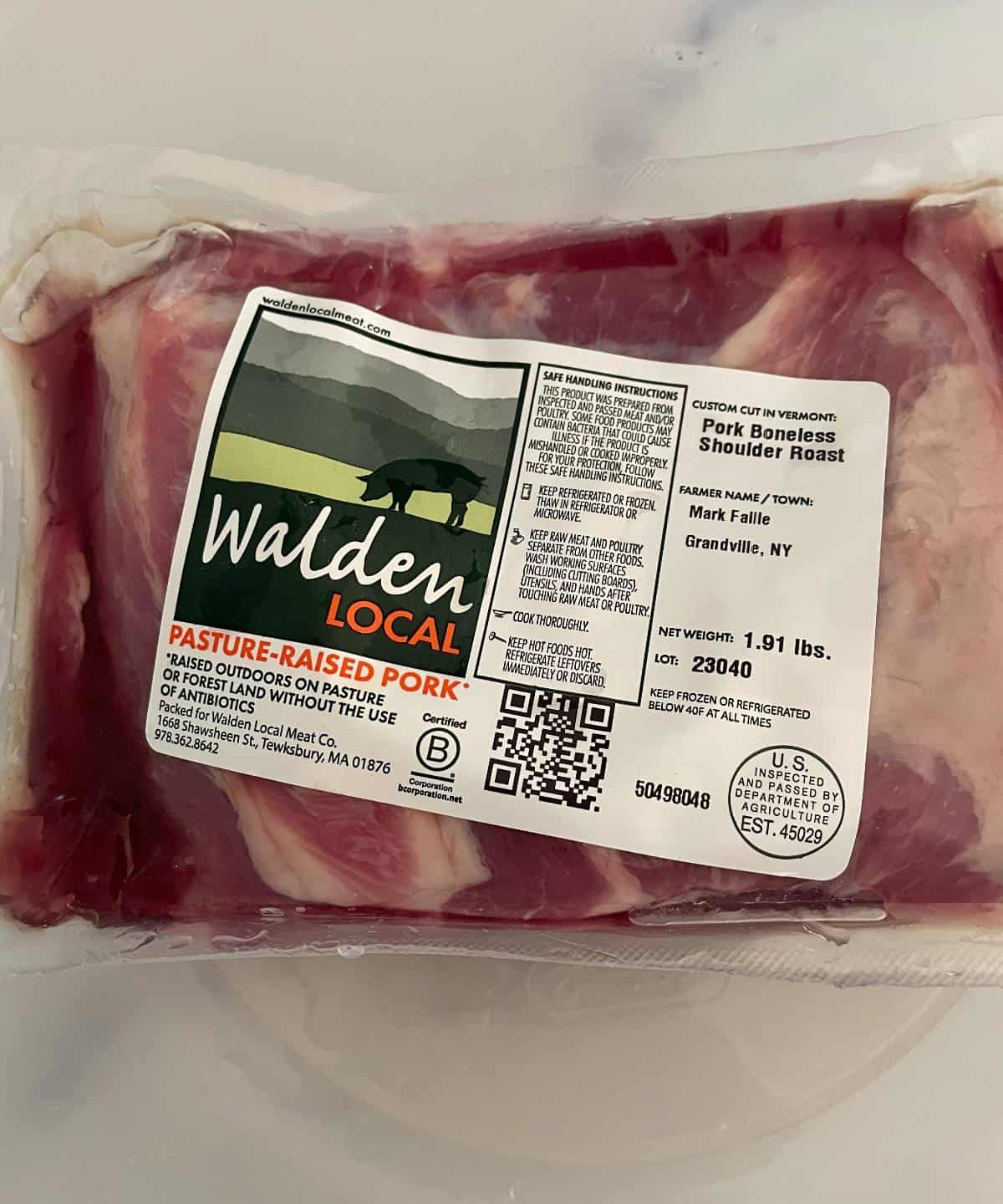 I like to use local meat as much as possible. For our latest batch of crockpot pulled pork, we used pork shoulder from Walden Local Meat. Check out our podcast interview with Walden CEO Nancy Pak for more info on the company, and their partnership with B. Good.
Making this recipe
I have now made this Slow Cooker Pulled Pork many times, and am consistently pleased with the results! With 8 plus hours in the slow cooker, and potential marinating time, the recipe does require some advance planning.
That said, it doesn't take a lot of active time. A little prep before the night you want to have this pulled pork for dinner, let it marinate overnight, and slow cook through the next day. Boom, you've got a delicious, savory pulled pork waiting in the Crock-Pot slow cooker to enjoy. In addition, we have successfully experiment with very limited marinating times – more on that below.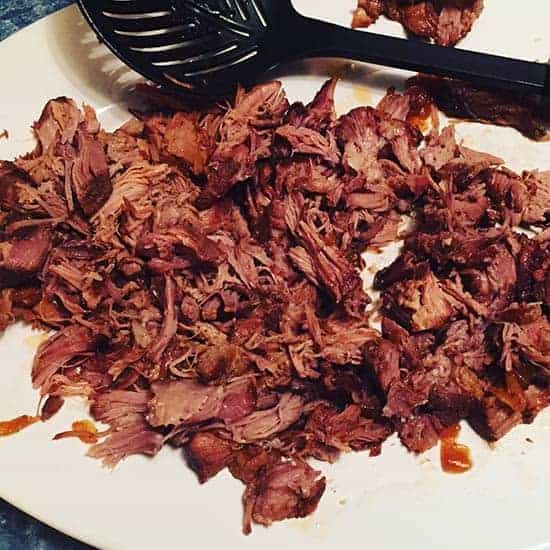 When I'm cooking something new I haven't made before, that requires a new method, I like to find a recipe that I can refer to as my baseline.
I typically will change the flavors up to my liking, but having something to look at for basic ideas of quantity, cook times and so forth is a big help. For our version of slow cooker pulled pork, I referenced this Chipotle Sweet Pulled Pork Recipe from Carlsbad Cravings. Though our pulled pork has more of a BBQ flavor, the basic method described by Carlsbad Cravings was a good starting point for us.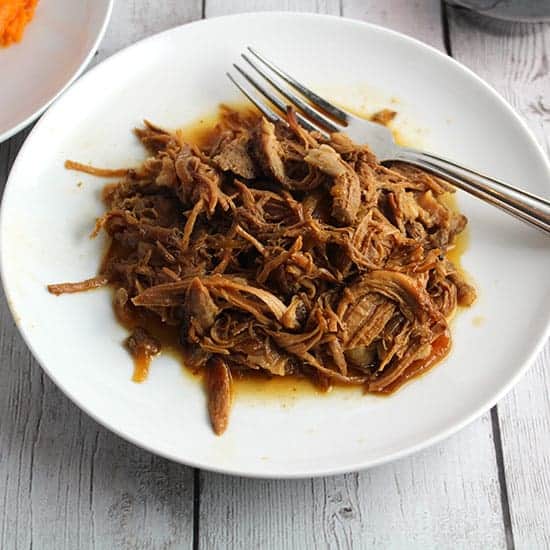 Short cuts
As I mentioned earlier, during a recent remake of this slow cooker pulled pork recipe, I did trim the marinating time significantly. We did plan enough in advance for the full 8 hours of marinating, and tried it with just a 2 hour marinating time.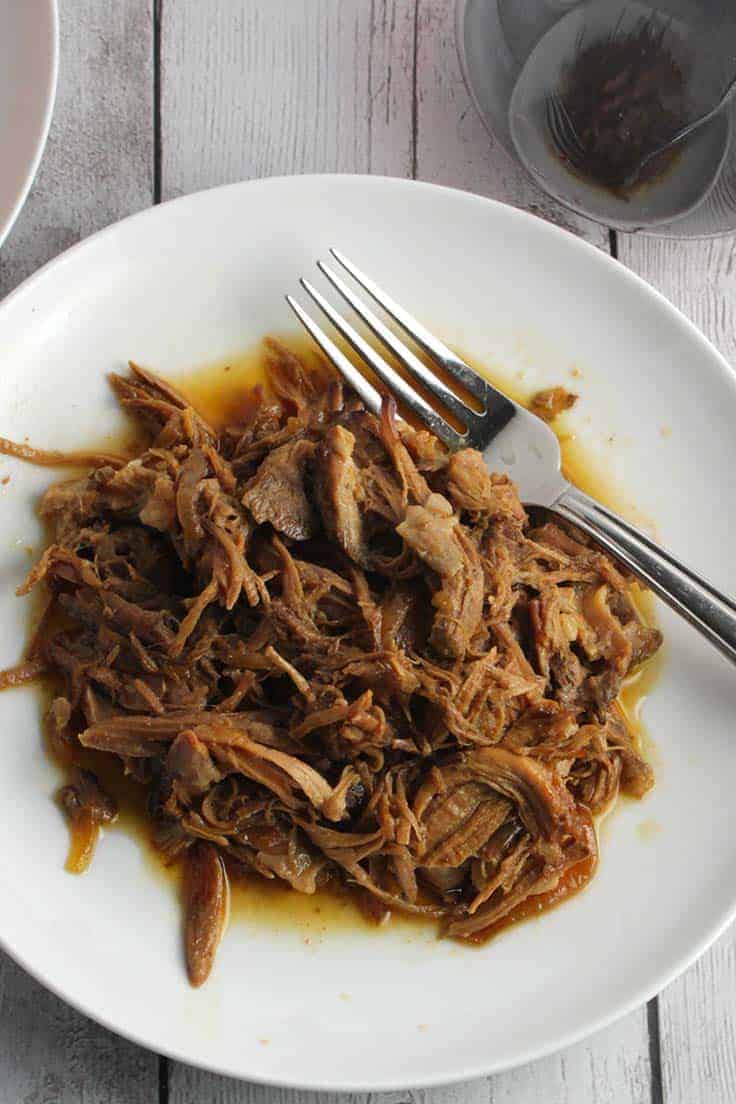 We didn't detect any significant flavor difference with the 2 hour marinating time. So the most recent time I made this pulled pork, I cut the marinating time to under 30 minutes, and it was still very tasty! I've been nudged to try less marinating time having heard Chris Kimball from Milk Street talking about "ditching the marinade".
The other short cut I tried recently was skipping the part where you cook the onions and brown the pork in a skillet. I do recommend doing this step if you have time, but again, you can skip it if pressed for time. The pork was still tasty! Basically, the savory pork meat and flavorful sauce can make up for the impact of taking one or both of these short cuts!
What to serve with pulled pork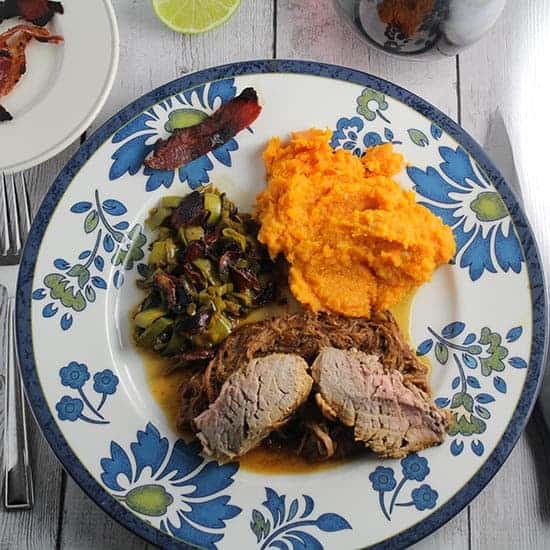 I typically think of pulled pork for sandwiches, but when I make this, I often serve it along with Sweet Potatoes with Cumin Sage Butter and Sautéed Leek Greens with Bacon. And as mentioned earlier, we also featured it as part of a pork three ways dinner.
For a recent remake, we served the pulled pork with rice and braised local greens.
What to do with leftovers
Store leftover pulled pork in an airtight container in the refrigerator for 3 to 5 days.
You can reheat leftover pulled pork to use in sandwiches, or to serve alongside leftover mashed sweet potatoes.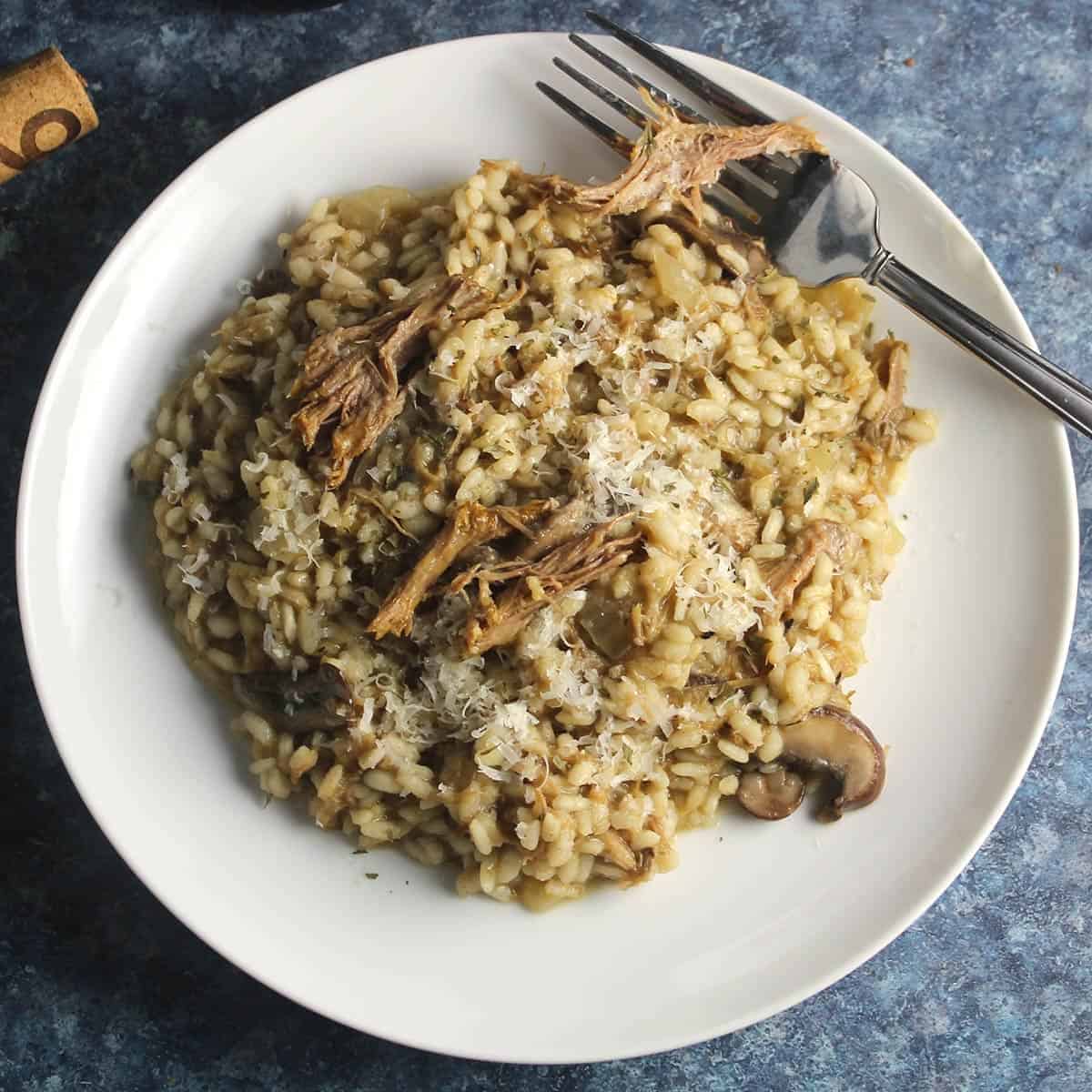 We also like to make pulled pork risotto with the leftovers. Not your typical risotto dish, but very delicious!
Wine pairing
When coming back to make this pulled pork recipe recently, I was surprised to that I didn't have a wine pairing section. So needed to fix that!
I happened to have opened both a Chardonnay and a Merlot from McGrail Vineyards for an Instagram Live tasting I was doing. So that gave me a chance to try both.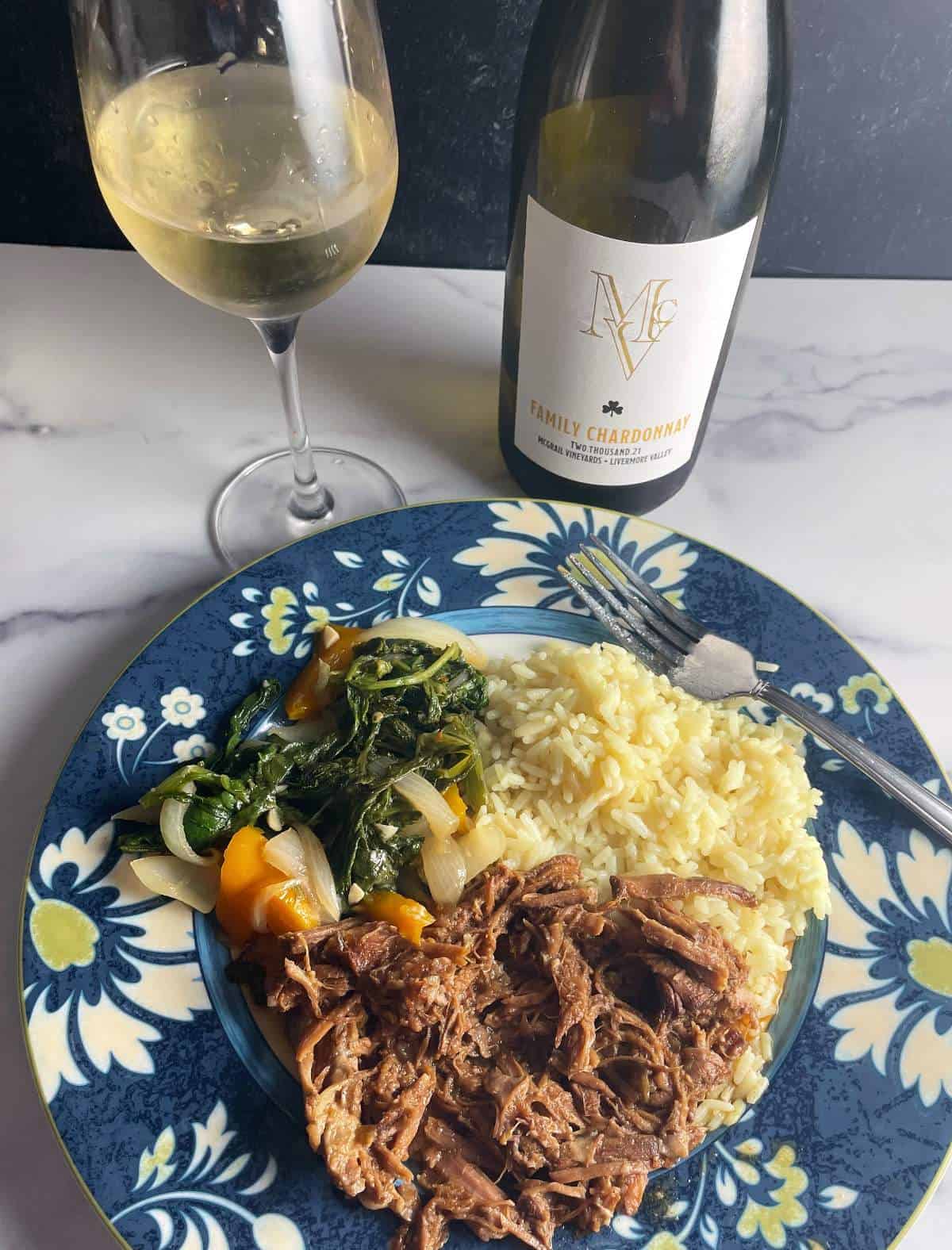 Vibrant tropical fruit was the first thing that hit me upon tasting 2021 McGrail Vineyards Family Chardonnay ($32, 14.2 AB. It does also have subtle butter and cream aspects you would expect from a Chardonnay. Winemaker Mark Clarin noted the freshness comes from the way he manages the malolactic fermentation process.
The tropical fruit notes in the Chardonnay definitely served to match the BBQ flavor notes in the pork. In addition, Chard being full bodied makes it a white wine that can stand up to the meaty pork.
The Merlot had some good acidity, but not exactly what was needed for the flavors of the pork. Of the two options, I definitely preferred the Chardonnay pairing.
Print
Recipe card
Slow Cooker Pulled Pork
Delicious, fall apart pulled pork in a savory sauce. Easy to make in a slow cooker.
Author: Cooking Chat
Prep Time:

8 hours

Cook Time:

8 hours 30 mins

Total Time:

16 hours 30 mins

Yield:

6

servings

1

x
Category:

Main

Method:

slow cooker

Cuisine:

Southern
SPICE BLEND
1 tbsp

cumin

1 tbsp

garlic powder

1 tsp

salt

1 tsp

cinnamon

1 tsp

coriander

1 tsp

paprika
PORK MARINADE
2 ½

lbs pork shoulder or pork butt, trimmed of any large pieces of fat on the outside of the meat

¼ cup

soy sauce

2 tbsp

extra virgin olive oil

2 tbsp

orange juice

1 tbsp

apple cider vinegar

1 tsp

sugar

1 tbsp

of the spice blend
PHASE 1 INGREDIENTS
1 tbsp

olive oil

½

an onion, chopped

1 tbsp

spice blend

1 tbsp

sugar

8

ozs chicken broth

2 tbsp

ketchup

1 tsp

smoked maple syrup (optional)
Reserved marinade
PHASE 2 INGREDIENTS
¼ cup

ketchup

2 tbsp

soy sauce

1 tbsp

maple syrup

1 tsp

spice mix
Instructions
MAKE THE SPICE BLEND: Combine the spice blend ingredients, from the cumin through the paprika, in a bowl. Set aside.
MAKE THE MARINADE: In a bowl, combine the pork marinade ingredients from the soy sauce through the tablespoon of spice blend.
Pat dry the pork, then place it in a large sealable plastic bag. Pour in the marinade, seal, and toss the pork gently a few times to make sure all the meat is well coated with the marinade. Place in the refrigerator to marinate overnight or at least 8 hours.
PREPARE FOR SLOW COOKING (PHASE 1): Have your slow cooker at the ready. Heat a tablespoon of olive oil in a large skillet. Add the onions, and cook on medium for 5 minutes. Take the pork out of the marinade, reserving the marinade. Add the pork to the skillet, and cook for 5 to 10 minutes, turning the meat occasionally to brown it on all sides.
Transfer the pork and onions to the slow cooker. Add the remaining Phase 1 ingredients to the slow cooker: tablespoon of spice blend, sugar, chicken broth, 2 tablespoons ketchup, smoked maple syrup if using and reserved marinade.
Cover the slow cooker. Set the slow cooker to low, and cook for 8 hours.
After the 8 hours of slow cooking, the meat will be fall apart tender. Remove the meat to a platter, and give it a few minutes to cool. Then use two forks to shred the pork, breaking it into bite sized pieces.
Return the shredded pork to the slow cooker along with the Phase 2 ingredients: ¼ cup ketchup, 2 tablespoons soy sauce, tablespoon maple syrup and 1 teaspoon of spice mix.
Cook on low another 30 to 60 minutes. The longer cook time will allow for more of the liquid to be absorbed by the pork.
Scoop and serve the pork out of the slow cooker with a slotted spoon. Enjoy!
Notes
As we mentioned in the accompanying article, if you are pressed for time, you can cut the marinating time significantly, from just 30 minutes to 2 hours, if you don't want to do the 8 hour / overnight marinade.
You can also skip the step of cooking the onions and browning the pork in the skillet, if you are pressed for time. If doing this, just put the raw onions and pork into the slow cooker, skipping the part where you brown it in the skillet. 
Keywords: pulled pork marinade, slow cooker pulled pork, crockpot pulled pork
Recipe Card powered by
Tools to use: Don't have a slow cooker yet? You'll need it for Slow Cooker Pulled Pork! We have enjoyed our Crock-Pot, so sharing an Amazon affiliate link below and earlier in the post to the latest version of the model we have.

Looking for another delicious meal to make in your slow cooker? Try our Slow Cooker Irish Lamb Stew!