Garlic Scape Pesto is a great way to use the green stalk of a garlic plant. We love tossing our garlic scape pesto with hot pasta for a simple summer meal!
Garlic scapes have a fresh garlic flavor and are widely available at farmer's markets and CSA shares in the early summer. This scape pesto recipe without nuts is flexible, with several possible variations.
We love cooking with fresh seasonal ingredients, and have been leaning into that theme with the launch of our new Cook Local, Eat Local podcast!
Garlic scapes become common in CSA shares and at farmer's market in the late spring and early summer. They are the top part of a garlic plant, and make for some great eating!
Generally, people suggest using garlic scapes as you would regular garlic cloves. So that had me immediately thinking pesto! After making several batch of garlic scape pesto, it is time to share our easy and delicious recipe with you!
We toss this garlic scape pesto with hot pasta for an easy summer main dish. You could use the scape pesto other ways you use pesto – see our collection of ways to ways to use kale pesto for inspiration!
Jump to:
Ingredients
Here are the main ingredients for our garlic scape pesto recipe: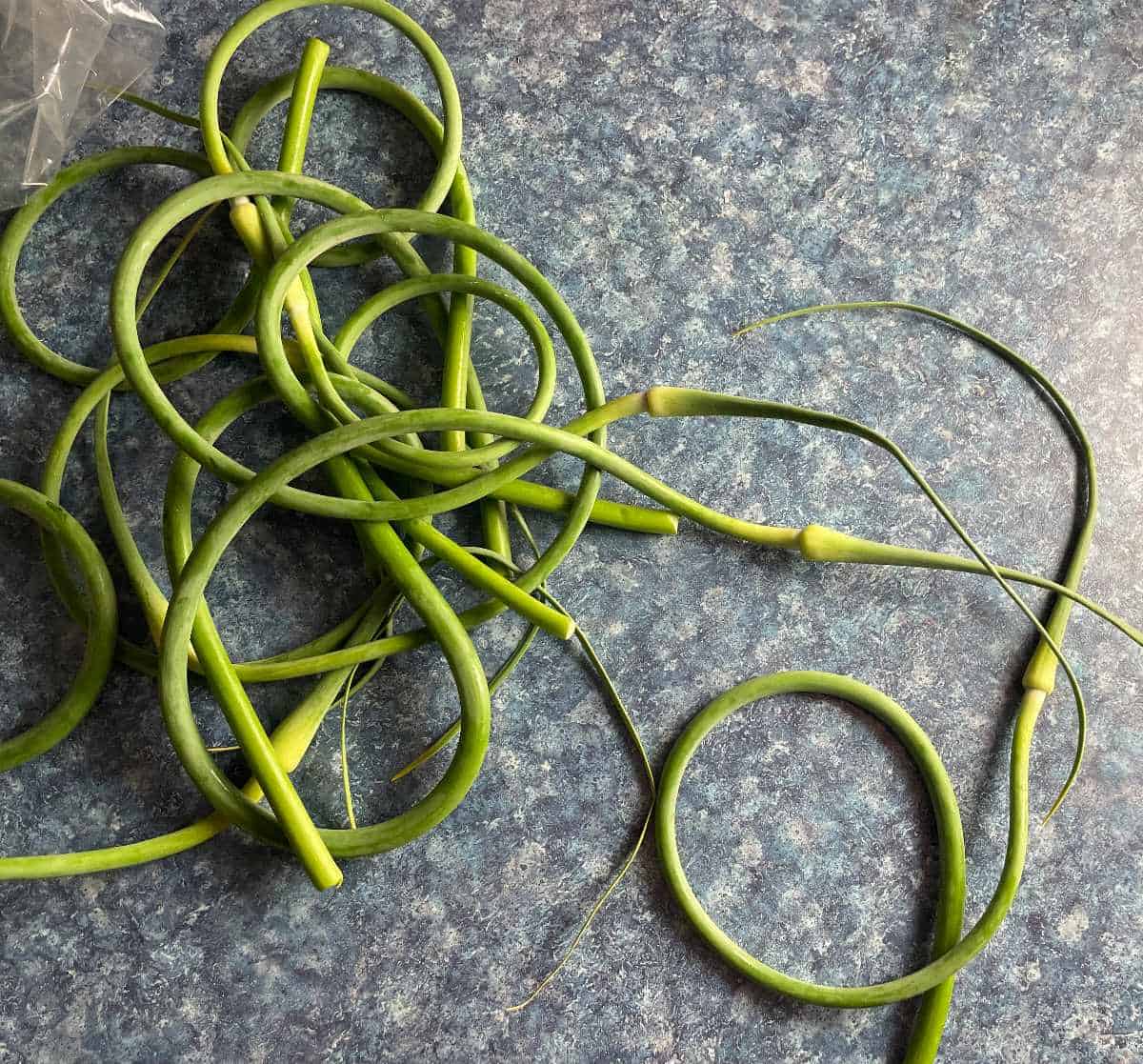 Garlic scapes: Garlic scapes are the green stalk of a garlic plant. Scapes are a great way to use more of the garlic plant, and bring garlic flavor to a dish. As noted in this video from Love Your Land on how to prepare garlic scapes, you remove the top part of the scape, and snap or cut off the hard woody portion near the bottom.
Extra virgin olive oil is important for this pesto sauce. Blended it with the scapes in a food processor helps break it up into smaller pieces.
Parmesan or Pecorino Romano cheese You can use whichever cheese you prefer. I lean toward the Pecorino, as the saltiness provides a nice contrast to the bite of the garlic.
Kale is not a typical ingredient for garlic scape pesto, but I like the way adding one cup of kale leaves adds additional color and nutrition to the pesto.
Red pepper flakes bring some nice additional kick to the pesto.
Pumpkin seeds, lightly toasted, are our choice for bringing a "nutty" flavor to the pesto without using nuts. You could also use sunflower seeds for a nut free pesto. If you aren't concerned about avoiding nuts, feel free to use pine nuts or walnuts instead.
I've made several batches of scape pesto this season, and the following ingredients I would consider optional, because I haven't always used them and enjoyed the pesto flavor regardless of whether or not they were included.
Fresh basil or parsley: Basil is more common in other scape pesto recipes, but the first time I made it, I went with fresh parsley, and that worked well. I have also made it without either fresh herb and it was tasty. I would say use basil and/or parsley if you have it available or want to use it for something else, too. But you don't need to buy it just for the scape pesto.
One clove regular garlic: we add a clove of regular garlic sometimes to amp up the garlic flavor even more. I think I did this initially not sure if I'd get enough flavor from the scapes. But I have made it with just the scapes, and that works…you might want to do that your first time making it so you can get a sense of what the scapes taste like without the addition of regular garlic.
How to make scape pesto
Making scape pesto is quite similar to making other pestos. I would say that while classic basil pesto is traditionally made with a mortar and pestle, you really do need a food processor to break up the scapes!
Here's a visual overview of the steps for making garlic scape pesto. Head on down to the recipe card for more details!
Remove the flower and bottom woody portion of the scape to get the portion you will want to eat. This video is helpful to watch if you're new to working with scapes.
Coarsely chop the portion of the scapes remaining, then added the pieces to the food processor.
Pulse the food processor to begin breaking down the garlic scapes.
Add the olive oil to the food processor along with the scapes.
The scapes get chopped up better after adding the evoo.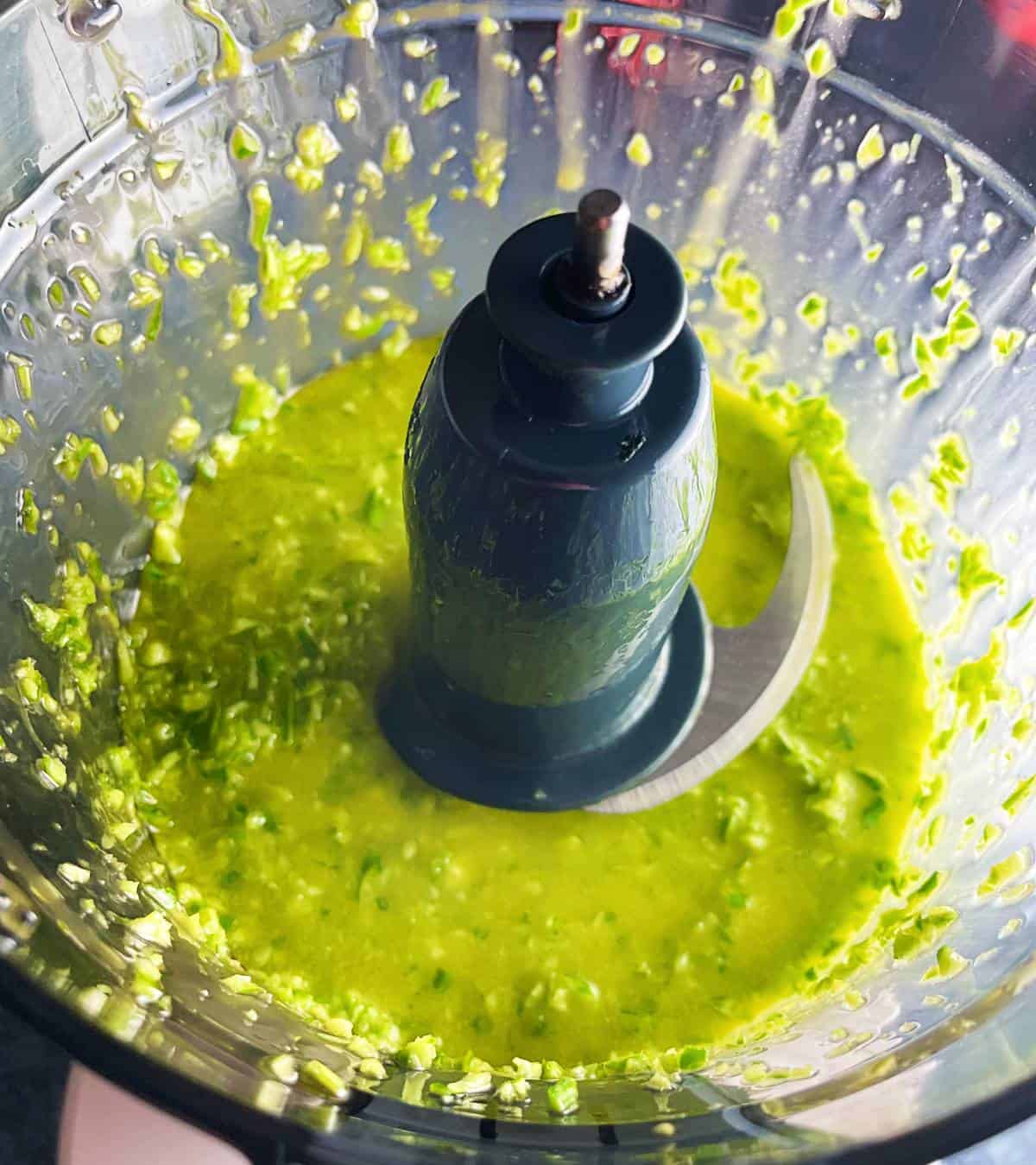 Add the kale and then pulse to incorporate it with the scapes and olive oil.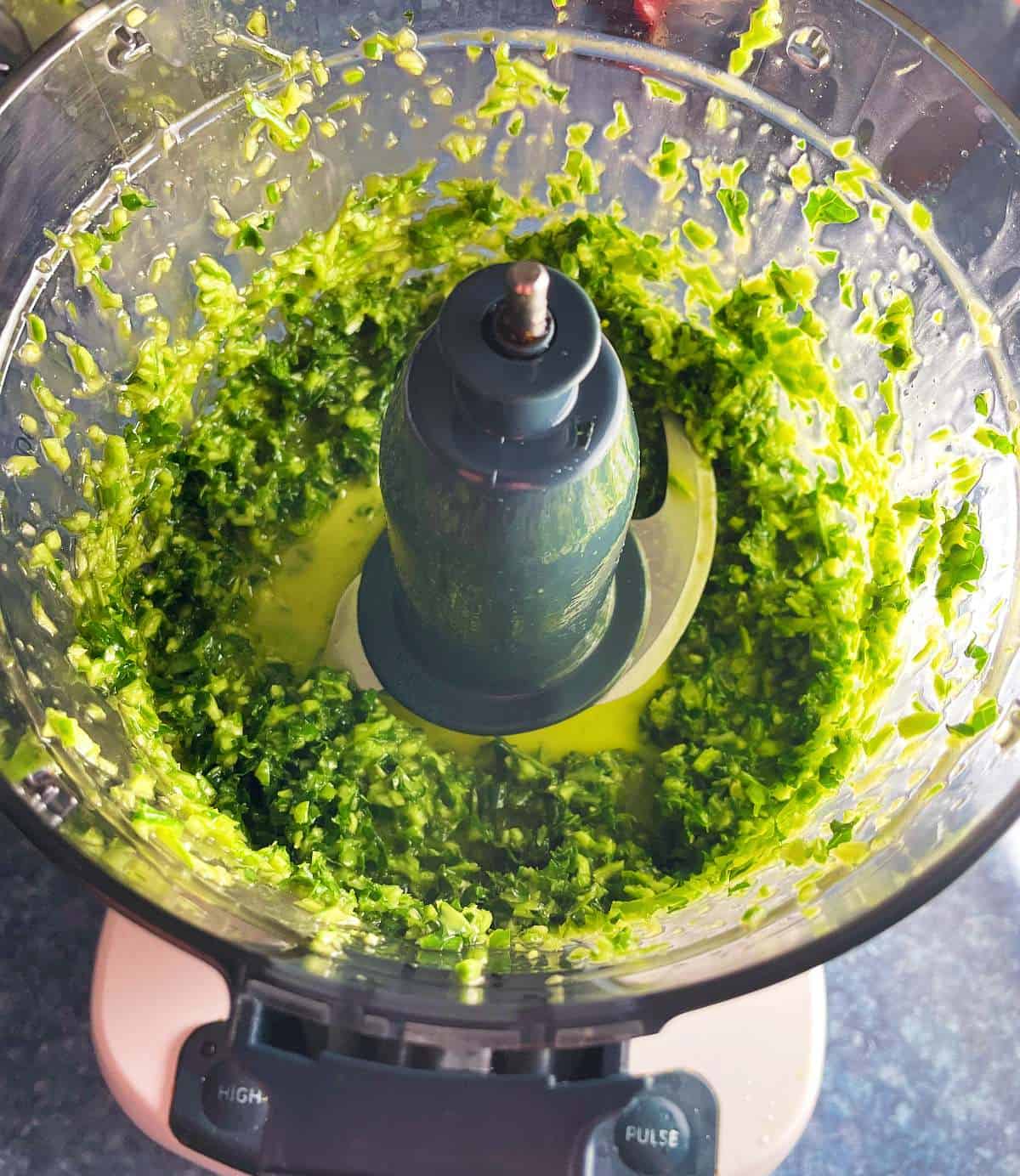 Add the cheese, and fresh herbs if using.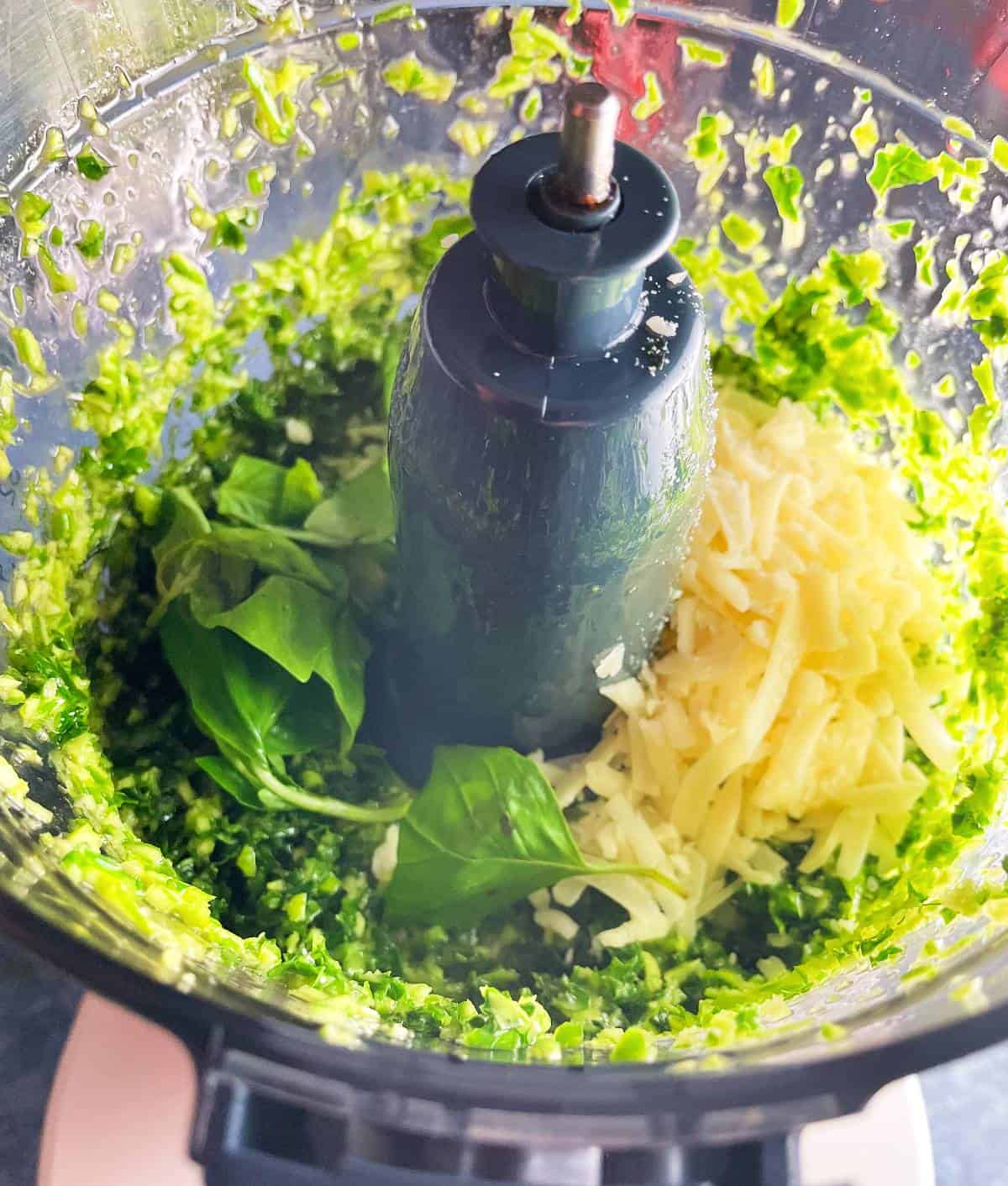 Pulse to combine. Add the red pepper flakes and pumpkin seeds, pulse to combine again.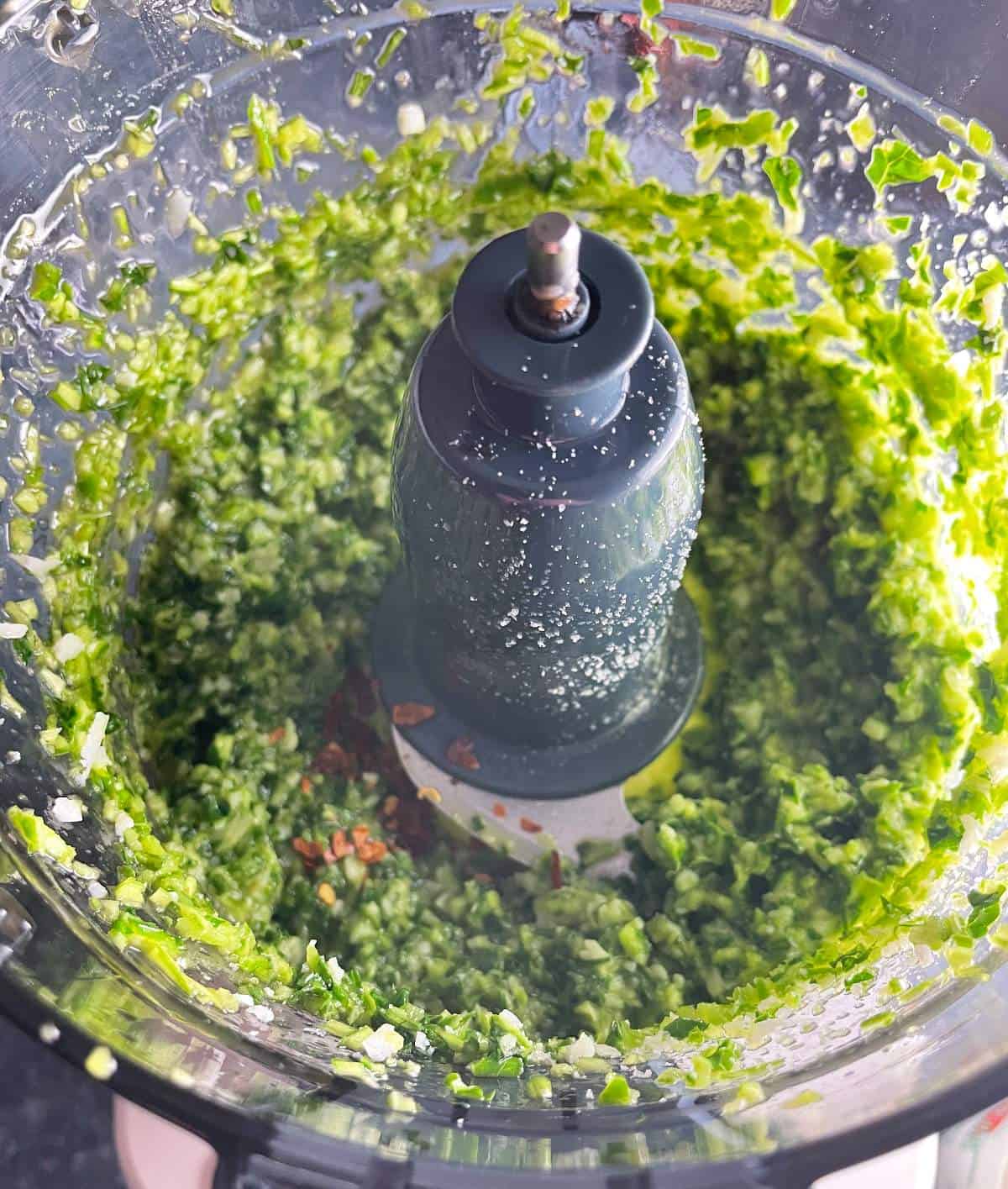 The garlic scape pesto shown above is ready to serve!
How to serve garlic scape pesto
We like this easy garlic scape pesto tossed with some freshly cooked pasta for a quick vegetarian main dish. We served it with bucatini pasta here, topped with fresh local tomatoes. Pesto is also good with linguine or ziti.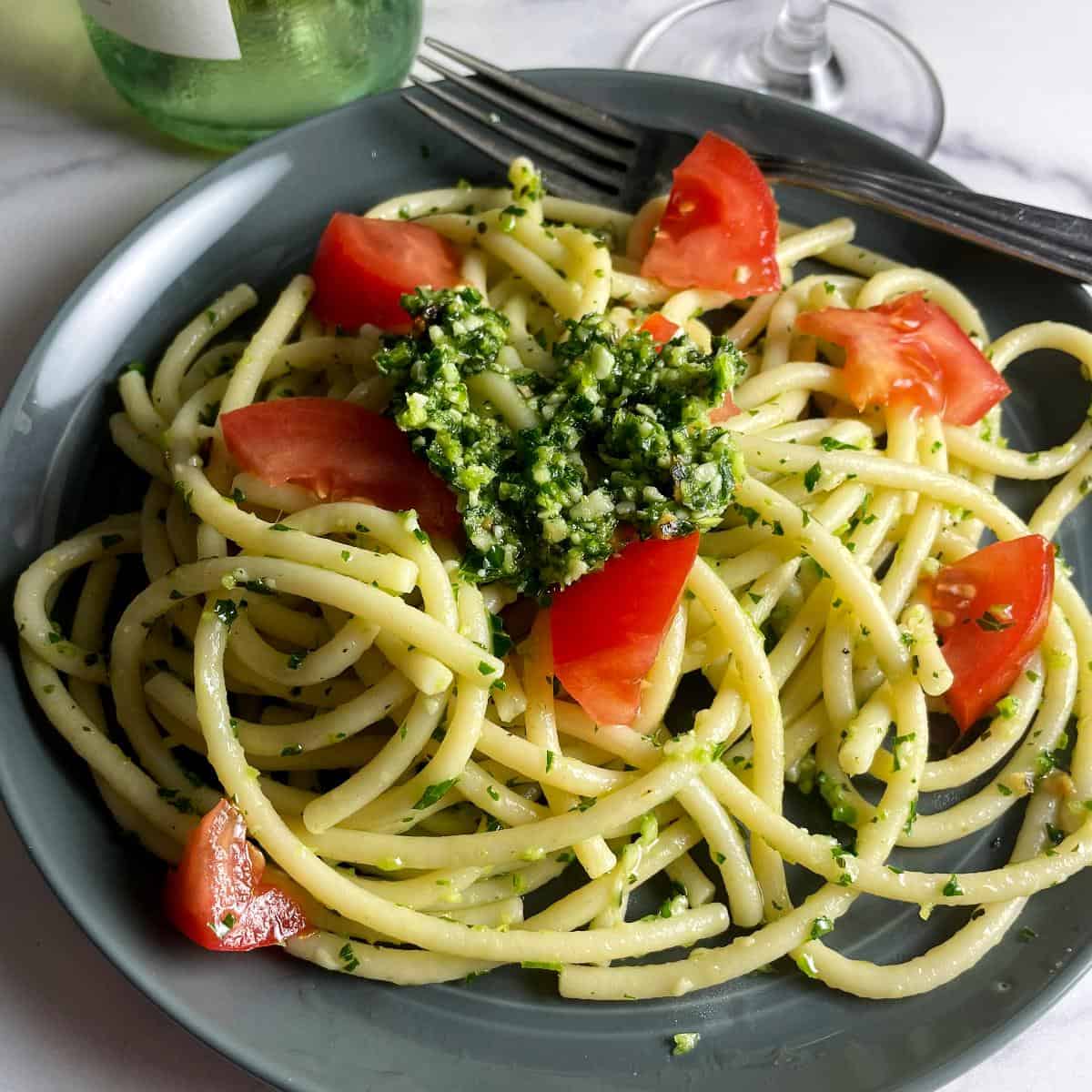 You can start cooking the pasta as you make the pesto, if you like. Or make the pesto ahead of time. Keeping the pesto out at room temperature is OK if you are making the pasta within the next hour, otherwise, refrigerate the pesto.
The pesto keeps for 5 to 7 days refrigerated in an airtight container. Take the pesto out at least half an hour before serving to bring it to room temperature. This makes it easier to toss with the pasta.
You could also use this scape pesto to make pesto crostini, instead of the basil pesto called for in that recipe. It would also be great in this scallops with pesto recipe!
Wine pairing
Sauvignon Blanc is a classic choice for pesto, but a variety of medium bodied white wines with acidity can work nicely with it.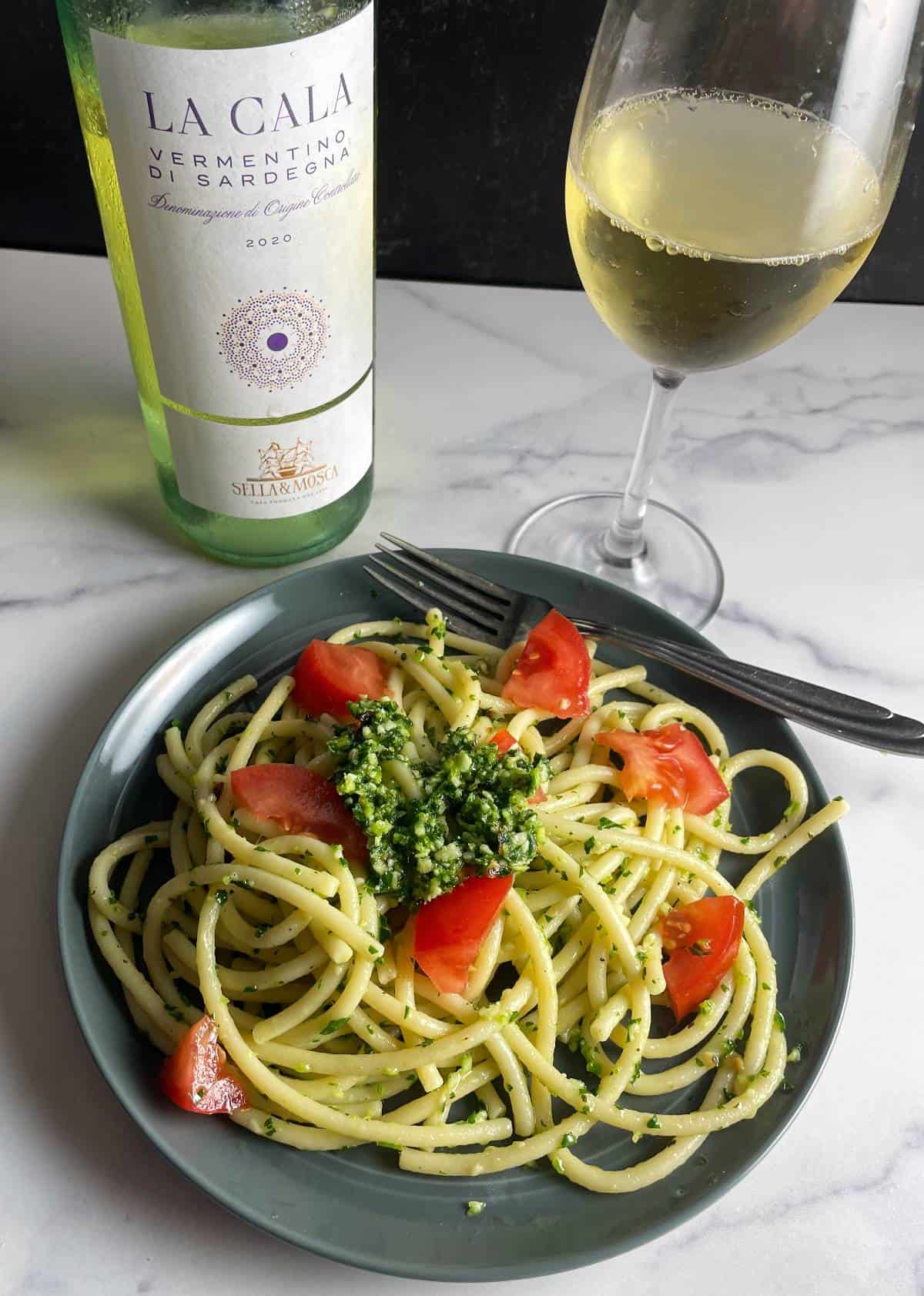 Most recently, we paired the garlic scape pesto with La Cala Vermentino Di Sardegna (12.5% ABV). I get salinity on the nose. This white wine is crisp on the palate, with notes of lemon. A solid pairing for the scape pesto.
Print
Recipe card
Garlic Scape Pesto
Garlic Scape Pesto is a great way to use the green stalk of a garlic plant. Garlic scapes have a fresh garlic flavor much like the garlic bulbs we eat regularly. This scape pesto recipe is flexible, with several possible variations.
Author: Cooking Chat
Prep Time:

10 mins

Total Time:

10 mins

Yield:

6

servings

1

x
Category:

sauce

Method:

food processor

Cuisine:

Italian

Diet:

Vegetarian
½ cup

garlic scapes, coarsely chopped

1

clove of garlic (optional)

1 cup

of kale

¾ cup

extra virgin olive oil

½ cup

Parmesan or Pecorino Romano cheese
pinch red pepper flakes

1 tbsp

fresh basil or parsley (optional)

1 tbsp

toasted pumpkin seeds or sunflower seeds
Instructions
Add the garlic scapes to a food processor, and pulse so that the scapes get chopped into smaller pieces.
Add the olive oil and pulse again. The scapes get chopped more thoroughly once the evoo has been added. Add the kale, and parsley or basil if using, and pulse again.
Place the remaining ingredients – cheese, seeds and red pepper flakes- in the food processor. Pulse until everything gets well combined. Remove the cover, and scrape any bits on the side that still need to be incorporated, and pulse again to finish the pesto.
The scape pesto is ready! Toss immediately with hot pasta, or refrigerate for later use.
Notes
This makes enough for a pound of pasta with a bit leftover.
The regular garlic clove amps up the garlic flavor if you have one handy and want to add it. But there is still good flavor with out it if you just use the scapes.
We have enjoyed this pesto using the fresh herbs but it also works to skip them if you don't have any available.
The garlic scape pesto keeps 5 to 7 days, refrigerated in an airtight container.
Keywords: garlic scape pesto, pesto without nuts, scape pesto recipe, what to do with garlic scapes
Recipe Card powered by